Gluten-Free White Chocolate Candy Corn Cookies
As an Amazon Associate and member of other affiliate programs, I earn from qualifying purchases.
These unique Gluten-free White Chocolate Candy Corn cookies are perfect for fall celebrations. Take advantage of clearance candy the day after Halloween and get ready for a unique taste sensation!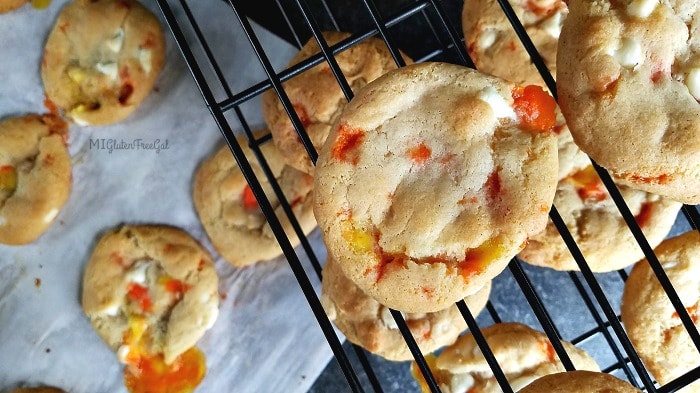 Candy Corn: A Love/ Hate Relationship
What's your favorite fall or Halloween candy? While I thoroughly enjoy peanut butter cups, I can get those any time of the year. Once September rolls around, I'm ready to indulge in candy corn. That's right, I'm one of those odd people who really like the taste of candy corn. However, a website made me feel not so odd when it stated (based on sales) that Michiganders have some mad love for candy corn.
Gluten Free Candy Corn
Of course, you need to verify the gluten-free status of the candy corn you use in these gluten-free white chocolate candy corn cookies. I prefer the Jelly Belly candy corn, as it is made in a gluten-free, peanut-free facility. Use their website to find it in a store near you. You can also order directly from Jelly Belly, or on Amazon.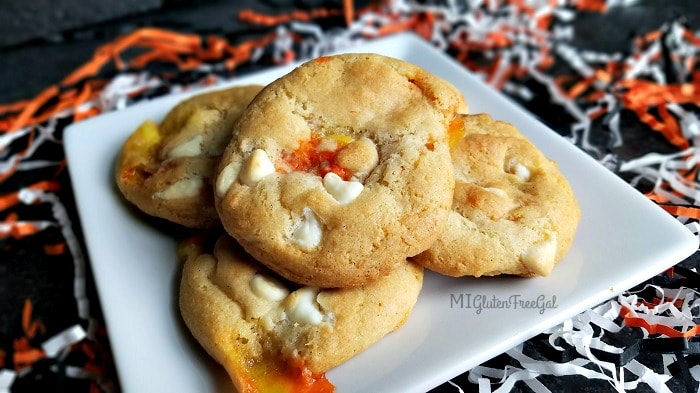 Is Brach's Candy Corn Gluten Free?
What about Brach's candy corn? Up until this year, Brach's did not make a candy corn considered to be safe for those with Celiac Disease. While their original candy corn doesn't necessarily contain gluten as an ingredient, there is the potential for cross-contact. However, in 2017, they launched a "Natural Sources Candy Corn" which IS specifically labeled gluten-free. Unfortunately, it appears to be discontinued.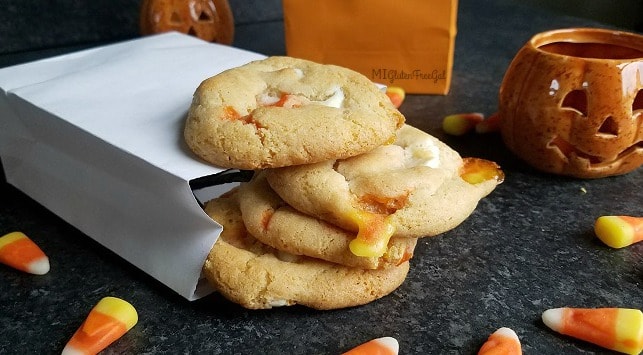 Gluten Free White Chocolate Chips
When I had the idea to add candy corn to cookies, I found a recipe from Averie Cooks for her Candy Corn and White Chocolate Soft Batch Cookies. It looked promising, however it called for cream. It gave me pause. In the end, I married my recipes for Gluten-Free Spumoni Cookies and Gluten Free Cherry Chocolate Chunk cookies.
When it comes to white chocolate chips, Nestle and Guittard both mark their bags as being gluten free. The added benefit of GuittardChoc Au Lait chips is their preparation in a peanut free facility. Also, they take as stand against child labor, which is so common in the cocoa industry. Should you need dairy free cookies, Nestle now makes dairy free white chocolate chips, as does Pascha Chocolate and Enjoy Life Foods.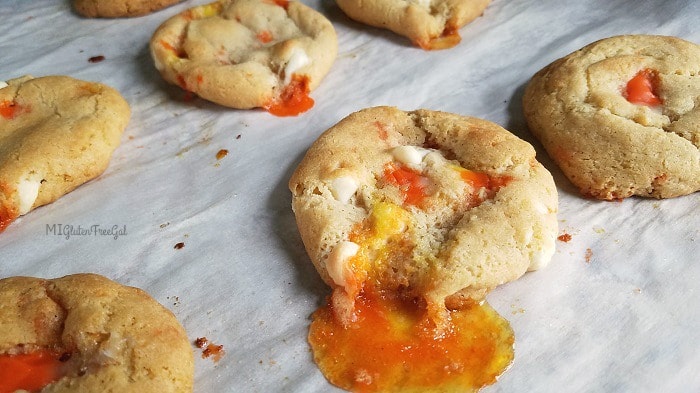 Hide Those Bits!
As I mention in the recipe, make sure that no candy corn bits are sticking out of the bottom of the dough. Why? Because it results in melted candy corn on your cookie sheet. However, I lined my cookie sheet with parchment paper, so it didn't stick. Once it cooled, the melted candy fairly easily released from the paper. In truth, I think the melted candy looks neat! Perfectly creepy for Halloween, if I do say so myself.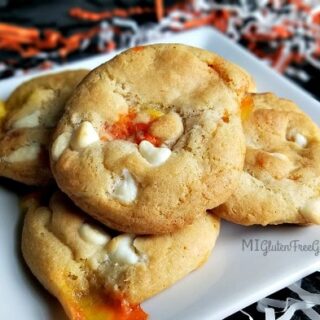 Gluten-Free White Chocolate Candy Corn Cookies
Ingredients
1 ¼ c. King Arthur Measure for Measure Gluten Free Flour Blend
1/2 tsp baking soda
1/4 tsp salt
1-2 tsp cornstarch
1/4 c butter, softened
1/4 c shortening
1/4 c. sugar
1/4 c. brown sugar
1 tsp extract
1 egg, room temperature
1 cup Guittard White Chocolate Baking Chips
1/2 c. Jelly Belly Candy Corn, chopped (one 3 oz. bag)
Instructions
30 minutes prior to making dough, remove egg and butter from the refrigerator, to bring to room temperature.
On a cutting board, chop candy corn into smaller pieces. Set aside.
In a small bowl, combine flour, baking soda and salt. Set aside.
In a large bowl, whip together softened butter and shortening. Next, add the white and brown sugars and cream with butter mixture. Finally, add vanilla paste (or extract) and egg and mix until creamy.
Add dry ingredients (flour, salt, baking soda) to the wet ingredients, until thoroughly mixed. Use a rubber scraper to scrape sides of the bowl, to make sure all flour gets mixed in.
Lastly, add white chocolate chips and chopped candy corn, and mix until thoroughly incorporated.
Use a cookie scoop to portion dough onto a parchment paper lined cookie sheet. Place dough balls 2-3 inches apart. I would make them no more than 1.5 tbsp.
Make sure that the "bottom" of the dough ball does not have candy corn sticking out. The candy corn will melt and ooze out of the bottom.
Chill dough balls for 2-3 hours. This helps deepen the flavor, and prevents excess spreading while baking.
After the dough has chilled, remove from the fridge and preheat the oven to 325 degrees.
Bake for 9-10 minutes, and allow to rest 5 minutes on the cookie sheet prior to moving the cookies to a cooling rack.
Nutrition Information:
Yield:

18
Serving Size:

1
Amount Per Serving:
Calories:

303
Total Fat:

14g
Saturated Fat:

7g
Trans Fat:

0g
Unsaturated Fat:

6g
Cholesterol:

31mg
Sodium:

169mg
Carbohydrates:

42g
Fiber:

0g
Sugar:

30g
Protein:

3g
Looking for more ways to use up that Halloween Candy? Try this recipe from My Gluten-Free Kitchen for Gluten Free Halloween Candy Cookies! Or use your extra candy corn in this Halloween Zombie Chex Mix! What's your favorite creative way to use Halloween candy? Leave me a comment and drop the link below!
** This post contains affiliate links. Purchases made through those links help support this blog with no extra expense to you. Thank you for your continued support!**