Gluten Free Fudge Stripe Cookie Turkeys
As an Amazon Associate and member of other affiliate programs, I earn from qualifying purchases.
These Goodie Girl Fudge Striped Cookies bring back my childhood nostalgia. Gobble these cookies straight out of the box or use them to make adorable Thanksgiving themed treats. Use them to make gluten free cookie Pilgrim hats, or gluten free cookie turkeys. This post is sponsored by Goodie Girl Cookies, but all opinions are my own.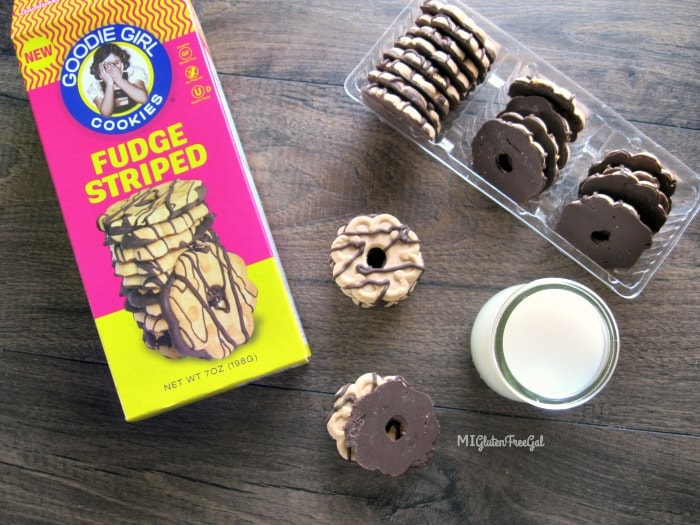 My Favorite Cookie from Childhood
I am a veritable cookie monster. While I enjoy cake and pie, I gravitate towards cookies automatically. As a kid I LOVED the Keebler fudge stripe cookies. Doesn't everyone have fond memories of sticking your pinky finger through the center, munching around the side? Oh how I've longed to taste them again since my Celiac Disease diagnosis.
Imagine my joy when Goodie Girl Cookies created a gluten-free version of my childhood favorite! They even use purity protocol oats in these cookies, and a few of their other flavors. Thank you Goodie Girl for taking Celiac Disease and the gluten-free diet so seriously!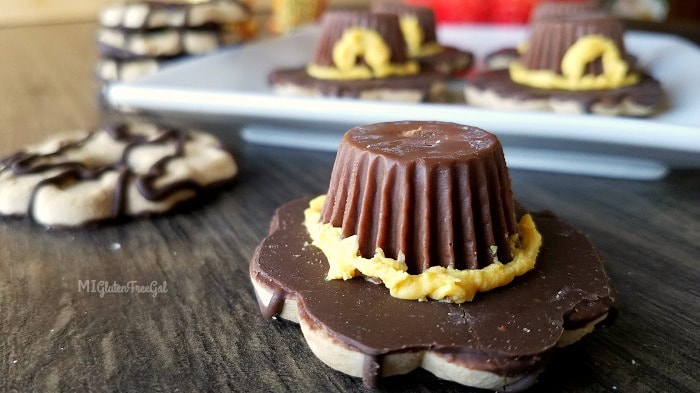 Thanksgiving Gluten Free Cookie Pilgrim Hats
Years ago, my aunt made the most adorable pilgrim hat treats. I vividly remember that year. I made amazing gluten-free sweet potato gnocchi and she cooked me my own Cornish game hen. Years have passed. However, I still remember the disappointment of not being able to eat the adorable treat she set on my bread plate. When I learned about the release of the Goodie Girl Fudge Striped Cookies, this was THE first thing I wanted to make.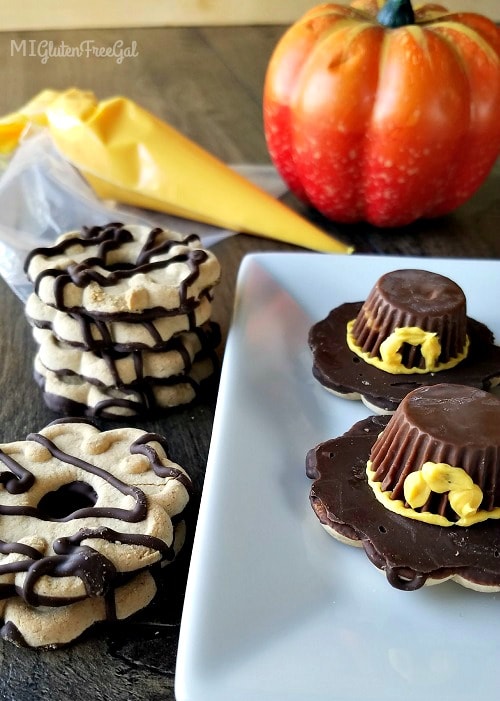 Note About Reese's Peanut Butter Cup Minituares
They are super simple to make. Take one of the Goodie Girl Fudge Striped cookies and turn it upside down, so the chocolate side is showing. Unwrap a miniature Reese's Peanut Butter cup and pipe a rim of frosting around the edge. (It is my understanding that the mini cups that are already unwrapped in a bag are not safe for those who have Celiac Disease. Make sure to get the ones you have to unwrap yourself.)
Then, attach the Reese's Peanut Butter Cup to the Goodie Girl Fudge Striped cookie. Pipe a small buckle on the hat and you're finished! (Or skip the buckle. Supposedly that is not true, as buckles didn't come into fashion until the 17th century. Check out the History Channel website for this and many other "Mayflower Myths.")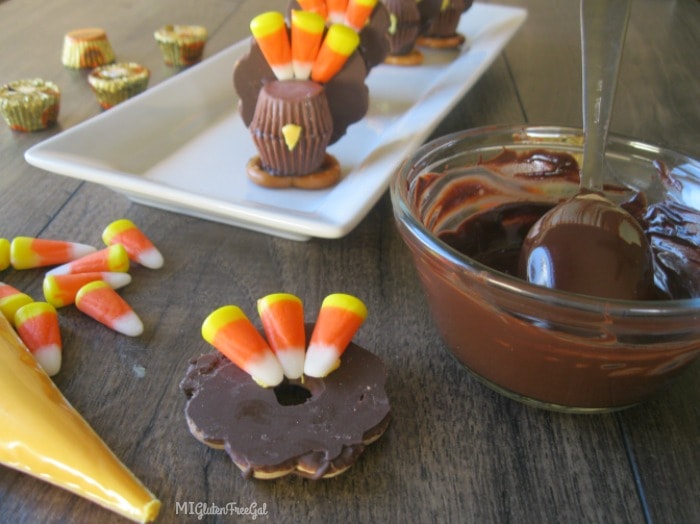 Thanksgiving Gluten Free Fudge Stripe Cookie Turkeys
Turkey. Thanksgiving holds no item more iconic than turkey. On Pinterest, there are all sorts of sweet Thanksgiving treats that resemble turkeys. Some use chocolate covered cherries, like my fellow blogger at A Different Survival Guide did with her Fudge Striped Turkey Cookies.
Great minds think alike, as I also planned to use my Goodie Girl Fudge Striped cookies to make turkeys. However, I'm super cheap thrifty, and wanted to use the remaining peanut butter cups I had on hand. In addition, I thought using gluten-free pretzel twists as feet would be TOTES adorable. (If you're concerned about stability, you could use another cookie as the bottom.)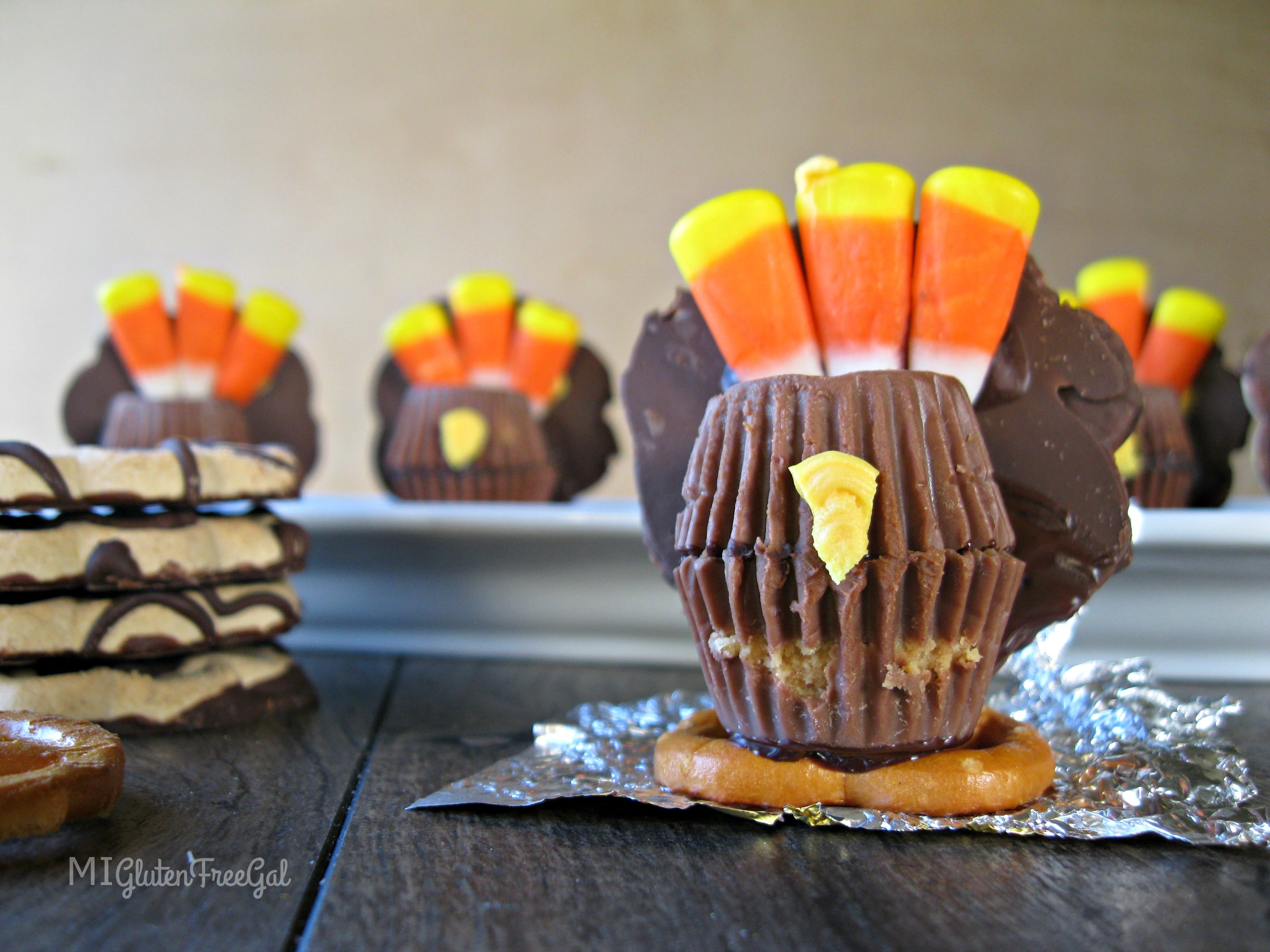 If At First You Don't Succeed …
Total confession. When I first tried these, I put the Reese's Peanut Butter Cups in the oven on top of the pretzel. That literally turned into a hot mess. (For hilarious proof, check out my #PinterestFail on Instagram!) I finally found success by using melted Enjoy Life chocolate chips as the cement between my pretzels, Reese's Peanut Butter Cups and Goodie Girl Fudge Striped Cookies.
As I hate to throw anything away, I used my remaining yellow frosting to adhere the candy corn to the back of the cookie, as well as add a beak to the front of my "bird." Admittedly, a few candy corn fell off, so you might want to use the melted chocolate to adhere those as well. I have to admit that I'm really happy with how these turned out.
Where To Buy Goodie Girl Fudge Stripe Cookies
Wanting to make these Thanksgiving treats for yourself? If you're an online shopper, find them on the Goodie Girl Cookies website, Amazon and Vitacost. If you're like me, and you actually like to go to the store, use their store locator to find them near you. They're available at Kroger and Walmart.
**Goodie Girl Cookies compensated me for my time in recipe and photography creation. All thoughts and opinions are my own. This post does contain affiliate links. Purchases made through those links, or the Amazon search bar above, help support this blog with no extra expense to you. Thank you for your continued support!**