Gluten Free No Boil Baked Ziti
As an Amazon Associate and member of other affiliate programs, I earn from qualifying purchases.
I love gluten free pasta. However, one thing that I don't love is it's fragility. Sometimes it tends to fall apart when you boil it. Therefore, I love recipes, like this Gluten Free No Boil Baked Ziti, that save that step! That's right, no boiling the pasta first. Just put it in raw. Trust me.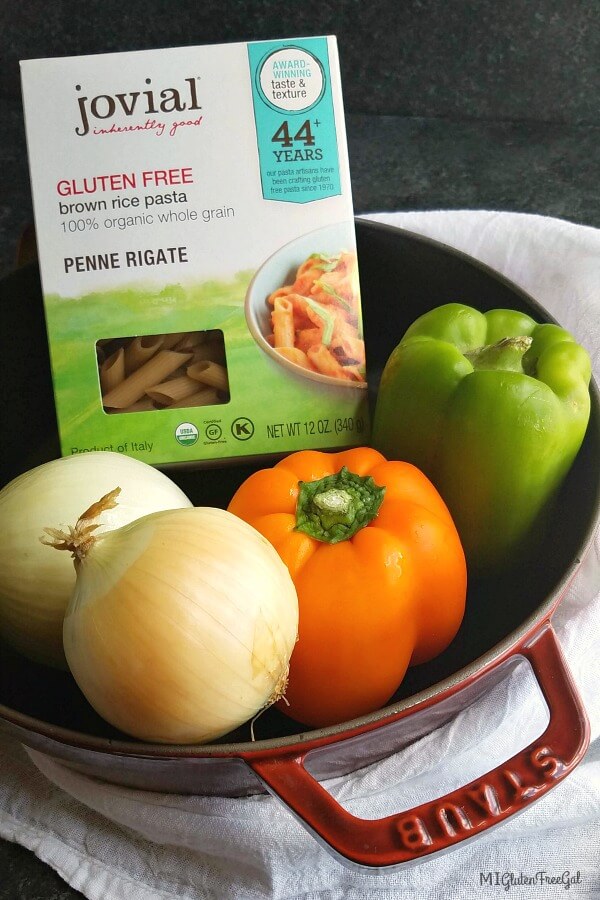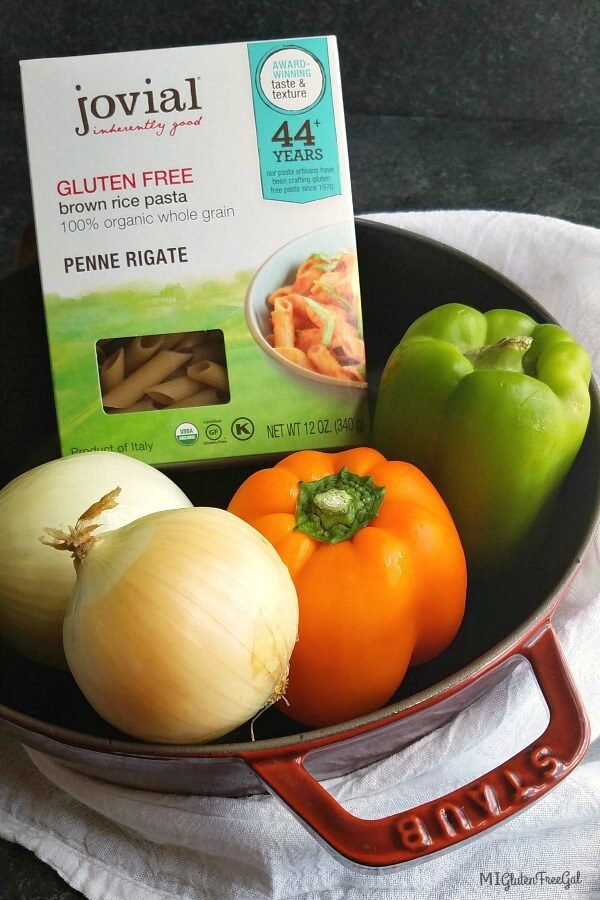 Do Dinner, Not Dishes
I know the very first thing I would change about my house. A bigger kitchen. My small kitchen fails to have enough space for a dishwasher. Although we have no children, my husband and I dirty enough dishes for the whole neighborhood. The casualty of being a food blogger, I guess. That's why this one-pot gluten free no boil baked ziti holds first place in my list of favorite dishes. One pot equals fewer dishes to do!
I now always make this Gluten Free No Boil Baked Ziti in my favorite pot. The Staub 4 qt essential pot is the workhorse of my kitchen. (This is not sponsored by them, I just love it that much!) I use it make everything from Congee breakfast porridge to Arroz Con Pollo to Beef Stew. My dad and his wife bought this for me for my birthday years ago, and it may just be my favorite gift EVER. I have to restrain myself from buying their entire product line.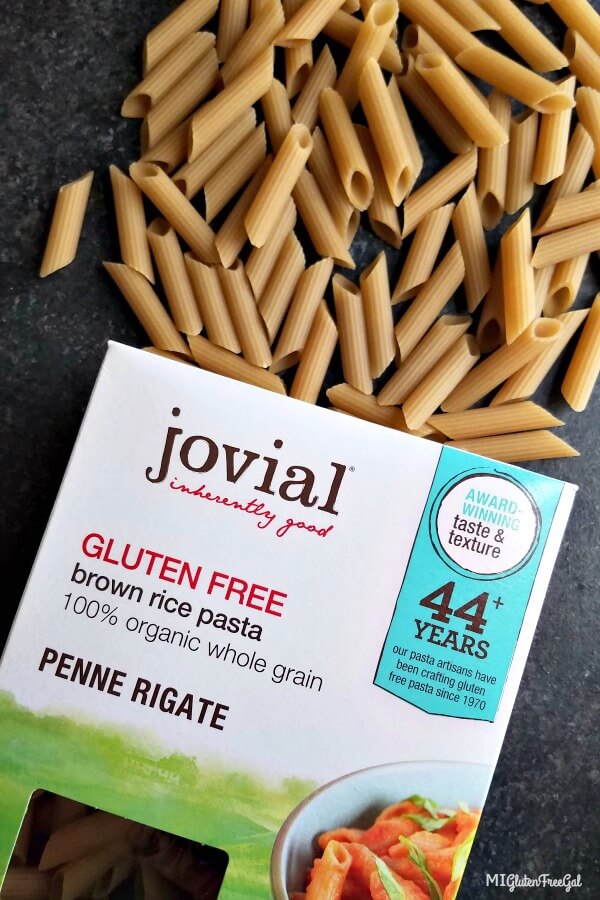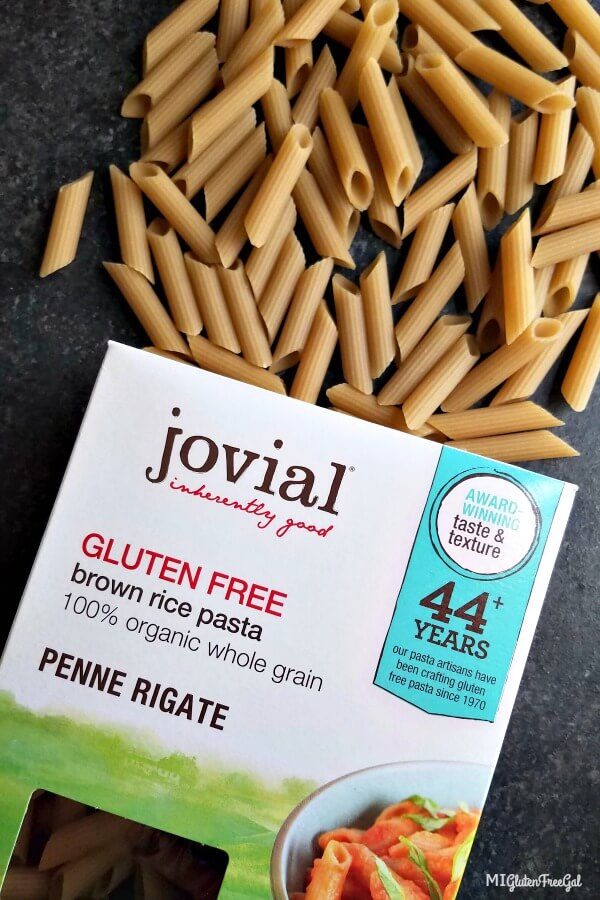 My Favorite Gluten Free Pastas
I first published this Gluten Free No Boil Baked Ziti recipe back in 2015. The first time I made this, I used Schar gluten free penne. Since then I've used a variety of brands. Delallo yields a great dish, as does Barilla. You can use whatever you please. As I update the pictures, I chose to use Jovial gluten free penne. They sent me a care package of foods to try, and had this left in my pantry. Jovial is the only brand I know that makes a gluten free bow tie pasta, as well as an amazing tagliatelle. Unfamiliar with Jovial? Check out this post from Flippin' Delicious, about her Jovial Gluten Free Getaway in Lucca, Italy.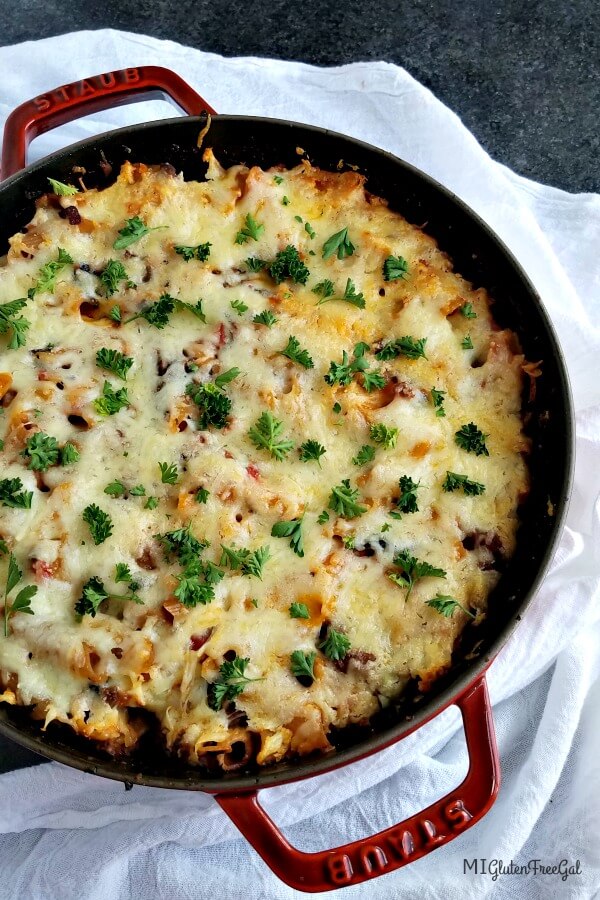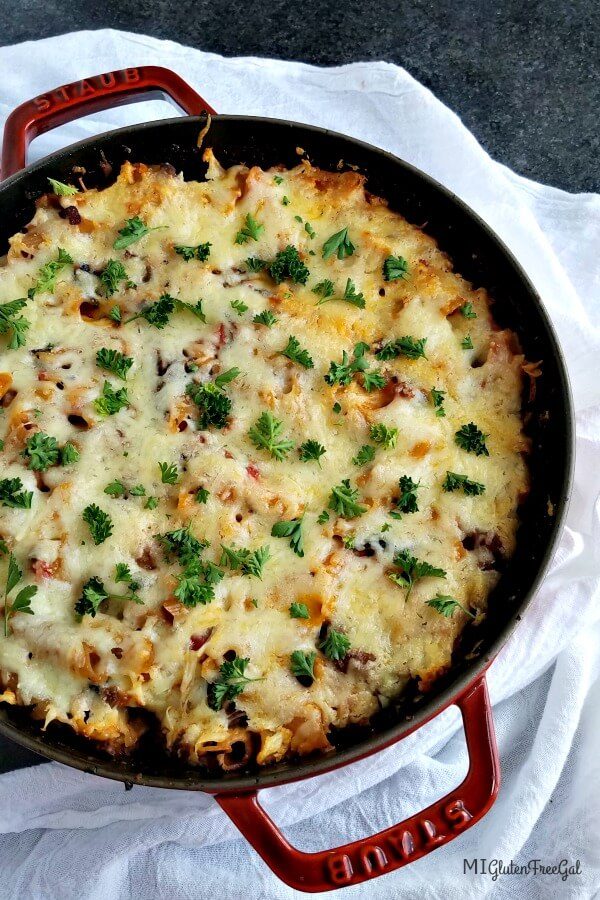 Perfect Dish For After a Surgery or a New Baby
I adapted this Gluten Free No Boil Baked Ziti recipe slightly from the Ragu website. The main changes are substituting gluten free pasta and adding vegetables. I often make this dish to take to others who are sick, grieving, or new moms who can use a hand in the kitchen. Therefore, I try to sneak in added nutrition whenever I can. The original recipe had no added onions, peppers or garlic. Those are like the Holy Grail of cooking! I also add wilted spinach.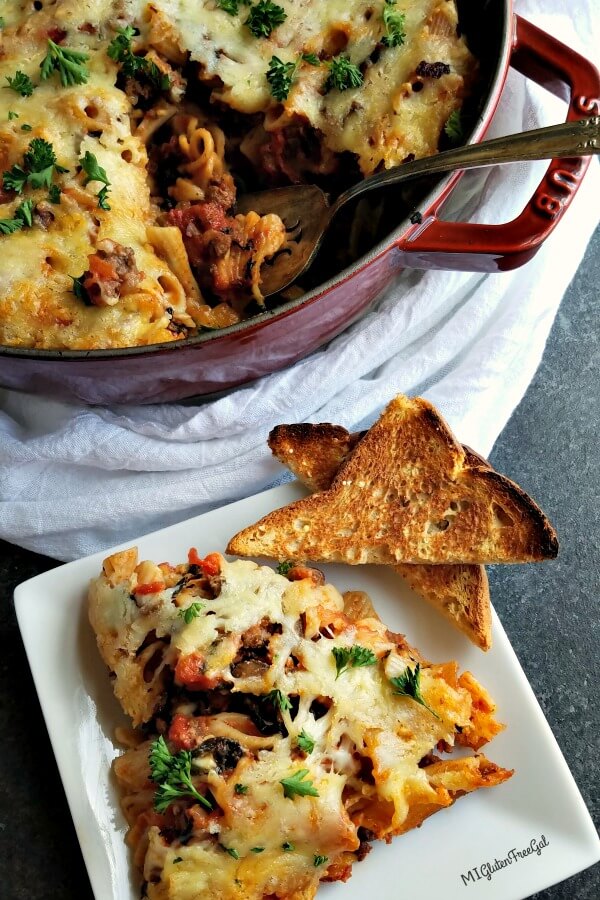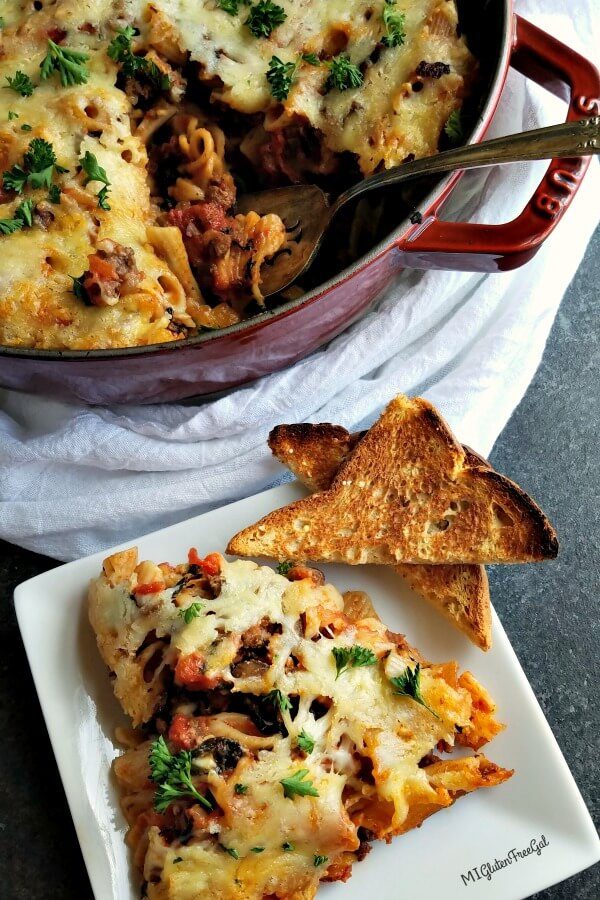 The Perfect Gluten Free Meal for Crowds Small and Large
This Gluten Free No Boil Baked Ziti recipe scales up well, too. My step mom and I made multiple batches of this for my father's 60th birthday party. He also had Celiac Disease, and everything at the party was gluten free. All who came loved the ziti, and her daughters were super excited to take home leftovers. I've made this for 5o men at a local homeless shelter, and they loved every bite. People at my church ask for the recipe after every potluck. Make this Gluten Free No Boil Baked Ziti for your friends, and become a culinary super hero!
Looking for more pasta recipes? VegetarianMamma's recipe for Deconstucted Lasagna is similar to this dish. I love to make this simple Easy Spinach Ricotta pasta from Budget Bytes, and simply substitute gluten free pasta. If you're craving full lasagna, I love this Lasagna for Two from Chef Julie, again made with either Gluten Lasagna Noodles from Barilla or Taste Republic.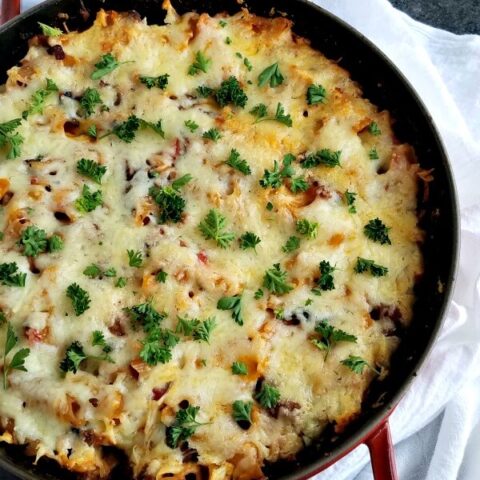 Gluten Free No Boil Baked Ziti
Ingredients
1 jar (1 lb. 8 oz.) spaghetti sauce (I used Prego)
1 1/2 cups water
1 container (15 oz.) ricotta cheese (I used Daisy cottage cheese)
2 cups shredded mozzarella cheese (about 8 oz.), separated
1/4 cup grated Parmesan cheese
8 ounces uncooked gluten-free penne
1 small onion, chopped (optional)
1 small greed pepper, chopped (optional)
4 oz mushrooms, chopped
Note!
The original recipe is meatless. If you want to use ground beef or sausage, use 1 1/2 pounds ground meat and reduce the cottage cheese to one cup, and the parmesan to 2 tbsp. Increase the pasta to 12 oz, and the water to 2 cups. Use 1 cup of mozzarella instead of 2.
Instructions
Preheat oven to 400°.
If I'm using meat, I brown the ground beef in the pot first. While that is cooking, I chop onions, peppers, mushrooms and/ or any other vegetables I feel like adding.
When the beef is fully browned, I remove it from the pan, leaving behind the fat. I then saute the vegetables in the meat fat and juices, until onions are soft and transparent. I'm guessing 5 minutes.
When all of the vegetables are cooked, I return the meat to the pan and add the dry pasta. Stir the pasta to evenly coat it in any remaining oil in the pan.
Next, add the jar of spaghetti sauce. Because I'm incredibly frugal, I then add one cup of water to the empty jar to get all the last bits of tomato-y goodness out of of it. Waste not, want not, right? Add the rest of the water and stir together.
Add the cottage (or ricotta) cheese and Parmesan cheese and stir together. Place the lid on the pot and put the whole gluten free no boil baked ziti in the oven. If you don't own a cast-iron pot/ dutch oven, you can use a 9x13 dish and cover it with foil
Bake for 55 minutes. Remove the gluten free no boil baked ziti from the oven and top with mozzarella cheese. Bake, uncovered, for an additional 5 minutes. Remove from oven and let set for 10 minutes before serving.
What's your favorite one-pot gluten free dish? Share a comment (and a recipe link if you have it) below!
**This post is NOT sponsored by Staub or Jovial, although Jovial did send me free product to try. This post does however include Amazon Affiliate Links. However, this does not influence the cost of your purchases. Thank you for helping to support this website!**