Nourish Juicery and Kitchen – 100% Gluten Free
As an Amazon Associate and member of other affiliate programs, I earn from qualifying purchases.
Looking for a gluten free and vegan meal in Michigan's Lenawee County? Stop in at Nourish Juicery and Kitchen in Blissfield, for an assortment of grab and go meals. Don't forget to grab dessert!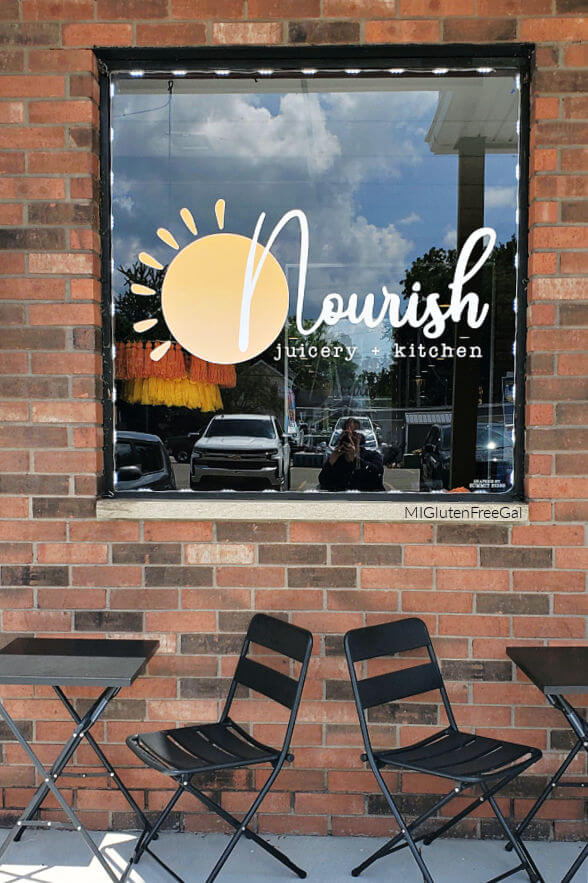 Where is Nourish Juicery and Kitchen Located?
You'll find this gem of a restaurant in Blissfield, Michigan. You'll get there by taking exit 5 on US-23. It's about an hour south of Ann Arbor, 20 minutes from Adrian College, and 30 minutes northwest of Toledo, Ohio. (If you're near Toledo, also visit Organic Bliss and Natalie's Cake Library, which are both 100% gluten free.)
What Kind Of Food Does Nourish Juicery and Kitchen Offer?
Nourish always has an assortment of Cold-Pressed Juices and Baked Goods, Oatballs, Raw Cheezecakes, Deli-Style Salads, Green Salads, Soup, and heat and eat meals. Most of our items are available in our grab and go coolers, and can be consumed as dine-in or carry out. On Saturday mornings, we offer made to order pancakes and French Toast.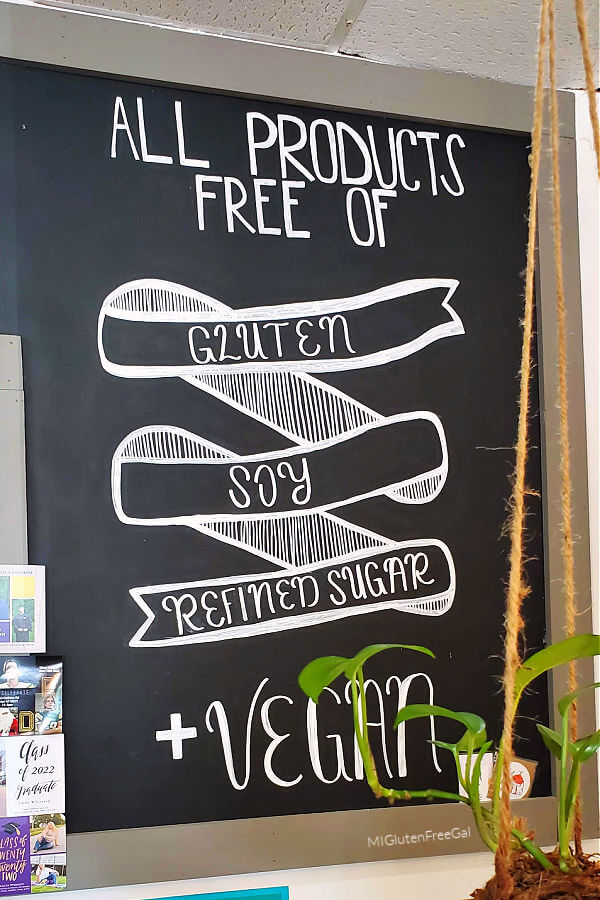 What Additional Allergens Does Nourish Accommodate?
All food at Nourish Juicery and Kitchen is gluten free, egg free, dairy free, soy free and refined sugar free. In addition, they use no animal products.
Does Nourish Allow People to Bring in Gluten/ Outside Food?
Owner Sarah Verlinde has eaten a gluten free diet for the past 15 years. She knew just how hard it was to find gluten free options. That's why she chose to open Nourish Juicery and Kitchen in the first place. Therefore, she asks patrons to not bring gluten or other foods into her establishment.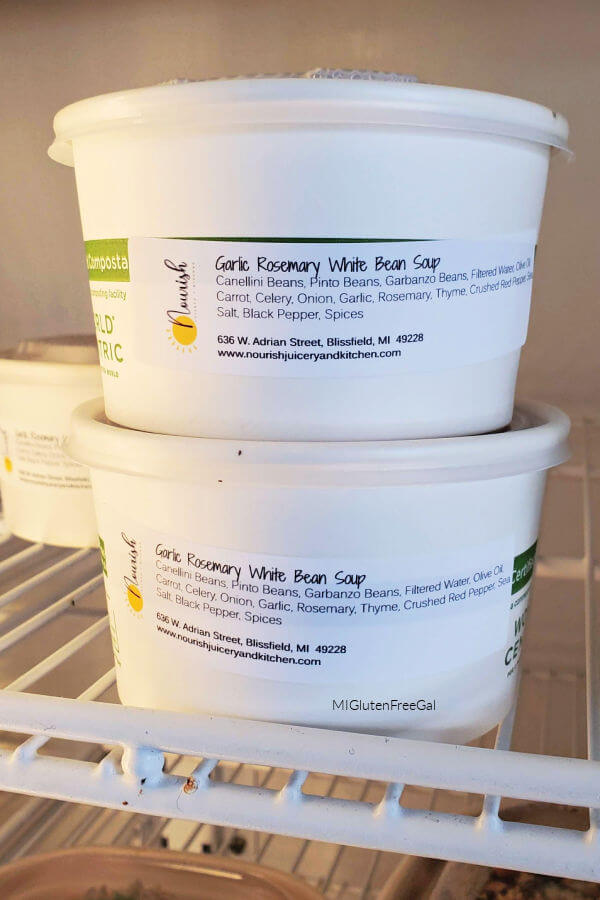 Does Nourish Use Local Ingredients?
Yes, when they can. They work locally with Goetz Family Greenhouse (we are a CSA pickup location for them), Needle Lane Farms, and S&S Produce. In addition, they use other local products, such as Salsa Bliss, Harvest Chocolate (all gluten free and vegan), Co-Here Coffee, the Marks Trading Company spicses, and Lavender and Honey Herbal Apothecary (who shares their space).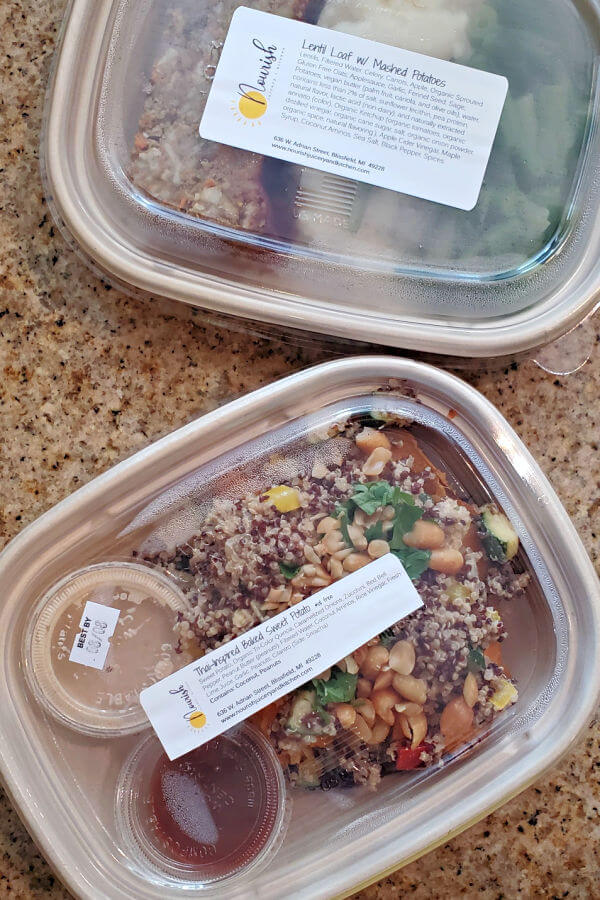 Can I Order Weekly Meals from Nourish Juicery and Kitchen?
Yes, we will begin doing a set monthly menu in September, so people can reach out to pre-order.
We have tested a meal prep menu/program, but it was not super successful so we have paused that. (For more Michigan businesses that offer meal prep, check out my post about gluten free meal delivery services.)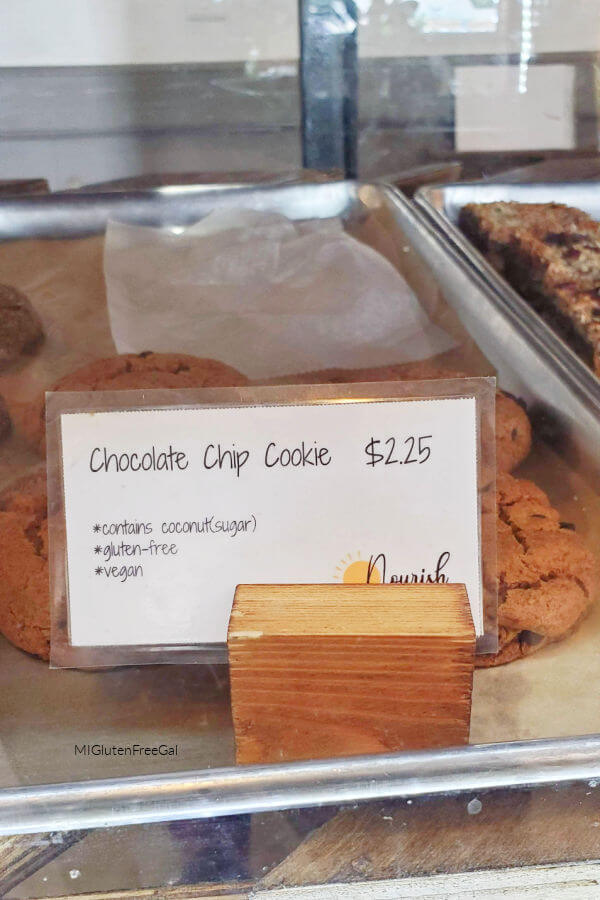 What are Your Most Popular Baked Goods? Do you Make Cinnamon Rolls?
"Molasses Cookies, Doughnuts, Brownies, Scones, and Oatmeal Pies are all very popular. We do make cinnamon rolls, and they are always available by special order on our website. In addition, we offer our cinnamon rolls on our holiday menus. This is an item that I obsess a little about and am constantly working on improving the recipe. They are so difficult to keep soft, so we sometimes sell them as take and bake."
Do you Offer Hot Tea and Coffee?? Which Dairy Free Milks do you Use?
"Yes, we cold-press all of our own juice, and we sell herbal hot teas by the cup that are blended in-house by Lavender & Honey Herbal Apothecary. We offer coconut milk, oatmilk, and flaxmilk – gluten free brands of course. We serve coffee from Co-Here, which is another woman owned business, based in Ohio."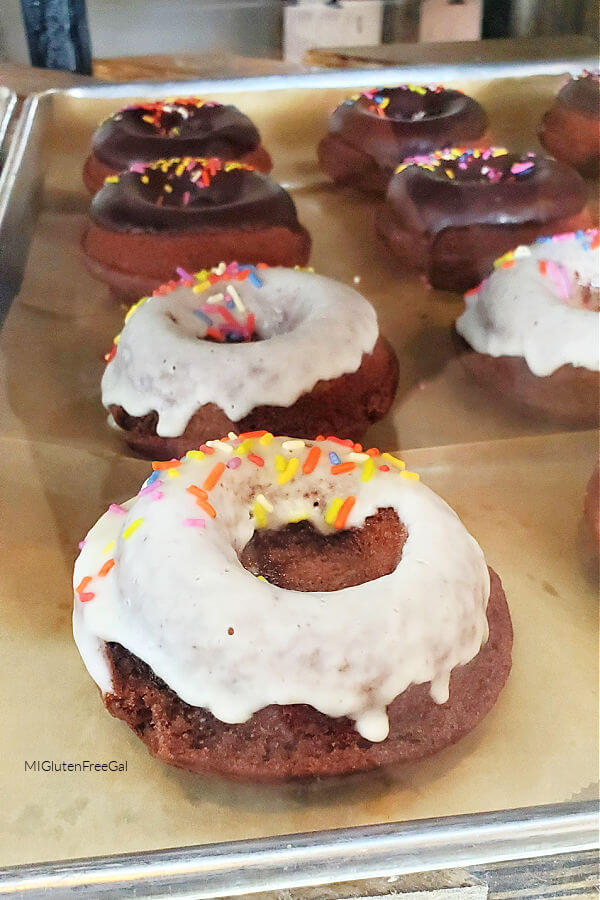 Do Other Coffee Shops/ Businesses Sell Your Products?
"Yes, we wholesale to Starling Lounge in Blissfield and The Buzz Cafe & Marketplace in Adrian. They both carry some of our meals, and our baked goods. We do have some potential new partners coming soon." **Note- Nourish is only a 14 minute drive from Kapnick Orchards in Britton, Michigan. So grab some donuts from Nourish and head to the cider mill!
Looking for more coffee shop treats? Check out my blog post of Michigan Coffee Shops with gluten free baked goods Wanting more cider and donuts? Visit my post (with an embedded map) of Michigan Cider Mills offering gluten free donuts.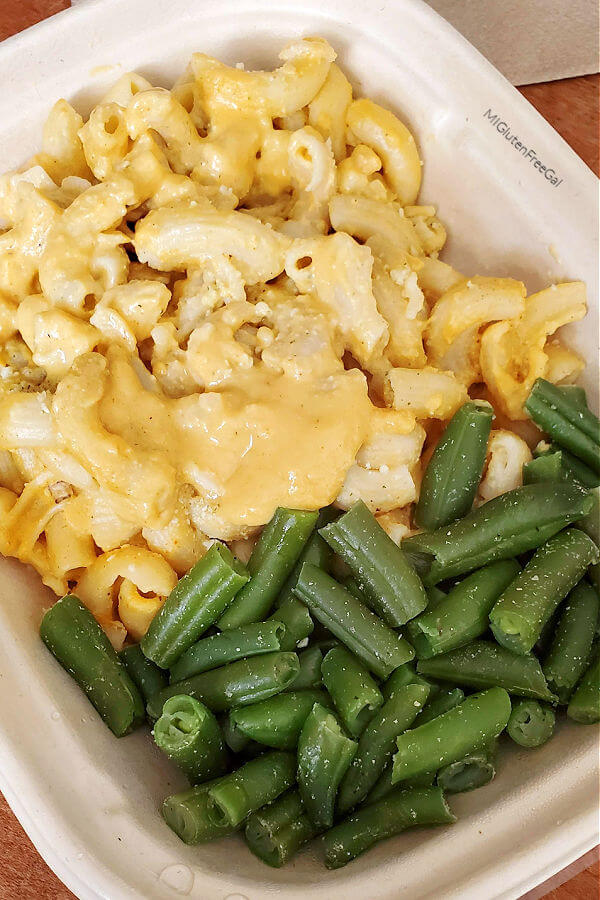 What We Ate at Nourish Juicery and Kitchen
When my husband and I stopped by, he tried the buffalo vegan mac and cheese. My husband commented on just how good it was! I purchased the stir fry, which was full of great vegetables. Sarah even brought me more coconut aminos when I asked. My husband enjoyed a scone, while I devoured one of their gluten free chocolate chip cookies.
However, just as "nourishing" was our chat with owner, Sarah Verlinde. She told about how the community embraced and helped her. Before opening in this location, she was in a shared space. Suddenly that kitchen would no longer be available to her. The spot on Adrian St became available at the same time. Local friends and customers donated chairs and tables, and other odds and ends to help her business succeed.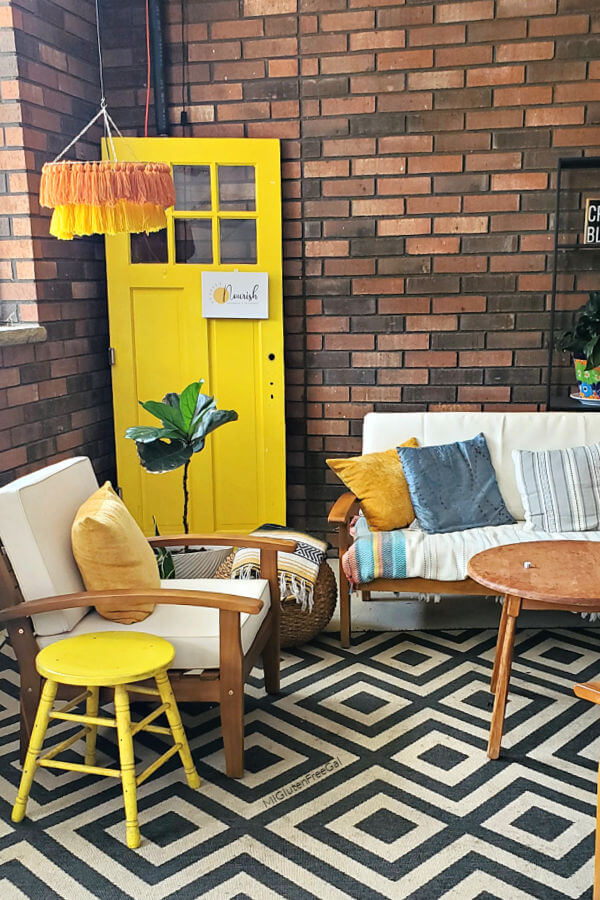 More About Owner, Sarah Verlinde
I asked Sarah about her culinary background. "I learned to cook from my Grandmother, but did complete the Forks Over Knives Cooking School Program through Rouxbe Cooking School online. As far as the gluten-free cooking and baking goes, I am self-taught — lots and lots of trial and error, and learning from mistakes and personal research."
I also emply a gluten free baker, who has had 10 years of traditional baking assistance. However he also learned gluten baking by trial and error. Like most people, we still have failed experiments and are constantly focused on improving our recipes."
How The Pandemic Kept Her Customer Focused
"Our grand opening was on March 7, 202o. And then on March 8, the whole world shut down. This has definitely been an exercise in adaptability and flexibility, but we did not close at all. We stayed open, and we just did whatever people wanted, whatever they needed.
And that's how our product offering grew into what it is now. We started with juice, a couple salads, some baked goods, and now we're doing wedding cakes, birthday cakes, catering, and brunch on Saturdays. It has grown organically based on what people have asked for."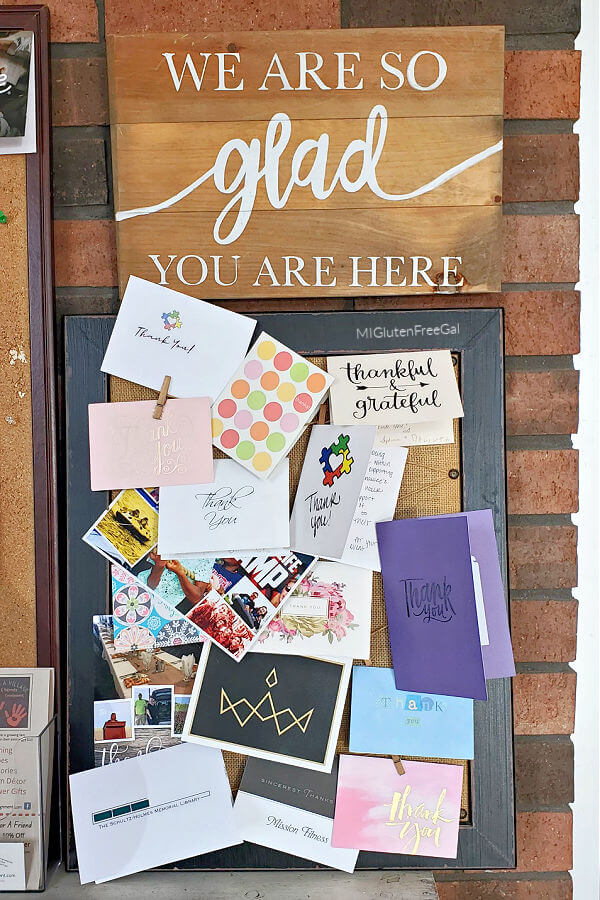 What Do Customers Say About Nourish Juicery and Kitchen?
"The community we serve here in Blissfield is fantastic and we have a really amazing community of business owners here. It's fun to collaborate, and people notice that. Especially during the pandemic, people loved to see our local businesses come together and support each other.
We're meeting a need here at Nourish. Every day, people tell us 'Thank you so much. Thank you for doing this. Thank you for being here.' It's really rewarding. I'm working harder than I've ever worked before, but it's a labor of love."
Nourish Juicery + Kitchen
636 W Adrian St
Blissfield, MI 49228
(517) 920-0433
Hours – Tues-Fri 9 am-5 pm, Sat 10 am – 3 pm, closed Sunday & Monday
Website | Facebook | Instagram
Nourish Juicery and Kitchen is one of many Michigan restaurants I've visited. You can find a list of them on my Michigan gluten free dining post. Please remember to always ask any restaurant about their food preparation practices.