Gluten Free Halloween – Tips & Treats
As an Amazon Associate and member of other affiliate programs, I earn from qualifying purchases.
Have a child with Celiac Disease? It's still possible for them to enjoy a Gluten Free Halloween. This post will share with you treats they can enjoy, candies to avoid, and a fun activity for switching out the candy your gluten free child cannot eat.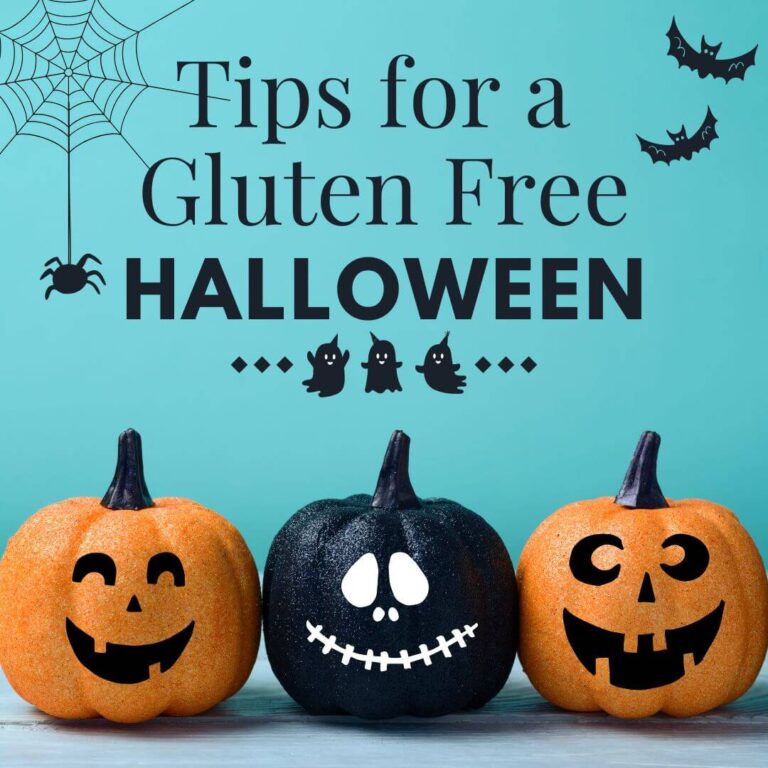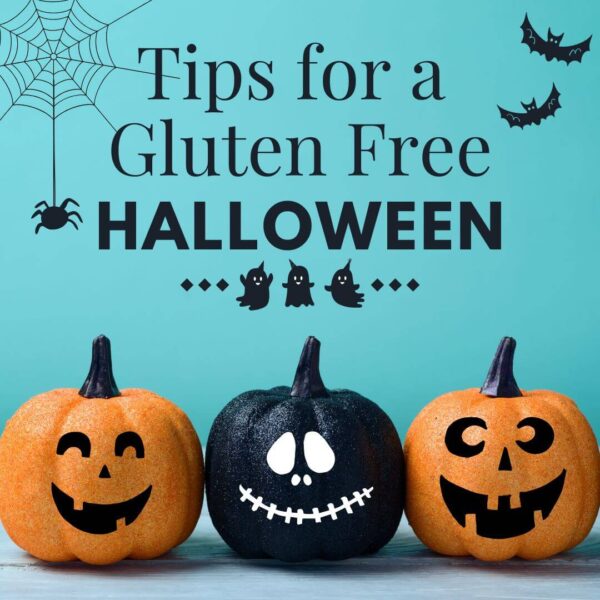 Halloween Should Be Fun for Everyone
Every child should be able to enjoy Halloween. Regardless of dietary or physical limitations, I want to make sure no child is left out. I also offer options, and allow kids to pick what goes in their tote bag. Children feel valued when they're allowed to choose.
Whether you have a child who lives with Celiac Disease, or you're a citizen looking to offer Gluten Free Halloween candy options, I want to share some tips to help make this year a success. Click on any of the topics in the table of contents, and it will jump to that section. If you have any additional questions or concerns, please feel free to ask in the comment section, and I'll get back to you!
Table of Contents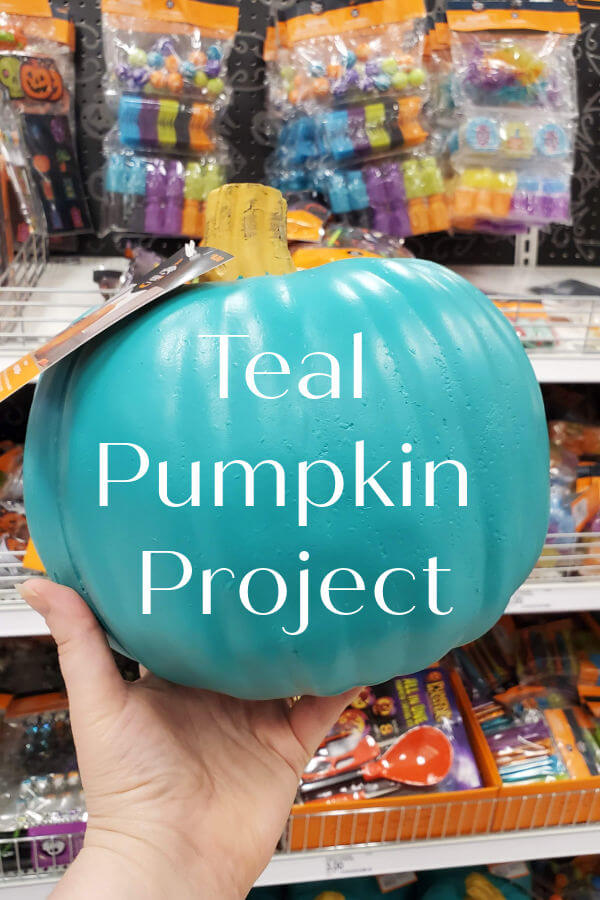 The Teal Pumpkin Project
The Teal Pumpkin Project started in 2012. Becky Basalone, "the director of a local Tennessee food allergy support group, first had the bright idea of painting a pumpkin teal, the color of food allergy awareness, and handing out non-food items." (From Allergic Living) Since then, it has expanded across the United States and to other countries. Want to participate? Visit the FARE Teal Pumpkin Project website to add your house to the map, and find other resources.
The Importance of Non-Food Items
In addition to Celiac Disease and food allergies, there are other children who benefit from non-food items. Children with diabetes might prefer non-food items, that won't impact their blood sugar. Children with Prader – Willi Syndrome (whose bodies never tell them that they are full), benefit from non-food items as well. In addition, non-food items last longer than a piece of candy, and can allow kids to be creative.
**Note- Please know some craft items contain wheat, like PlayDoh. Read Celiac Mama's post on Art Supplies that Contain Gluten for more information.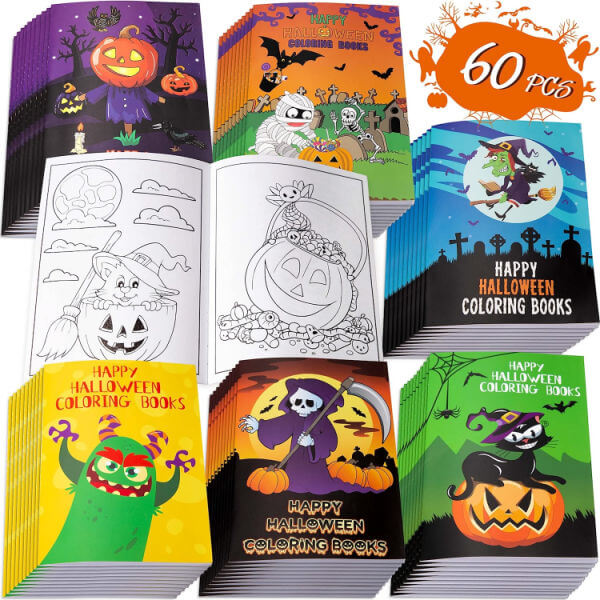 Non Food Ideas Include:
pencils
erasers
temporary tattoos
bubbles
glow bracelets
stickers
mini coloring books
crayons
books
Items to Avoid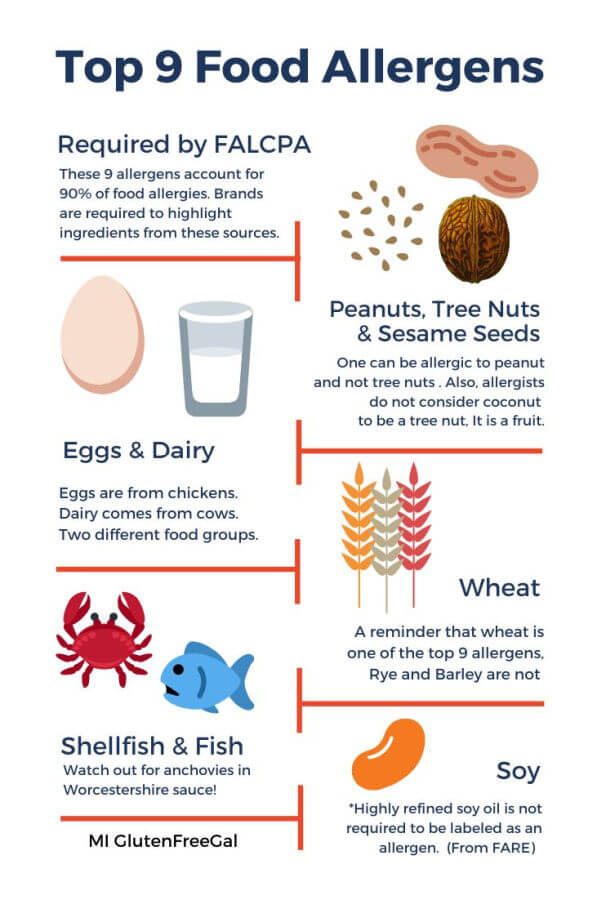 Accommodating Additional Food Allergies
The Food Allergen Labeling Consumer Protection Act requires the labeling of the following 9 food allergens: Peanuts, Tree Nuts, Eggs, Dairy, Wheat, Shellfish, Fish, Soy and Sesame. (This does NOT include barley or rye, which also contain gluten.) Thankfully, there are many companies who intentionally create candy and other treats free from the top 9 food allergies. Options include:
Top 9 Allergen Free Treats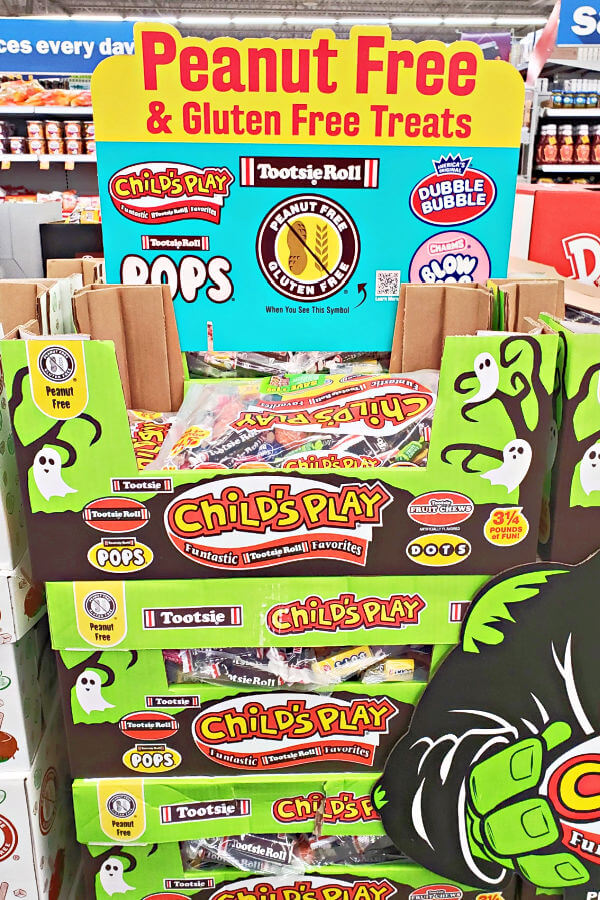 The following candies are produced in a gluten free and peanut free facility.
Tootsie Roll
Fruit Chews
Pops
Dots
Caramel Apple Pops
Sugar Babies
Charms Blow Pops
Double Bubble
Candy Corn Pops
Wack-O-Wax lips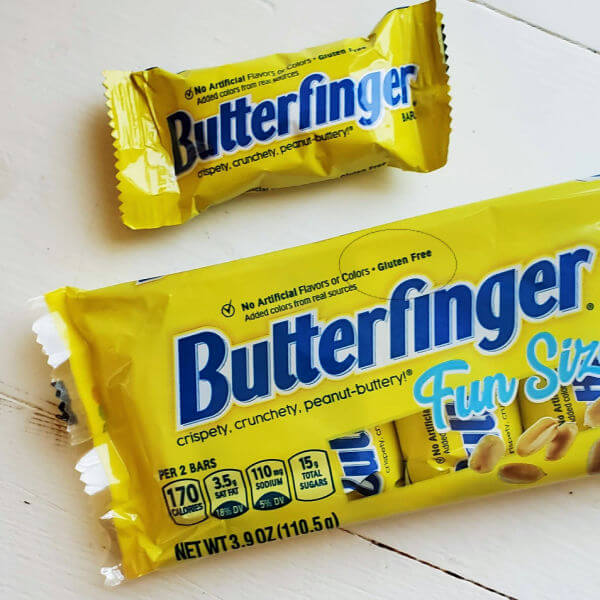 Other Gluten Free Halloween Candy / Treat Options
Applesauce Cups
Fruit Snacks
Butterfinger
Hershey Gluten Free Candy List – NO seasonal shapes, NO mini Hershey bars (only 1.55 oz)
Reese's Frankencups
York Peppermint Patties
Peeps
Jelly Belly Jelly Beans
Skittles
Sour Patch Kids
Starburst
Swedish Fish
This list is not exhaustive, and ingredients can change. Make sure to read labels on all candy. When in doubt, go without. Remember that Twizzlers are NOT gluten free.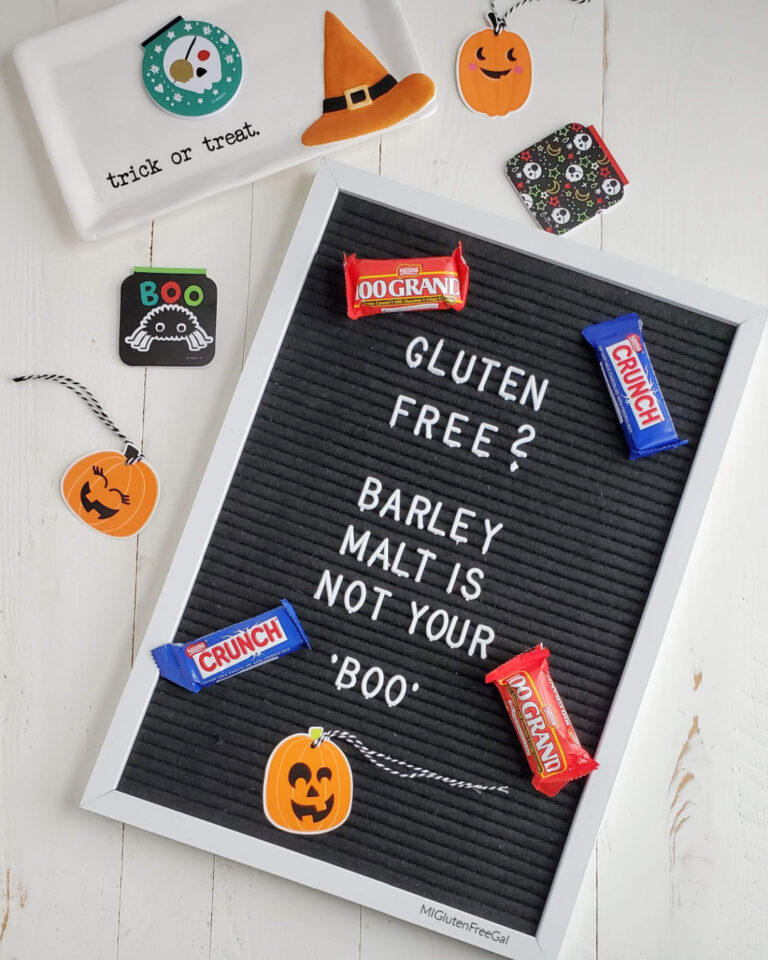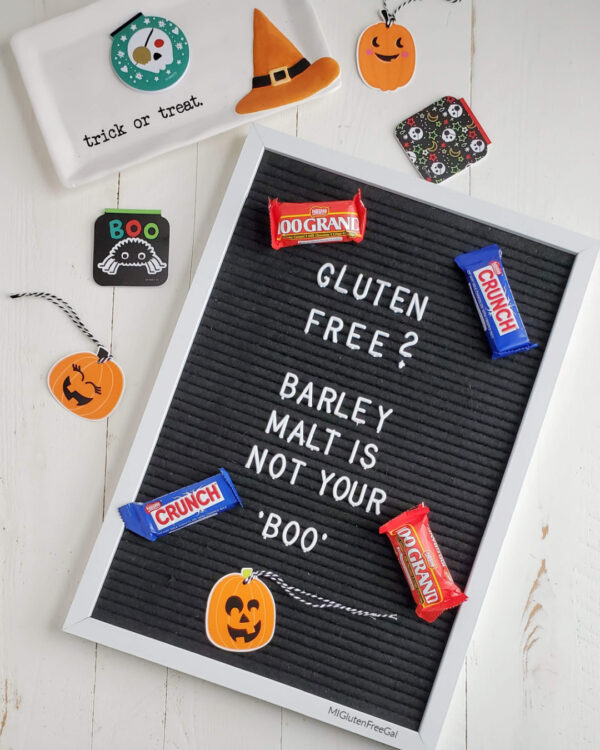 Candies to AVOID because of Malt
In addition to candy like Kit Kat and Twix that contain wheat, people with Celiac Disease need to avoid malt. Malt is made from barley, and is not gluten free. In addition, an important reminder that the NIMA gluten sensor cannot test for the presence of malt. Please do not solely rely on it for gluten free food safety. ALWAYS read labels.
These candies contain malt:
100 Grand
Nestle Crunch
Hershey Krackel
Whatchamacallit
Milky Way
Mars Bar
Whoppers
Crispy M&M's
Lindt Chocolate
Kellogg's Rice Krispie Treats (Aldi store brand are gluten free)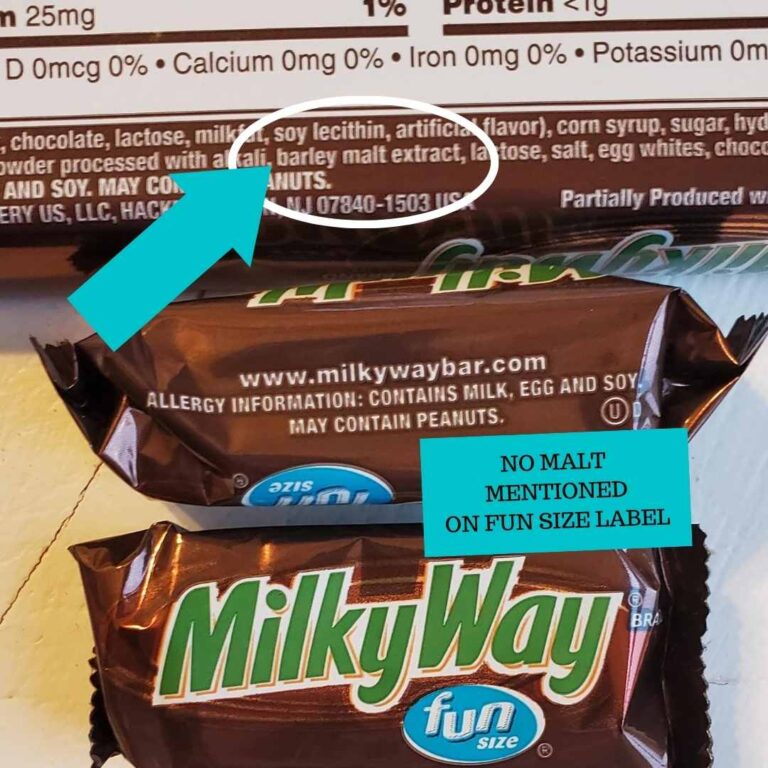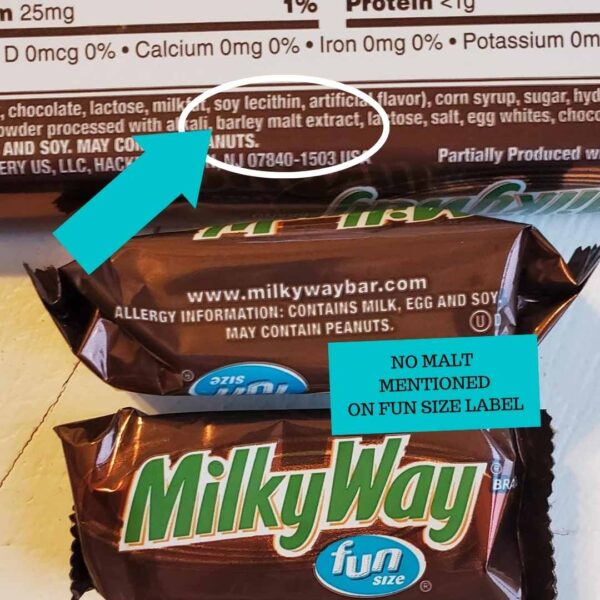 Rules on Allergens vs Gluten / Fun Size Ingredient Lists
Remember, barley and malt are not one of the top 9 food allegens. The Food Allergy Labeling Consumer Protection Act (FALCPA) requires wheat to be labeled on all food items. This is not true of barley malt. In addition, fun size candy bars are not required to print the entire ingredient list on the individual candy bars. The ingredient list requirement only pertains to the larger package they come in. Therefore, if you're unsure if a piece of candy contains gluten, look it up online before consuming.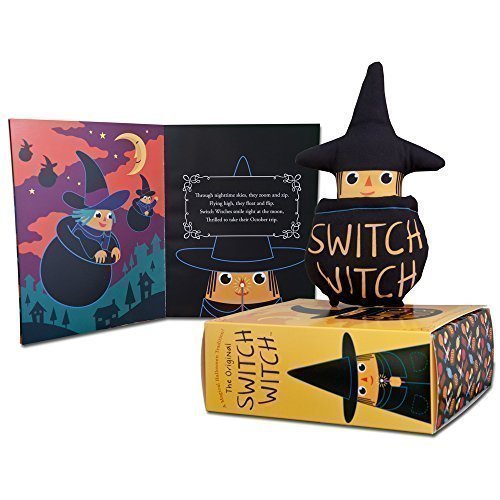 The Switch Witch
What happens to all the non gluten free candy your child can't eat? One option is the The Original Switch Witch. This special set of children's book and plush toy tells the story of The Switch Witch, who trades your candy for alternative gifts.
The owners of The Switch Witch support causes such as the Juvenile Diabetes Research Foundation and the Teal Pumpkin Project. You can order the book and plush toy together, or just the book on its own.
What other questions and concerns do you have about having a safe Gluten Free Halloween? Tell / ask me in the comments below, and I'll do my best to answer your questions!