Gluten Free Charcuterie Board
As an Amazon Associate and member of other affiliate programs, I earn from qualifying purchases.
Have you ever put together a gluten free charcuterie board? While they look fancy, they truly are simple to assemble! And using certified gluten free Schär products, this truly becomes a "Schär-cuterie board!" This post sponsored by Schär.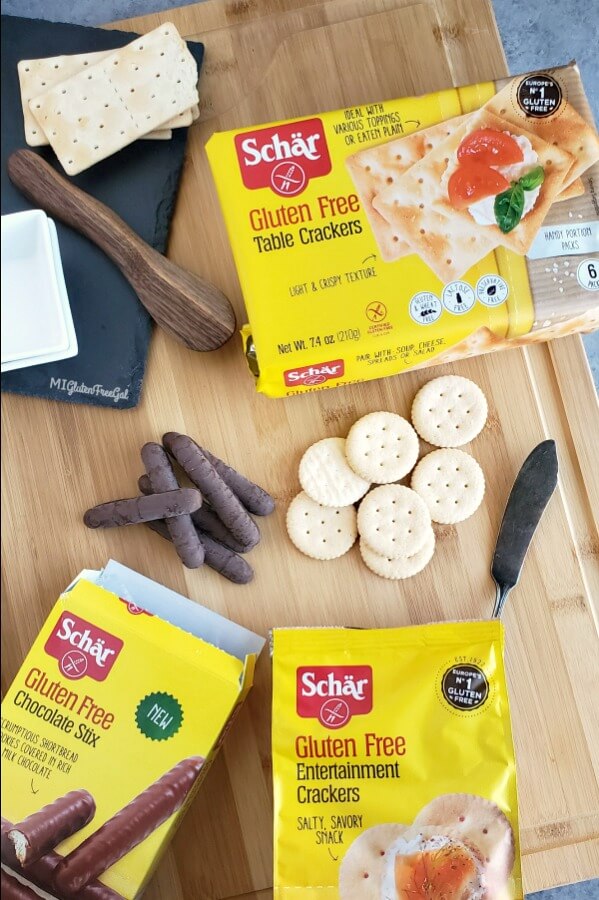 Schär Gluten Free Crackers
Every week, someone in a Facebook group asks the following question. "What gluten free alternatives are there for saltines / Ritz?" I love Schär Table Crackers and Entertainment Crackers, respectively, for those very purposes. Certified gluten free, these crackers are my go to for snacking and recipes.
For example, the Table Crackers create the crunchy topping on my gluten free Au Gratin Potatoes. My friend Erica Dermer uses the table crackers for her Christmas Crack. My friend Chrystal uses the Entertainment Crackers for her Jalapeno Poppers. Can't find them in stores? Order directly from Schär's online shop!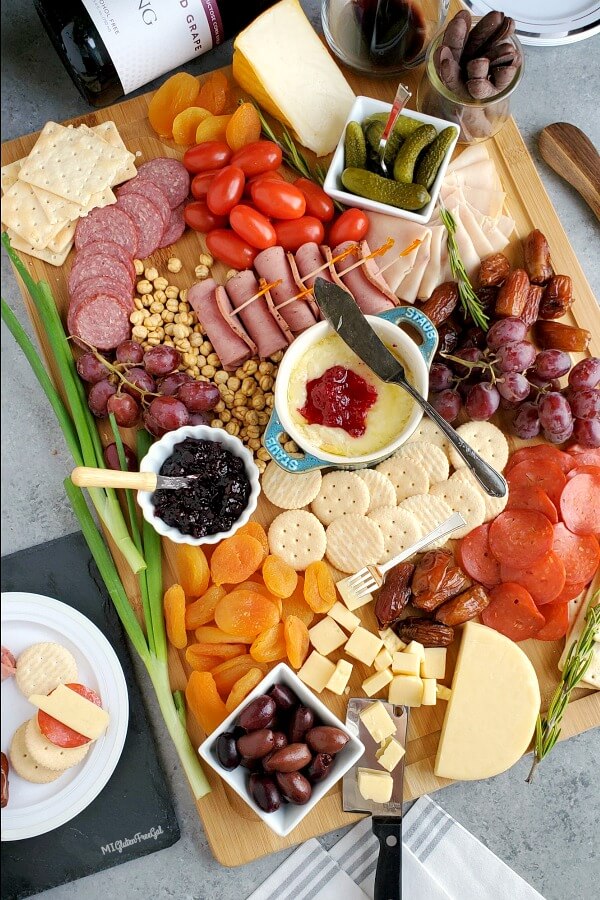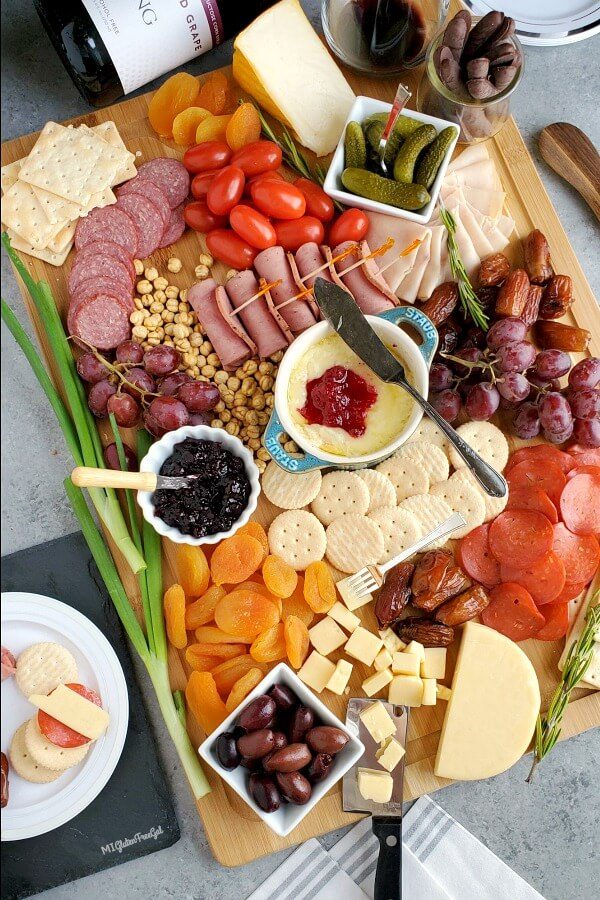 What To Include on a Gluten Free Charcuterie Board
Charcuterie (pronounced [shahr-koo-tuh–ree]) involves prepared meats and cheeses. Think of it as a grown up version of a lunchable. A very LARGE lunchable. Many people add dried or fresh fruits, as well as nuts and jams. Here's a run down of what's on this specific board.
3 cheeses – Brie (baked and topped with cranberry sauce), Gouda, Port Salut (you can use more)
4 meats – sliced turkey meat, beef summer sausage, turkey pastrami, turkey pepperoni
mini dill pickles and kalamata olives
cherry tomatoes
dried, roasted chickpeas (a great alternative to nuts!)
2 dried fruits – apricots, dates (dried pears or pineapple could be good, too!)
jam
fresh fruit – grapes (others have used strawberries, blueberries and apples)
greenery for garnish- green onions and sprigs of rosemary
I bought moat of the fresh fruit, cheese and vegetables at Aldi. They truly have become my favorite cheesemonger. I shop at our local Middle Eastern market for the dried chickpeas and dried apricots. They also have fantastic prices on olive oil. I picked up some fancy jam and beef summer sausage at Horrock's Farm Market in Lansing.
How To Arrange Items on a Charcuterie Board
My biggest tip on layout? Place foods of contrasting color next to each other. Place a dark jam next to light crackers. Add dark red tomatoes next to bright cheeses. Use white and bright bowls on the board to add a pop of color. For more help, watch this video on how to place items on your Schär-cuterie board.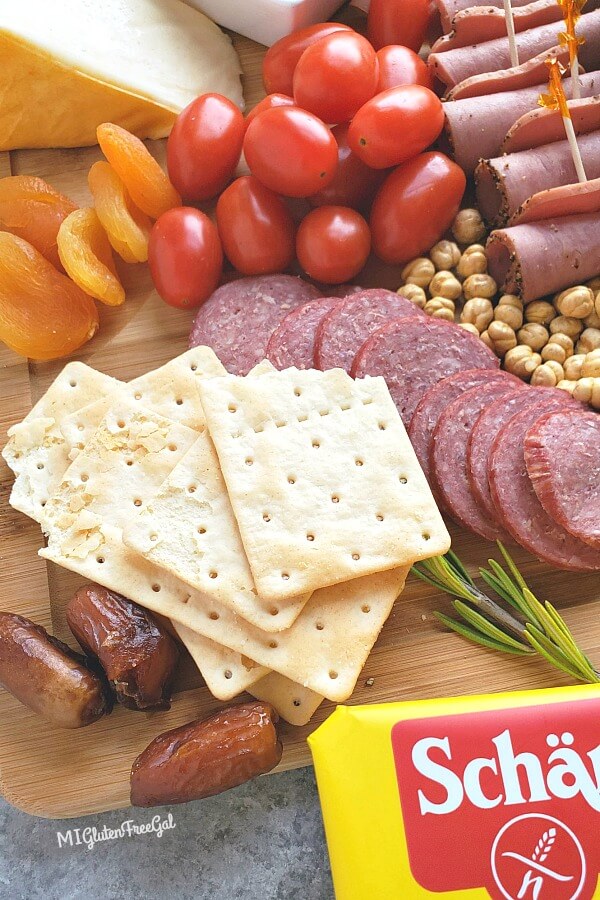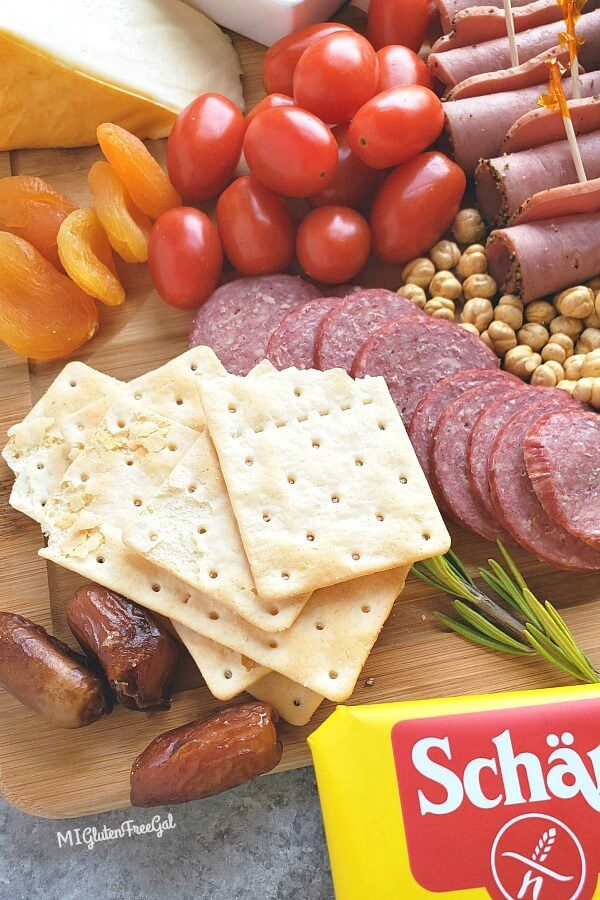 Pork Free Meats
Typically, one uses pork based meats for a charcuterie board. However, pork products turn my husband's stomach. Since he graciously doesn't bring gluten into our home, I gladly keep our house pork free as well. Since prosciutto and salami are made from pork, those two are out.
I bought some turkey pastrami for fun. However, the easiest meat to manipulate for the board was round deli turkey lumchmeat. You could also use sliced roast beef or other thin sliced deli meats. A note that some beef summer sausages may contain pork. Make sure to read labels thoroughly if your guests abstain from pork.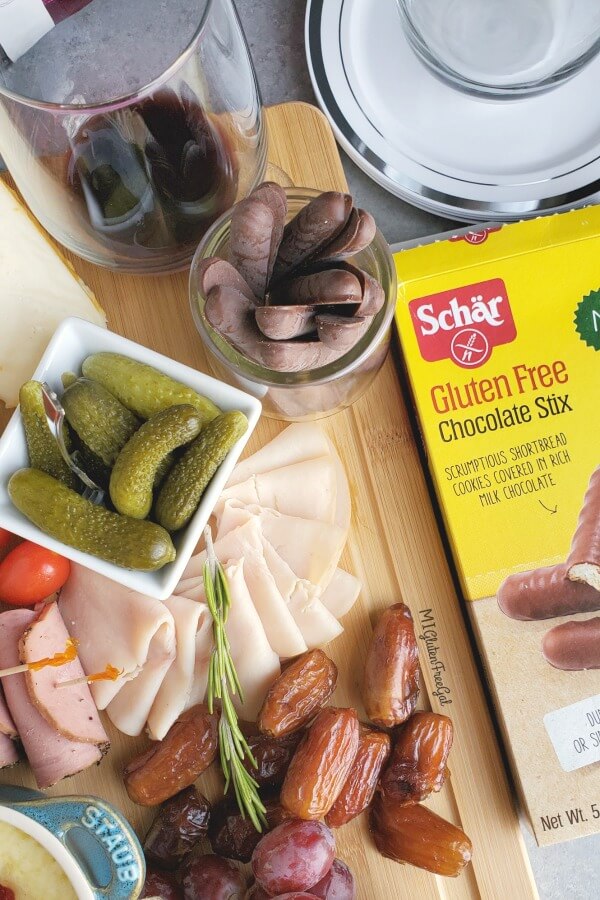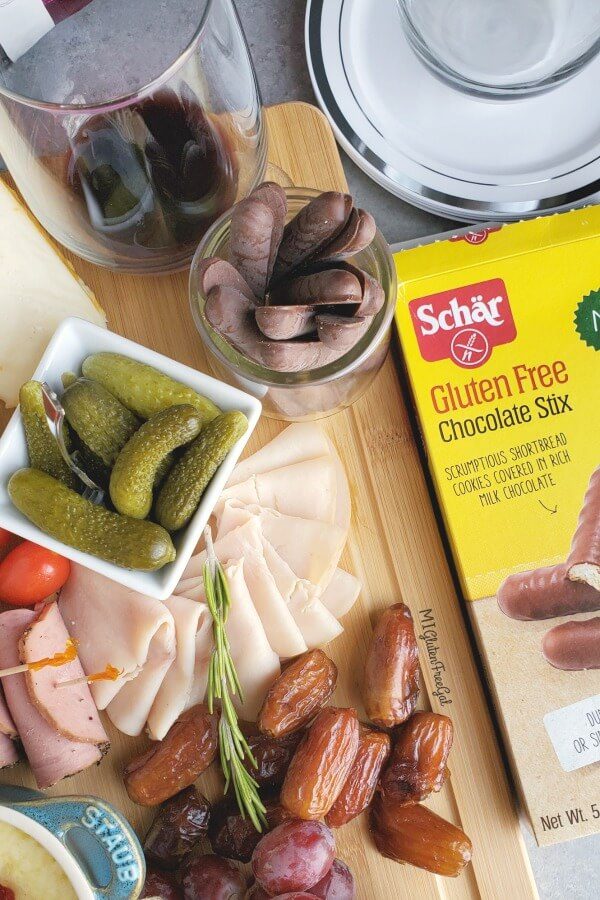 A Touch of Something Sweet
Adding fruit and jam to a gluten free charcuterie board balances the saltiness of the meats. I've seen some add chocolate to their boards. Therefore, I felt this was a perfect time to try the new Schär Gluten Free Chocolate Stix. They are small, and add just a touch of sweetness and cookie crunch.
I used a small glass jar to place my Stix. (Leftover yogurt jars are so versatile!) This way it makes it makes them easier to grab. In addition, it keeps them away from any meat or fruit juices. P.S. Have you seen Flippin Delicious' Candy Stuffed Brownies? She used the Schär chocolate stix in them, and they look amazing!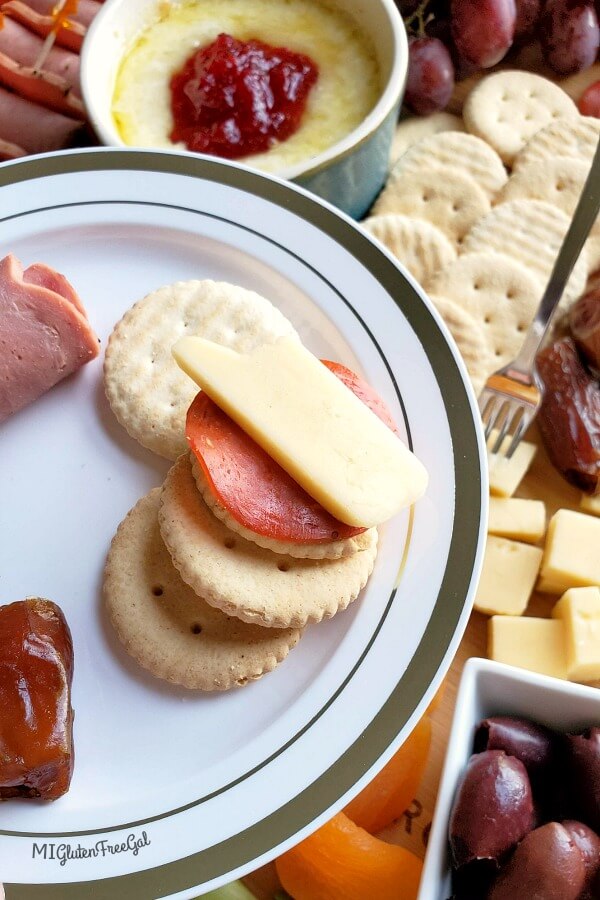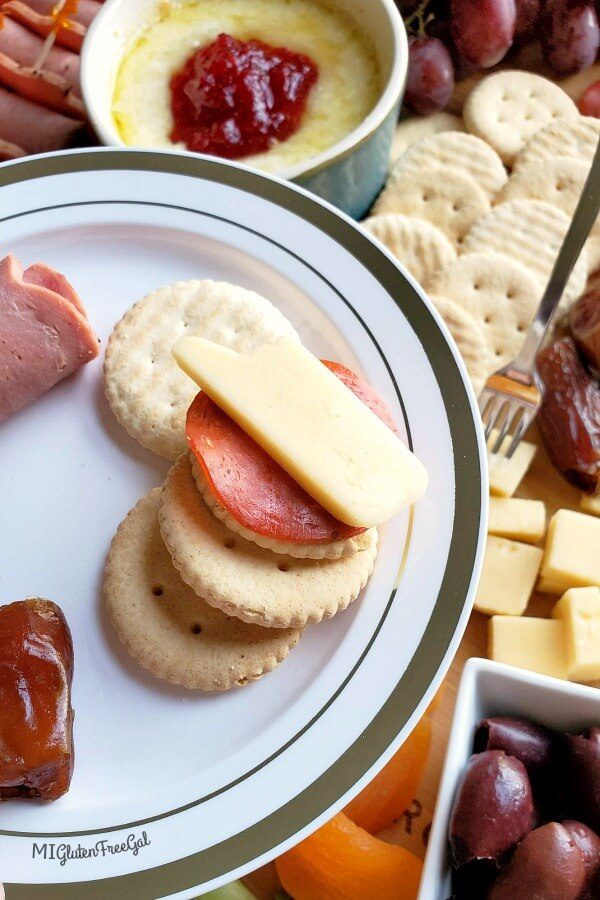 Gluten Free Charcuterie Board Hardware
I used a large cutting board for this gluten free charcuterie board. You can be as fancy or as simple as you like. I also recommend using small bowls for the pickles and olives. This keeps the juices from running onto the board. (Nothing worse than the smell of pickle juice you can't get out of wood!) I bought my small white bowls from Pier 1.
Make sure to have small spreaders and forks for guests to use to pick up items on the board. You can also use toothpicks. If planning for a large group of guests, I recommend disposable plates. The point of a gluten free charcuterie board is to allow people to eat freely, and to you have less dishes to do! I bought mini forks and small plates at Party City on the cheap.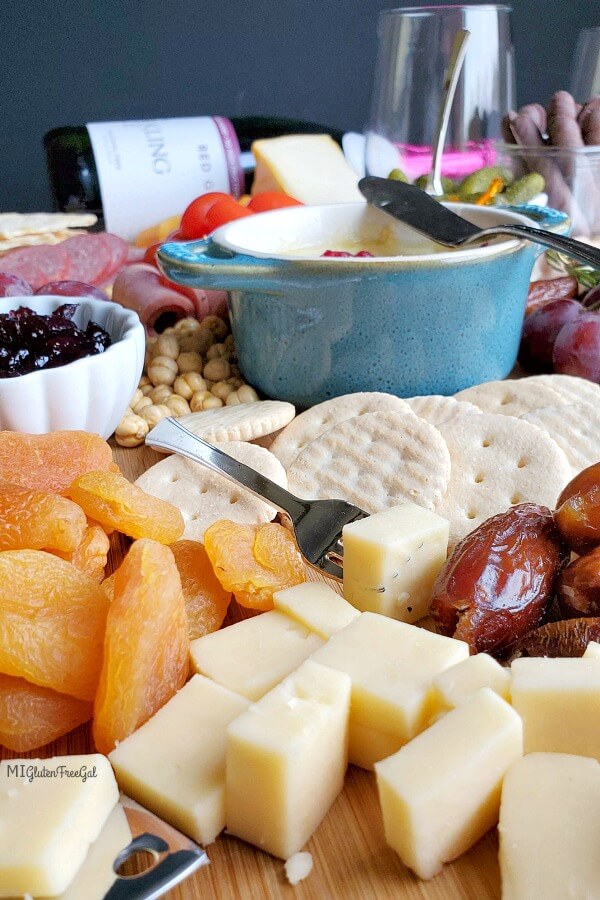 Beverages to Serve with a Gluten Free Charcuterie Board
In our house, we're not big wine drinkers. Therefore, we use (Michigan based) St. Julian sparking juices. That way, our guests can drink as much as they want, without concern of impaired driving. For an idea of what wines work best with which meats, check out this article from Portland Monthly on Charcuterie & Wine Pairings.
If you're looking for something with alcohol, I recommend A Dash of Megnut's Easy Cranberry Mimosas. Boulder Locavore has a whole list of holiday cocktails your guests want you to make! If you're looking for more non-alcoholic drinks, This Vivacious Life twenty mocktails you may want to check out!
What do you like to snack on at gatherings? When you throw parties, what appetizers do you like to serve? Tell me in the comments below!
**Schär sponsored this post by paying me for my time and energy. This post does contain affiliate links. Purchases made through those links help support this blog with no extra expense to you. Thank you for your continued support!**