Breadless – Dedicated Gluten Free in Detroit
As an Amazon Associate and member of other affiliate programs, I earn from qualifying purchases.
Breadless in Detroit takes the bunless sandwich option to a new level. This 100% gluten free eatery uses a variety of sturdy greens and gluten free meats to make creative and delicious grain free sandwiches.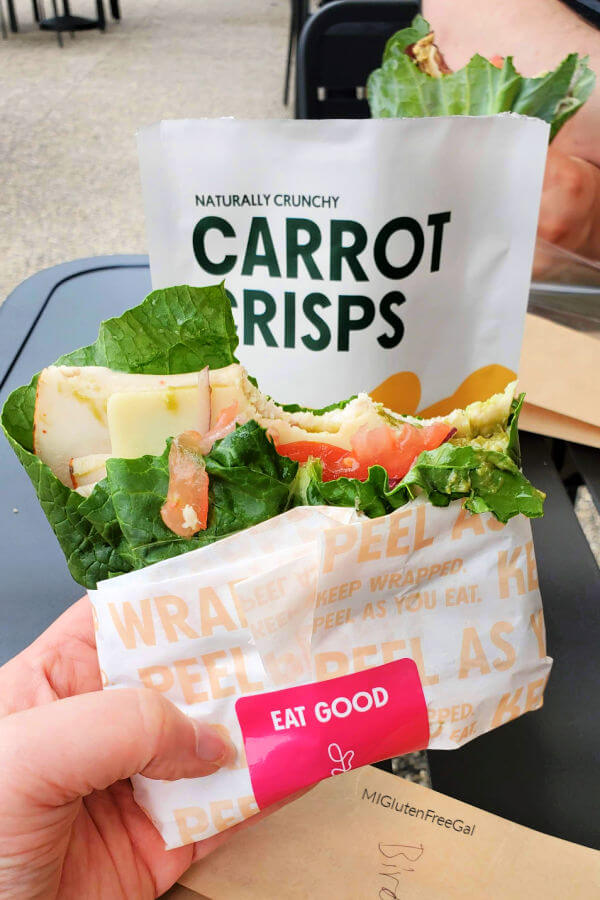 Sandwiches Made from Greens?
I will be the first to admit that I wasn't sure I was going to like Breadless. I'm a girl who loves her carbs. And while I like spinach and lettuce, I'd never really eaten turnip or spinach greens, let alone chard or Dino kale. However, my husband and I were pleasantly surprised at just how much we LOVED our meal.
After dining at Breadless, I reached out to LaTresha Howland, one of the co-founders of Breadless. I was so intrigued about their concept, and wanted to be able to share more about their mission with my readers. The text that follows are direct answers from her.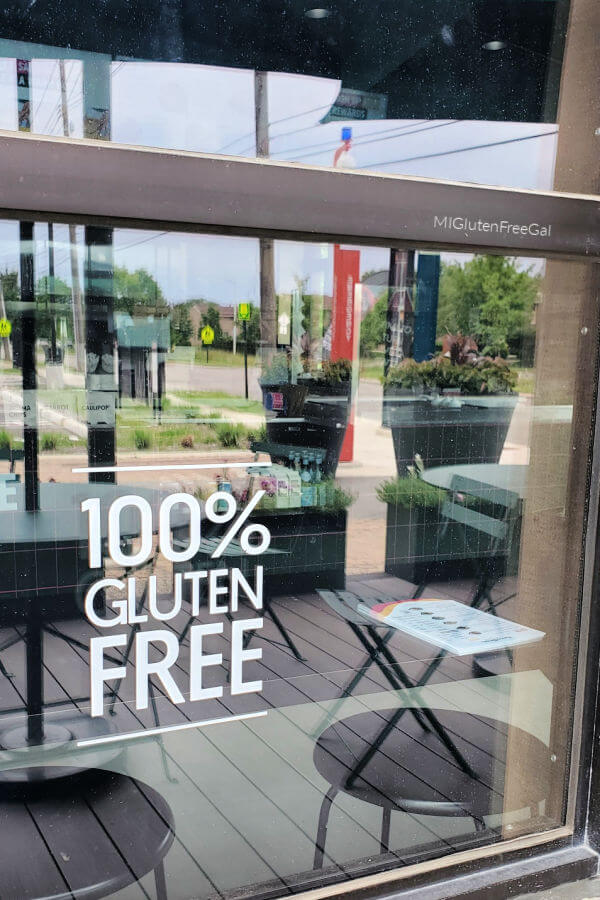 Why Did Breadless Choose to Open a 100% Gluten Free Restaurant?
As a blogger, I'm just as interested in the "why" as the "what." All too often, we see companies offer gluten free "options," that may not be prepared in the safest manner. Therefore, I'm very appreciative that Breadless is a 100% gluten free atmosphere.
LaTresha shared why they opened a dedicated gluten free restaurant. "Breadless was created because our CEO, Marc Howland, struggled for years to find healthy food options that would fit his lifestyle. He had trouble digesting bread, worked long hours in corporate America, and also attempted to stay fit at the same time.
For over 10 years, Marc was the guy going into every restaurant and making special requests. He would ask for a lettuce bun or lettuce wrap instead of bread, and what he got back were "side-eyes" and sloppy iceberg lettuce wraps. Sometimes he just received a protein on a bed of lettuce, that looked like an afterthought.
(Read more about their mission & vision in this Detroit News article.)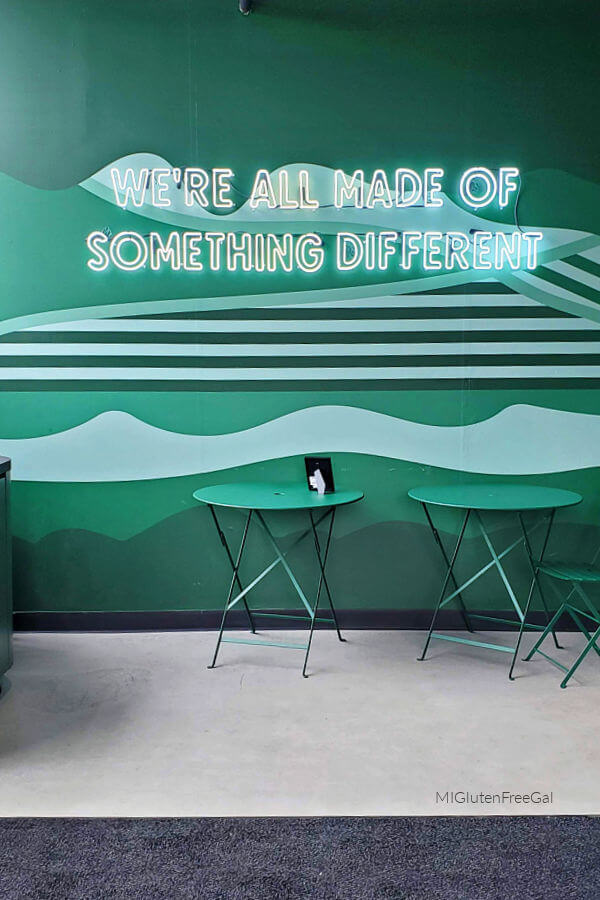 Frustration Leads to Inspiration and Innovation
"Marc got so fed up that in early 2019, he texted his then-fiance & now wife & Co-Founder, LaTresha Howland, photos of the lettuce buns, and candidly vented how it was ridiculous that there wasn't a better alternative to the traditional sandwich. Marc knew that a place needed to exist that was specifically focused on sandwiches that are healthy & delicious without all the carbs and calories as a core product, not an afterthought.
LaTresha agreed that it was a great idea and that she wanted to help, because such a place needed to be accessible everywhere. Up to this point, Marc and LaTresha were just making lettuce sandwiches at home. Both quickly realized they needed someone to help take the menu and concept to the next level. Therefore, they reached out to their friend Ryan Salter, an experienced executive chef, caterer, and restaurant owner.
Ryan came on board and the product evolved completely away from iceberg lettuce to savory sandwiches made with leafy super greens like red swiss chard, turnip greens, kale, & collard greens. He also tailored each sandwich so that the taste profiles were different (and delicious!). We had (3) core sandwiches then: The Garden of Eatin' (eggplant on collard), Bird is the Word (turkey on turnip), and Chardi B (chicken on swiss chard)."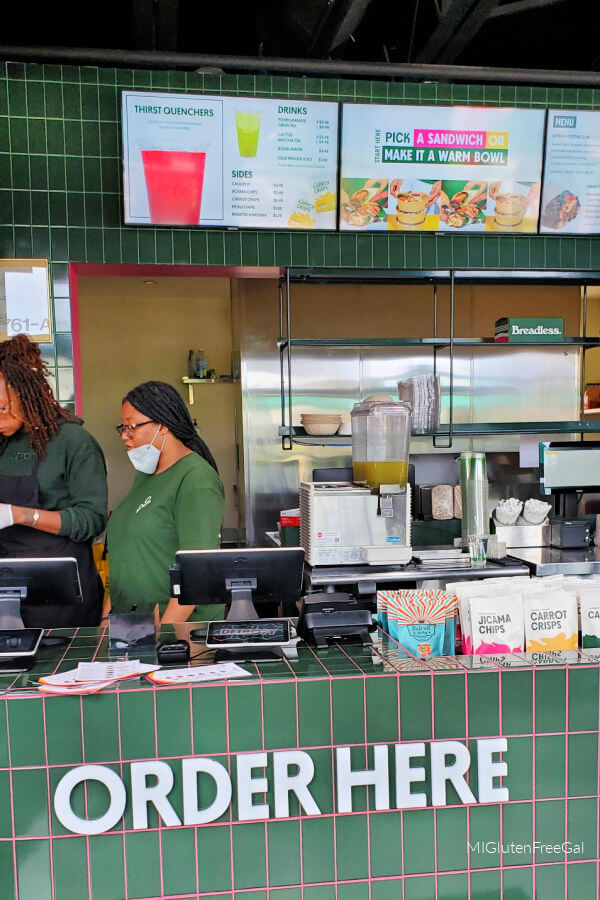 What Ingredients Does Breadless Use? Are they Certified Gluten Free? Halal?
While we knew our vision was to have a 100% gluten-free sandwich option that tasted good, Ryan's culinary background allowed him to take this concept to the next level with a curated, chef-inspired menu aimed at offering something better, premium-even, to future customers.
We all decided to use the freshest, highest quality ingredients, from our partnership with Boar's Head for our sliced meats, to working with local farms and suppliers for our leafy super greens, produce, and Halal chicken. A majority of our sauces are made in-house. The ones that are not, are kept to the same standards we employ to all of our products (low-sodium, low-sugar, gluten-free).
(Also, all packaging and straws are Eco Friendly.)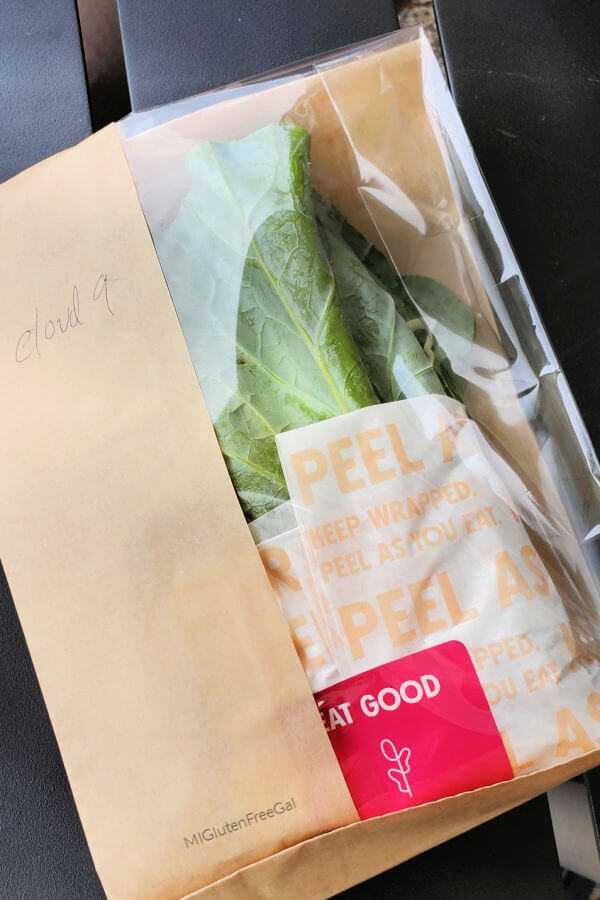 What's On the Menu at Breadless?
They offer a variety of sandwiches with fun and unique names. All sandwiches can also be served as heated bowls.
Cloud 9 Pastrami – Collard + Boar's Head Pastrami, spicy mustard, reuben sauce, tomato, onion, pickle
Chardi B – Swiss chard + sliced chicken, pepper jack cheese, cilantro avocado sauce
Bird is the Word – Turnip greens + sliced turkey, avocado spread (I ate this and loved it!)
What the Kale (Halal) – Dino kale + halal roasted chicken, cheese, bbq sauce
The Garden of Eatin'- (Vegetarian) – Collard + roasted eggplant
Detroit Oyster Club (Vegan & Whole30) – Swiss chard + roasted oyster and portobello mushrooms
Spicy Chick(pea) – (Vegan) Our newest sandwich launches this month, made with a breadless falafel and a spicy vegan aioli
Smokey Beets – Our newest plant-forward option made with sliced beet & chickpeas deli-style
You can also Build Your Own – make whatever sandwiches you'd like from their available ingredients, proteins, sauces, toppings, and cheeses!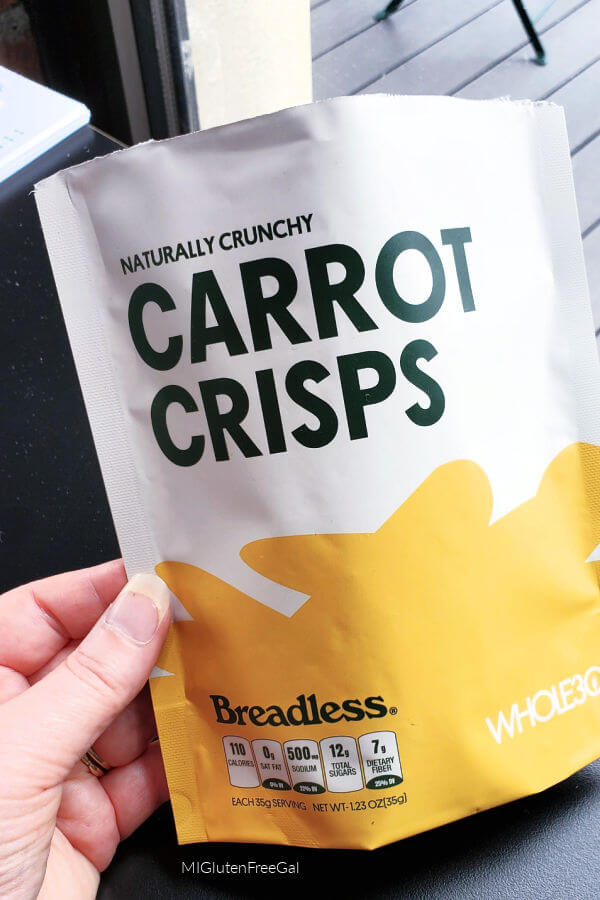 Does Breadless Offer Any Sides?
As far as in-house offerings, we have (3) vegetable sides that are all Whole30-approved: Jicama chips (dehydrated Jicama seasoned with chili-lime), Carrot Crisps (dehydrated carrot strips seasoned with a bit of salt), Caulipop (dehydrated cauliflower seasoned with garlic)
In addition to sides, we also offer our immensely popular in-house teas: The Pomegranate Green Tea and the Cactus Matcha Tea. We are now offering desserts for the Summer: Pomegranate Green Tea sorbet and Cactus Matcha Tea ice cream!
Where is Breadless Located?
Breadless is located in Downtown Detroit, on Jefferson, near the Riverfront. (Parking is on Larned St.) It's located on the Joseph Campau Greenway Connector. The Joseph Campau Greenway extends from the Riverwalk to Vernor Highway, creating a trail for biking and walking. It includes "recreation and play features," benches and outdoor power stations. It's about a quarter mile east of the Dequindre Cut Greenway.
My husband and I visited Breadless after attending an event at the Eastern Market. Breadless is located about 2 miles from the market, less than a 10 minute drive. It's a straight 6 min drive from Breadless to the Spirit of Detroit statue. From there, one can get on the Q Line or the People Mover and explore more parts of Downtown Detroit.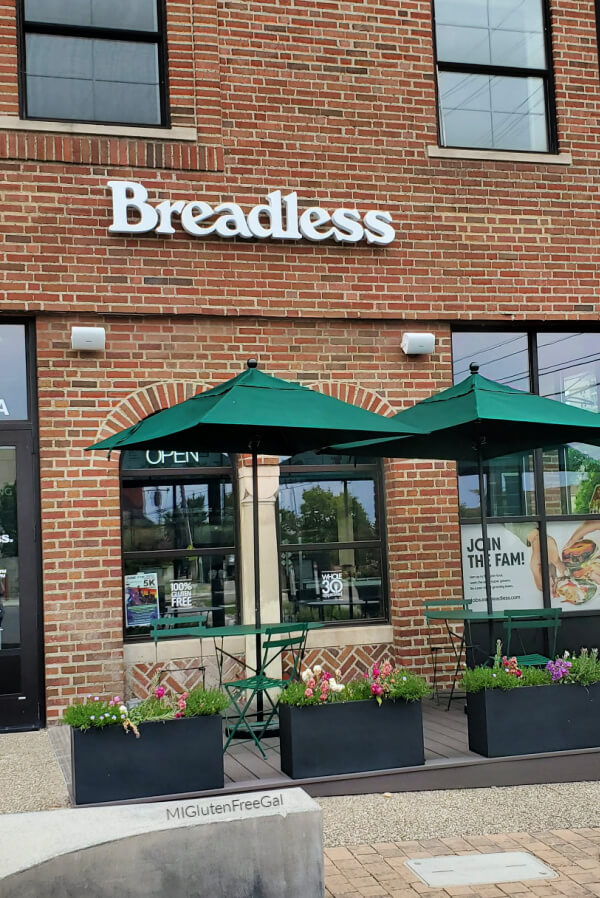 I Wish Breadless was Closer to Me. Do They Have Plans to Expand?
LaTresha answered, "Though we're highly focused on this location to start, what gets us particularly excited is our vision to create hundreds of entrepreneurs via affordable franchises, including lowering barriers to access to money, all while bringing leafy greens to communities everywhere."
"We're currently actively exploring/evaluating options for our next 1-2 locations. We've been looking at Birmingham/ Bloomfield Hills/Troy and other metro-Detroit cities, but are open to leads! Our goal is to franchise Breadless and expand nationwide. If someone is interested in opening a Breadless franchise in the future, please have them contact us via email." (Contact form linked at bottom of post.)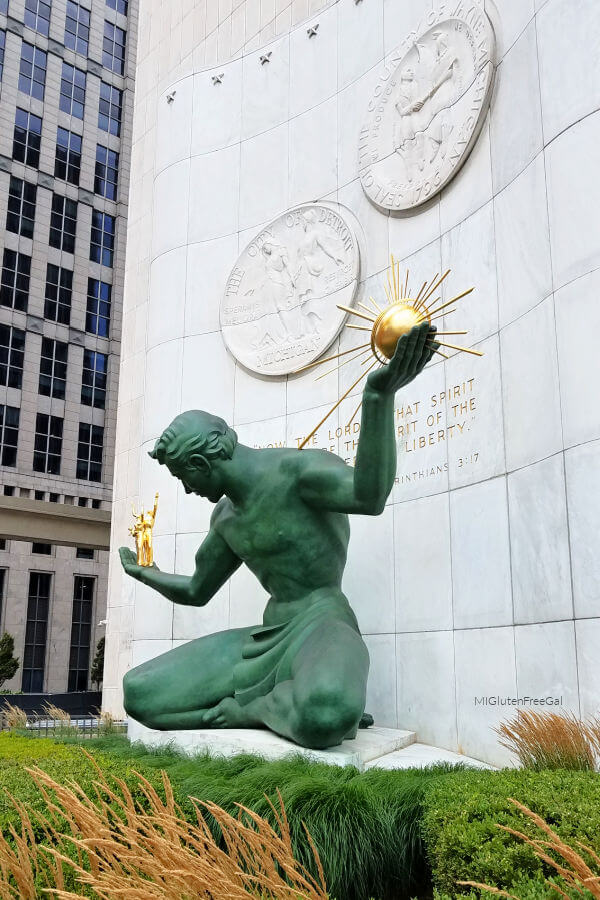 Things to See and Do in Detroit
Detroit is a hub of entertainment and sports. Check out the Detroit Lions (football), Detroit Tigers (baseball), Detroit Pistons (basketball), or the Detroit Red Wings (hockey.) Attend a concert at Fox Theater or the Detroit Masonic Temple. Go to the Detroit Visitors Bureau website for even more ideas.
Other Gluten Free Dining Options in Detroit
I admit that I don't travel to Detroit as often as I should. However, there are many restaurants on my "to visit" list. That includes Bangkok 96 Street Food, the Elephant Room, and Folk Detroit. Other gluten free dining options in Detroit include Frita Batidos, and Wahlburgers. If you have more suggestions, please tell me in the comments. 🙂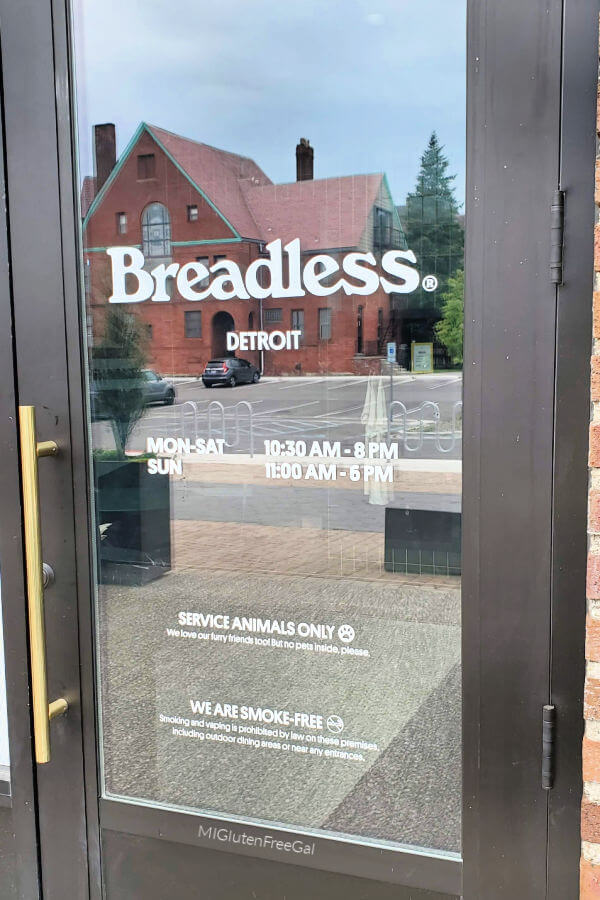 Breadless
2761 E Jefferson Suite A,
Detroit, MI 48207
(313) 488-4091
Website | Facebook | Instagram | Email
They offer delivery through their website (order.eatbreadless.com), their Breadless app on IOS and Google Play, and also deliver through 3rd parties such as DoorDash, UberEats, GrubHub and EZCatering.
Breadless is one of many Michigan restaurants I've visited. You can find a list of them on my Michigan gluten free dining post. Please remember to always ask any restaurant about their food preparation practices.
** I paid full price for my meal. All thoughts and opinions are my own.**