"Must Visit" Michigan Gluten-Free Ice Cream Parlors
As an Amazon Associate and member of other affiliate programs, I earn from qualifying purchases.
Finding an eatery that offers gluten free cones for their ice cream is a big deal! I'm sharing my suggestions for Michigan ice cream parlors with gluten free options, today. Make sure to check out the comment section for suggetions from others, too!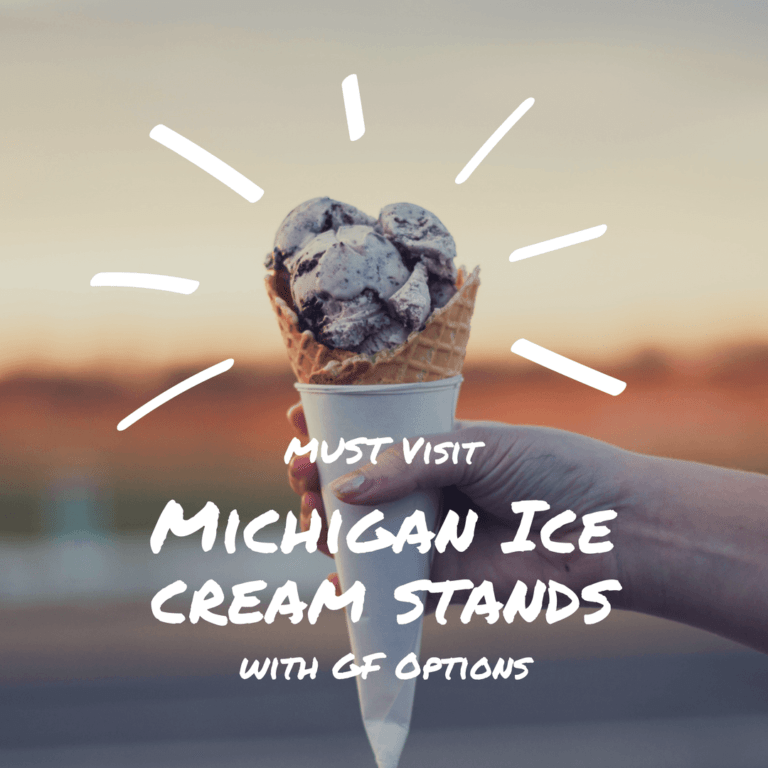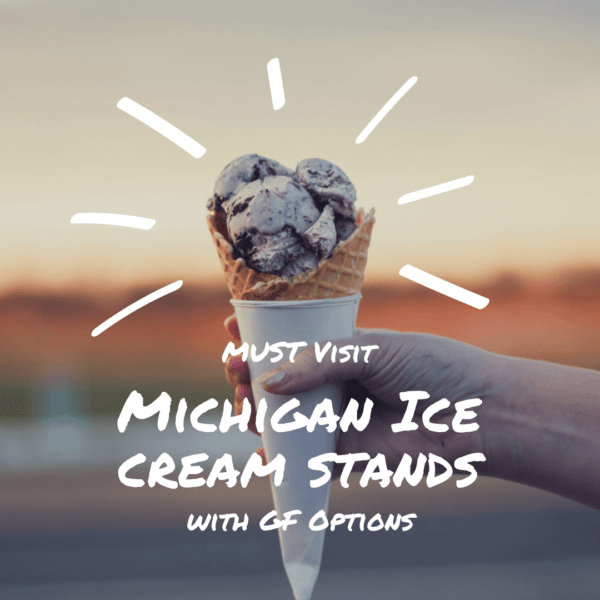 I remember when I was newly diagnosed with Celiac Disease. Ice cream was my best friend. Since I could no longer eat sweet baked goods, I told myself I was allowed to eat as much ice cream as I wanted.
That being said, we need to remember that not all ice creams are created equal, and some are unsafe. There's the obvious culprits that contain baked goods. You also need to watch out for cross-contact and even some soft serve ice creams and frozen yogurts that contain gluten. Visit one of these places that offer great Michigan gluten free ice cream options!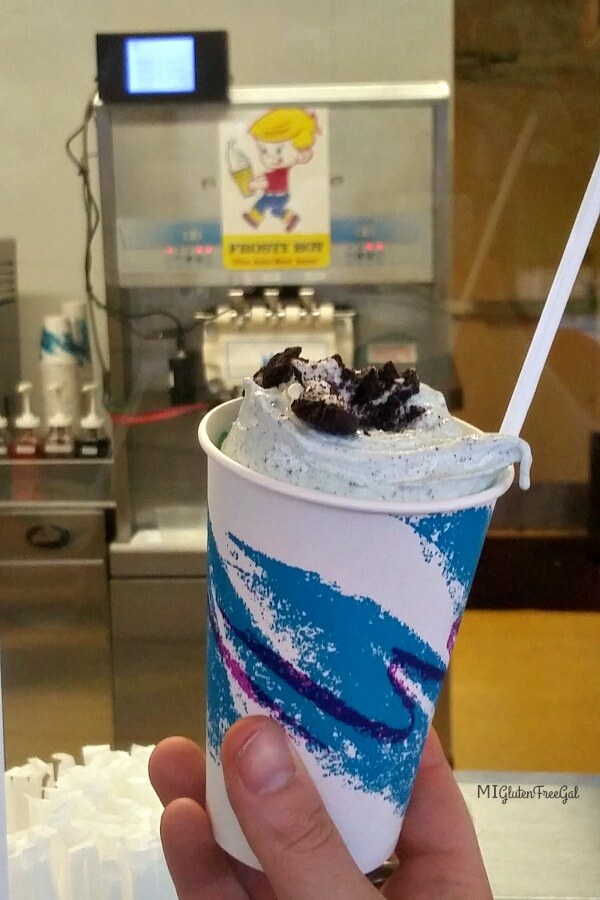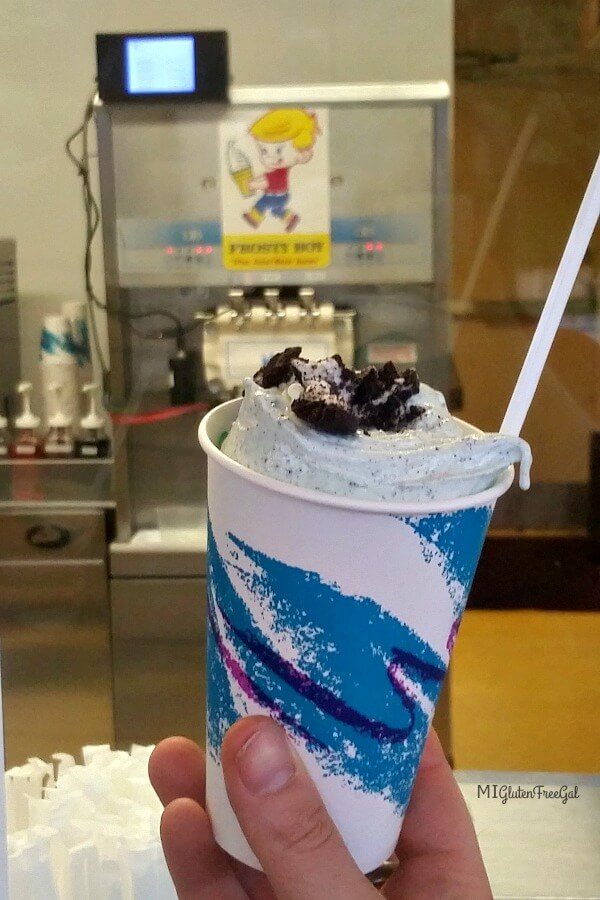 1. Frosty Boy – 1757 Plainfield Ave Grand Rapids MI 49505 (616) 284 – 1436
Frosty Boy was a Grand Rapids tradition until 2005. It sat vacant for at least a decade until owners Kyle and Alyssa Naumann gave it new life. Like many stands, they offer Michigan made Hudsonville Ice Cream and gluten-free soft serve. What sets them apart are the EXTRAS. You can get your ice cream in a homemade gluten-free waffle cone, your flurry made with gluten-free cookies from Kind Crumbs, or even get VEGAN soft serve!
(Gluten Free Options available at Plainfield location ONLY.)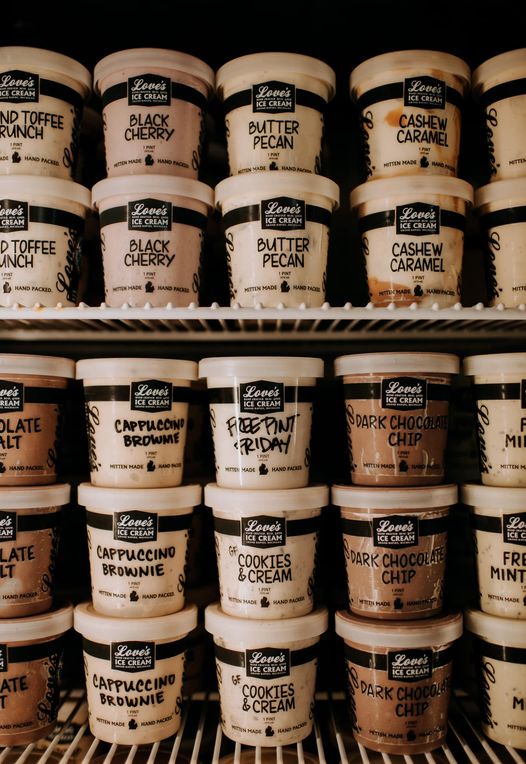 2. Love's Ice Cream – 435 Ionia Ave SW Stall 106 Grand Rapids MI 49503
Located inside the Grand Rapids Downtown Market, this creamery makes an amazing assortmen of gluten free flavors. Including S'mores*! In fact, only 7 of their flavors are not gluten free. Visit their scoop shop in the market to try all of their flavors. (You can also find their pints in various stores across Michigan.) *Some of the baked good items in Love's Ice Cream flavors are made with oats. Make sure to ask about ingredients if you are oat intolerant.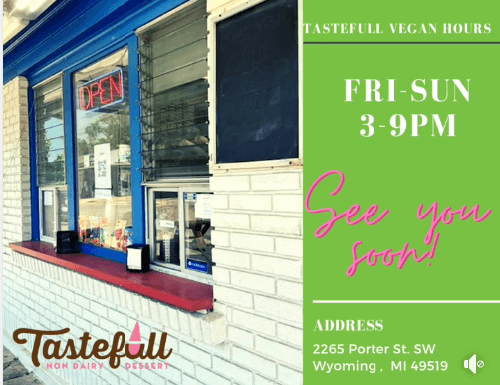 This new vegan frozen dessert business just opened (2022) in Wyoming, Michigan. Desserts are "free of dairy, nuts, soy, gluten, eggs, and refined sugar." Coconut milk is used in some of their desserts. ** Oat Milk is now used for their soft serve ice cream.

Detroit Water Ice Factory offers a wide variety of flavors, with almost all being gluten free. (Their Motown Mash flavor is not gluten free.) This business is owned by Mitch Albom, and the majority of their profit go to Say Detroit, which provides funding to Detroit non-profits.

5. MSU Dairy Store – 474 S. Shaw Lane East Lansing MI 48824 (517) 355 – 8466
Michigan State University and dairy cows have a long history. MSU was known as "Agriculture College of the State of Michigan" in 1855, and they've been a leader in teaching agriculture ever since. Dairy cows are housed on campus and milked daily, which visitors can observe for free.
The milk is then transported to the dairy plant to be turned into cheese and delicious ice cream. There's even an observation deck to watch the dairy process. While The Dairy Store does not have gluten-free cones, they are always willing to changes gloves and open a fresh tub of ice cream to prevent cross-contact.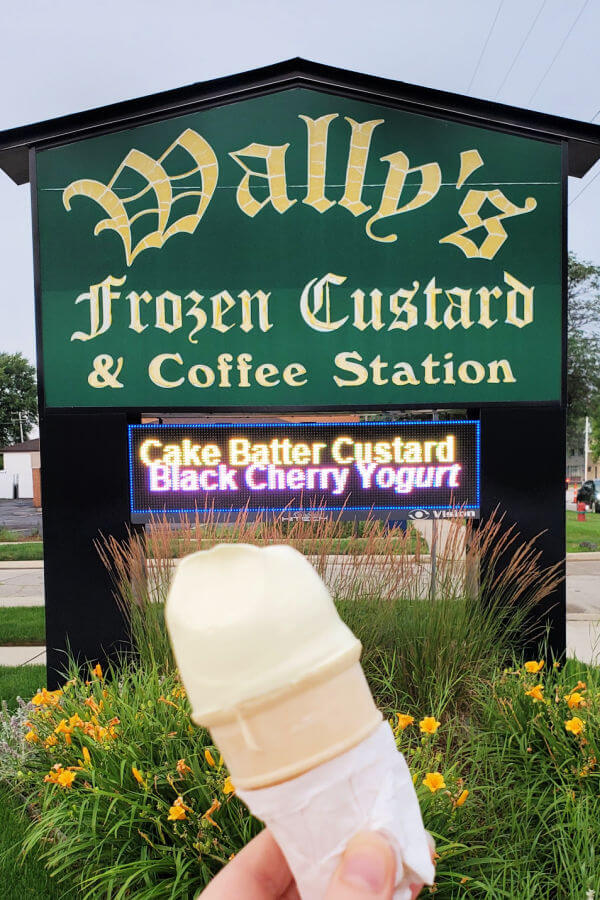 6. Wally's Frozen Custard – 22501 Harper Ave St. Clair Shores MI (586) 552- 5038
Wally's is located in St. Clair Shores and offers gluten-free cones. If we're honest, that's the hardest part of summertime ice cream experiences during the summer- no cone. Wally's has another draw though- they offer Dole Whip! If you've never head of it, it became popular in Disneyland and is dairy-free, gluten-free, nut-free, egg-free, and fat-free. This makes "ice cream" available to SO many other people!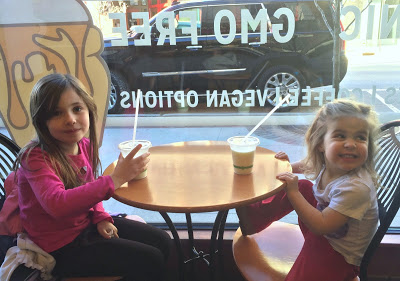 Photo courtesy of my friend Dallas.
7. Milk & Honey Cafe – 240 E Front St Traverse City MI 49684 (231) 944- 1036
Milk & Honey Cafe and Ice Creamery was first brought to my attention while writing an article for the Pure Michigan campaign. Unfortunately, I ran out of time while in TC and had to pass it up. But after reading a review by my friend Dallas, (those are her adorable daughters above), I had to learn more.
Milk & Honey makes their ice cream from scratch with local, organic and non-gmo ingredients. They create flavor combinations with mix-ins, and pull fresh ice cream with a clean spade for those with Celiac Disease. They have gluten-free cones and also have a full sandwich menu with gluten-free bread.
(**Honorable Mention – Moomers Ice Cream in Traverse City. Voted #1 Ice Cream in the country.)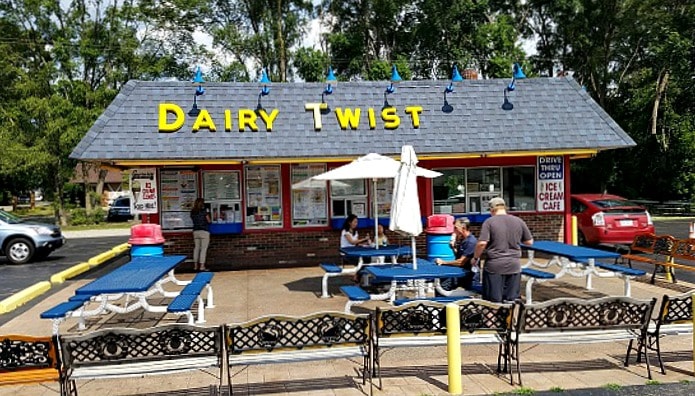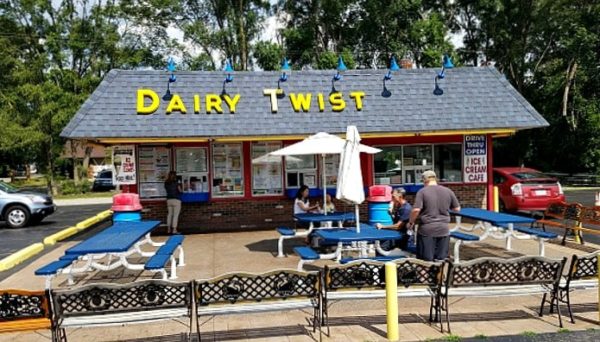 8. Dairy Twist Cafe – 2660 Benstein Rd, Wolverine Lake, MI 48390 (248) 624- 4001
I found Dairy Twist Cafewhen I wrote about the best places to get vegan ice cream in Michigan. Turns out this place is great for Michigan gluten free ice cream options as well! All of their dairy-free ice creams are gluten free. In addition, Dairy Twist Cafe has gluten free cones too! They have LOTS of options, too. They were awarded Oakland County's Largest Ice Cream Store.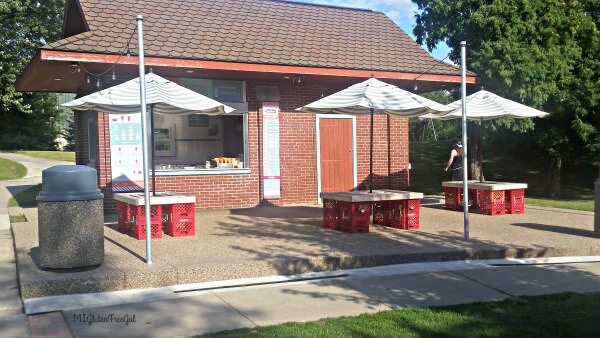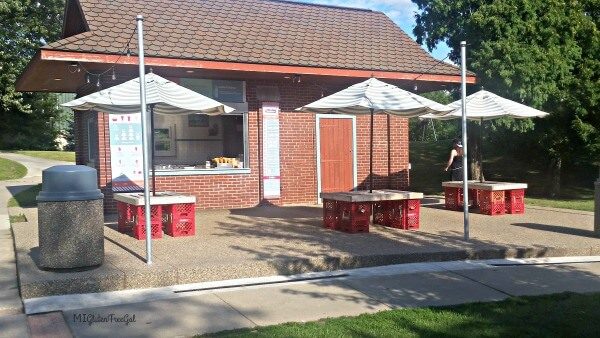 9. Pumphouse Custard – 201 S Leroy St, Fenton, MI 48430 (810) 936- 0442
Pumphouse Custard is located on the premises of Fenton Fire Hall. While Pumphouse Custard may not have gluten free cones, they have some pretty amazing flavors when it comes to Michigan gluten free ice cream options.
Pumphouse makes all their ice cream in small batches, using liquid nitrogen. The rotating menu on premises notes which ice cream flavors are gluten free, as well as dairy free. Staff keep ice cream containing nuts in a separate cooler, and use a separate scoop and water reservoir, too!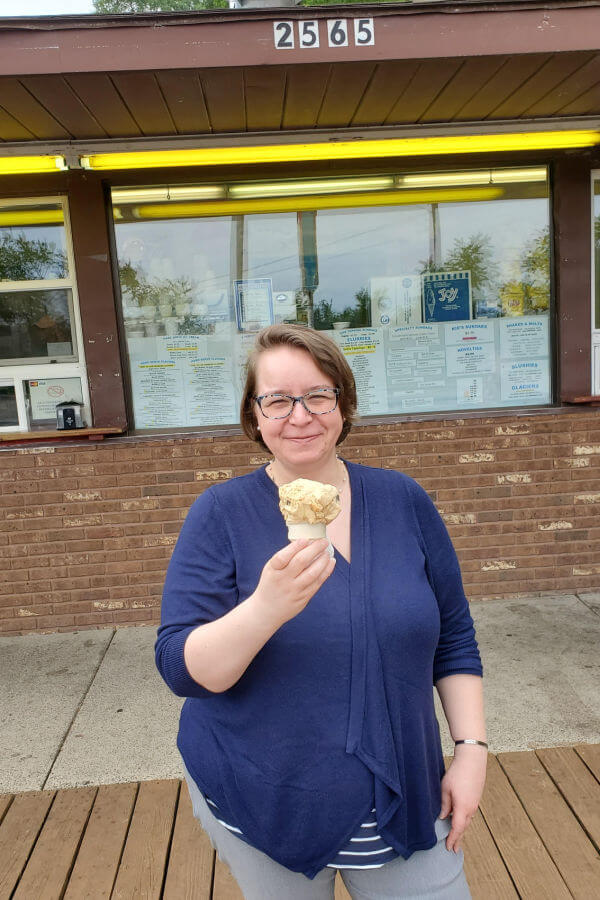 10. Frosty Cove – 2565 Lakeshore Drive Muskegon MI 49441 (231) 955 – 7130
I heard about Frosty Cove through my connections with the Muskegon Celiac Support Group. Frosty Cove proudly serves Hudsonville Ice Cream, which has over 20 flavors that are gluten-free. Frosty Cove makes sure to always have gluten-free cones on hand as well. I hear that their servings are large – almost as big as your head!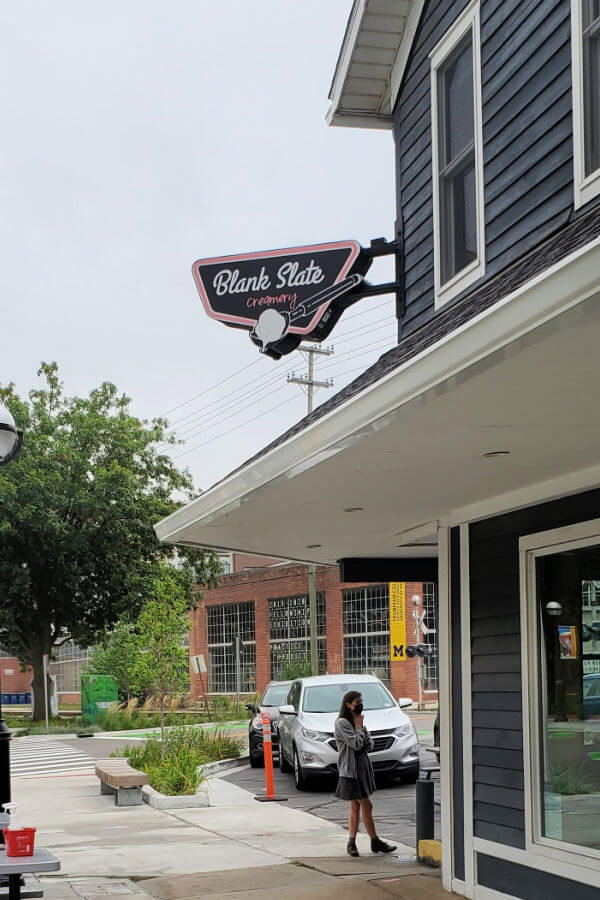 This iconic Michigan ice cream parlor opened in Ann Arbor in 2014. In 2021, they expanded to a second location in downtown Brighton. Blank Slate Creamery makes their own ice cream, using Michigan's own Guernsey Dairy. They offer dairy free options as well! They have a separate case with seven flavors of non-dairy ice creams and sorbets. The gluten free status of all their flavors is clearly marked on the menu, and they will open a fresh tub from the back, if you tell the you have Celiac Disease.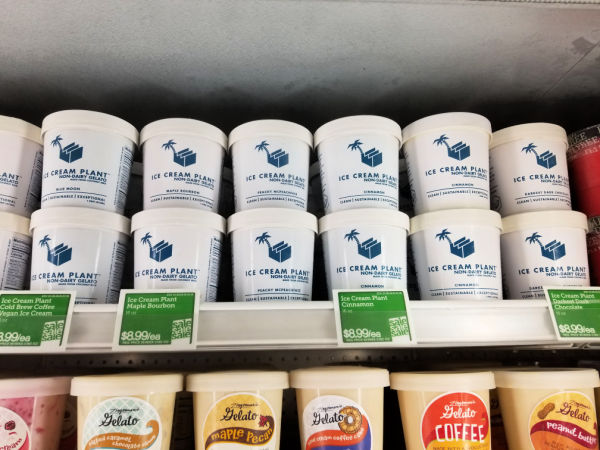 12. Store Bought Ice Cream Worth Mentioning
Ice Cream Parlors Mentioned by Other Readers
Here I'm sharing a few specific places mentioned to me on Facebook and Instagram. Make sure to check out the comment section below, for more suggestions.
Marks the gluten free status of their ice cream, and offers gluten free waffle cones. "Gluten Free waffle cones are made on the same irons as the other cones but the irons are steamed and bleached before and after use. As for ingredients, we use the Krusteaz Gluten Free Flour and Tom Sawyer Gluten Free flour. "
– Reader states "All frozen yogurt and custard flavors are gluten free, they have gluten free cones, and will open fresh toppings like their amazing toasted coconut for those of with worries of cross contact." (See comments for more info) (I tried this place in 2022 and it was delicious!)
Has gluten free mix-ins and dairy free ice cream bases. Ice cream made with liquid nitrogen
Has gluten free cones, vegan ice cream, and gluten free oreos
Has Gluten Free Cones
So, there we have it. I'm sure there are other great places you've found that go the extra mile. Leave a comment below and let others know the other great gluten Michigan ice cream parlors offering gluten free options!