Whippin' Good Eats – Gluten Free
As an Amazon Associate and member of other affiliate programs, I earn from qualifying purchases.
Whippin Good Eats is a home based baking business, located in Wyoming, Michigan. Offering gluten free baked goods and mixes, owner Sam Hettinga looks to continue a family legacy.
**This is an interview with the owner. Please scroll to bottom of page for bakery address, phone number, website, email, and social media links.**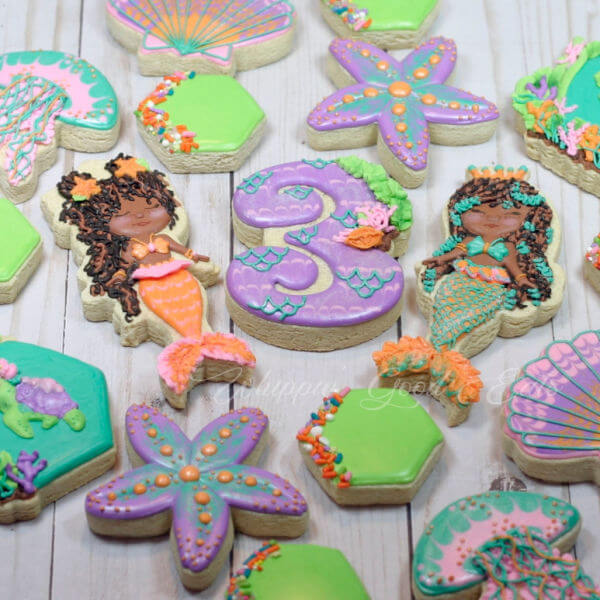 A Note About Shared Kitchens
Whippin' Good Eats products are baked in a home where gluten is present, but wheat flour is not. I usually only share about companies who have a completely gluten free facility. However, when I polled my followers, some suggested I share about businesses, and their preparation methods, and let customers make their own decisions.
When polled, 2/3 of people responded that they themselves do not keep a 100% gluten free kitchen. Of those, 2/3 responded that they do NOT keep wheat flour in their household. Also, 3/4 of my followers stated they would buy from a baker that may have gluten in the home, but NOT if wheat flour was also present.
Therefore, I'm sharing about Whippin' Good Eats today, including her methods for preventing cross contact. All information shared in this post comes straight from owner, Sam Hettinga.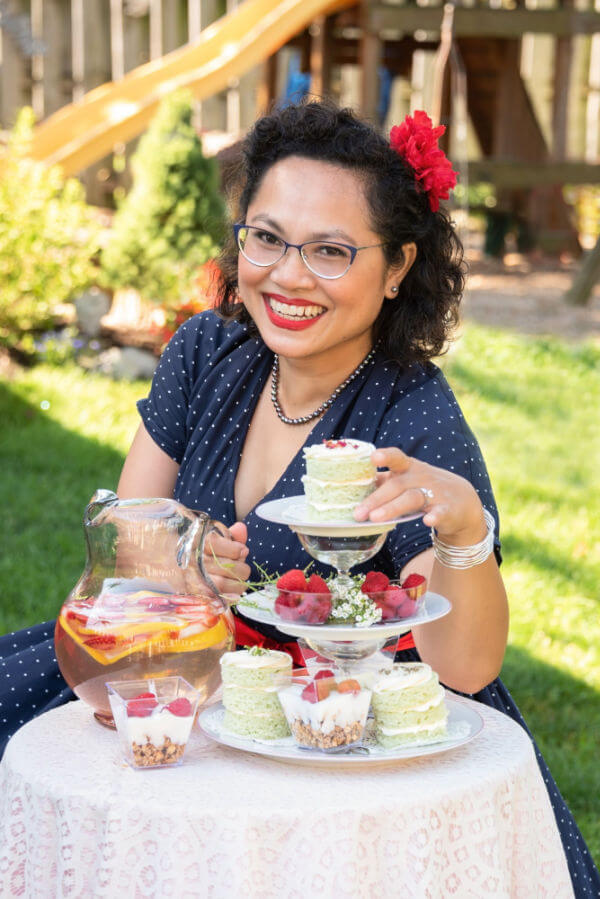 1. What inspired you to become a baker?
My mother was a chef for a short time and encouraged me to get into the kitchen. As an Asian parent, she wanted to make sure I could cook for whomever I'd marry some day. Being drawn to the arts and being creative all my life, I was fascinated by the fancy pastries. My mother took that as her cue to get me inspired in the kitchen. It worked and she realized I was a natural at it. I enjoyed creating and baking from the early age of 8. However, I didn't know I had celiac back then!
What Encouraged You to Open a Gluten Free Baking Business?
A little over 4 years ago, I was diagnosed with Celiac Disease. Due to recurrent health problems, my husband repeatedly suggested I may have issues with guten issues. After my testing, I took a 180 turn in my cooking and baking. This required me to relearn what was safe and what was not. I continue learning on the topic, because there are always new things to learn/ Im addition, I want my customers to know they are safe with the baked goods and baking mixes I offer.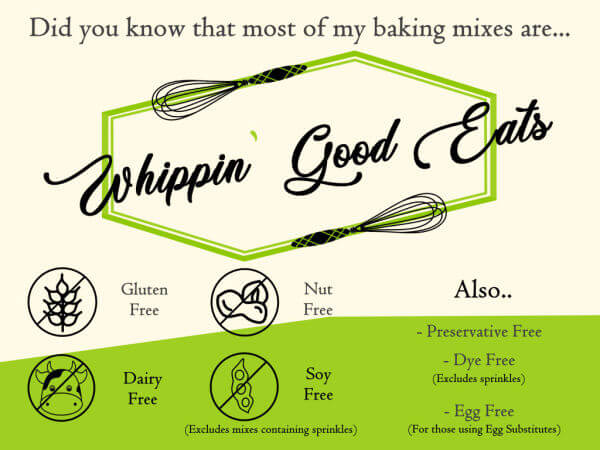 2. Are there other highlights of Whippin' Good Eats products? Dairy-free, egg-free, nut-free etc? Local ingredients?
I do offer DF, EF and NF items in my cakes/cupcakes and cookies. Many times when I make gluten free vegan items, I will eliminate all three to offer those with these allergies. I will use local ingredients when I can, such as fruits and vegetables from farmers. In addition, I ask farmers about their growing and harvesting schedule, and whether there is cross contact with gluten grains. I often prefer organic when possible.
3.What steps do you take to ensure that you items are truly gluten-free?
I use gluten free certified products in most cases such as all the flours, spices and add-on items such as sprinkles and cookies like oreo/grahams. If an item is not certified, but says "gluten free", I will contact the manufacturer or company to see what they mean by their label. I will find at times that the product is made from non-gluten containing ingredients but may use shared equipment. In this case, I will not use the product. I make sure to use only certified gluten free oats, such as Bob's Red Mill and One Degree Organic Foods.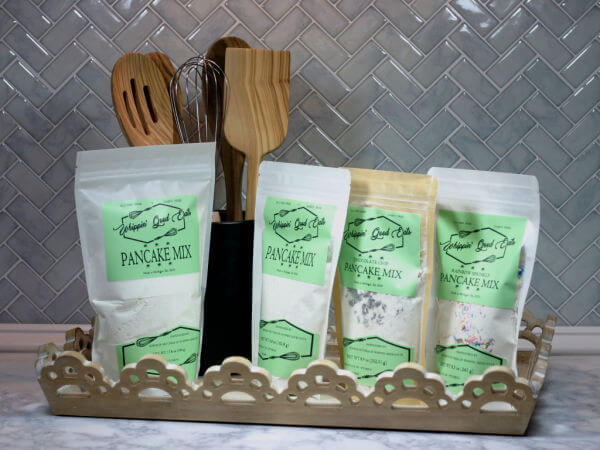 Your Family Eats Gluten in your Home. How Do You Prevent Cross Contact?
While my family eats premade items which contain gluten, (such as snacks, breads, and takeout), we don't cook anything containing gluten in our oven. It's a shared space (counters, sink, stove). However, all my business equipment is dedicated and not shared; this includes a separate fridge/freezer as well. Sometime this fall, I hope to have a dedicated prep space. Gluten cross contact makes me sick, so I am very diligent about how my kitchen operates and is cleaned. No wheat, barley or rye flours are used in my home.
4. Can you share a story of a customer who's been greatly impacted by your business?
There have been a few customers with younger children who have been recently diagnosed or have dietary needs. With those restrictions, it's been hard for the parents to find special treats for them to enjoy. It has been gratifying to see the joy it brings to these individuals , as well as seeing the family members coming back weekly to share my baked goods with them.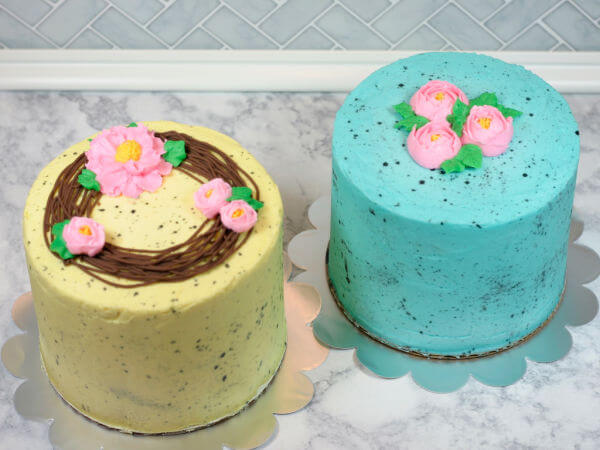 5. What would you like consumers to know about Whippin' Good Eats?
People often ask if my products are certified gluten free. As a cottage law business, I cannot certify my products, at this time. I do take steps and precautions to avoid cross contact as my kitchen is a shared space and I have celiac myself.
I'm making plans to move to a more dedicated space in the near future for all my baking and baking mixes. I have also curated my own flour blends for different baked items and do not use existing mixes off the shelf. I don't plan to have a storefront, but aim to have my items available in stores and online retail spaces.
6. Where can I Find Whippin' Good Eats Products?
I work under cottage food law currently, and sell products from my house and at farmers markets. I'm currently at Terra Square Farmers Market in Hudsonville, MI (Wednesdays 9am-1pm through end of September) and Georgetown Library Farmers Market in Jenison, MI (Mondays 4pm-8pm through end of August). I am working towards capital for acquiring my own commercial kitchen space that can be certified gluten free, while also having an allergen free co-packer produce my baking mixes, so I can sell them in stores and online marketplaces.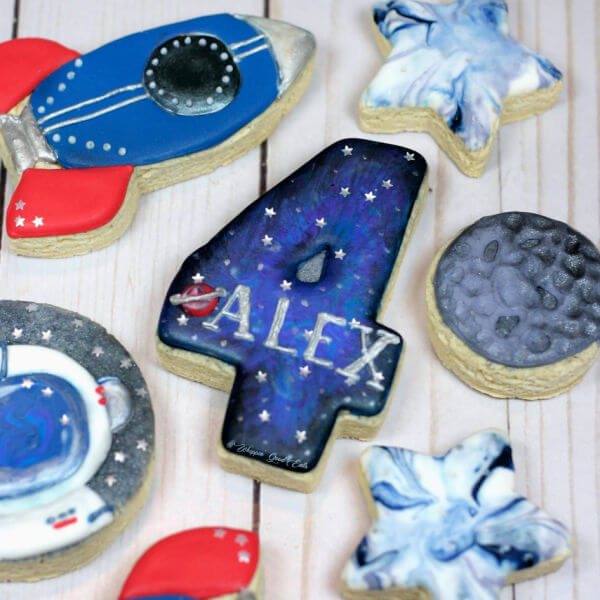 Whippin' Good Eats, LLC
Wyoming, MI
By appointment
616 – 309-3660
Website | Facebook | Instagram | Email
Preferred Contact Method for Orders:
Email, Facebook messages, or Instagram messages
Whippin' Good Eats is one of many gluten free bakers across the state of Michigan. Click this link to see a comprehensive list of all the gluten-free bakeries in Michigan, complete with interactive map! Looking for more local eats? Check out my list of gluten free baked good options at Michigan Farmers Markets.