Western Michigan University Gluten Free Dining
As an Amazon Associate and member of other affiliate programs, I earn from qualifying purchases.
Going to college and living away from home can be hard. Factor in dining restrictions, and it makes things even harder. Thankfully, Western Michigan University takes great strides in offering options to make students feel at home.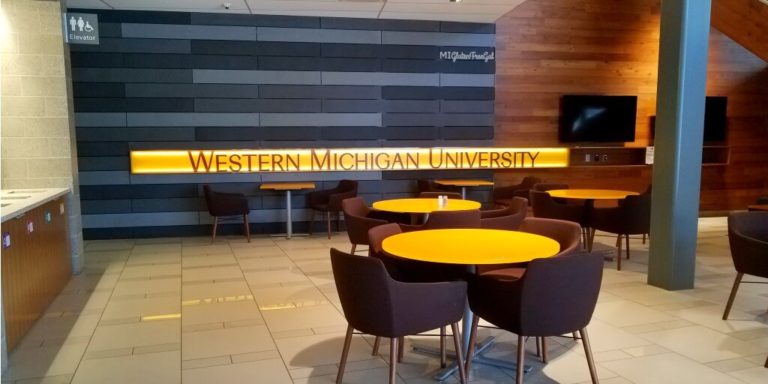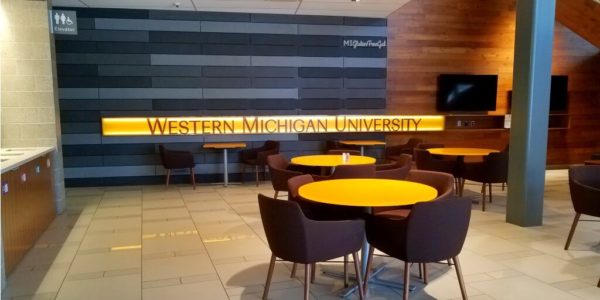 After visiting other colleges in the state, I heard through the grapevine that Western Michigan University rocks the "gluten free" world. So, after some communication with Western's staff, we finally arranged a trip to Kalamazoo, Michigan. We intentionally chose Good Friday so my husband could join us, and get his take on it, too!
Medically Necessary Diet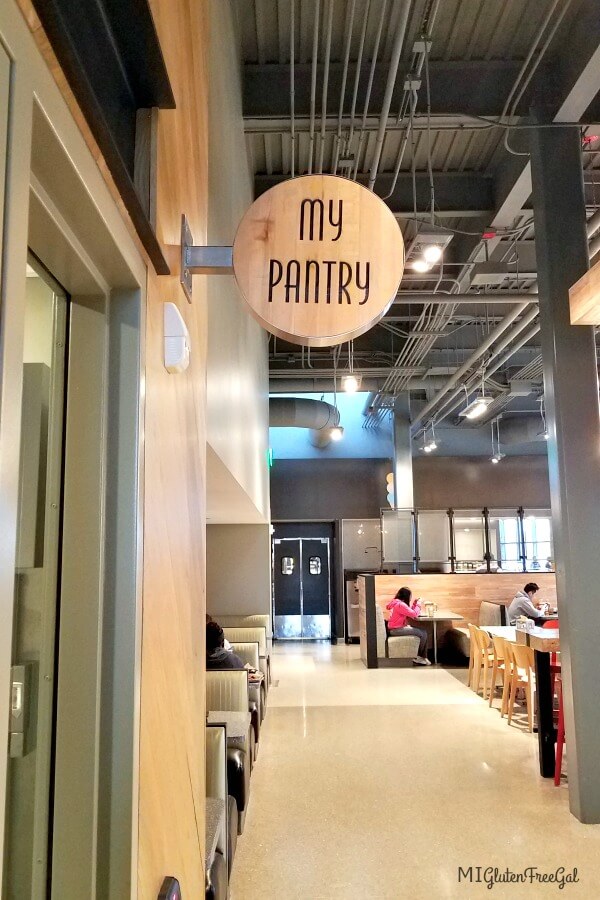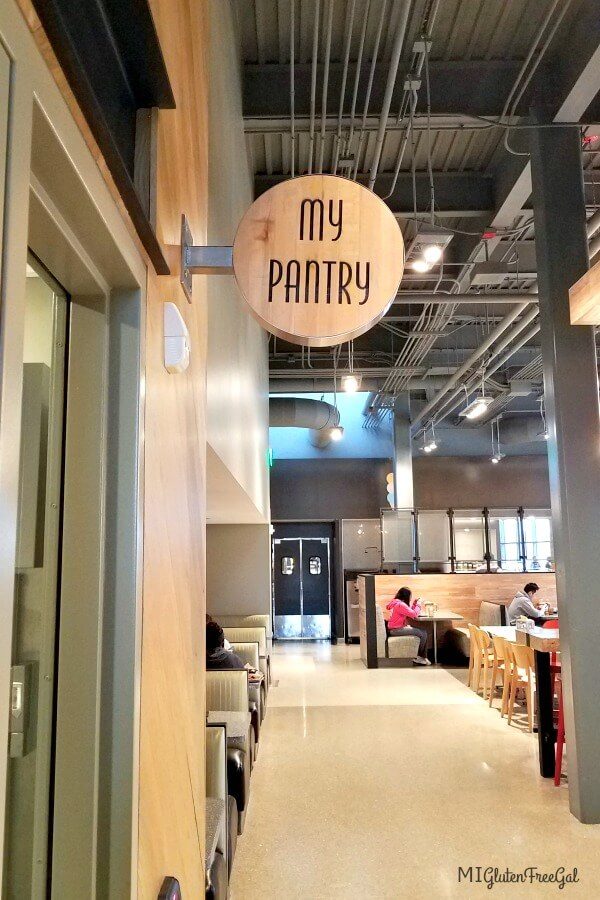 Western Michigan University understands food allergies and Celiac Disease are no joke. In talking with Emily Hazel, RD, she explained about the special access "My Pantry" section of the Valley Dining Center. Students gain access with their student ID, after having registered with disability services.
I asked Emily if students wanting gluten free menus needed a Celiac Disease diagnosis from a doctor. While a Celiac Disease diagnosis is not required, a doctor's note stating their need IS required. Emily stated "this process is primarily a safe-guard to discourage students who are trend-dieters. It's important that the students using My Pantry are serious about their dietary restrictions, and do not create an unsafe environment for others."
My Pantry at Western Michigan University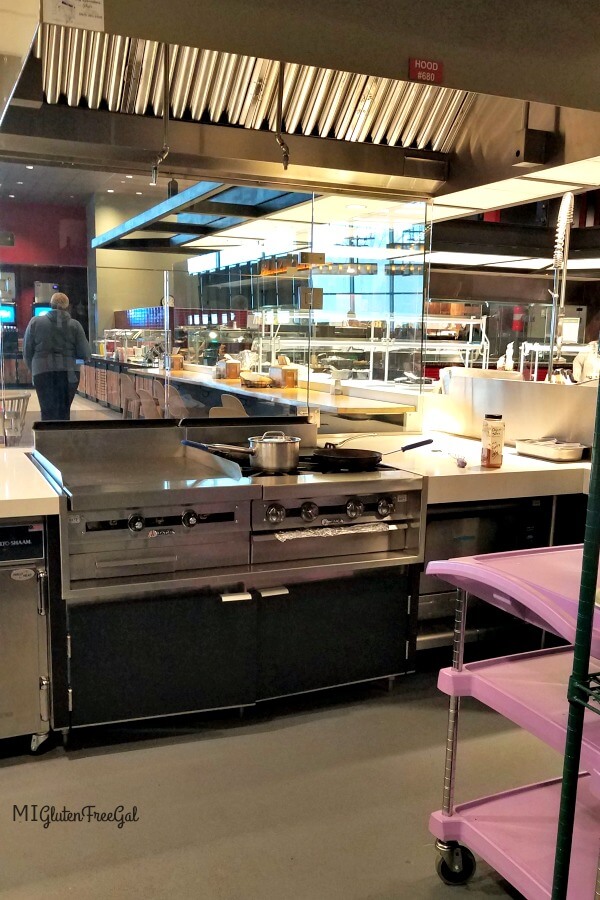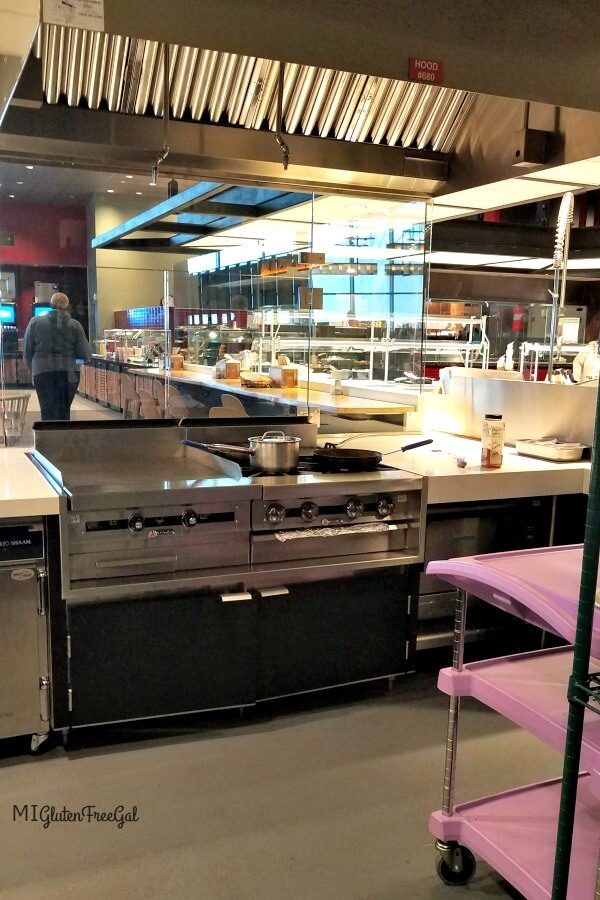 As mentioned, My Pantry is a separate, locked room at the Valley Dining Center. Inside students find a gluten free waffle maker, fridge filled with Udi's products, and even their own plates and dishwasher. Enjoy Life Foods grab and go snacks are on shelves as well. Students CANNOT bring outside food into this room.
Connected to My Pantry is a specialty cooking station. Only allergen trained staff may prepare meals. (Staff goes through training with Aller Train U.) While this kitchen contains no gluten or nuts, other allergens may be present. This kitchen prepares meals for students with other special dietary needs. However, staff take all precautions to prevent cross contact. All utensils and trays in this kitchen are color coded purple.
Made to Order Meals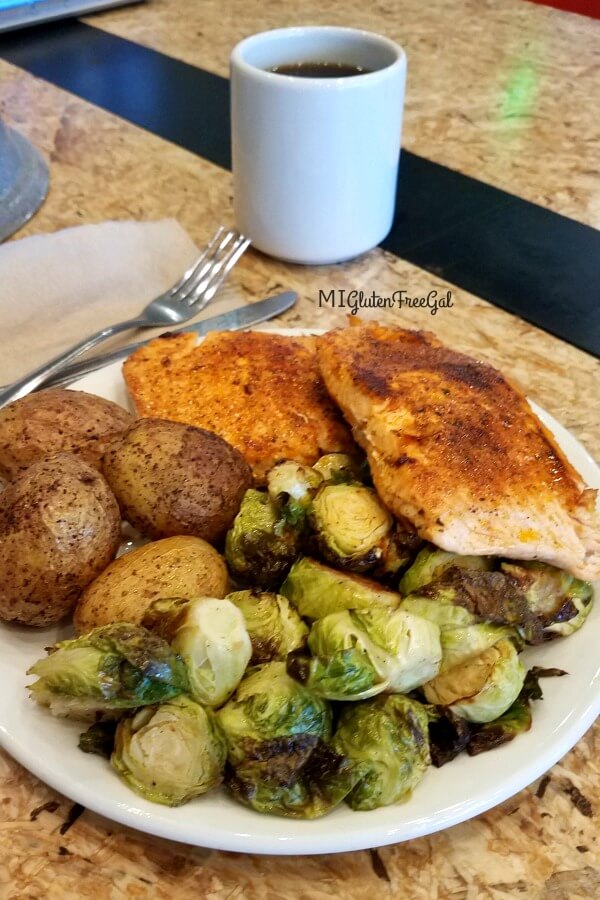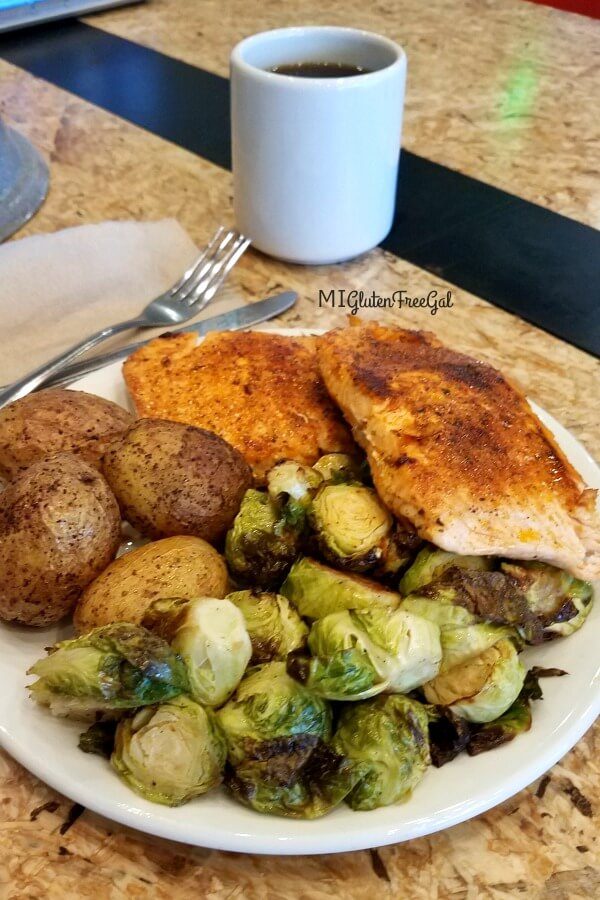 Prepared meals have scheduled service time. Entrees from this kitchen are available Monday thru Friday. Students use the dining website to order their preferred meal. They do so up to 7 days in advance, and choose a service time. Meals are served from 11 am to 7 pm. (My Pantry offers a dedicated GF waffle maker and cereal for breakfast.)
The My Pantry kitchen at Western Michigan University offers certain meals all the time. They include pulled pork, chicken quesadilla, cheese pizza, and Evol's Chicken Enchilada Bake. In addition, they offer rotating entree options during the week. During our visit, we found grilled chicken and grilled salmon on the menu. Students can order two entree items, a starch and a vegetable for their order.
Additional Gluten Free Dining Options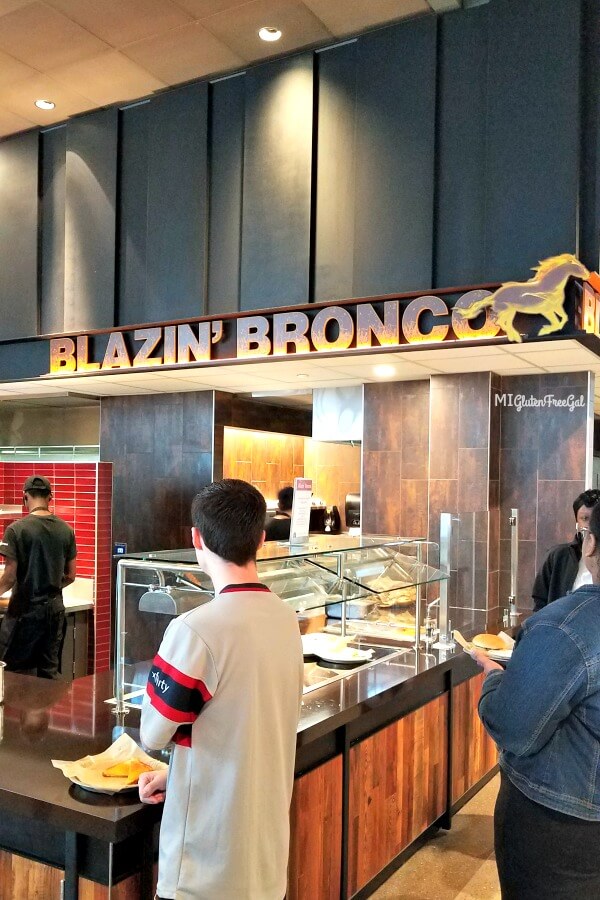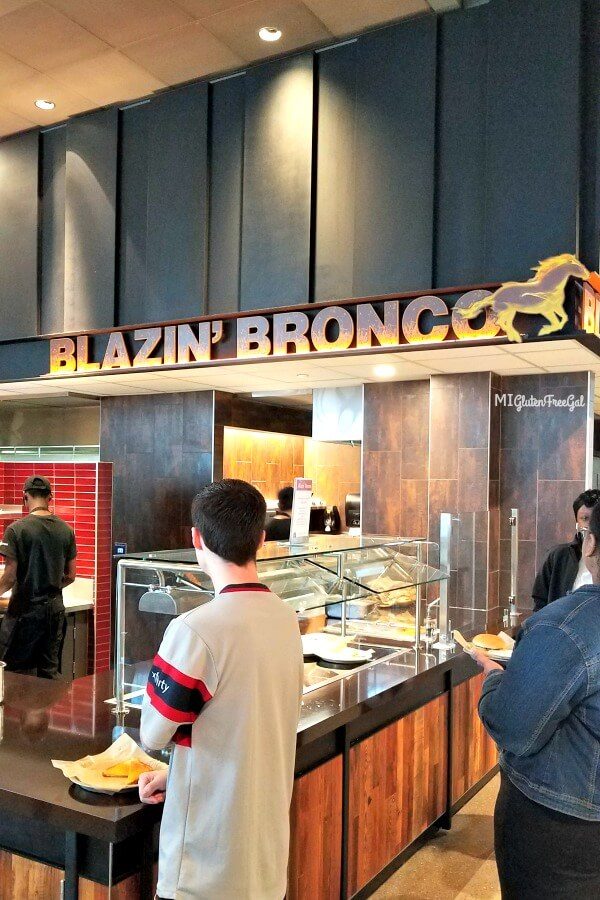 Like other colleges, the Valley Dining Center at Western Michigan University offers a "micro restaurant" setup. Nine different stations offer foods for just about every craving. At Blazin' Bronco, gluten free diners can order a burger patty, which is the only thing cooked on that grill. They can grab a bun from the My Pantry, if wanted.
Pacific Plate is a build your own stir-fry station. Cooks prepare all orders in a clean, separate wok. Chefs use separate spatulas for meat, vegetarian or halal chicken. Therefore their training to prevent cross contact makes it an ideal station for gluten free diners.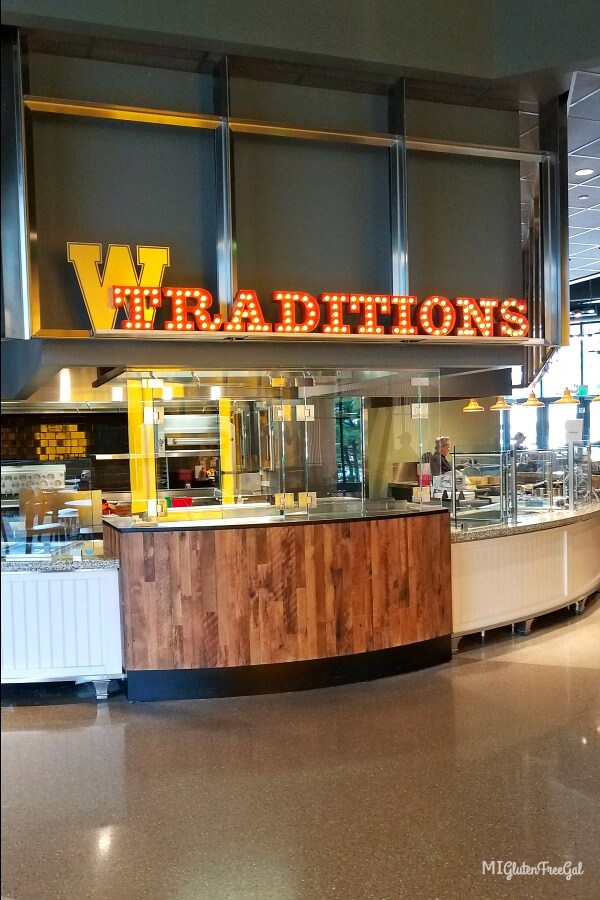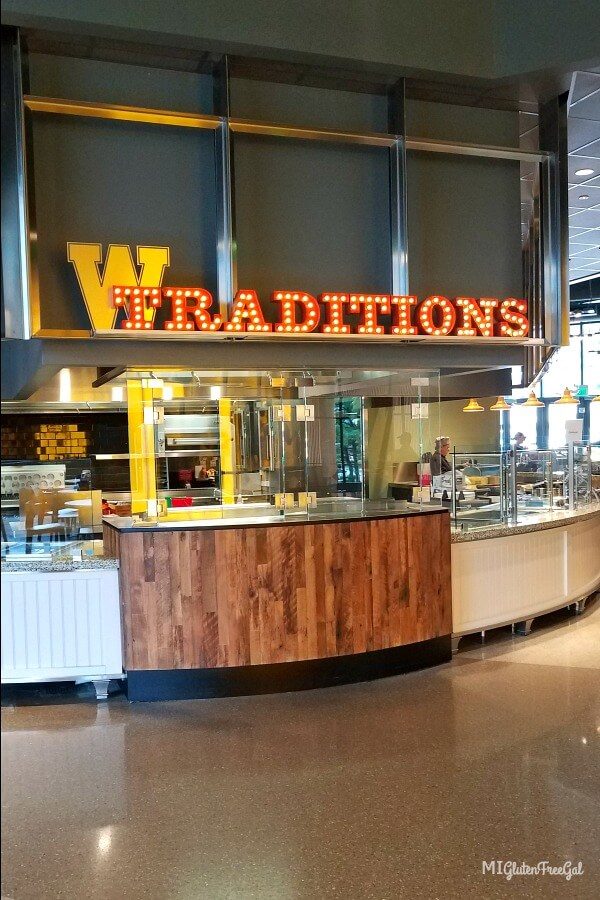 Traditions, at Western Michigan University offers rotisserie chicken. Staff cook it in the rotisserie right in the Traditions area. Seasonings do not contain gluten, so these are almost always a good option for students. Students can check to ensure on the online menu, which includes a purple icon, featuring crossed out wheat.
Where are the Chips?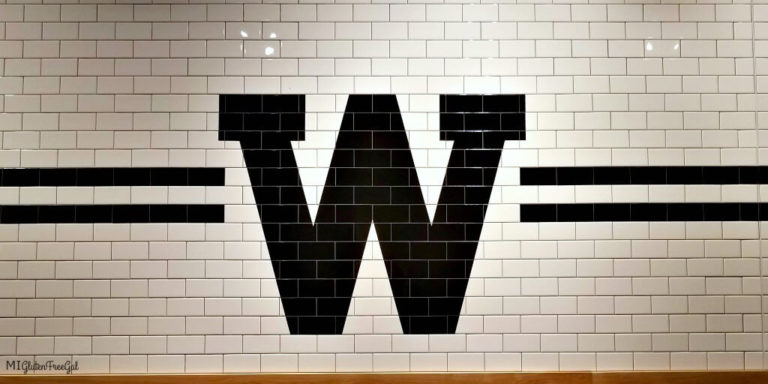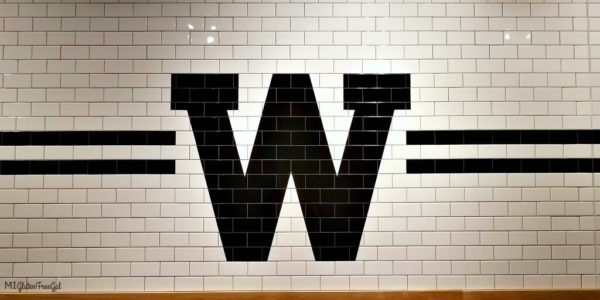 Cilantro's is similar to Chipotle, where you build your own burritos, tacos, etc. Corn tortilla chips offered there are fried in a dedicated gluten free fryer, the only one on campus. In addition, students can ask for a glove change and get nachos or a burrito bowl. Staff prepare all the rice, beans, meats (except tortilla crusted tilapia) with GF seasonings.
"How come we can't ever have, just like, a salad?" Staff intentionally organize the salad bar grouping like items together. Additional barriers help prevent egg, chicken, beans, etc from getting into other pans of foods with different proteins. Croutons are kept separate near the covered dressing containers, minimizing the risk of cross contact. Most salad dressings gluten free, with the exception of those made with soy sauce.
(And bonus points to those who caught BOTH references to Nacho Libre.)
Additional Food Restriction at Western Michigan University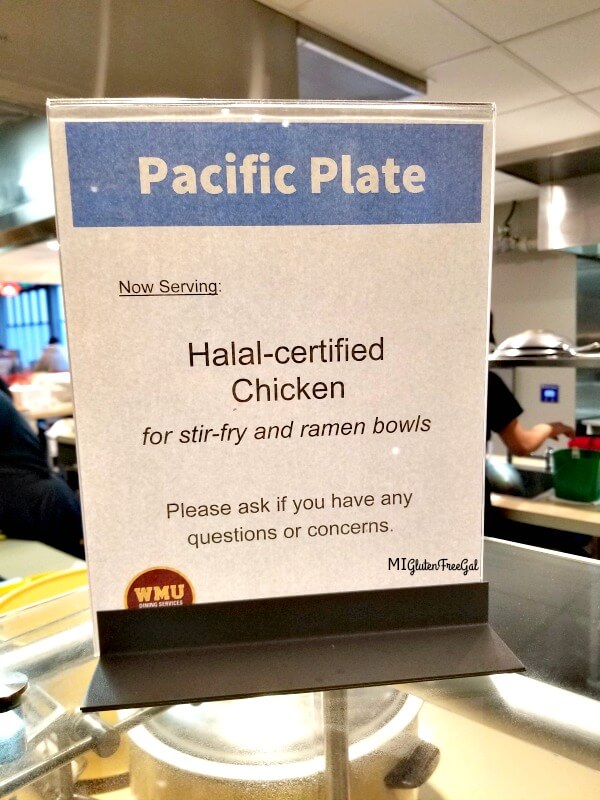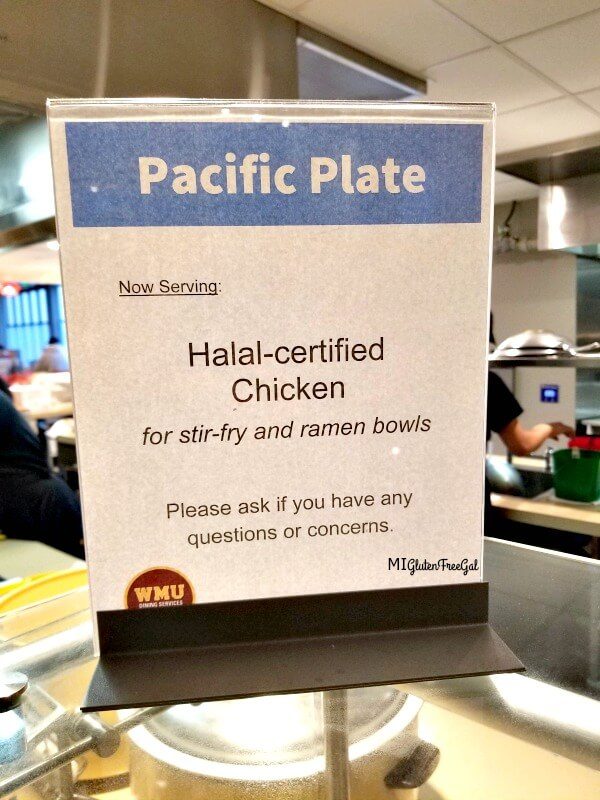 While staff at the My Pantry prepares meals for any with dietary restrictions, other options exist. They recently started offering halal options at the Pacific Plate station. They did so by working with students. Dining Services is working on adding more vegetarian options as well.
The Western Michigan University Dining Services website lists the daily menu at each micro restaurant. Meal items show additional icons highlighting the top 8 allergens, as well as sesame. All cooking oil on campus is either soy or olive, never peanut. In addition, staff use only tamari instead of soy sauce at all food stations, keeping meals gluten free.
Cost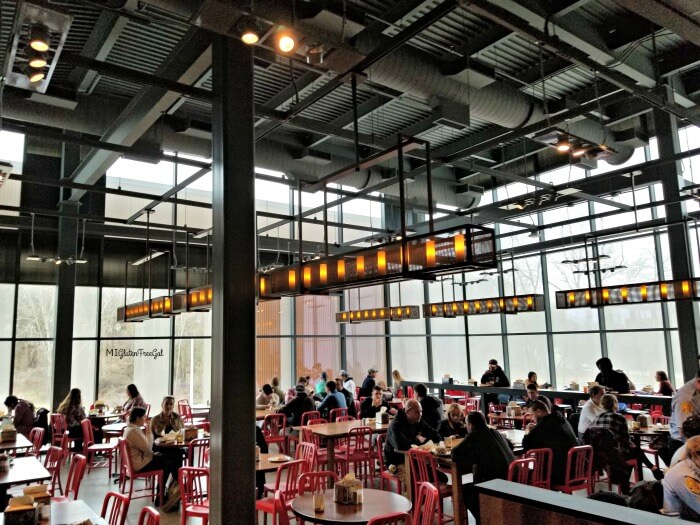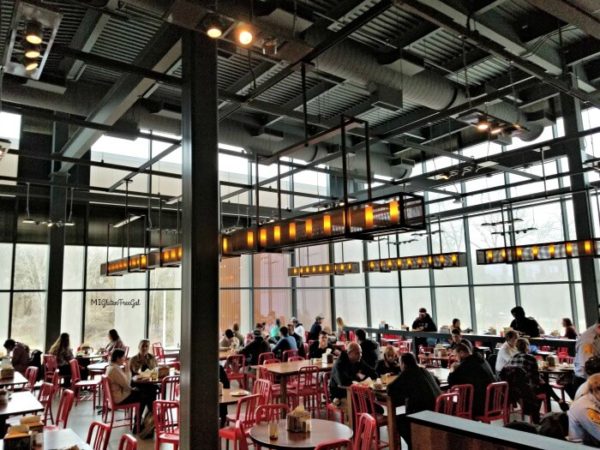 Obviously, student housing generally includes a meal plan. Should you want to visit as a non-student, you are able to purchase a meal ticket and eat at any of the the micro restaurants. Since the My Pantry is restricted by key card, visitors cannot eat from that station. Breakfast costs $7.75, while lunch and dinner cost $9.75.
While impressed with the food, I felt amazed at the beauty of the dining hall. Trust me, this is nothing compared to my college experience (at CMU) 20 years ago. Gorgeous tilework surrounds the interior of the building. Even the tables have USB and power plug ins!
Housing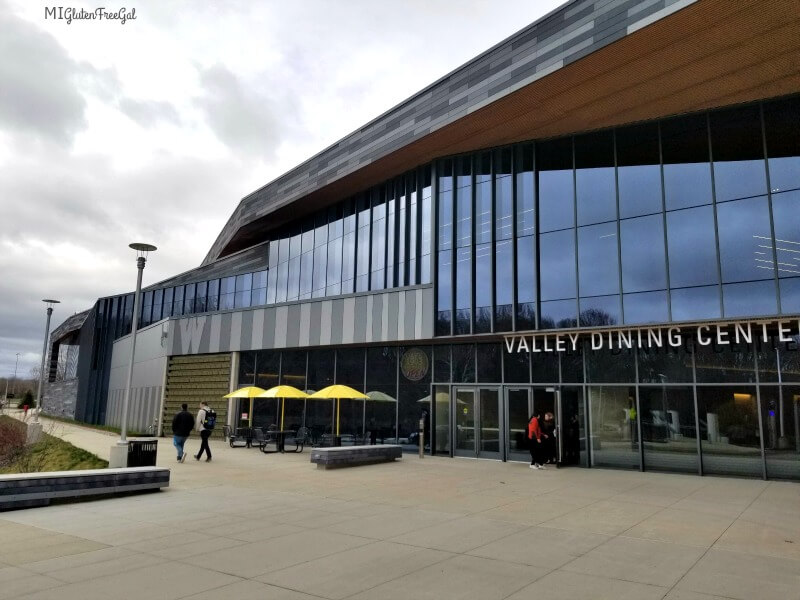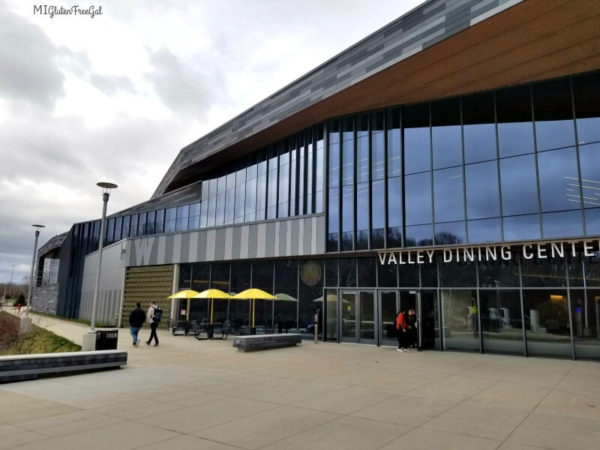 At this time, these dining options are only available at the Valley Dining Center, on the north end of campus. Therefore, when choosing where to live, registered dietitian Emily Hazel strongly encourages students with dietary restrictions to live in one of the three Valley dorms. Free buses on campus take students to Walmart, Meijer, etc for additional grocery and personal needs.
I asked registered dietitian Emily Hazel how prospective students learn about the dining options available to them. She stated she presents at orientation, and invites parents & students to talk about allergen options at that time. In addition, she's more than willing to meet with students individually.
New Dining Center at Western in 2021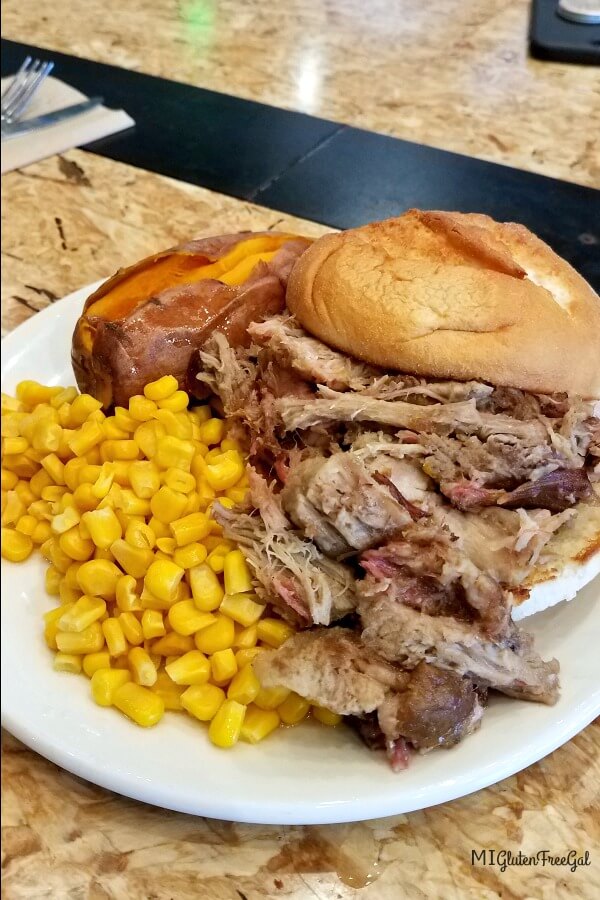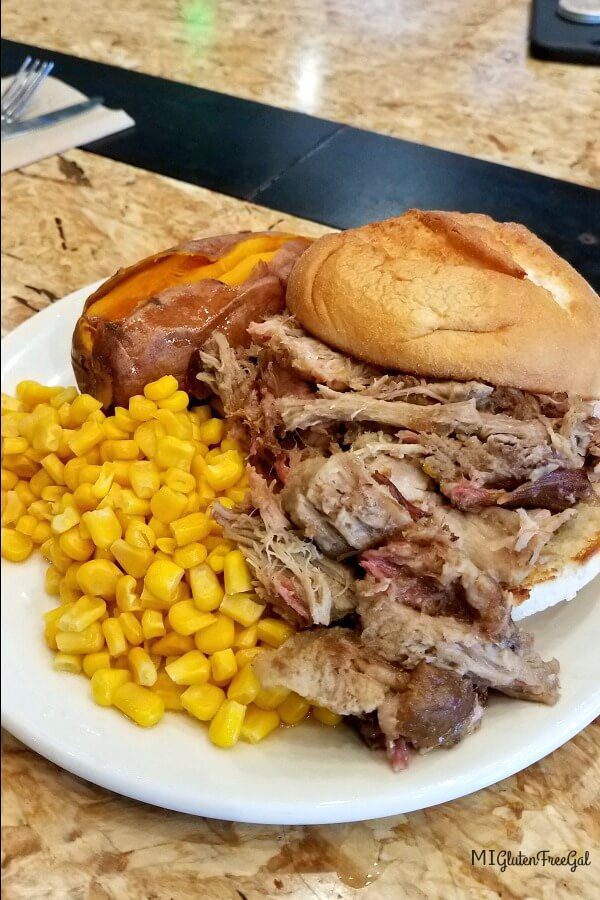 Western Michigan University is renovating their dining services. Currently, the campus offers four dining halls, but only two are open on the weekend. The university will be opening a new dining hall in 2021. However, the new hall and the Valley Dining Center will remain the only two dining halls in operation.
When the new hall opens, they plan to have a station completely free from 7 of the top allergens. (Fish will still be served there.) They are also considering having another locked room or cooler at the new hall. (Similar to the My Pantry at the Valley Dining Center.) However, Emily and her staff are always open to suggestions. 🙂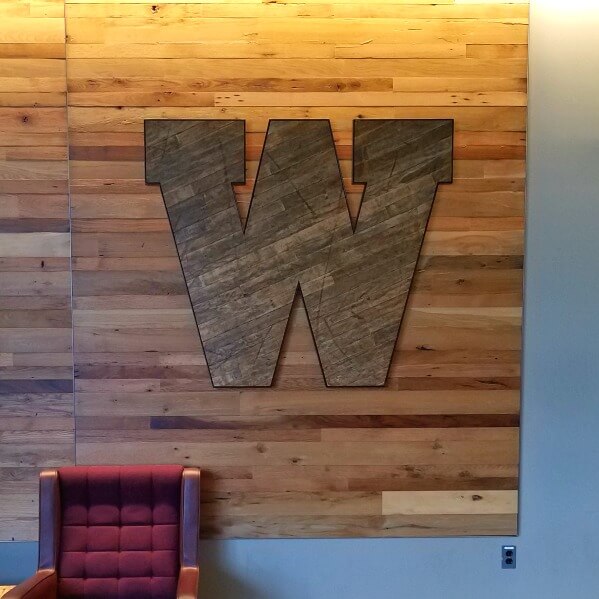 Major props to Western Michigan University for going the extra mile to accommodate food restrictions. What other Michigan universities do you know that are going above and beyond? Leave me a note in the comments! (**Western Michigan University comped our meals. However this does not alter my thoughts or opinions.)
Other Colleges I Have Visited
University of Michigan
Michigan State University– Main Campus
Michigan State University Thrive Top 8 Allergen Free Dining Hall
Oakland University