Tres Leche Rice Pudding – Gluten Free
As an Amazon Associate and member of other affiliate programs, I earn from qualifying purchases.
Rice pudding. Whether you prefer it hot or cold, or baked or on the stove top, it's a simple dessert that never disappoints. Today, we're taking this traditional dessert on a culinary trip by adding three separate kinds of milk. Enter, Deb Perelman's take on Tres Leche Rice Pudding.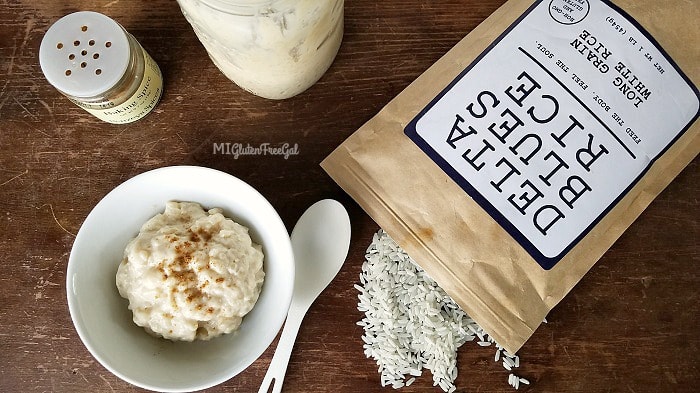 Comfort in a Spoon
There's something so comforting about rice pudding. It's creamy and hearty all at the same time. You can eat it warm or cold. It's an excellent way to use up leftover rice, and it doesn't take long to make. When I received Delta Blues Rice in a "fiesta themed" gluten free subscription box, it's the first thing I wanted to make.
However, I wanted to put a creative spin on this traditional dessert. I searched the 'net for one with a Latin American twist. My query discovered this tres leche rice pudding from the Smitten Kitchen, a.k.a. Deb Perelman. Her recipe calls for three canned milks – evaporated, sweetened condensed, and coconut milk. How handy is that?! Shelf stable sweetness. 🙂
** Prefer cake over rice? Try this Gluten Free Tres Leche Cake from GF Jules.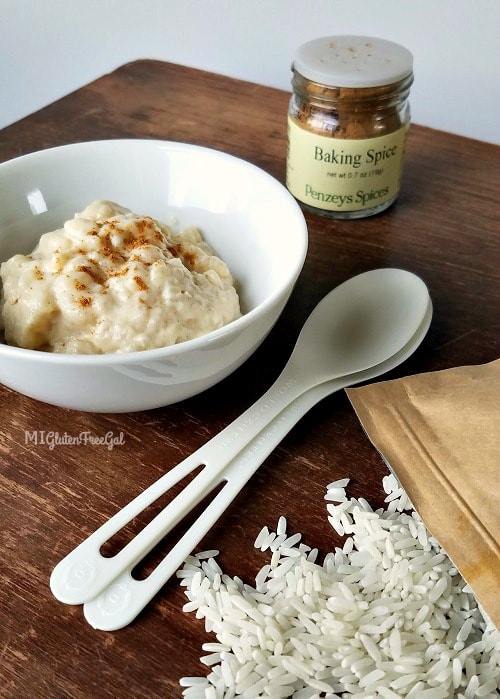 Eggs- Whole, White, or Yolks?
I diverted from Deb's Tres Leche Rice Pudding recipe only slightly. Her recipe calls for one whole egg. I instead chose to use two egg yolks, like in my dairy-free pudding recipe. I find that the added fat increases the level of creaminess. (Consult The Kitchn on Ways to Use Up Leftover Egg Whites.)
While many recipes called for cinnamon, I chose to use my Penzey's Baking Spice. It contains two types of cinnamon, anise and cardamom. (Which made my gluten-free blueberry zucchini bread amazing!) I wish I could just open the bottle and run it under your nose. There's nothing more inviting than that smell!
** Eat egg and dairy free? Try this Vegan Coconut Rice Pudding from Sarah Bakes Gluten Free.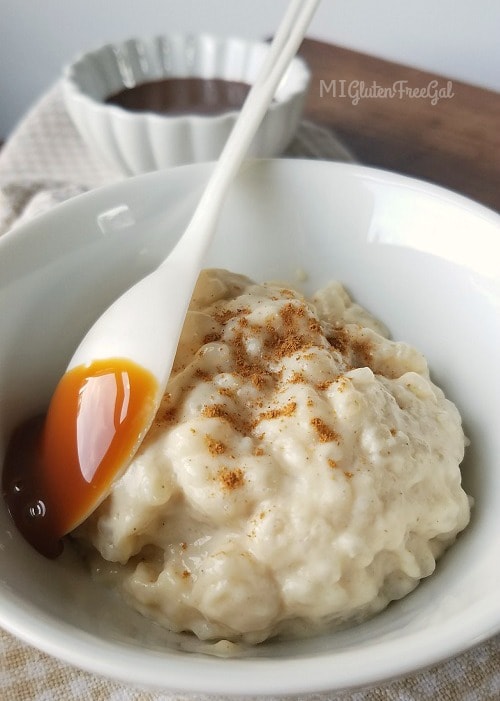 Cajeta and Other Favorites
What's cajeta? (Pronounced ka-hay-ta.) This creamy caramel sauce, made from goat's milk, will become your new favorite. It's the PERFECT topping for this tres leche rice pudding. Buy Coronado premade cajeta, or use this Cajeta Casera recipe from Serious Eats. The recipe takes a long time, but the outcome is worth every minute.
This tres leche rice pudding creates the perfect ending to any Latin American inspired meal. It will hit the spot after my Arroz con Pollo, or Black Bean Enchiladas. Want the flavors of this dessert without the grains? Try this Coconut Tres Leche cake from My Heart Beets. It's included in this great lineup of Paleo & Whole 30 Cinco De Mayo Recipes from 40 Aprons.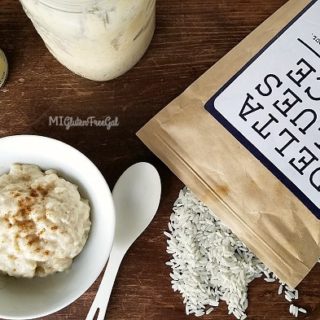 Tres Leche Rice Pudding
Ingredients
To Cook the Rice
1 cup Long Grain White Rice (I used Delta Blues Rice)
2 cups water
2 tbsp butter
1/2 tsp Penzey's Baking Spice
To Make the Pudding
2 egg yolks
1 can (12 oz.) evaporated milk
1 can (14 oz.) sweetened condensed milk
1 can (13.5 oz.) coconut milk
1/2 tsp Penzey's Baking Spice (or cinnamon)
1 tsp vanilla
Instructions
Add rice, water, butter and Penzey's Baking Spice to non-stick pot. Bring to a boil, cover and simmer for 15 minutes. Just until the water is completely absorbed.
In a bowl, whisk egg yolks and evaporated milk. When rice is done cooking, remove from heat and add the sweetened condensed milk, coconut milk, and another 1/2 tsp of the Penzey's Baking Spice. Stir to combine. Finally, add in the egg and evaporated milk mixture.
Return pot to stove. Simmer over low heat until mixture starts to bubble. Cook for 15-20 minutes, until at least half of milk mixture is absorbed. The pudding will continue to thicken as it cools, so it's okay if it still looks a bit soupy. If you find it getting too thick as it starts to cool, you can add some regular milk. Once off heat, add the vanilla.
Spoon Tres Leche Rice Pudding in glasses / container and allow to cool to room temperature. Cover and place in refrigerator for 1-2 hours. When ready to eat, you can top with whip cream and cinnamon, if desired.
Are you a rice pudding lover? Are you pro raisin or con? Check out my Rice Grits and Bits Waffles to learn more about Delta Blues Rice!