The Phở Pot- Gluten Free Vietnamese Dining
As an Amazon Associate and member of other affiliate programs, I earn from qualifying purchases.
The Phở Pot offers an extensive menu where they gladly offer gluten free options to most of their dishes. Definitely go with an empty stomach, because you'll want to enjoy one of everything!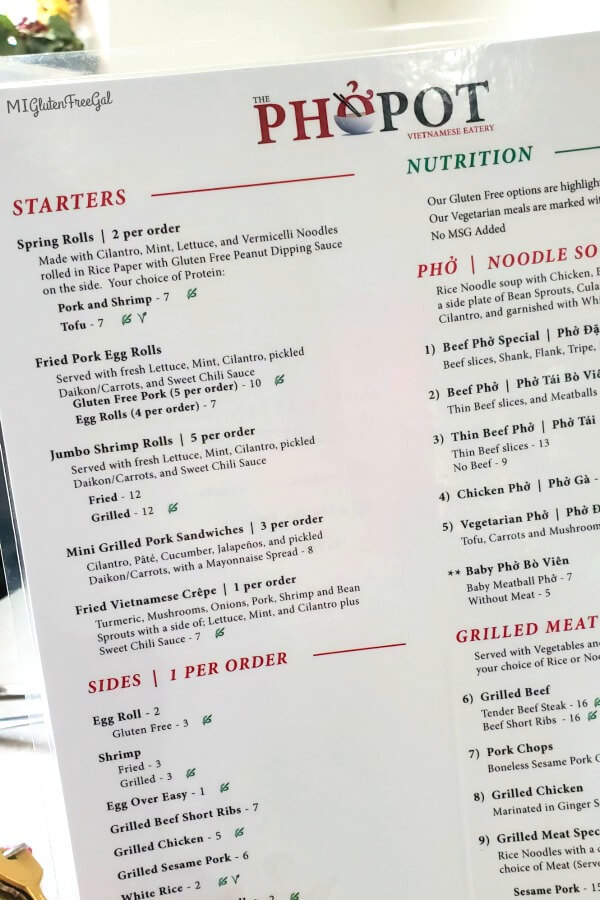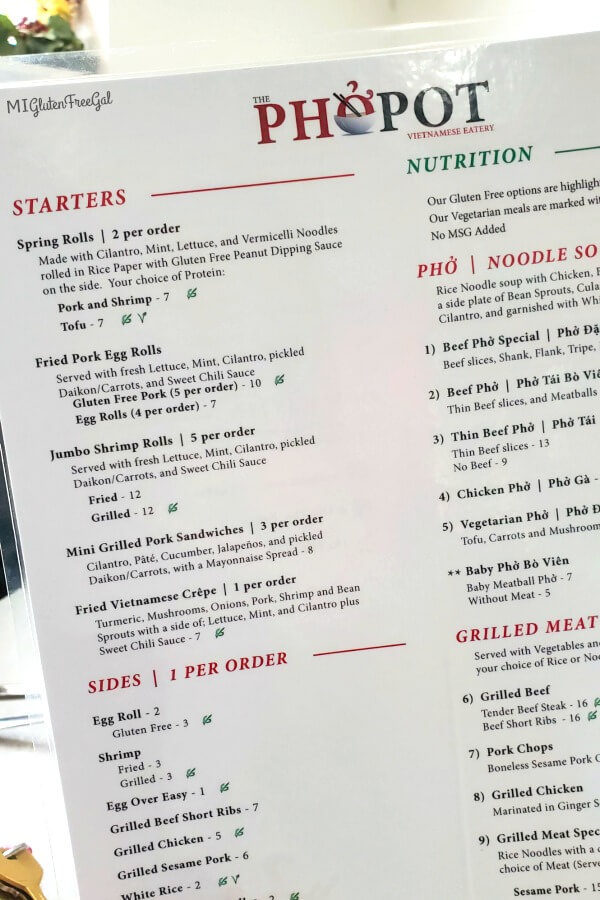 How to Order Gluten Free at The Phở Pot
The Phở Pot, located next door to Wing Lauk in Waterford, offers an extensive menu. In the top right hand corner, it states menu items with a green "g" can be prepared gluten free. Which includes 75% of their menu. If possible, ask for Levi as your server. He understands gluten free dining, and offers lots of great suggestions!
In order to prevent cross contact, kitchen staff prepare gluten free orders with separate color coded pots, pans, utensils, knives and cutting boards. In addition, staff use designated fryers and grills to cook gluten free entrees. They prepare all gluten free sauces and ingredients prior to gluten containing items, when possible. Additionally, kitchen staff change their gloves with preparing gluten free meals.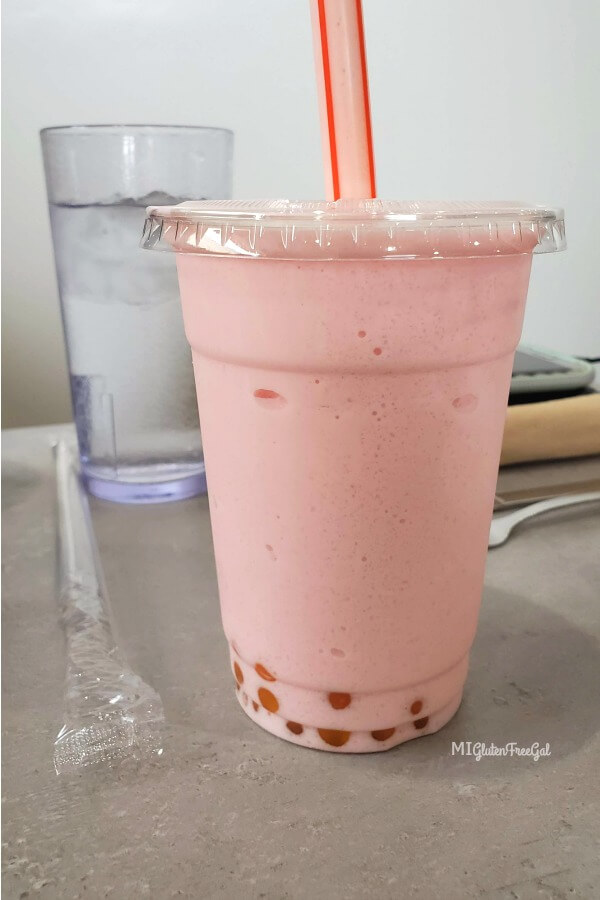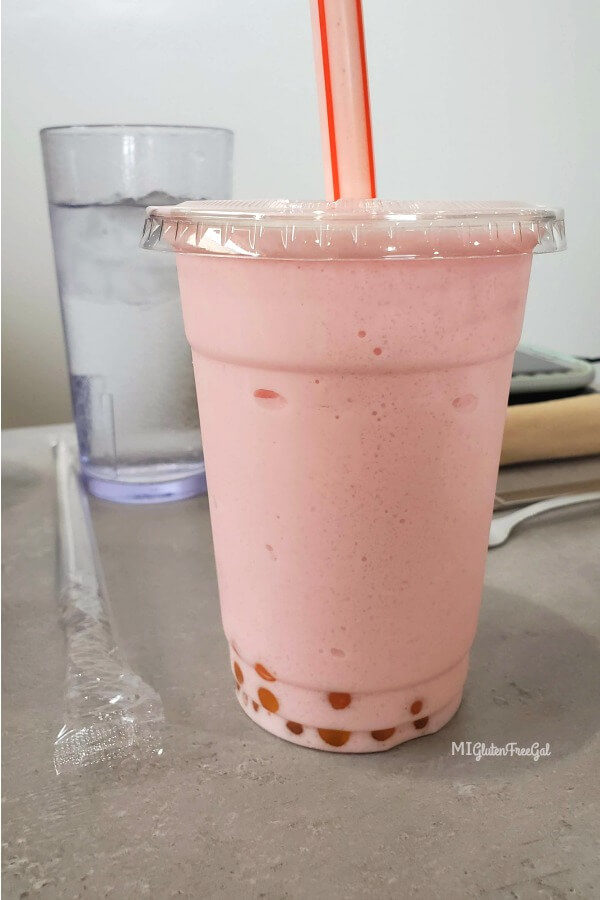 Fun Beverages at The Phở Pot
This eatery serves all sorts of fun beverages. For those who like boba tea, they offer a variety of boba smoothies. You can even mix fruit flavors together. I'm not a fan of the tapioca pearls, so I stick with almond milk tea, which is similar to chai, but cold. My husband enjoys their Vietnamese drip coffee. It takes a while to drip, so make sure to order it early if you want one.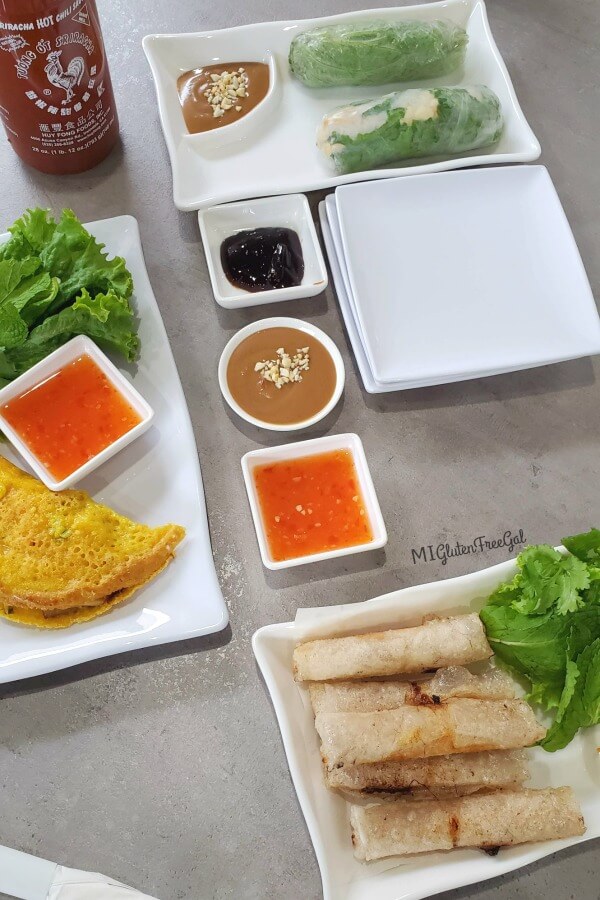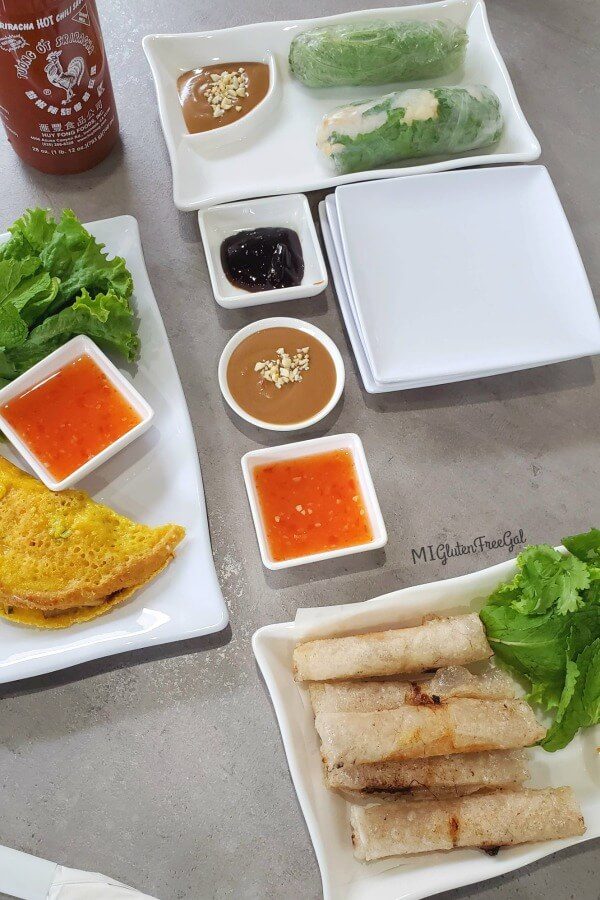 Gluten Free Appetizers at The Phở Pot
This restaurant offers 5 appetizers, four of which they can prepare gluten free. I highly recommend their spring rolls, served with an amazing peanut dipping sauce. Even if you don't vegetarian, the tofu ones taste fantastic! I tried the Fried Vietnamese Crepe, per staff suggestion. An incredible taste sensation! Imagine an Asian shrimp taco, and this is close.
Of course, the big draw are their gluten free fried pork egg rolls. I wrote a recipe for Gluten Free Vietnamese Chả Giò egg rolls on my site. However, this restaurant is much more talented in their rolling than I am. An appetizer platter comes with 5, or you can order them individually.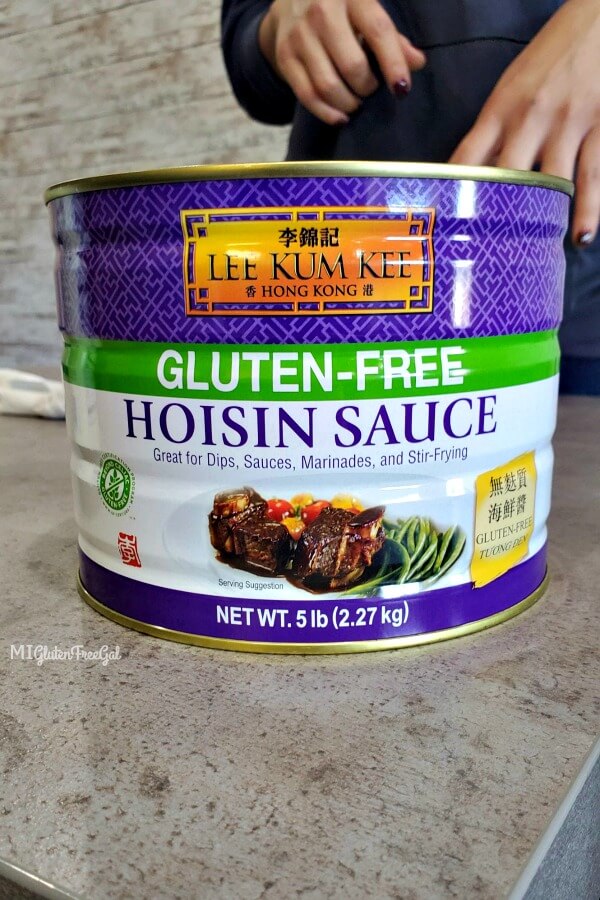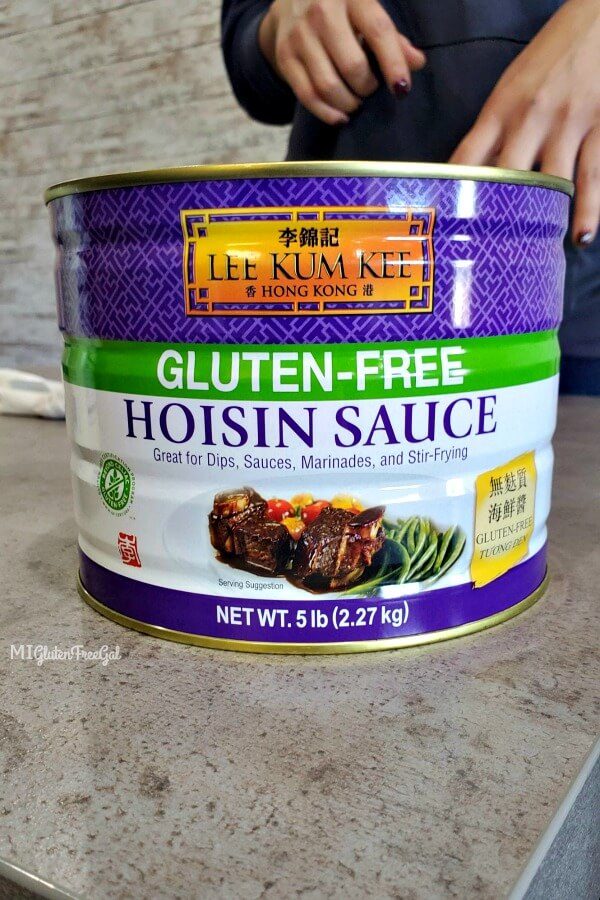 Gluten Free Hoisin Sauce!
Many times at Asian restaurants, the sauce or marinade contains the gluten. However, this Vietnamese restaurant uses a gluten free certified version of hoisin in their gluten free orders. (Make sure to specify you need your order to be gluten free!) Click here to read the ingredients for the Gluten Free Lee Kum Kee Hoisin Sauce.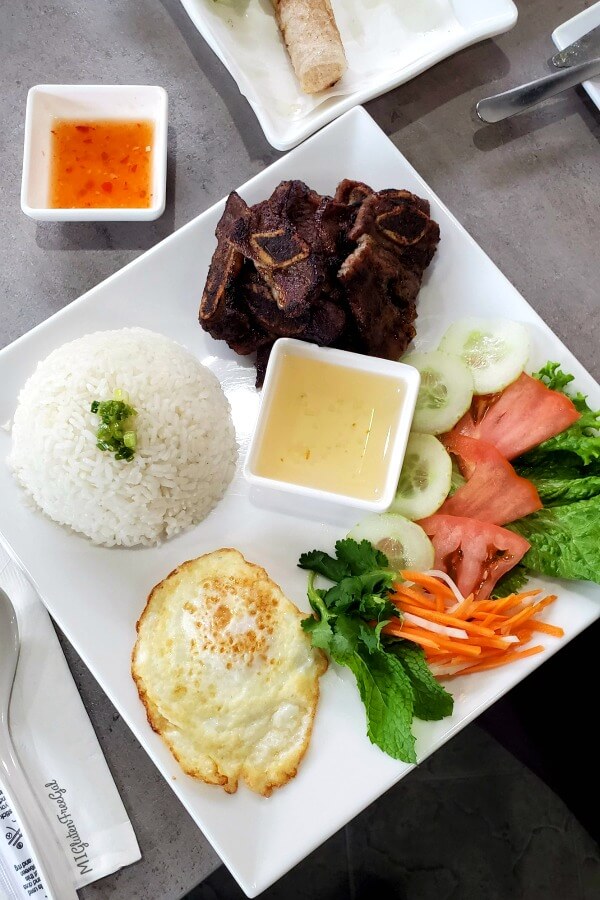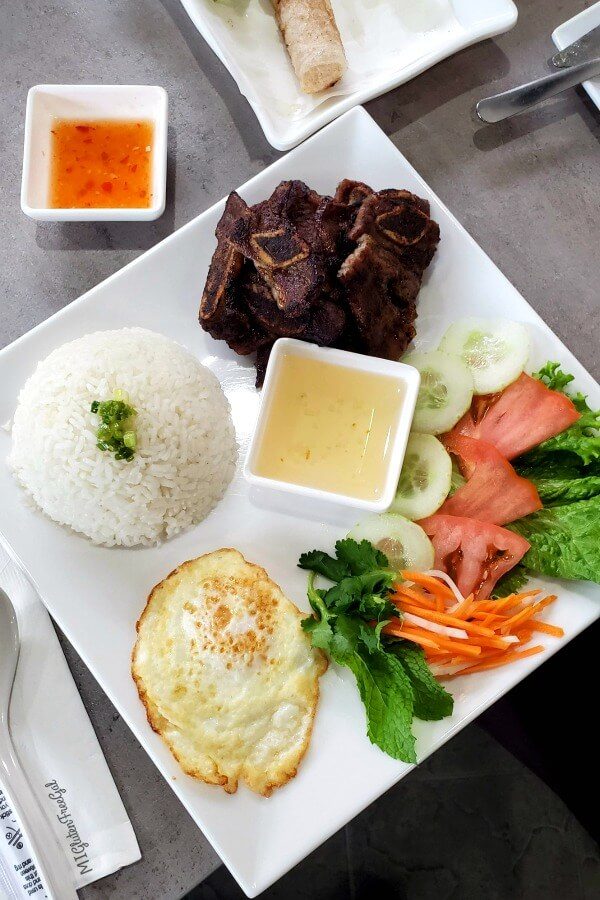 Dinner is Served
When I visited The Phở Pot, my friends Jill and Joelle joined me for lunch. Jill was familiar with Vietnamese cuisine, while Joelle was not. It was fun ordering different things to share. Jill ordered this grilled beef short rib dinner. The staff explained the process of eating, and how to add the sauce, but I forget now.
Joelle ordered the chicken version of this. The chicken tasted delicious and it was so tender! I'm definitely ordering this the next time I return. I ordered the signature dish, Chicken Phở. Friends, this is the biggest (ass) bowl of soup I've ever seen in my life. Phở is basically the Vietnamese version of chicken noodle soup. Their broth is phenomenal!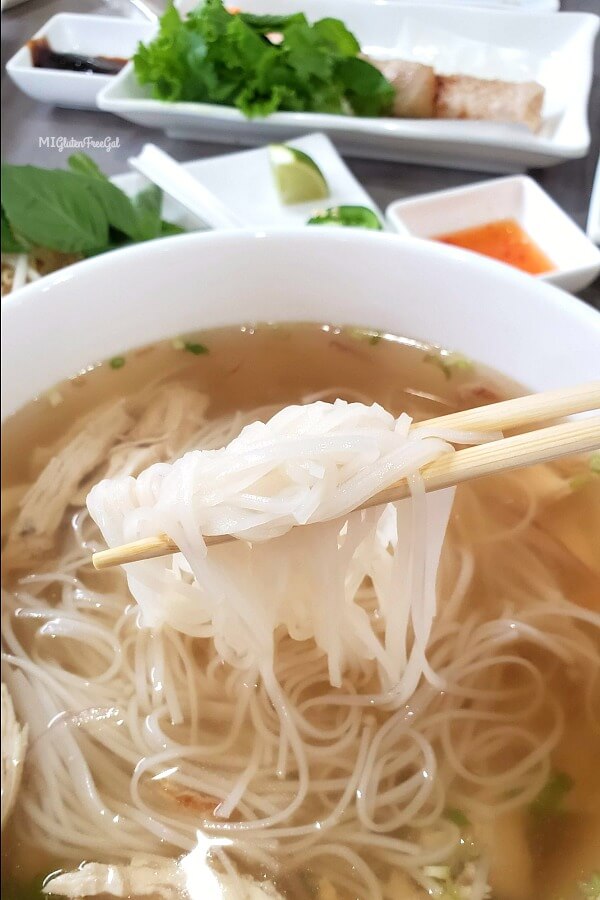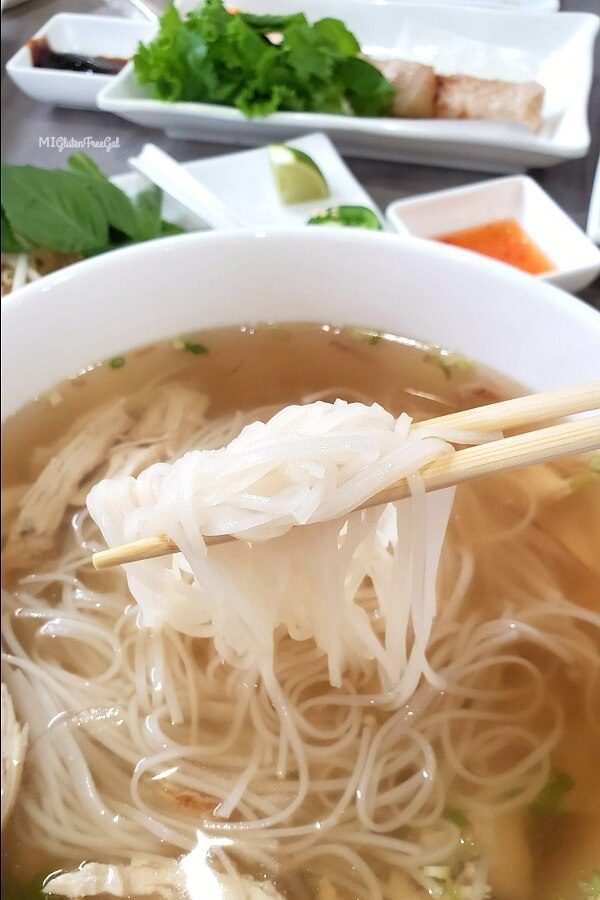 Phở – Delicious, No Matter How You Say It
Phở is a bit tricky to say. Imagine the word "foot," but leave the "t" off. Even if you end up pronouncing it "foe," they'll still gladly serve you. They serve each order of phở with bean sprouts and other additions. Simply remember to tell them you need your order gluten free, so they give you gluten free hoisin.
The Phở Pot
5673 Dixie Hwy
Waterford Twp, MI 48329
(248) 742-1220
Facebook | Menu | Instagram
The Phở Pot is one of many Michigan restaurants I've visited. You can view a list of them on my Michigan gluten free dining post. Please remember to always ask any restaurant about their food preparation practices.