The Mason Jar Cafe – Gluten Free Benton Harbor
As an Amazon Associate and member of other affiliate programs, I earn from qualifying purchases.
The Mason Jar Cafe in Benton Harbor offers a unique dining experience to West Michigan. This delicious and artistic venue serves a feast for the eyes and taste buds!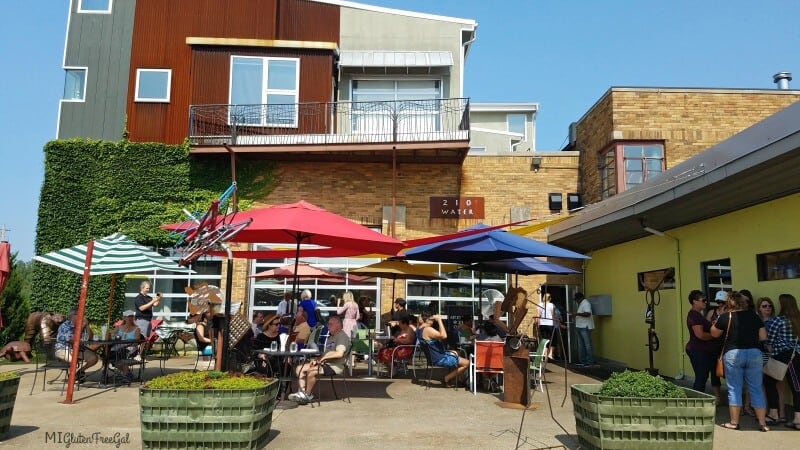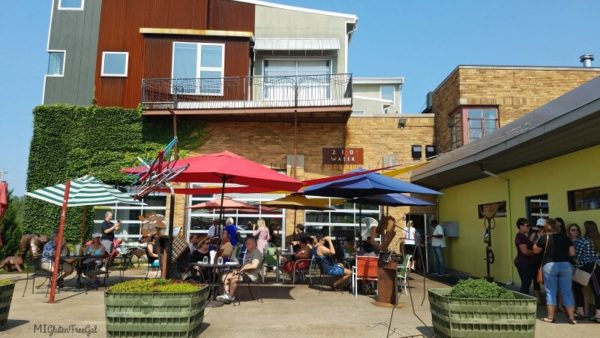 Where is Mason Jar Cafe?
This past summer, we visited Michigan's west coastlines. We explored St. Joseph, South Haven, and New Buffalo. Coastal towns that draw people vacationing from Chicago and others across the state. However, just a jaunt from the coastline lies Benton Harbor. This small town, the headquarters of Whirlpool appliances, presents its own unique finds. Enter, The Mason Jar Cafe.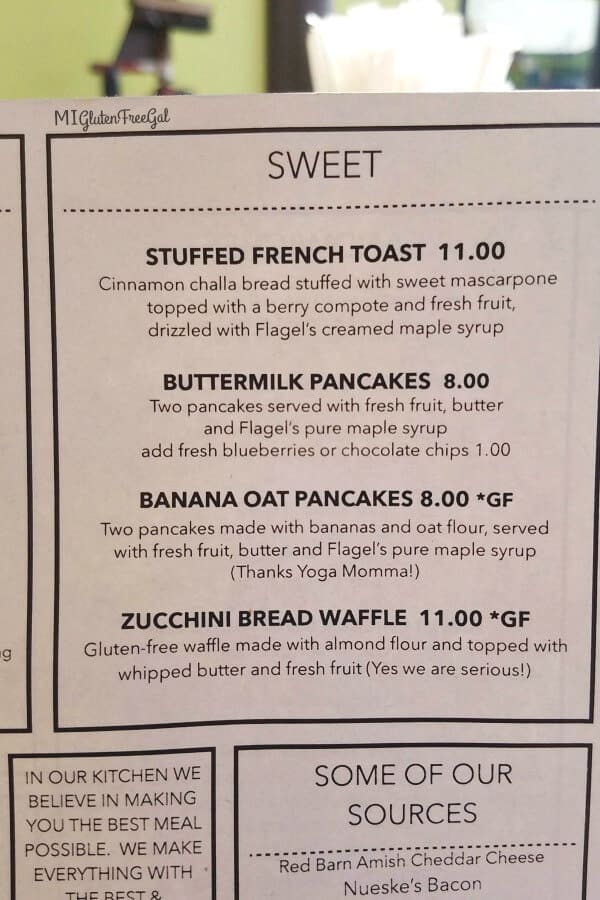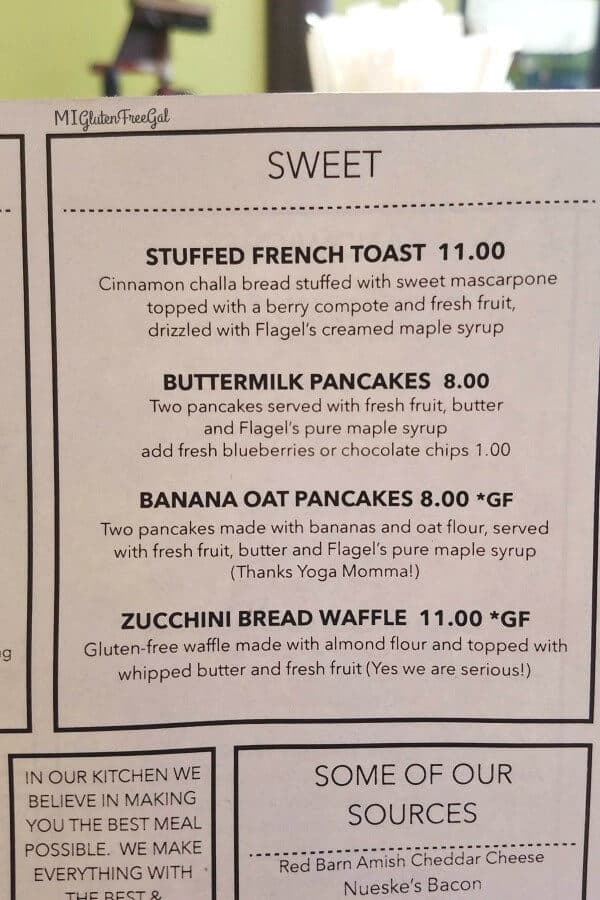 How Long Have They Been in Business?
I forget when I learned of The Mason Jar Cafe. Sometime shortly after this eatery opened in May of 2014. Therefore, when I found ourselves in their neck of the woods, almost 3 hours from my home, it was time for a visit. Reviewers on Find Me Gluten Free leave great reviews about it. Indeed, it ended up being the perfect ending to our 15th anniversary vacation. I mean, how can one go wrong with gluten free zucchini bread waffles?! This MLive article states these are the best waffles EVER.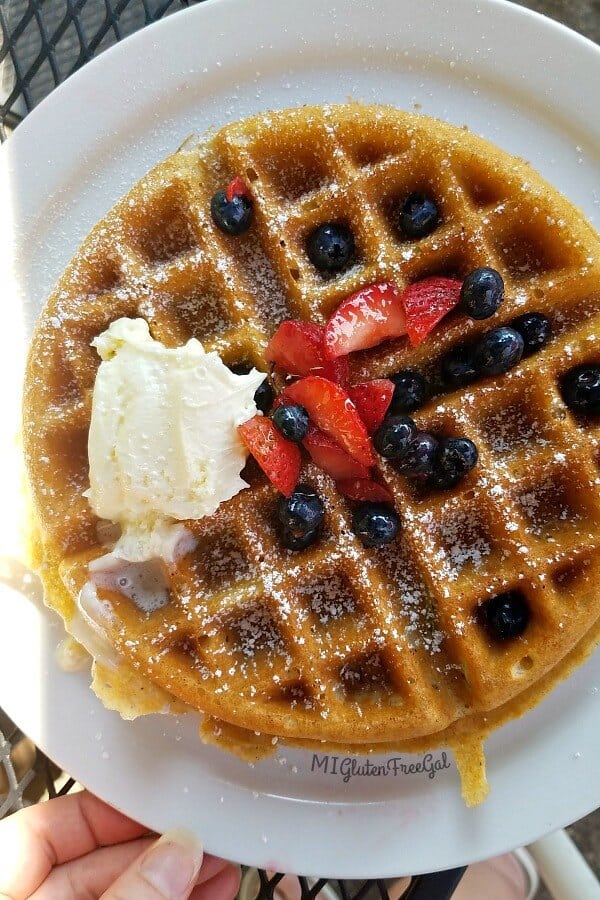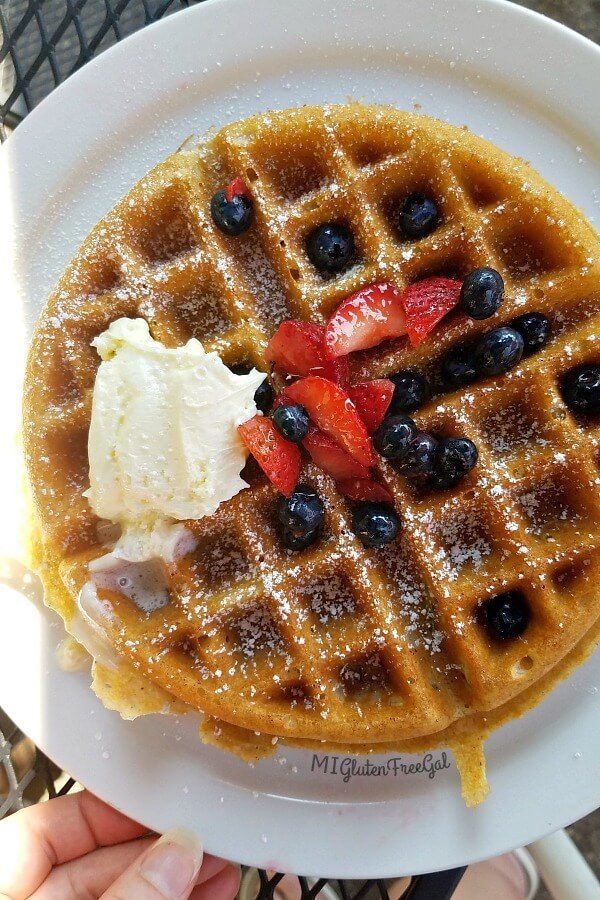 What Gluten Free Options are Available?
I mean, this is a thing of beauty, is it not? The Mason Jar Cafe prides itself on using the freshest, and most local, ingredients that they can. They proudly list on their menu all the farms and businesses from which they procure ingredients.
Before ordering, I verified with our server that they take precautions for those with Celiac Disease. Indeed, they prepare these gorgeous waffles in a dedicated waffle maker. In fact, i believe it is the ONLY waffle on their entire menu. The whipped butter tied it all together.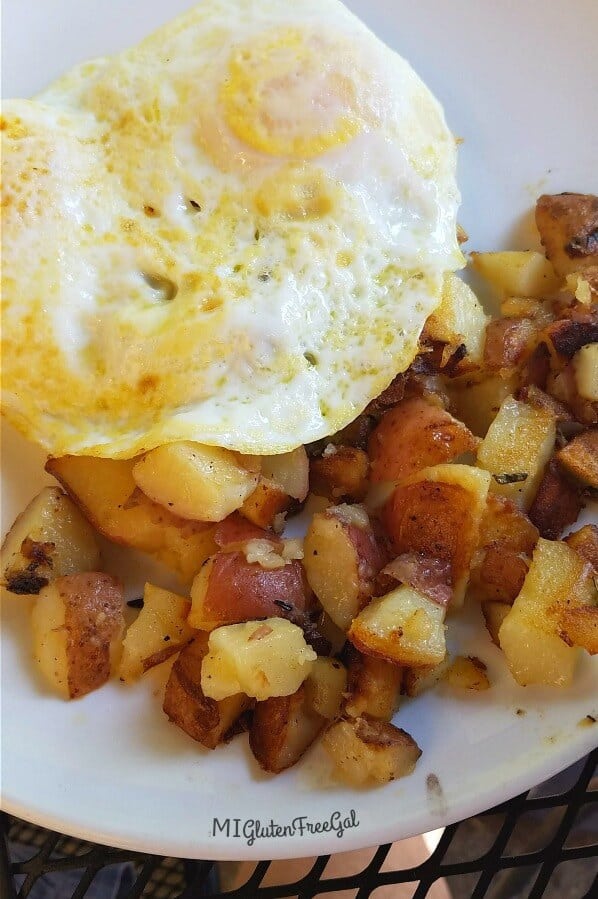 I LOVE grits. Like, I seriously could eat them every day and not grow tired. However, add goat cheese to them and fry them and top them with an egg? Oooh dang. The Mason Jar Cafe speaks my love language, y'all. However, this plate belonged to my husband. My wonderful husband who intentionally ordered it gluten free and let me try some! The awesomeness doesn't stop there.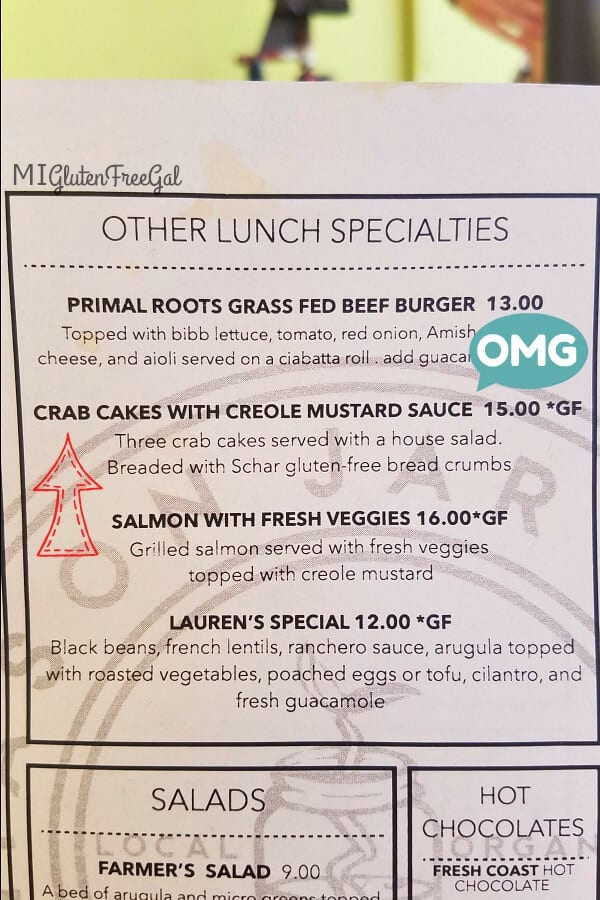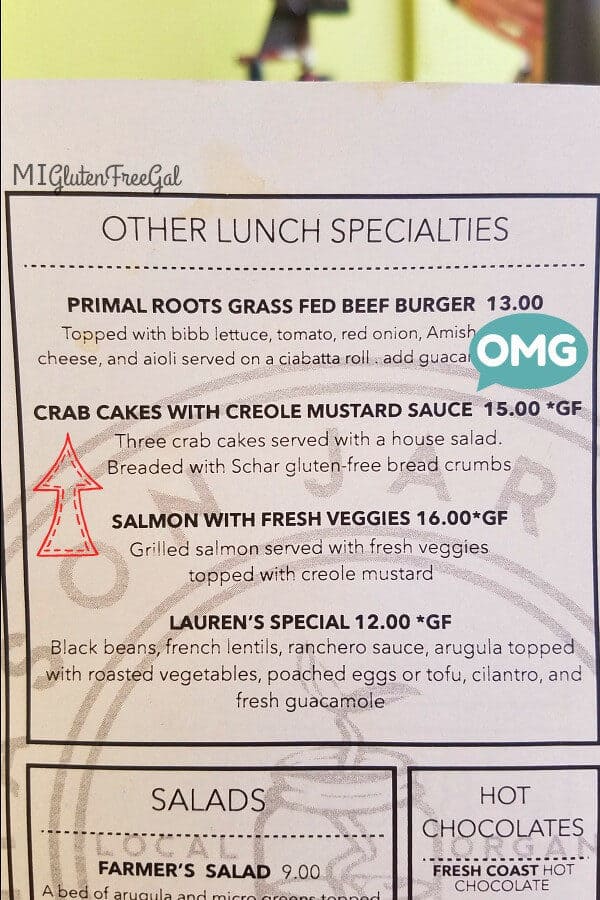 Does the Mason Jar Cafe Serve Lunch?
They serve more than just breakfast. The boast a complete brunch menu. (They close at 3 pm daily, so get there or be square.) Do you SEE what's on this menu? Crab Cakes. Gluten Free Crab Cakes. I regretted not ordering any.
However, my stomach felt so full, I couldn't squeeze anymore in my tummy. (And the hubs has a severe intolerance to shellfish. Doctors say it's not a allergy, but we don't take chances.) Just means I need to return on a girl trip and eat ALL the crab cakes.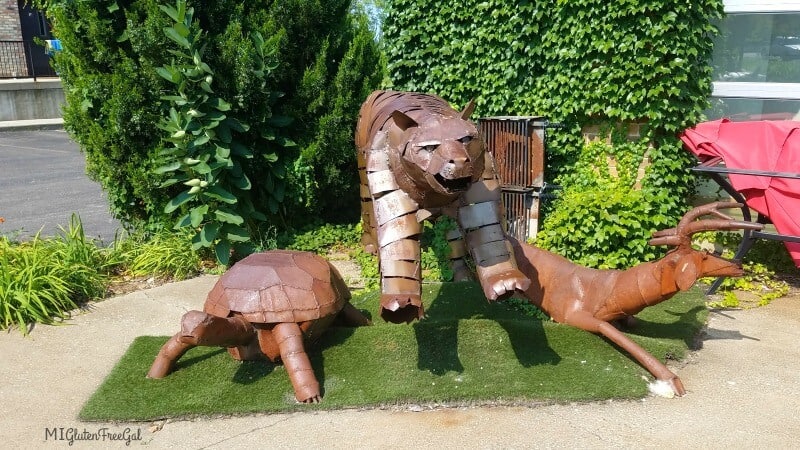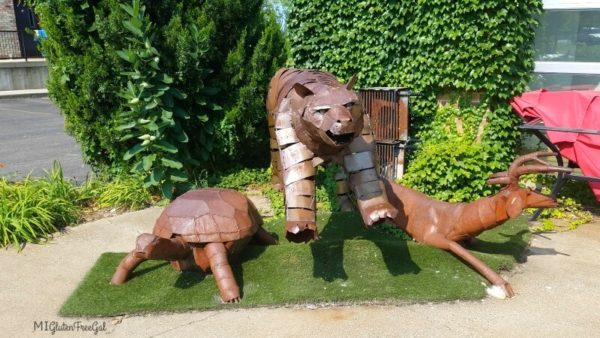 Great Food + Art Gallery
The Mason Jar Cafe offers more than just food. You'll find this unique eatery inside an art gallery. Sculptures greet you as you enter the courtyard. While waiting for your table (and expect a wait!), you can stroll inside and find art from various types of artists. Glass, paintings and sculptures keep you company while you smell all the aromas of the food they cook there. The surrounding neighborhood flourishes with local art as well. Make sure to not miss it!
So the next time you find yourself near Michigan's west waterways, make the drive to Benton Harbor. Walk its streets and taste the eats at The Mason Jar Cafe. Do me a favor? Order those crab cakes and tell me how amazing they are!
Mason Jar Cafe
210 Water St
Benton Harbor, MI 49022
Website | Facebook | Phone
Have you visited The Mason Jar Cafe? What did you order? Have you found other restaurants on Michigan's west coast? If not, check out Silver Beach Pizza. Otherwise, please drop a comment of where I should stop when I venture there again! Find this listing and more on my Michigan Gluten Free Dining Recommendations.