Gluten-Free Thai Chicken Curry
As an Amazon Associate and member of other affiliate programs, I earn from qualifying purchases.
This Thai chicken curry is a great dish for when you're trying to be good– nutritionally speaking. As part of my Lenten discipline I've gone back to following Curves Complete and riding my recumbent bike daily. So, extra fun goodies are not on the menu right now. Sundays are feast days though in our church, so hopefully I will get to try the box of Delallo's gluten free gnocchi that's been in my cupboard now for a few weeks. 😉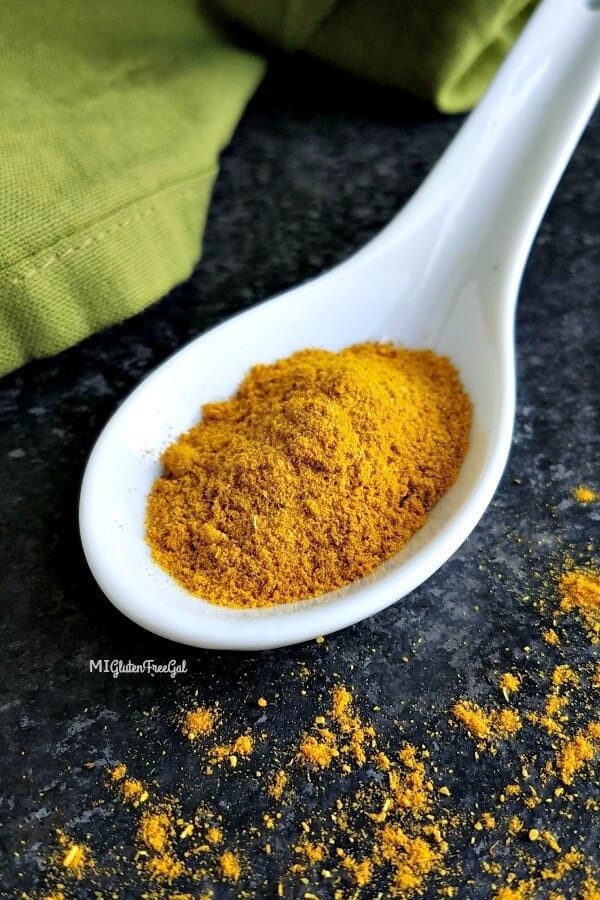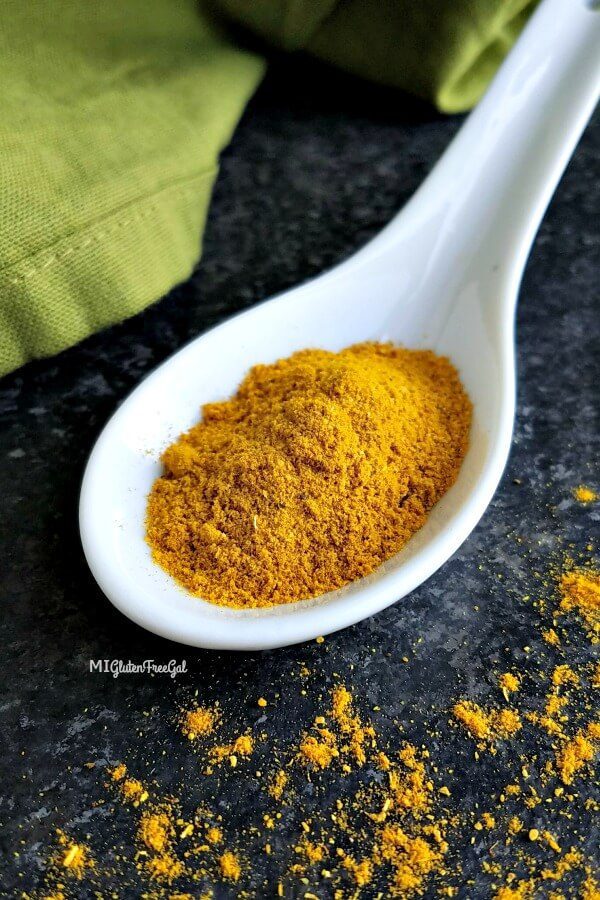 But I digress. One of the great things about Curves Complete is that the food really does taste amazing. Which makes sense, because it's real food. With the new updated Curves.com website, there are even pictures of the dishes.
I had some leftover coconut milk from making a tofu peanut satay (which was also amazing,) and found the recipe for Thai Chicken Curry through the new ingredient search function on the new Curves.com site. As for me and my husband, we'll try anything once. (And now we've had this dish twice in less than 4 days!)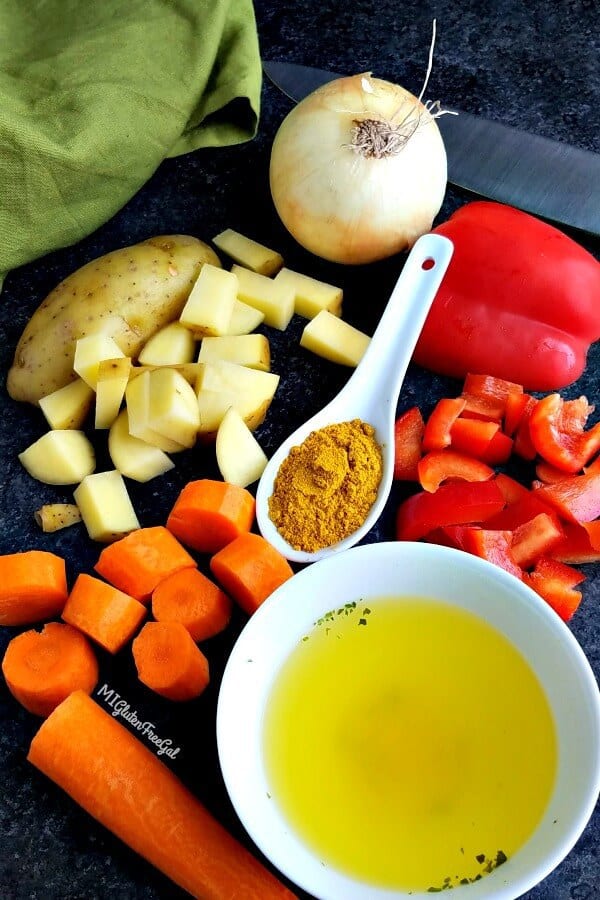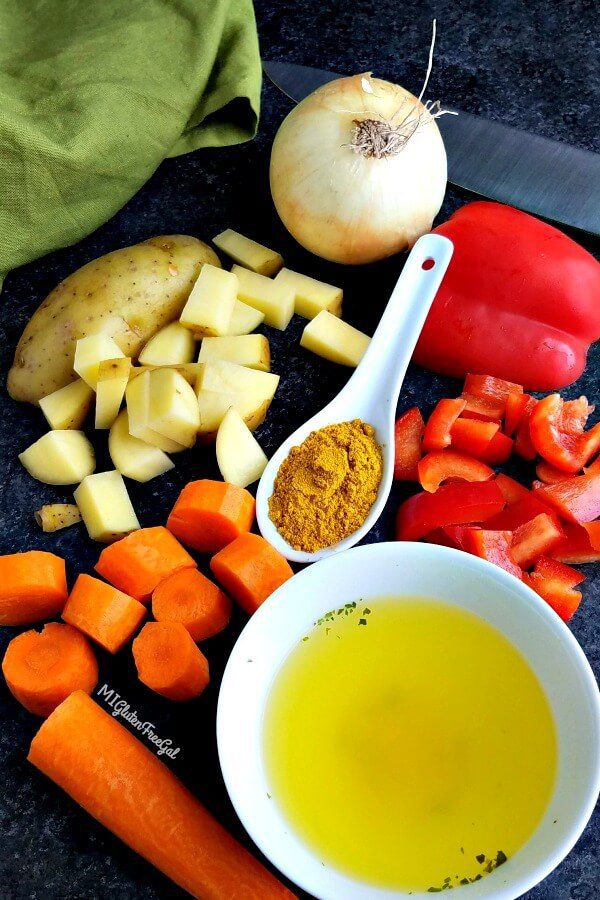 The recipe calls for Yellow Curry Paste, and I picked up a Thai Kitchen Green Curry kit at Kroger, thinking they would be the same thing. (I don't think they are, but it all worked out in the end.) I'm now updating this recipe in 2018, and it turns out that Thai Kitchen makes a yellow curry paste, but it's not available in the states. So I went to my local Asian market, which did have yellow curry paste. HOWEVER, it contained wheat flour. So I created my own curry powder blend for this Thai Chicken Curry instead.
In all honesty, while it may not have tasted totally "Thai," It was amazing. With the creaminess of the coconut milk and the starchiness of the potatoes, it reminded me of chicken pot pie, without the added fat and calories of a crust. I could probably eat this every day if you let me!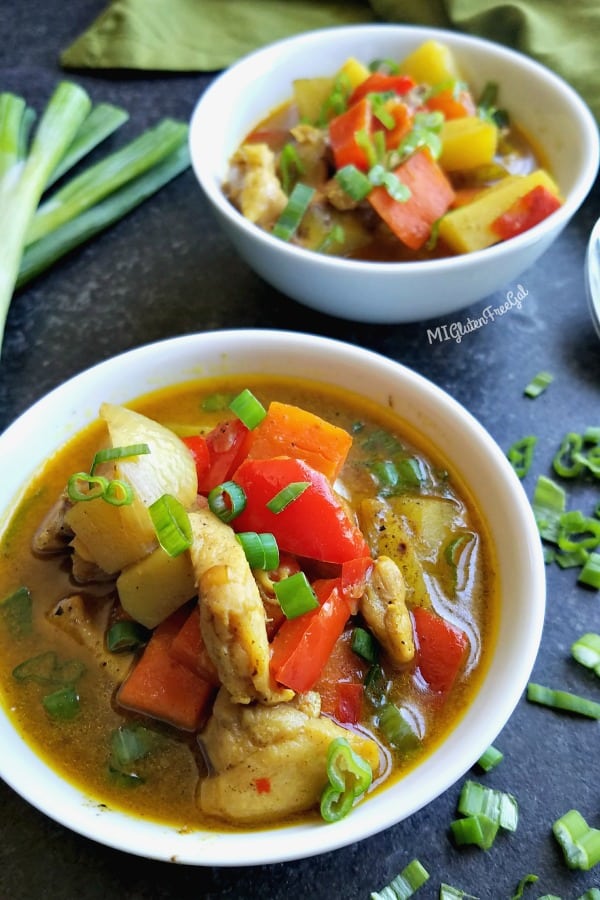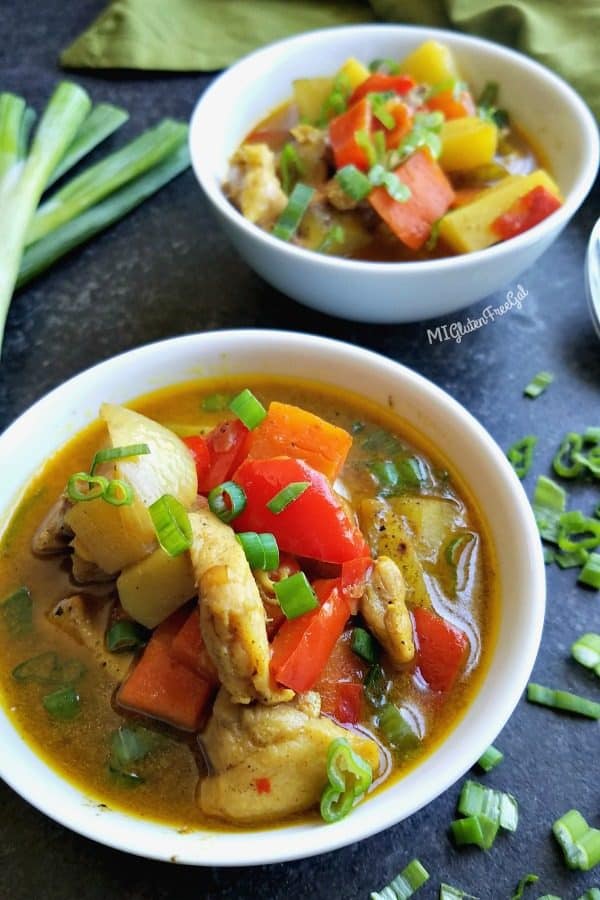 So, here's the recipe. (And yes, this is all one serving!)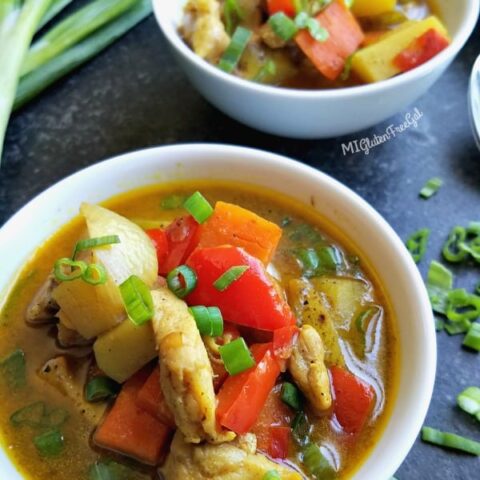 Gluten-Free Thai Chicken Curry
Ingredients
1/2 tsp oil
1/4 raw onion, diced
6 oz Boneless, Skinless Chicken Thighs
3 1/2 oz Taste of Thai Lite Coconut Milk
2 tbsp Taste of Thai Yellow Curry Paste
1 large carrot, diced
1/4 red bell pepper, diced
1 tbsp fresh cilantro (or green onion)
1/2 small potato, diced
1/2 cup low sodium vegetable broth ***optional (you can leave it out if you like your curry thicker)
Instructions
Peel and slice carrots. Chop onion and pepper. Peel and chop potatoes.
Heat oil in a pot over medium heat. Add curry paste and stir for 1 minute. Add onion, carrots,
and pepper. Stir occasionally until the onion is softened- about 10 minutes.
Add potatoes, chicken, coconut milk and broth and bring to a boil. Reduce heat to a simmer and cook for 20 minutes.
Dish into bowl, top with cilantro (or green onion) and serve.