Teta's Grill Gluten Free Lebanese Cuisine
As an Amazon Associate and member of other affiliate programs, I earn from qualifying purchases.
I LOVE Mediterranean food. I could eat hummus and shish kabob and lentil soup all day, every day. Recently I learned about Teta's Grill gluten free options, and boy am I excited about this SUPER simple gluten free menu. With only six items that those with Celiac Disease should avoid, there's so much to choose from!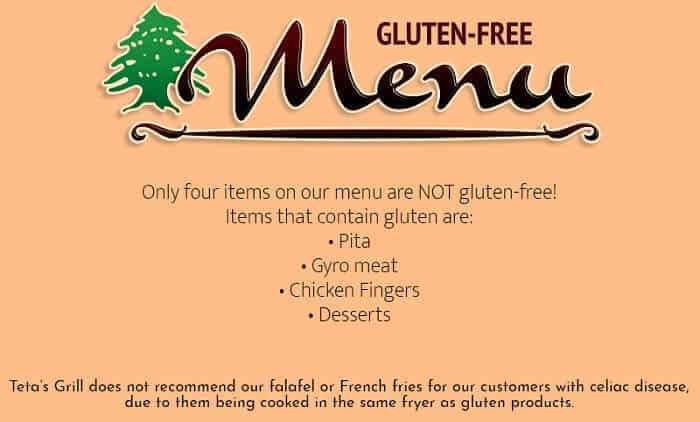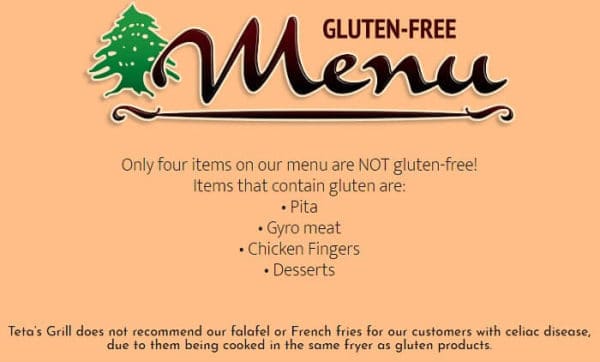 I became aware of Teta's Grill gluten free offerings through the Find Me Gluten Free app. This fantastic user-based app alerts you to restaurants in a geographic area that should offer gluten free items. As users input recommendations, I always tell my followers to still ask questions at each place you dine at. Therefore, I messaged Teta's Grill through their Facebook page and asked about food preparation practices. As they answered everything to my desire, my husband and I chose to dine there.
Teta's Grill gluten free options include all meats except the gyro meat (which contains bread crumbs) and the breaded chicken fingers. (They fry their falafel and French fries in the same oil as breaded items. Therefore, they do not suggested those with Celiac Disease eat these items.) The pita and desserts are off limits too. Their menu goes beyond gluten free offerings, though. All meals are absolutely egg free. No mayonnaise used at all in this establisment. In addition, they use no butter or artificial ingredients. All entrees are cooked FROM scratch. (Bread is bought premade in Dearborn.) Everything is cooked fresh, and made to order.
Teta's Grill Gluten Free Appetizers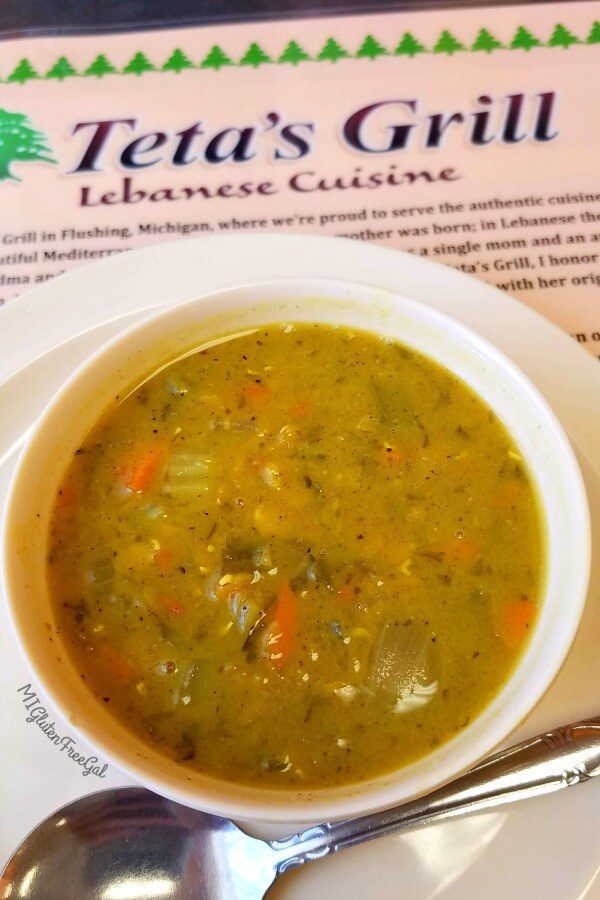 I started my Teta's grill gluten free dinner with Lentil soup. They slow cook lentils in homemade vegetable stock (no bouillon) for a Lebanese food that hits the spot. (If you'd ever like to try making it at home, I suggest this Red Lentil Soup recipe from The Kitchn. You will love it so much you'll want to eat it every day!) I also ordered Teta's Grill gluten free grape leaves. Rarely do I get get to eat these things. I cannot imaging the time and energy it takes to soften the leaves and wrap these. This requires patience i do not have. Therefore, grape leaves are definitely a treat! (No Mediterranean restaurant near you? I highly recommend these grape leaves from Costco!)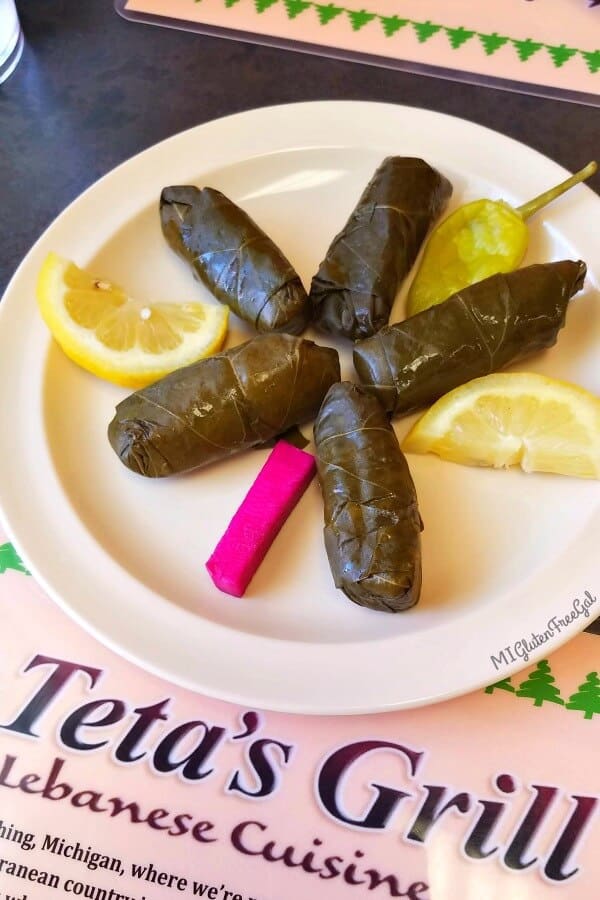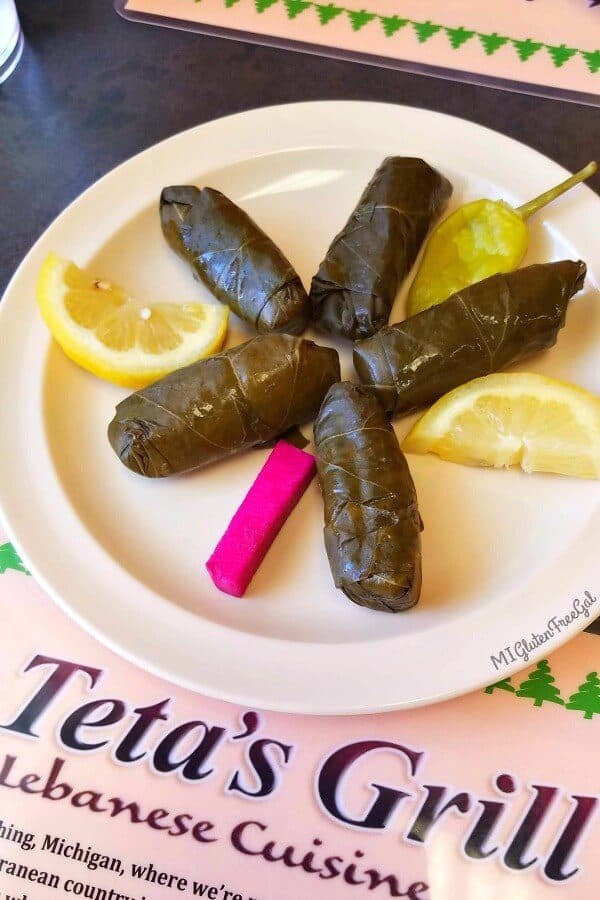 Teta's Grill Gluten Free Entrees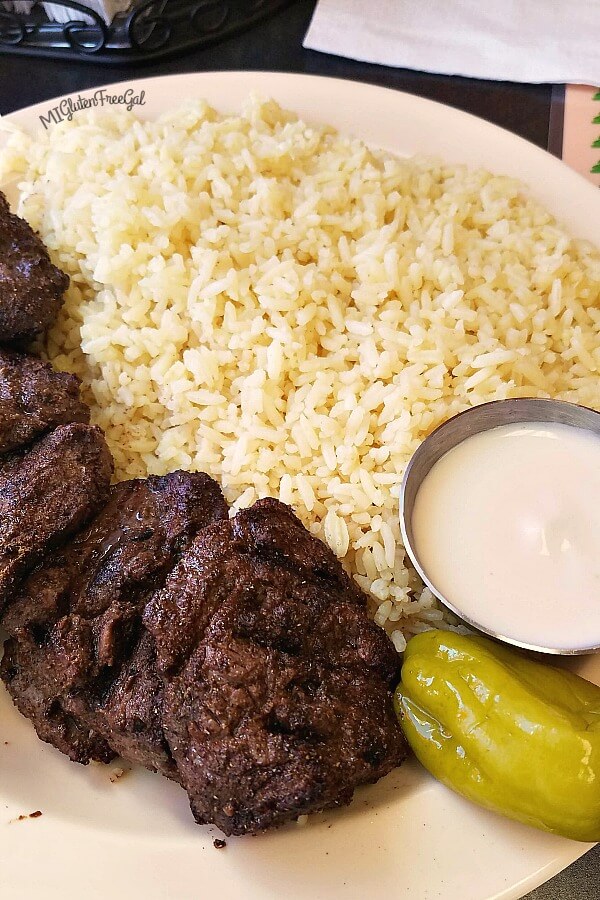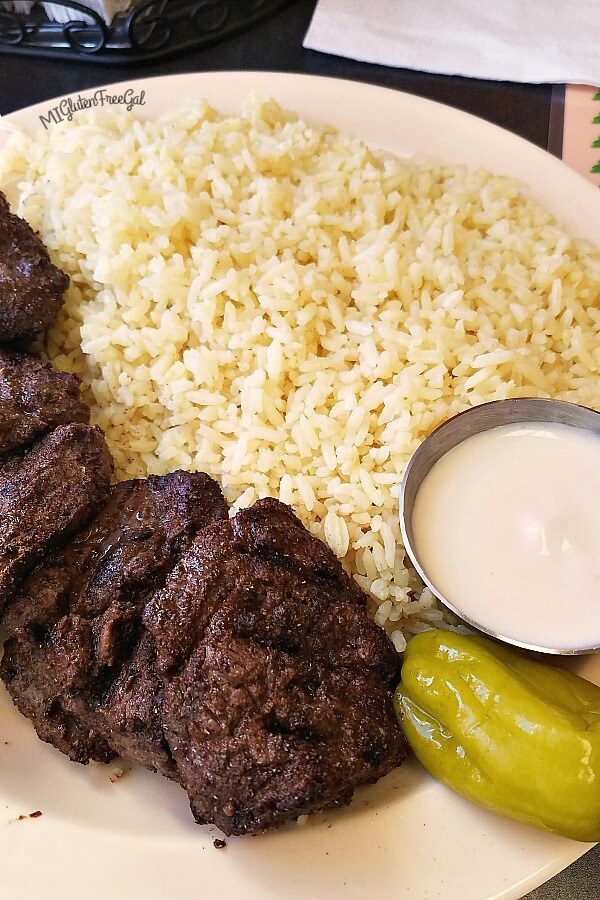 After consuming our Teta's Grill gluten free appetizers, we dove into our entrees. My husband ordered the Lamb Shish Kabob, while I ordered the Deboned Chicken. I do not exaggerate when I say my husband commented "this may be the best lamb I've ever eaten." I tried a bit of his lamb, and I agree that it was juicy and delicious! My deboned chicken was delicious as well. I cut mine up into small bites and mixed it into my rice, dipping it into their homemade, vegan garlic sauce. I let my husband enjoy the housemade pickled turnip on my plate.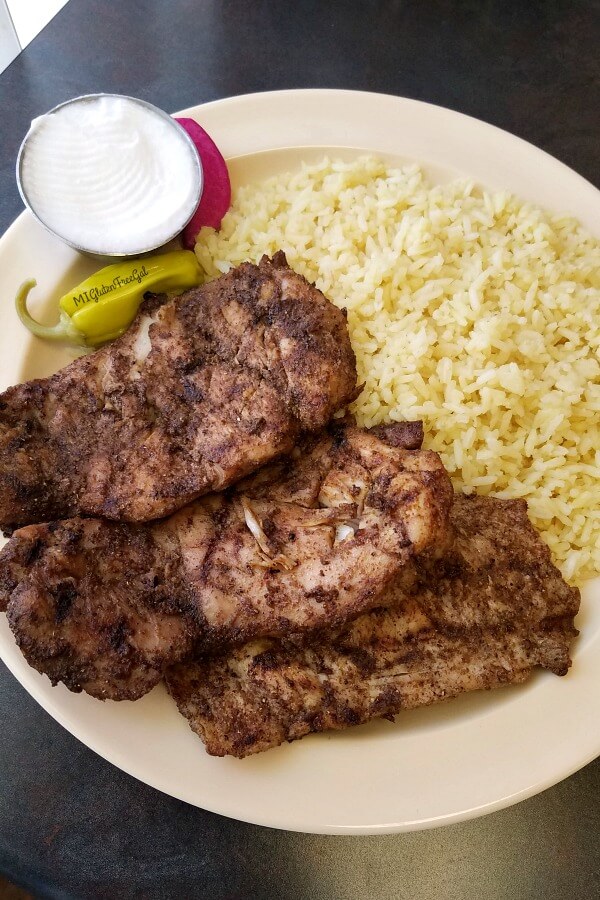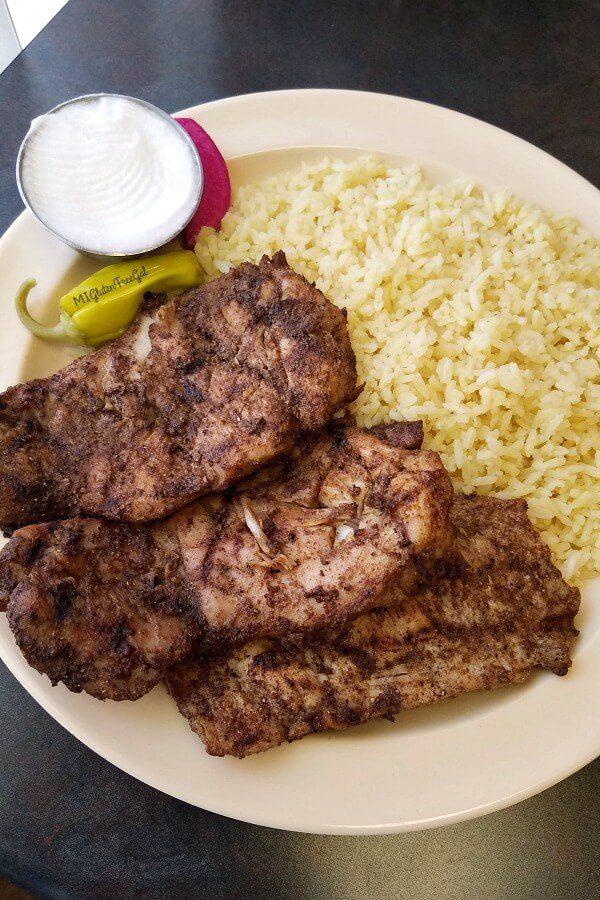 The portions at Teta's Grill are incredibly generous. Neither my husband nor I could finish our meal. The owner spent time talking to us about the story behind his restaurant. He named it after his mother. She was instrumental behind the yearly "our Lady Of Lebanon Mideast Festival. He learned all he knew about cooking from her. My husband and I have visited this local festival many times. Knowing that his family remains connected to this great event made this meal experience even better.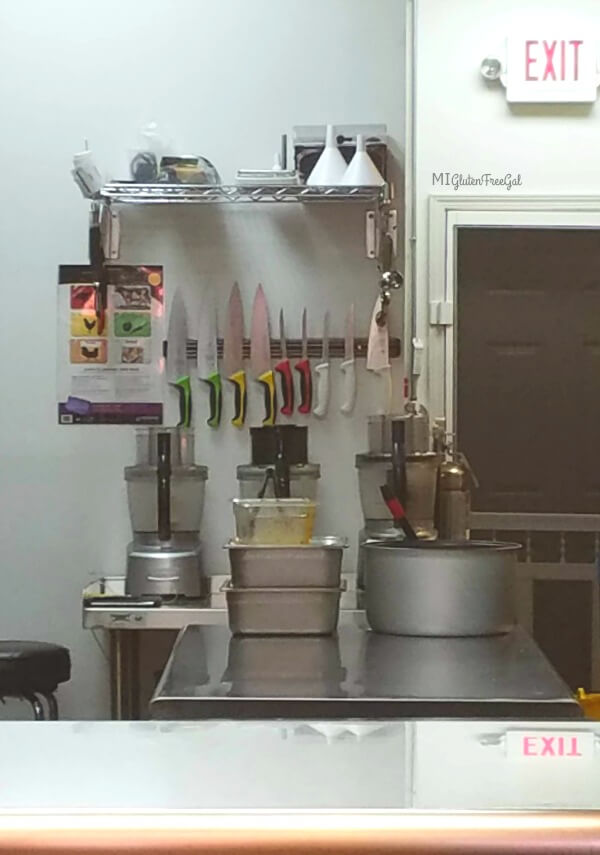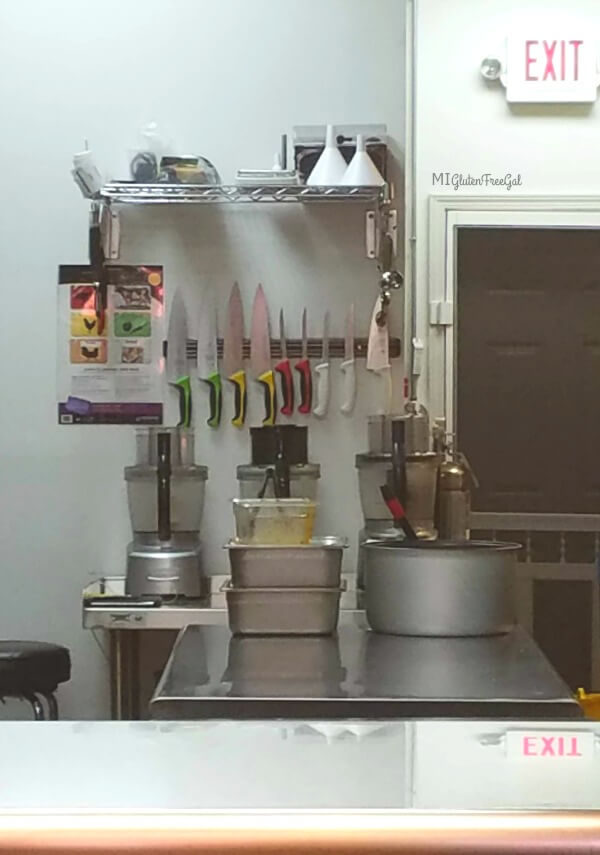 While this picture isn't the best, I hope you notice the different color knives. Teta's Grill designates each color knife for different types of food. The green knives and matching green cutting boards are used only for vegetables. There's a dedicated cutting board and knife for bread, so those gluten filled crumbs don't inadvertently find their way into your food. The yellow and red knives are for different types of meats. In addition, they change their gloves with every meal they prepare, to prevent any chance of cross-contact. I find this level of forethought simply fascinating. The owner was very open, totally okay with me taking this picture, and proud to show just how clean and neat they maintain their kitchen. They have exemplary notices from the health department, and they even post them proudly for customers to see!
So, if you find yourself in Flushing for their Summer Festival or their Christmastime Candlewalk, stop in for a delicious Teta's Grill gluten free meal. Just know that they close on Tuesdays and Thursdays at 4 pm, and are closed on Sundays. Let me know if you decide to stop in, and what you order!
Teta's Grill
6429 Pierson Rd #13
Flushing, MI 48433
(810) 487-9799
Hours Open Mon/Wed/Fri 11 am – 8 pm, Saturday 2-8 pm, CLOSED Tues/Thurs/ Sunday
Website | Facebook | Instagram
All thoughts and opinions are my own. Teta's Grill is one of many Michigan restaurants I've visited. You can a list of them on my Michigan gluten free dining post. Please remember to always ask any restaurant about their food preparation practices. I was not paid or compensated in any way for this meal.