Sweet Ali's Gluten Free Bakery
As an Amazon Associate and member of other affiliate programs, I earn from qualifying purchases.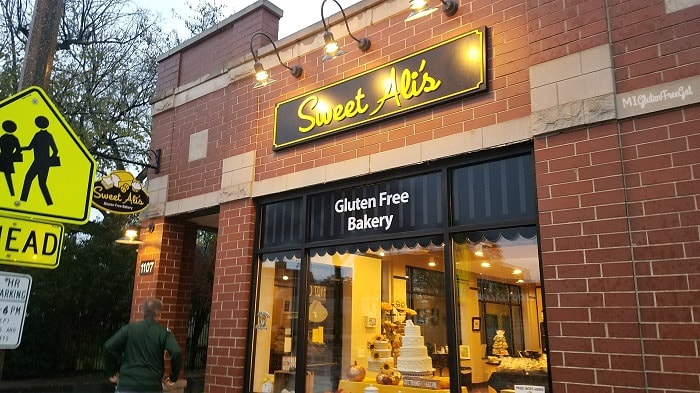 They say a picture is worth a thousand words. Therefore I hope the many pictures I took at Sweet Ali's Gluten Free Bakery give you an idea of the awesomeness of this place. This 100% dedicated gluten-free bakery makes just about anything you can imagine. Cookies? Check. Donuts? Check. Cake and eclairs? Double check. Just where does one find all these amazing gluten-free baked goods? Sweet Ali's Gluten Free Bakery is located outside of Chicago, in Hinsdale.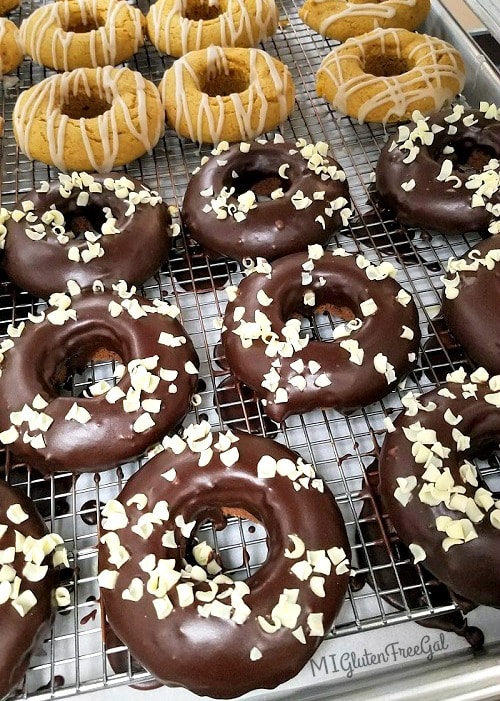 My husband and I arrived early on a Sunday morning. Owner Ali Graeme personally gave me a back end tour of the bakery. Staff were busy making donuts, and these gorgeous blueberry scones, pictured below. Look at the size of those blueberries! HUGE! As others mixed, cut and decorated, Ali shared the "why" behind Sweet Ali's Gluten Free Bakery.
Ali's son received a Celiac Disease diagnosis in 2007. At that time, she felt that all the gluten-free options for her son tasted far from excellent. Then, shortly after his diagnosis, her doctors diagnosed her as well. (Please remember Celiac Disease is genetic. Therefore all family members should be tested as well.) What started as a passion for safe baking for her own household blossomed into a business feeding others.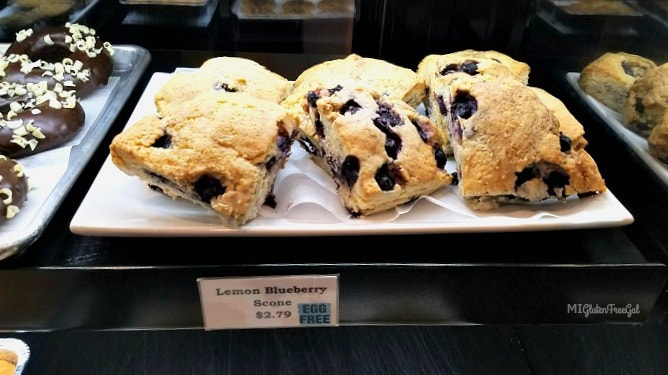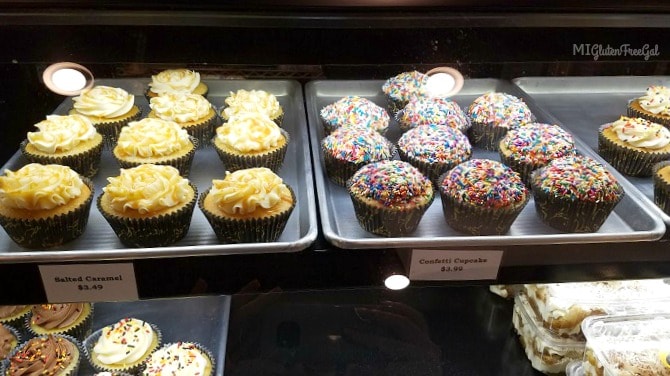 Sweet Ali's Gluten Free Bakery makes a large assortment of cupcakes. Each week they highlight a "cupcake" of the week. They include seasonal flavors such as pumpkin, as well as creative cupcakes like chai latte, maple bacon and PB & J. I bought a hot chocolate cupcake (topped with marshmallows) and carrot cake cupcake for my parents.
When I returned the following weekend for the Mend Hunger fundraiser, I sampled the confetti cupcakes for myself. Sweet Ali's Gluten Free Bakery was honored at that event for donating money to Mend Hunger, which provides food allergy friendly products to 29 different food pantries in the Chicagoland area.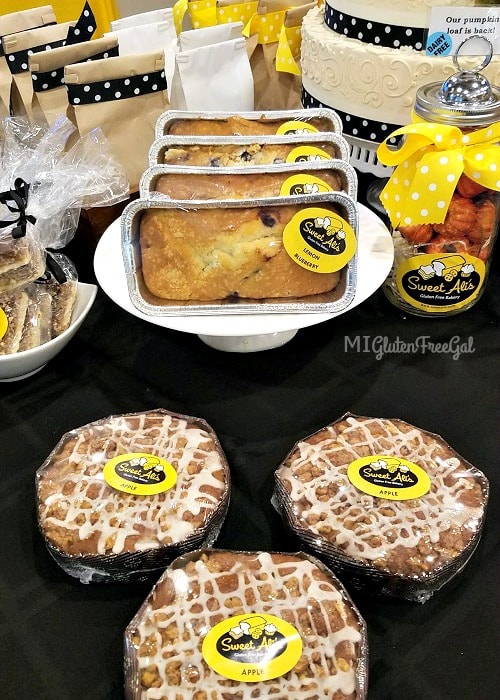 Sweet Ali's Gluten Free Bakery contains such a wide variety of items. When one walks into the store, your eyes first fall upon a table covered in an assortment of goodies. Apple cakes, pound cakes and toffee bars immediately tempt your taste buds. One the day we visited, a large bowl of marshmallow treats sat in plain view. I love feasting my eyes on their decorated cut out cookies. Aren't they just beautiful? I could easily "gobble, gobble" them all!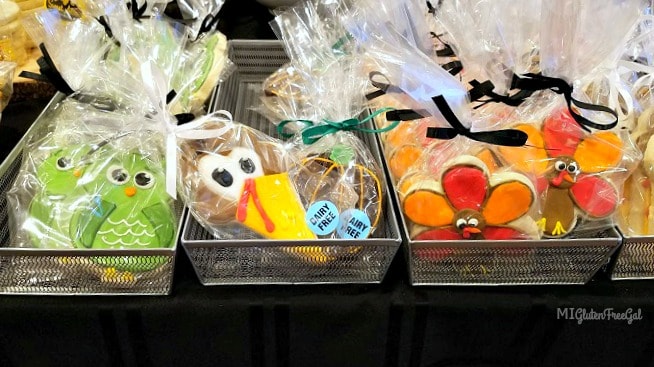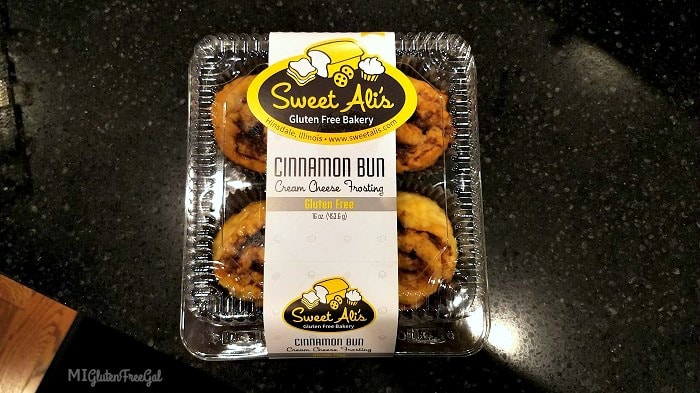 However, the big draw at Sweet Ali's Gluten Free Bakery continues to be their cinnamon buns. We purchased a package of these for my parents, who had been watching our dogs. My dad's review was that they "were to die for!"
You can find these amazing sweets in their stores, at Egg Harbor Cafes in the greater Chicago area, and on their website. If you order them online, they will ship them to you without the cream cheese frosting.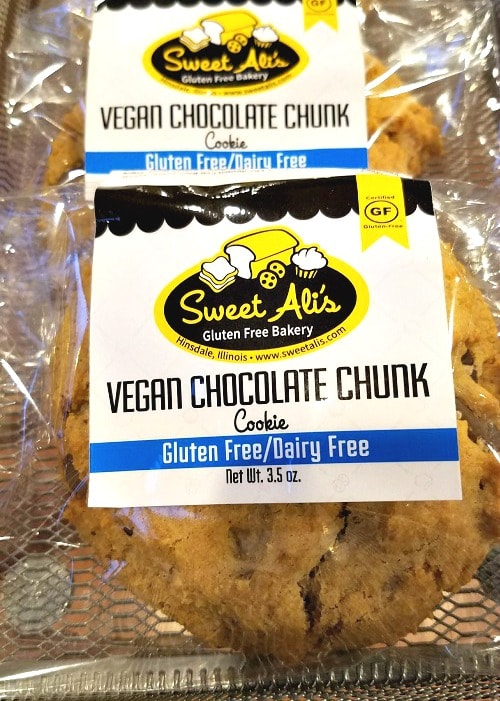 Sweet Ali's Gluten Free Bakery also makes many vegan items. (They are not a dairy or egg free facility, so choose wisely if you have a food allergy to either.) These vegan chocolate chunk cookies look delicious enough to eat as far as I'm concerned!
I love seeing the GFCO certification label on these as well. It shows the level of dedication this bakery takes to safeguard those who need to follow a gluten-free diet. You will find these cookies on their shelves, as well as packaged mixes and her flour blend.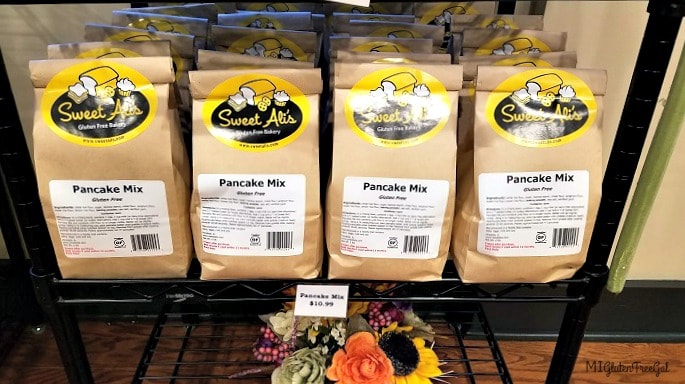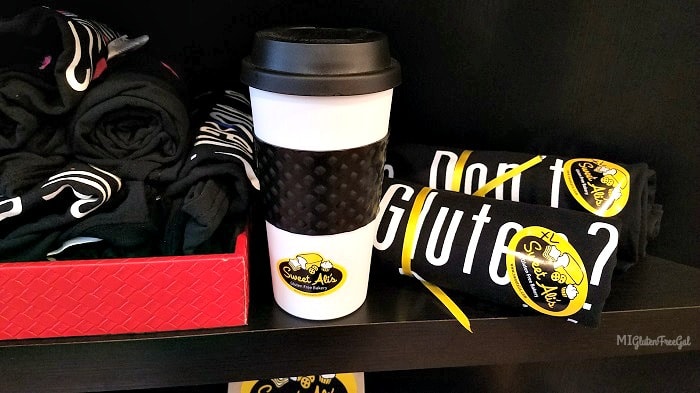 Sweet Ali's Gluten Free Bakery also serves locally roasted coffee from Dark Matter Coffee. Enjoy a cup inside the shop or get a cuppa to go in one of Sweet Ali's travel mugs. They also sell t-shirts and other swag to show off your Sweet Ali's love.
After all, when you're voted one of the 10 best bakeries in Illinois (even amongst regular bakeries), it's definitely something worth representing! I've been a huge fan of Sweet Ali's for years, also meeting them at the GFAF Expo. I'm so glad I finally ventured into the bakery to experience all they have to offer. Make sure to plan a stop yourself the next time you're in the Chicago area!
Sweet Ali's Gluten Free Bakery
13 W. 1st Street Hinsdale IL 60521
630-908-7175
Open Tuesday-Friday 10 am – 5 pm, Saturday 9 am – 4pm
Webpage | Facebook | Instagram | Twitter
Have you visited Sweet Ali's Gluten Free bakery? What yummy treat is your favorite? Leave a comment below!