Silver Beach Pizza – A St. Joseph Destination
As an Amazon Associate and member of other affiliate programs, I earn from qualifying purchases.
In 2018, we vacationed in St. Joseph, located on the west coast of Michigan. And when I say west coast, I mean the shoreline of Lake Michigan. Not only was the view great, but we "discovered" a great restaurant called Silver Beach Pizza. Located inside an old Amtrak Depot, there's a reason this business has been voted as the Best Pizza in Southwest Michigan!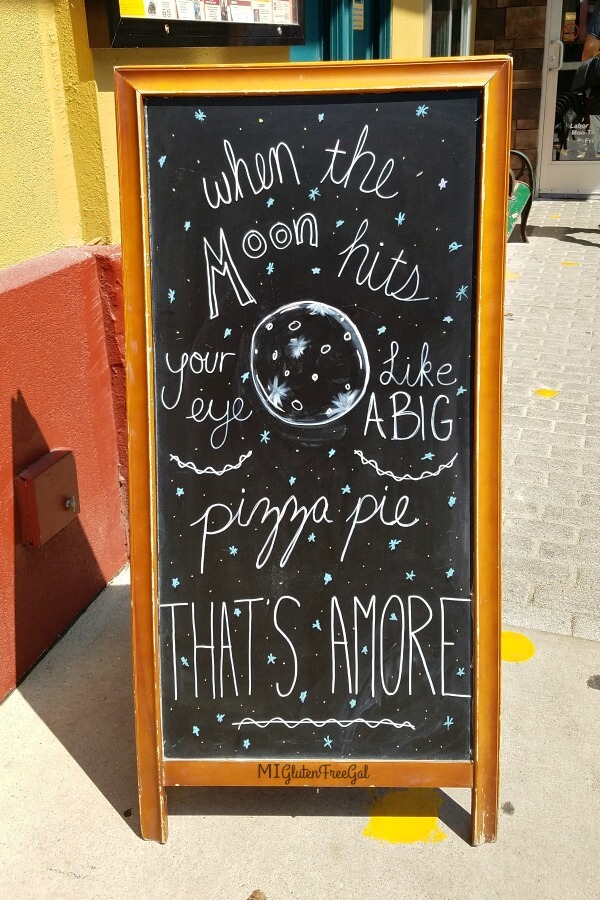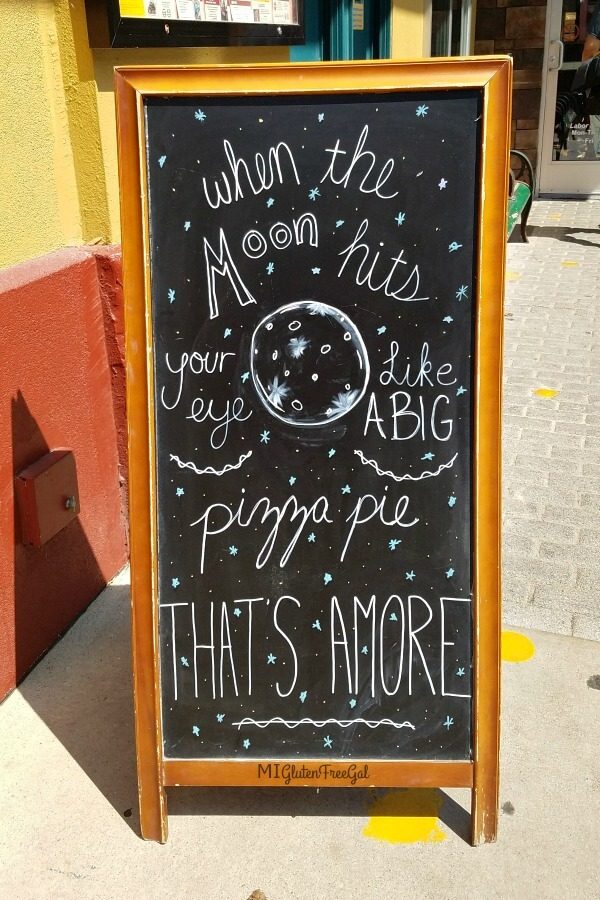 The History Behind Silver Beach
If the city is named St. Joseph, why name a restaurant Silver Beach Pizza? Location, location, location. In 1891, two men named Louis Wallace and Logan Drake started the Silver Beach Amusement Company. Located on Lake Michigan's shoreline, people traveled from Michigan and Chicago to swim, play and and roller skate. It expanded in the 20's to include a roller coaster and and thrived until the 1970's.
The public beach in St. Joseph bears the name of that famed amusement park, as does this pizzeria. Silver Beach Pizza resides in the old Amtrak depot where out-of-towners would arrive for a day of frivolity. The train still goes by to this day, and you can watch them go by as you eat your meal, if seated downstairs. However, I was not here for the trains. I came for the pizza!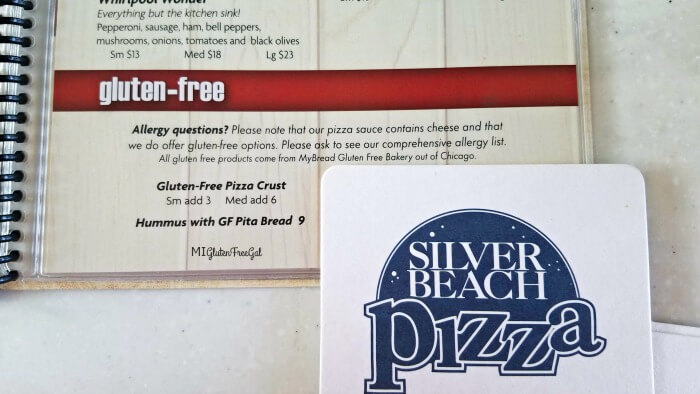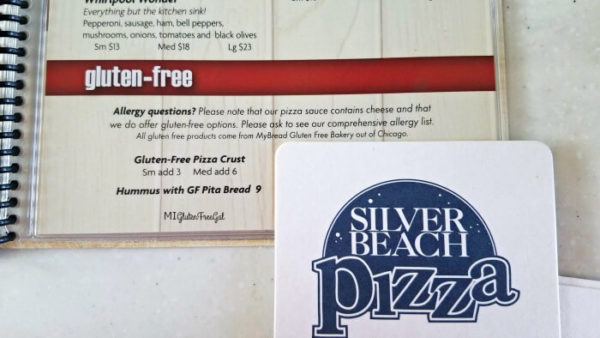 Pizza Prep
Like so many other restaurant finds, I learned about Silver Beach Pizza from the Find Me Gluten Free app. However, I never rely on ratings alone. I scoured through many reviews prior to deciding to eat here. I also asked our server the
standard questions I ask before dining out
. She didn't skip a beat and accommodated any special requests I had!
For reference, they prepare their gluten free pizzas on a
My Bread Gluten Free Bakery
crust. The waitress stated that when they first make a gluten free pizza, they change their gloves. The prepare the pizza in a separate area, in its own pan and cook it on a separate rack. I asked our waitress to make sure mine was made with fresh toppings. When it comes out of the oven, they cut it with a freshly washed pizza cutter. She stated that their manager has a dairy allergy, so he stresses to staff how careful they need to be with allergies and cross contact. (P.S. They also offer dairy free cheese!)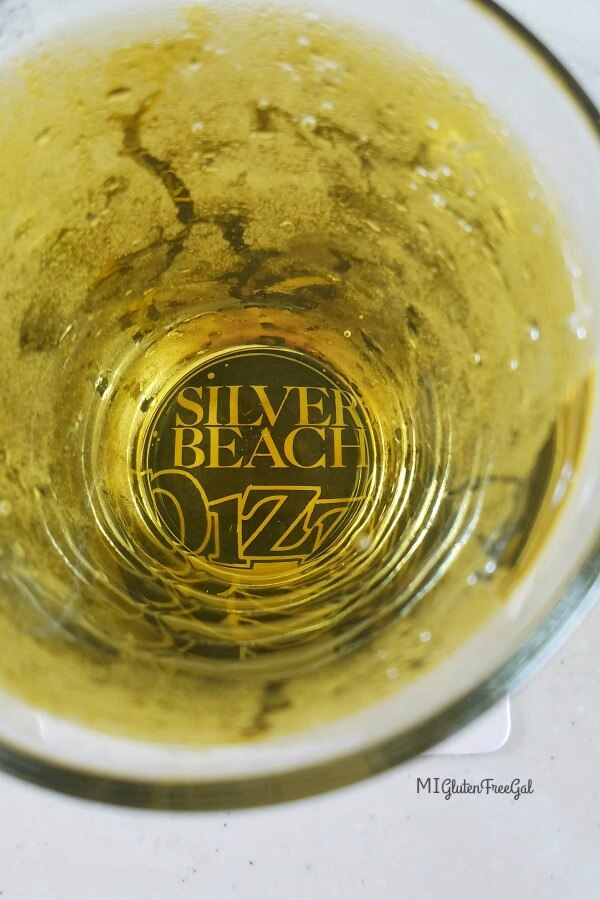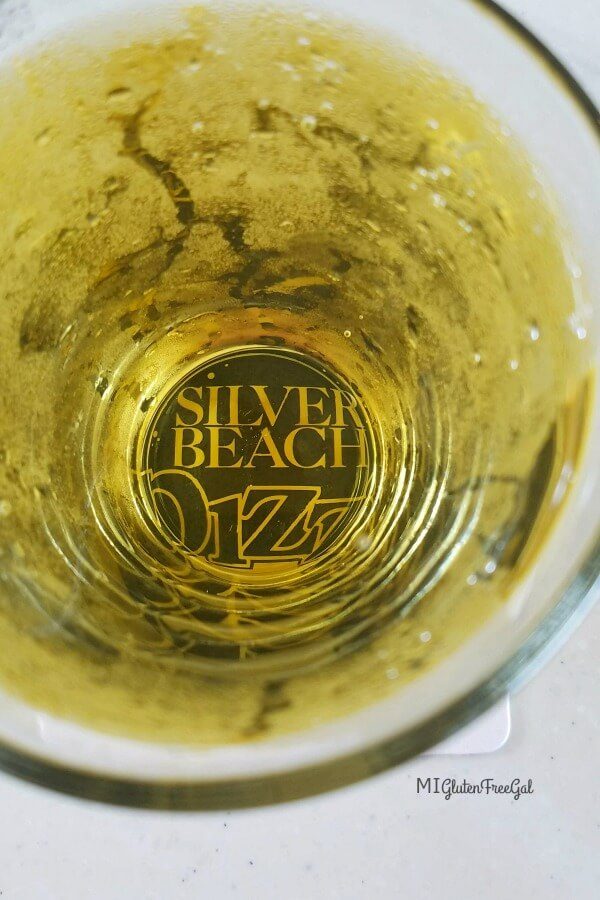 In addition to an
extensive food menu
, Silver Beach Pizza lists an impressive lineup of beers and ciders. Pictured above is the Ace Pear Cider. DYK that Ace Ciders bear the GFCO certification logo? Pretty impressive! Silver Beach Pizza is famous for their schooners, which they chill at low temperatures, so your drink stays cold. (I'm a lightweight when it comes to alcohol, so they gave me a smaller glass.) In fact, the schooners are so integral to their identity, they used them as the "globes" for their lighting!

Silver Beach Pizza Gluten Free Harvest Pizza
So, the moment of truth. Our pizzas came to the table and immediately I was impressed with how beautiful they looked. I ordered the Harvest Pizza. Just check out this description! (And dare I say, it tasted amazing! )
"Oil based with light brown sugar, crispy kale, layered with bacon and butternut squash; topped with gouda and mozzarella cheese."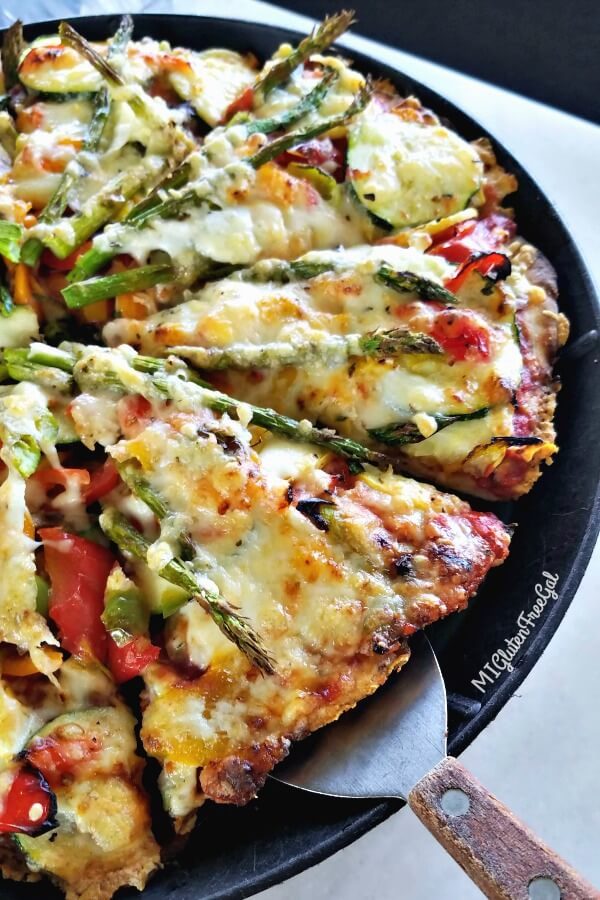 My husband, who does not eat gluten free, ordered the UJ's Sunburst pizza. A local named John Carolla created this one. They top it with f
resh asparagus, yellow and green squash, mixed sweet peppers, cherry tomatoes, fresh mushrooms, and fresh cilantro. Truly, my picture does not do this pizza justice. Next time I travel to Silver Beach Pizza, I totally need to order this!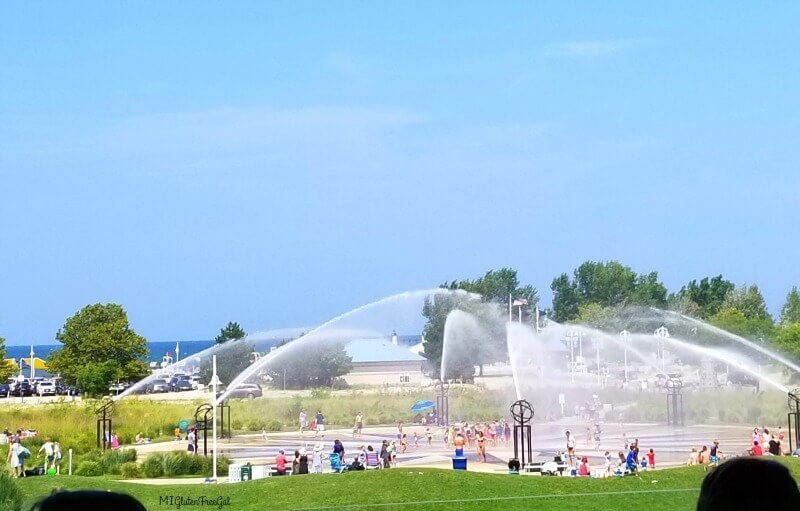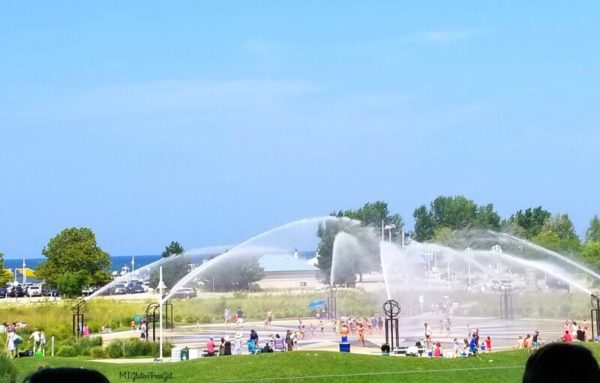 The Upper Deck
Our pizza was not the only beautiful thing to note. In 2015, Silver Beach Pizza expanded and opened
The Upper Deck
. This 21 and over section stands practically over the railroad. It provides the most SPECTACULAR view of the Whirlpool Splashpad and Lake Michigan. I don't think I've ever had more beautiful scenery for a meal. We lucked out and managed to get seated up there immediately. However, reservations are usually required for this space.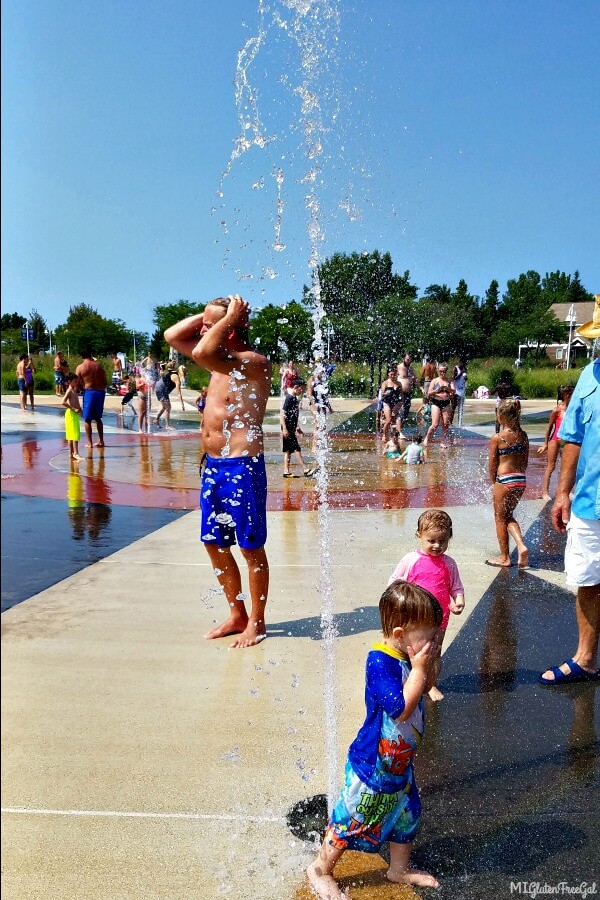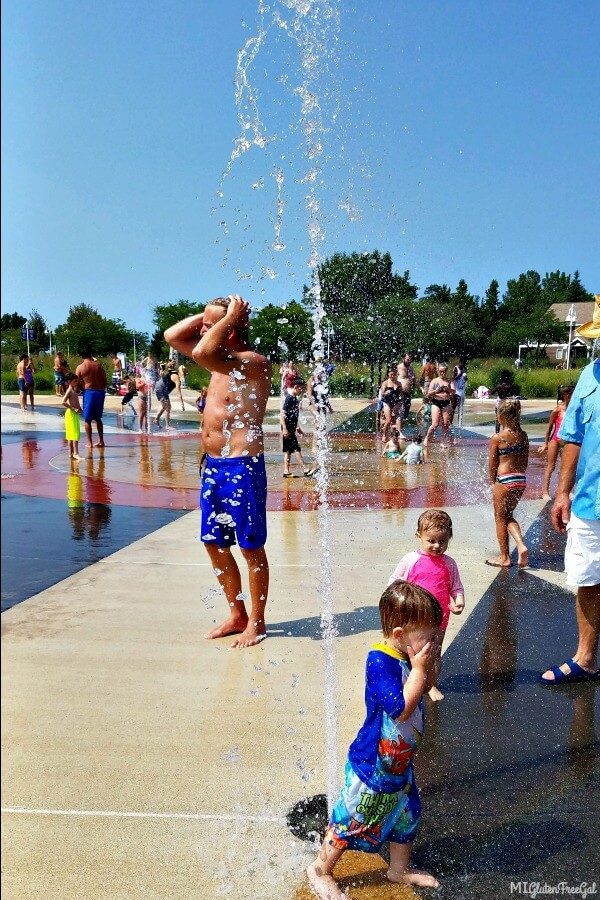 Extra close up of the splash pad and adorable kids. Because life is always better with kids. Note, floor mounted fountains flow continuously most of the day. However, at certain points of the day they stop, to the squeals of children everywhere. Why? Because that's the signal that the big, powerful overhead fountains are about to rain down on them. (See above picture.)
So, the next time you visit Michigan's west coast, stop in for gluten free pizza at Silver Beach Pizza. Parking can be tricky. They suggest parking in the public lots up on the bluff. I believe you can get a $5 discount if you bring in your parking stub.
Silver Beach Pizza
410 Vine St.
St. Joseph MI 49085
(269) 983 – 4743