Gluten Free Chicken and Bacon Alfredo Pizza
As an Amazon Associate and member of other affiliate programs, I earn from qualifying purchases.
Have pizza, will travel. With shelf stable Schar gluten free pizza crusts, we can make pizza in a snap. No fridge, freezer or mixing needed! It allowed me to easily create this Gluten Free Chicken and Bacon Alfredo Pizza.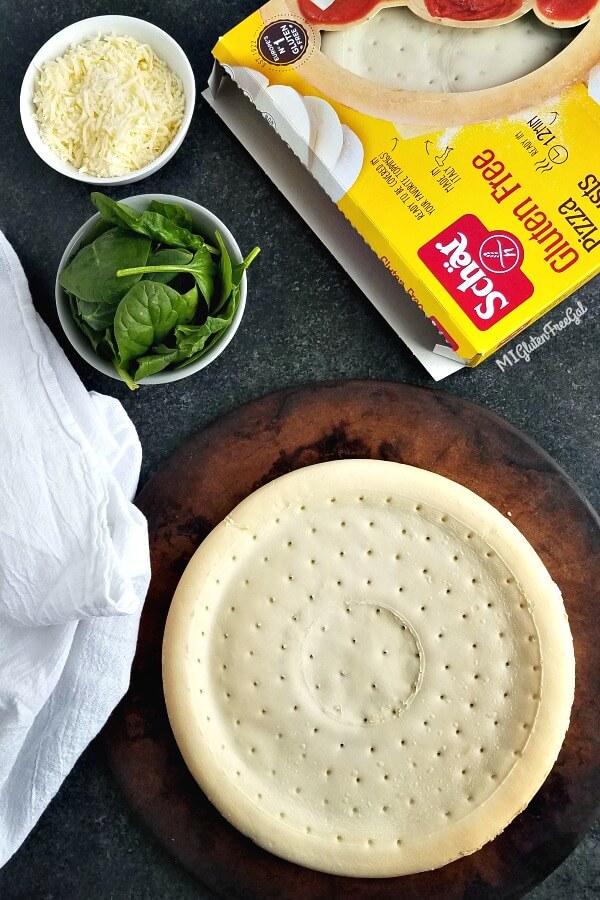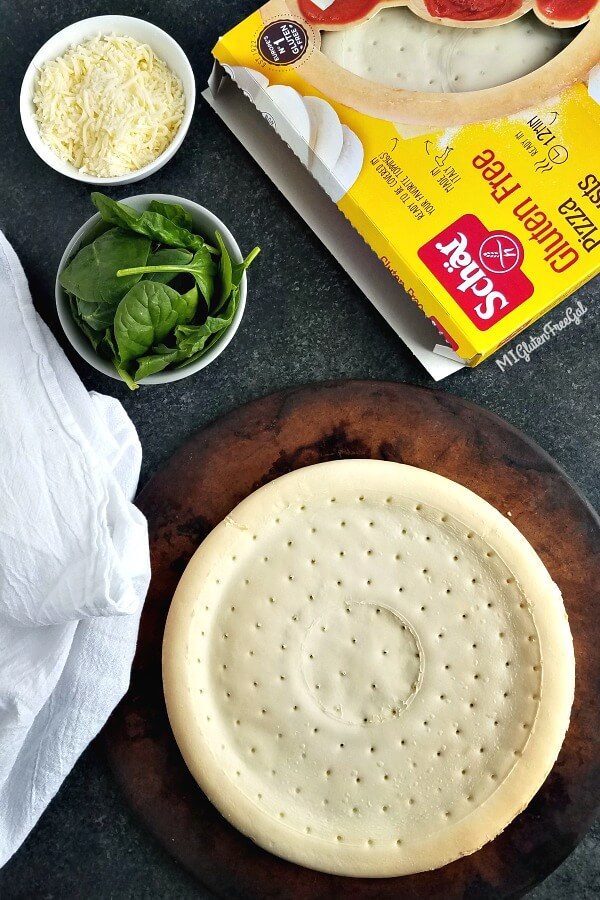 Schar: Gluten Free Since 1922
Unfamiliar with Schar? While these Schar gluten free pizza crusts may be new to you, they are not new to the market. In truth, Dr. Schar "has been making products to support a healthy diet" since 1922. In collaboration with doctors and Celiac support groups, they launched their first gluten free line in 1981. Although their headquarters are in Italy, they have production facilities in Germany, Spain, United Kingdom and in the United States.
I find these Schar gluten free pizza crusts at my local Meijer. They cost approximately $8 for a 2 pack of shelf stable pizza crusts. The crusts come individually packaged in sealed plastic bags. I love this, because in a household of two, I only prepare one pizza at a time. These Schar gluten free pizza crusts boasts a pretty lean ingredient list. No eggs, no dairy, and no long chemical additives that you can't pronounce.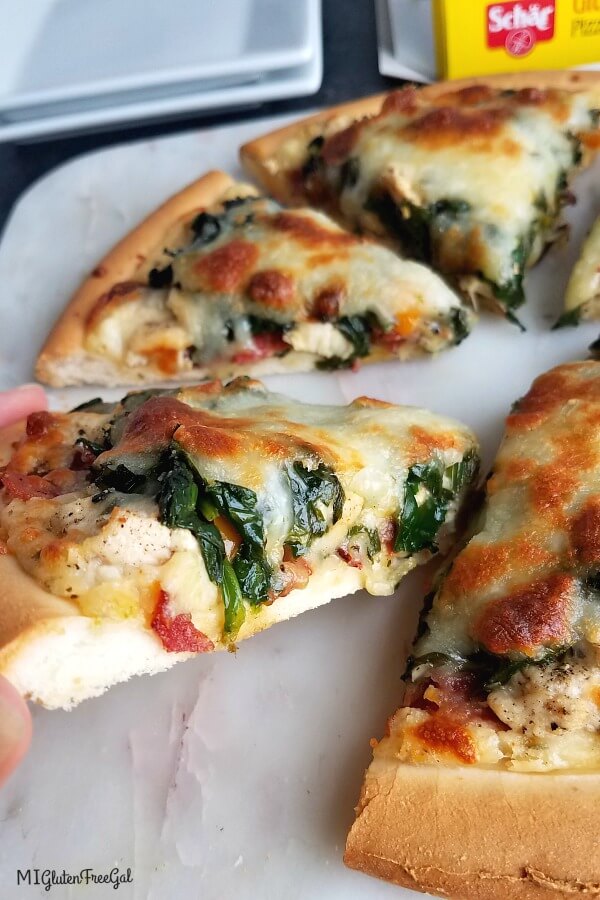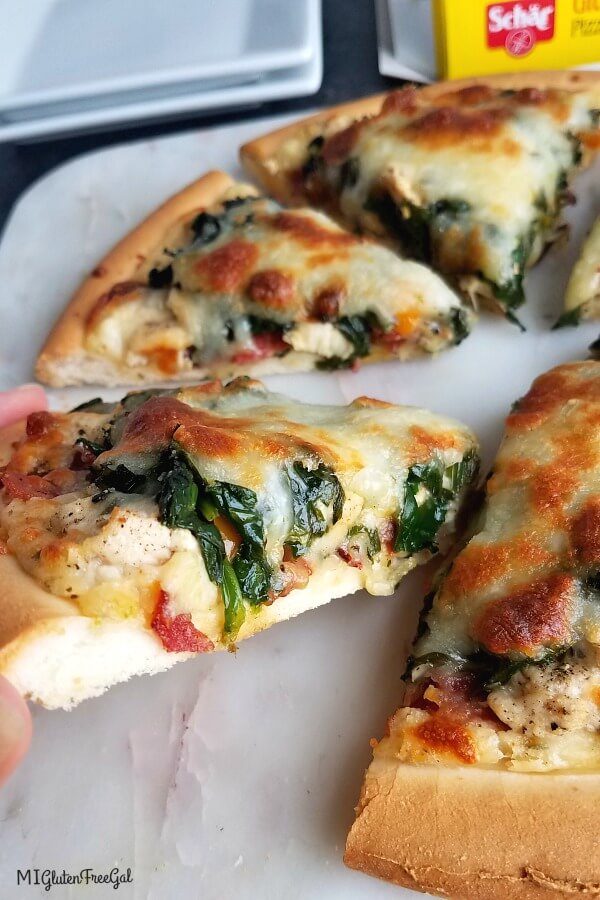 Gluten Free Chicken and Bacon Alfredo Pizza
I originally wrote about these Schar gluten free pizza crusts back in 2015. However, the pictures needed a bit of an update. In addition, Schar sent me some coupons that expire shortly, and I didn't want to miss out on a good deal. I created a mouth watering Gluten Free Chicken and Bacon Alfredo Pizza with these crusts. They turned our perfect, and came in handy during a recent flight to Houston.
Pizza really can be anything you make it. I needed to clean out our refrigerator prior to vacation. Inside my fridge, I had a small piece of chicken, a few strips of bacon, a bag of spinach, and some milk about to turn south. Therefore,I cooked up the chicken and bacon, wilted the spinach, and made this white pizza sauce recipe I found on AllRecipes. Friends, the finished product was a true taste sensation. Don't worry, I wrote out my recipe for you below!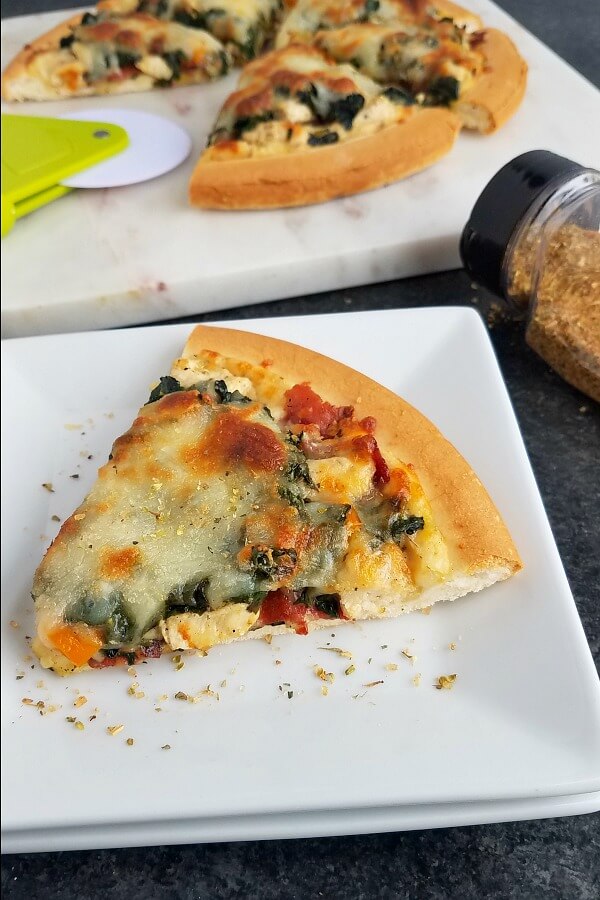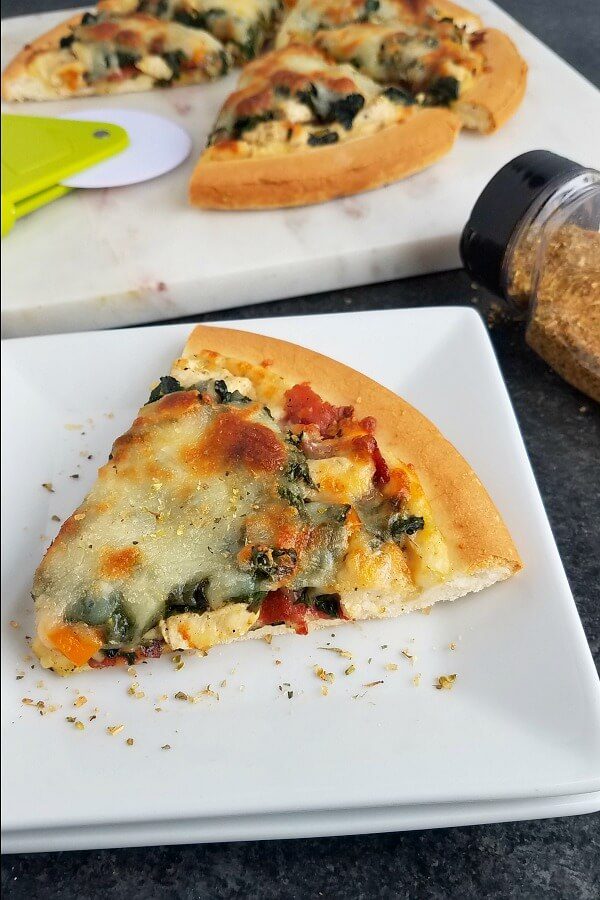 Why You Need a Pizza Stone
Before you make it, I want to share a few tips. Although the box doesn't direct you to do so, I prebaked my Schar gluten free pizza crusts in the oven for about 3 minutes. I hate soggy crust, and I needed to make sure this pizza held up overnight. In addition, I baked my pizza on a pizza stone. Don't own one? It makes such a difference. Using one recreates the "wood fired oven" kind of heat that makes pizza crust so crisp.
Also, the original recipe linked above calls for various Italian herbs. I simply substituted "Just Add Tomatoes" seasoning blend. A Michigan father created this blend after having difficulty finding products safe for his son, who has food allergies. I use it in tomato sauce, but also on chicken, popcorn, and more! If you can't find it, simply use any gluten free Italian seasoning instead! Without further ado, here's the recipe for my gluten free Chicken and Bacon Alfredo Pizza!
Looking for a homemade pizza crust recipe? Try this dairy free, pourable recipe from Valerie's Recipes.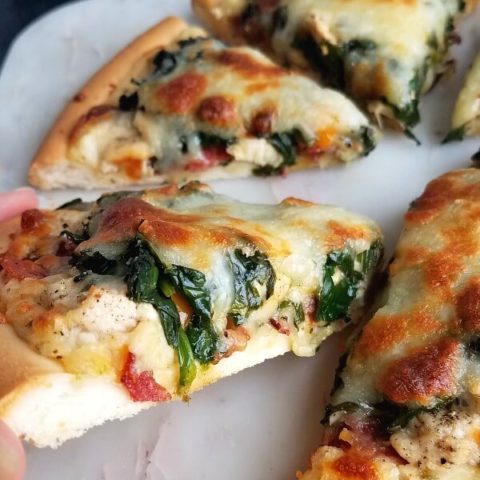 Chicken Bacon Alfredo Pizza
Ingredients
For the sauce
2 tbsp butter
1 tbsp oil
1/4 c chopped onion
1/2 tsp minced garlic
3 tbsp Bob's Red Mill Rice Flour
1 cup milk
1/2 c grated Parmesan Cheese
2 tbsp Italian seasoning (I used Just Add Tomatoes)
1/4 tsp salt
pinch of black pepper
For the pizza
One Schar Gluten Free Pizza Crust
4 oz chicken breast, cooked
4 strips turkey bacon
1/4 bell pepper, chopped
4 oz chopped spinach, wilted
1/2 c mozzarella cheese
Instructions
Preheat oven to 400 degrees
In a small pot, melt butter and oil together. Saute onion and garlic until soft, 3-4 minutes. Add gluten free flour, and cook for 3 minutes, while whisking.
Add milk, cheese and spices and cook until thickened. This will take approximately 5 minutes. Remove from heat and set aside.
Next, prepare the pizza toppings. Chop the chicken in to small chunks and cook in a well oiled, hot skillet. Once cooked, remove to a side dish and cook the bacon. Cook bacon to desired crispness, and remove from heat.
Next, cook diced bell pepper (I used an orange one.) Cook for about 3 minutes. Remove from skillet, and then cook spinach until completely wilted. Remove from pan.
Cook Schar crust, brushed with oil but otherwise untopped, in oven to brown. 3 minutes tops. Then remove from oven to add toppings.
Add white sauce to pizza crust, filling the sunken well in the crust, until it reaches the edge. Then add cooked chicken, bacon, bell pepper, and then finally cooked spinach. Then top with mozzarella cheese. Place topped pizza in the oven and bake for 10-12 minutes, until the cheese is melted and just barely browned.
Remove from oven and allow to cool approximately 5 minutes before cutting and serving. Enjoy!
If you read my blog a lot, you know that I LOVE Schar products. I really appreciate that their products, like their Artisan bread, are shelf stable and travel easily. They make delicious cookies and snacks, like their Chocolix and Twin Bars, which taste like Twix and Kit Kat, respectively. In addition, produce delicious graham crackers, which I used in my gluten free Nanaimo Bars. Learn more about the Schar Gluten Free product line over at Eat At Our Table, too..
Have you used the Schar Gluten Free Pizza Crusts before? What's your favorite pizza toppings? Find more ideas in gluten free pizza article, including restaurants to order from.
**Schar provided me with coupons. They did not otherwise sponsor the recipe for my gluten free Chicken and Bacon Alfredo Pizza. All thoughts and opinions are my own.