Renee's Gourmet Pizzeria – Tru Pizza
As an Amazon Associate and member of other affiliate programs, I earn from qualifying purchases.
Heaven is real. I've been there. Well, at least gluten free heaven. Renee's Gourmet Pizzeria is a 100% gluten free, nut free restaurant in Troy, MI. And it's ALL good.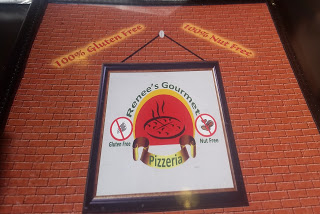 A little background about this restaurant. Renee's Gourmet Pizzeria opened in 2014. This is a family owned restaurant, created because their daughter has Celiac Disease and
Eosinophilic Esophagitis
. As they understood the need for a dining establishment with 0% chance of cross-contact, they took a big chance that their need would also meet the needs of others. And boy has it! (The restaurant has since been sold to another owner, but it is still a 100% gluten free business.)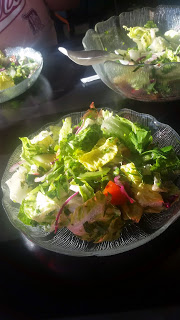 Knowing that we would be filling our faces with gluten free calzones, we started the evening off with a Fattoush salad. The large was more than big enough to share between the three of us. Unlike traditional fattoush, their salad does not have pita chips.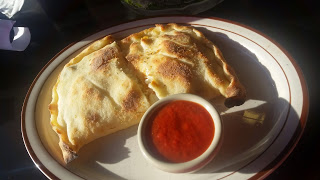 My husband has an severe food intolerance to shellfish and pork, so we opted to get individual calzones, instead of getting large pizzas that may or may not have pork on it. I ordered Renee Gourmet Pizzeria's Albanian calzone, filled with feta cheese, veggies and sauce. Renee ordered a barbecued chicken calzone, made with Sweet Baby Ray's sauce. It was SO good.
My husband ordered their Mexican calzone, filled with ground beef, olives, jalapeno peppers and cheese. He was the lone person with enough restraint to not stuff himself at the restaurant and brought half of his home. He actually thought it tasted even better at home after letting everything "meld" together.
These are all made with their homemade dough that they make from scratch. I can't wait to go back and try their pizzas. They serve both thin crust and deep dish pizzas. Plus they have dairy free cheese for those who need it.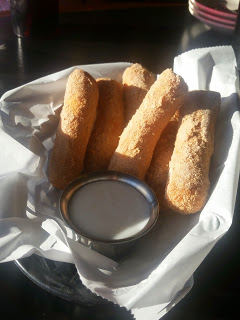 And not only can you get a great meal there, you can get dessert too! Renee's Gourmet Pizzeria serves deep fried cinnamon sticks. complete with a frosting dipping sauce. I can't even begin to tell you how good these are.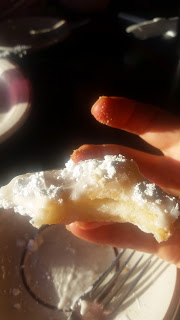 As if the cinnamon sticks weren't enough, we ordered an elephant ear to share as well, per the suggestion of the table next to us. I'm so glad they suggested it. It reminded me of a Pillsbury toaster strudel without the filling. It's amazing on its own, but I can just imagine it covered with apple pie filling.
So if you live near Troy, Michigan, you need to go to Renee's Gourmet Pizzeria- whether you eat gluten free or not. And if you don't live near Troy, it is SO worth the drive. You won't regret it, I promise!
Have you been to Renee's Gourmet Pizzeria? What's your favorite thing to order? What other gluten-free pizza joints should I check out? Leave me a note in the comments and I'll check it out!
Renee's Gourmet Pizzeria
1937 W Maple Rd
Troy MI 48084
248-280-7800
Open Daily 11am – 9 pm