Prost Wine Bar: Cheers to Gluten-Free Health
As an Amazon Associate and member of other affiliate programs, I earn from qualifying purchases.
Looking for a delicious gluten free meal in Frankenmuth? I highly recommend Prost Wine Bar & Charcuterie in downtown Frankenmuth. Just one more great addition to my Michigan Gluten Free Dining list!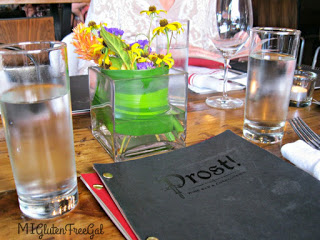 Where is Prost?
Prost Wine Bar & Charcuterie is an excellent addition to the downtown Frankenmuth dining scene. Their name, which means "Cheers!' in German, fits in nicely with this Bavarian-themed town. They are known for their drink menu and charcuterie boards. (Prost Wine Bar does have an extensive beverage menu. They clearly mark which beers are gluten-free and which are gluten-removed.)
What is Gluten Free at Prost? *UPDATE
In February 2021, Prost underwent a kitchen remodel. They no longer use panini presses but use a large grill where all paninis are cooked, together. However when we someone places a gluten free order, they still use a seperate knife, cutting board and wrap the panini in foil.
While they still do whatever possible to avoid any cross contact, but with the new change in kitchen, they can no longer offer the paninis to be cooked on a separate press. However, since they know how sensitive Celiac Disease is, their disclaimer is that without seperate equipment, we cannot guarantee no cross-contact.
Also, their gluten free bread is no longer made in house. They now use Udi's baguettes.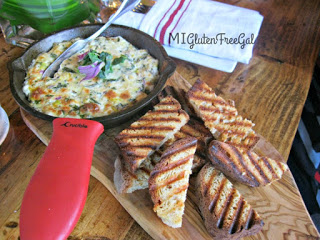 What Do You Order at Prost?
So I our support group board decided to meet here for dinner to experience it ourselves. We started the evening with this fantastic Kale & Artichoke Dip. Made with "baby kale, marinated artichokes, cream cheese, and Parmesan," it is served in a skillet alongside homemade gluten-free bread. It was a large enough serving that the four of us split it and I still had some to take home. I gave the rest to my husband, who was highly impressed.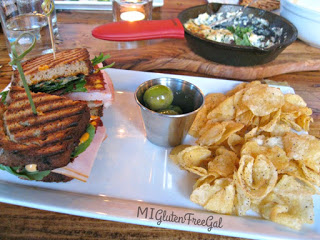 There were so many options for dinner it was hard to decide. I went with the Club Prost sandwich, loaded with roast turkey and smoked pancetta. The seasoned mayo on it was a bit too spicy for me, but it was so good overall I devoured it completely. The chips are coated in black pepper and have a bit of a bite to them. I was so full I never ate my olives.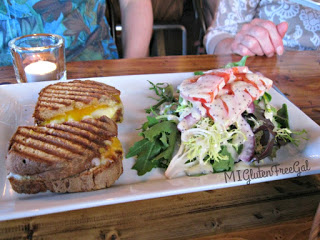 My friend Karen ordered their Grilled Cheese Royale with a side salad. I love how simple yet beautiful the salad is presented on the plate. I definitely want to order this sandwich when I return. My other friends ordered their Classic and the "Prostrami," and were very pleased as well. I was also pleased that Prost Wine Bar only charges $9-$13 for their sandwiches.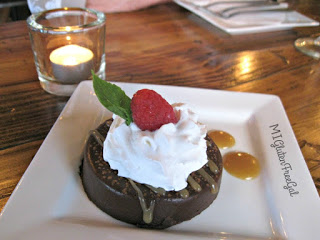 What Kind of Dessert Does Prost Offer?
Even though we felt we ate too much, we managed to sneak in enough room for a bite of dessert. This Chocolate Truffle Cake is decadent and rich. A few bites of this sweet treat was a great end to our meal. Good food with food friends leads to good health, right?
We went for dinner and waffles were not on the the menu. I'm assuming they are available for their Sunday Brunch, Lunch & Bloody Mary Bar. Prost Wine Bar has an extensive beverage menu, and clearly marks which beers are gluten-free and which are gluten-removed.
Prost Wine Bar & Charcuterie
576 1/2 S. Main St
Frankenmuth, MI 48734
(989) 262-8690
Website | Facebook | Instagram
Have you been to Prost Wine Bar and Charcuterie? What's your favorite thing to order? Leave me a comment so I know what to order the next time I go back!
Prost Wine Bar & Charcuterie is one of many Michigan restaurants I've visited. You can view a list of them on my Michigan gluten free dining post. Please remember to always ask any restaurant about their food preparation practices.
** I was not compensated for my meal or my thoughts. All opinions are my own.**