Pintown Pizza and Lanes – GF Pizza, Subs and More!
As an Amazon Associate and member of other affiliate programs, I earn from qualifying purchases.
Looking for a great time and tasty gluten-free food? Pintown Pizza and Lanes, located in Chesaning, has both! While Pintown Pizza and Lanes does not have a dedicated gluten-free kitchen, they understand the importance of preventing cross contact.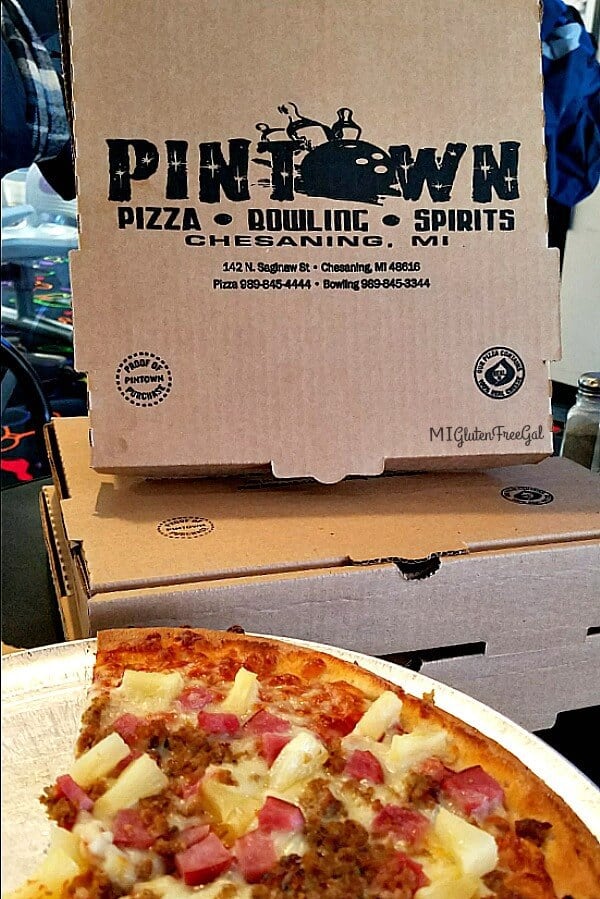 Recently our Celiac Disease support group visited Pintown Pizza and Lanes in Chesaning, MI. To say I was pleased with out visit would be an understatement. Pintown Pizza and Lanes offers gluten-free pizzas, subs anfdburgers, all prepared with an attention to reduce cross contact. This is especially helpful, as our former find, Jack's Place, no longer consistently offer gluten-free food.
Pintown Pizza and Lanes first opened in 2018 under the direction of Jim Cooper and Jon Dennis. The village of Chesaning only boasts a population of just over 2,00o people. However, Jim and Jon wanted to offer a quality establishment that would be fun for people of all ages. They gutted the building of it's previous interior, and had everything installed brand new. Aside from bowling, the property inclues a pizzeria with a separate entrance, an arcade, and a banquet room.
While Pintown Pizza and Lanes has a large regular menu, their gluten-free pizza, subs and burgers accommodates the needs of those with Celiac Disease. They order Udi's crusts and buns for their gluten-free offerings. When I asked staff why they chose to offer gluten-free options, they stated they wanted to be able to accommodate special diets as much as possible. Chesaning is located at least 30 minutes from large cities, and Pintown Pizza and Lanes wanted to offer gluten-free options in a small town where none existed. Gotta love that.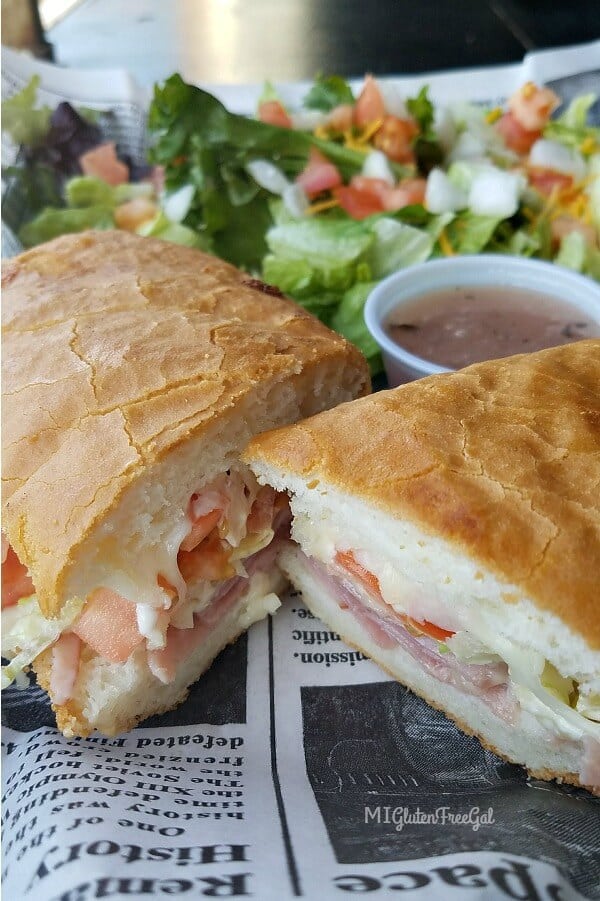 While Pintown Pizza and Lanes does not have a dedicated gluten-free kitchen, they take as many precautions as possible. When handling a gluten-free order, they change their gloves immediately. They bake gluten-free pizzas on screens covered in fresh tin foil. This is to create a barrier to prevent cross contact from regular flour. They prepare the gluten-free pizzas separate from where regular dough is made, and use clean utensils to apply sauce. They retrieve fresh toppings from the back that have been untouched when preparing a GF order as well.
Pintown Pizza and Lanes takes similar precautions when preparing gluten-free burgers and subs. A portion of the grill remains clear from gluten containing items, used when cooking burgers for gluten-free diners. On our outing, everyone thoroughly enjoyed what they ordered. While most people indulged in pizza, I thoroughly enjoyed my sub. My step-mother rather enjoyed the gluten-free burger she ordered, as well as the side salad that came with it.
Gluten-free pizzas start at $11.99, with an $1 charge for each additional topping. However, on Thursdays all pizzas, even gluten-free ones, are 50% off! (This is available dine-in only.) Also, there does exist a $1 upcharge for gluten-free sub sandwiches and burgers. For those wanting an adult beverage, Pintown Pizza and Lanes serves Angry Orchard, and I discussed with staff some good gluten-free beers they may want to carry.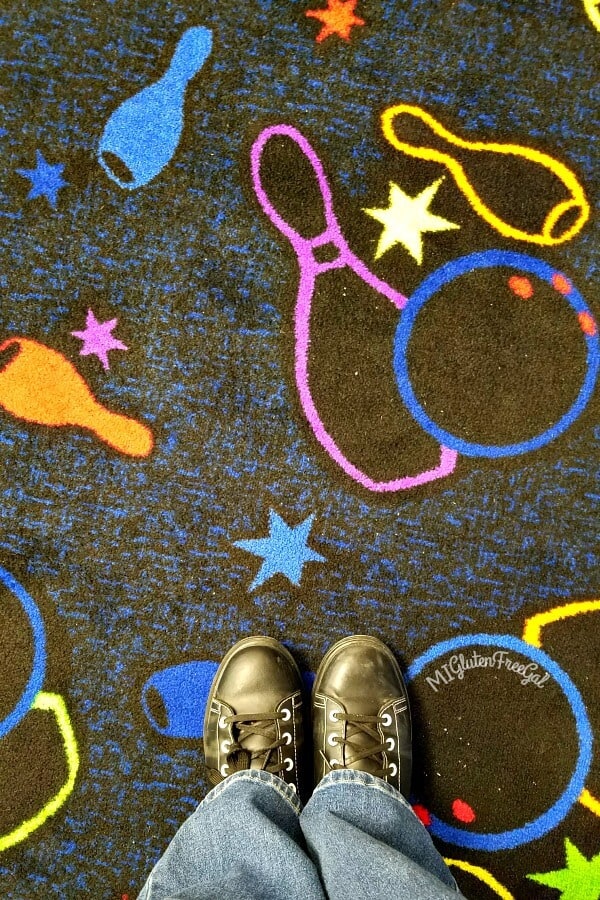 I would be remiss talking about Pintown Pizza and Lanes if I failed to talk about the bowling! When the owners built this from scratch three years ago, they made a great bowling alley! I love the neon carpet in this place! Someday the hope to install black lights for glow bowling. Wouldn't that be fun?
To bowl at Pintown Pizza and Lanes, they charge $3.75 per person, per game. However, if you have a large group, you can rent a lane for one hour for only $20. When we went, we ere able to get in two games in that one hour. (Please note that there is a limit of 6 people per lane in that offer.) Shoe rental is only $2. From fall to spring, Pintown Pizza and Lanes hosts bowling leagues, including youth leagues.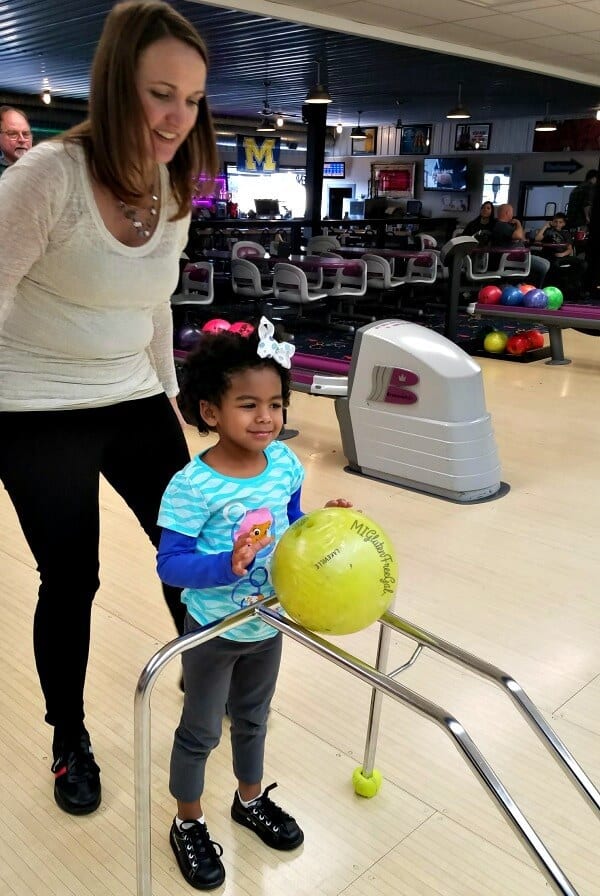 Speaking of youth, Pintown Pizza and Lanes offers great options for kiddos. They have the coolest ramp (for lack of a better word) to help the littlest bowlers. Seriously, how adorable is this little bowler?! They also offer bumper bowling as well. In the summer, they offer an AMAZING discount for kids. For only $5, youth bowl for only $5 from 11 am to 5 pm. Not per game, per day! I love that they offer a safe alternative for kids that incorporates movement and gets them away from the screen!
Pintown Pizza and Lanes is located in the heart of downtown Chesaning. Just a few blocks from there location stands a large children's playground. As mentioned before, they have a separate banquet room for private events. It appears Pintown Pizza and Lanes recently took over the old Peet Community Center. They call it The Public House, and promote as the city's "new entertainment destination." Past performances include dueling pianos, comedians, and more. the Public House is located at 130 N Saginaw in Chesaning.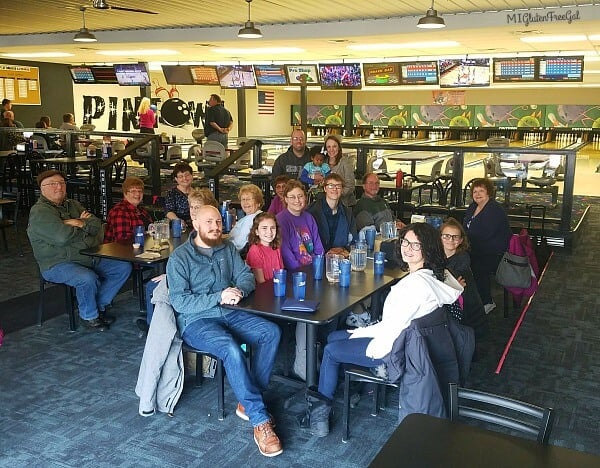 Look at all those smiling faces! Thanks again to Pintown Pizza and Lanes for meeting our dining needs. Everyone was so excited about our experience that they all planned to come back.
Pintown Pizza and Lanes
142 N Saginaw St
Chesaning MI 48616
(989) 845-4444
Open Sun-Thurs 11-10, Fri & Sat 11-11, bowling one hour past kitchen hours
All thoughts and opinions are my own. Pintown Pizza and Lanes is one of many Michigan restaurants I've visited. You can find a list of them on my Michigan gluten free dining post. Please remember to always ask any restaurant about their food preparation practices. I was not paid or compensated in any way for this meal.