Gluten-Free Pad Thai
As an Amazon Associate and member of other affiliate programs, I earn from qualifying purchases.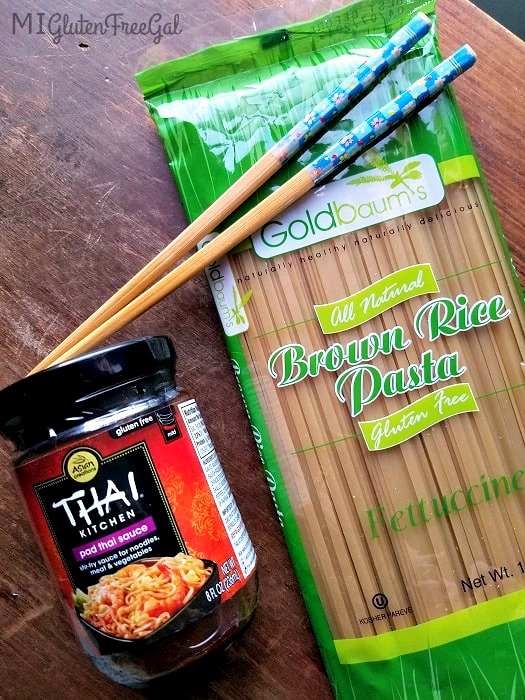 I received a very nice package from Goldbaum's. In it was all sorts of great things, including a package of brown rice fettuccine. You know what what rice fettuccine is like? Pad Thai noodles!
The timing was perfect as well. My husband had a long standing tradition with his college roommate: Asian food Sunday. I say Asian food, because sometimes it was Thai, sometimes Vietnamese cuisine. This was a tradition that we continued after we got married. Recently we started eating out at Thai restaurants, until we realized that most of the dishes I liked (like Pad Thai) were made with soy sauce. Most restaurants use traditional Kikkoman Soy Sauce, which has wheat in it. So we began a tradition of making Pad Thai at home, often on Sundays. We liked using the Taste of Thai line of products because they clearly state gluten-free on the label! Our Kroger stopped carrying it though. Therefore, we've switched to using Thai Kitchen, which is also labeled gluten-free.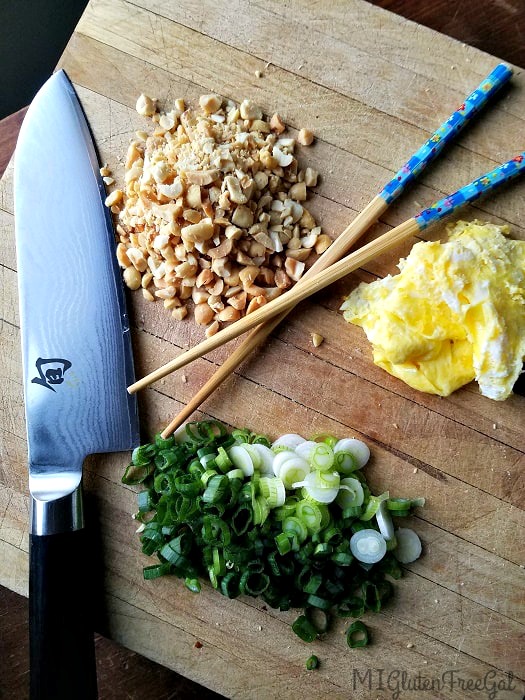 If you've never had Pad Thai before or have never tried to make it on your own, there is a very easy to follow version on the back of the Pad Thai jar. We've been known to make a few alterations from time to time. Sometimes bean sprouts can be tricky to find. In those cases we've used thin cut cucumbers or broccoli slaw mix. I've even used sauteed green beans! Sometimes I'll add an extra bit of Asian chili sauce. Sometimes I've forgotten to purchase green onions, and I'll just saute some regular onions up with the dish. And if you're not a meat eater, you could easily make this vegetarian and substitute tofu. (I like prepping tofu like this.) Basically, what makes Pad Thai is the sauce and flat noodles. From there I think you can play around a bit.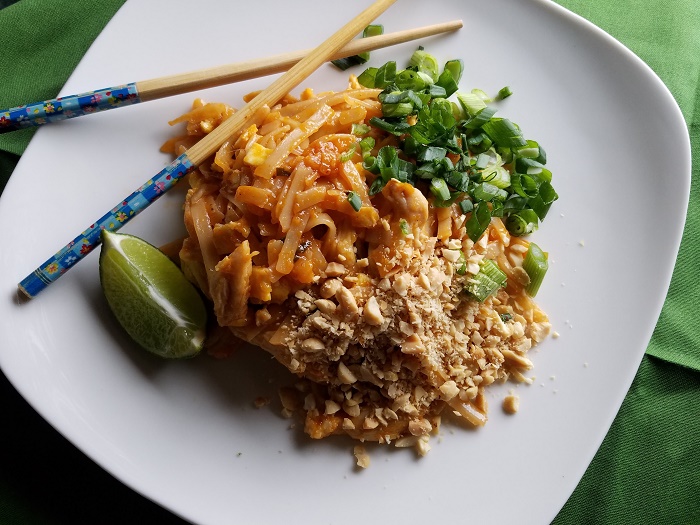 We preferred using the Goldbaum's pasta for our Pad Thai than the traditional noodles. They have more nutrition since they're made from brown rice. They also lend their own flavor, which adds depth to the dish. Goldbaum's Brown Rice Fettuccine does cook differently than traditional Pad Thai noodles. Pad Thai noodles traditionally just soak in hot water. Goldbaum Brown Rice Fettuccine boils for three minutes and then rests in the hot water for 10-15 minutes. Just make sure to make them in a large enough pot so that the noodles don't get stuck together.
Here's the recipe for Pad Thai that we used, which is on the Thai Kitchen Pad Thai sauce jar and on Beyond Celiac's website.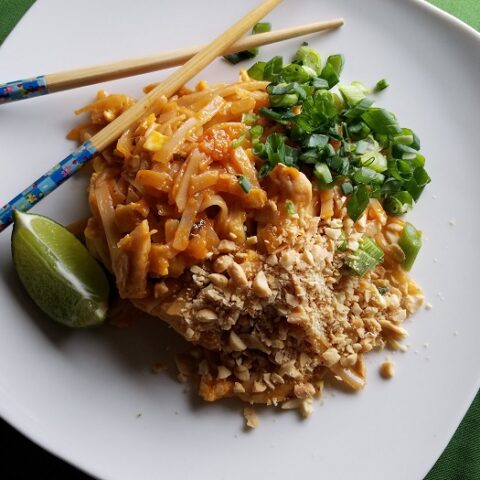 Gluten-Free Pad Thai
Ingredients
4 ounces Thai Kitchen® Stir-Fry Rice Noodles
2 tablespoons vegetable oil, divided
2 tablespoons vegetable oil
1 egg, lightly beaten
4 ounces boneless skinless chicken breasts, cut into thin strips
6 tablespoons Thai Kitchen® Original Pad Thai Sauce
2 green onions, thinly sliced
1/2 cup bean sprouts
1/4 cup coarsely chopped unsalted peanuts
Fresh cilantro sprigs and lime wedges
Instructions
Bring 4 cups of water to boil in a medium saucepan. Remove from heat. Add rice noodles; let stand for 8 to 10 minutes or until noodles are soft but firm. Rinse under cold water; drain well. Set aside.
Heat 1 tablespoon of the oil in a large skillet or wok on medium-high heat. Add egg; scramble until set. Remove from the skillet. Add remaining 1 tablespoon of oil to the skillet. Add chicken; cook and stir until cooked through. Add rice noodles, Pad Thai sauce and green onions; cook and stir for 3 to 4 minutes or until noodles are tender.
Stir in bean sprouts and scrambled egg. Place noodle mixture on a serving platter. Sprinkle with peanuts. Serve with cilantro sprigs and lime wedges.
Have you tried Goldbaum's products? What's your favorite dish to make with their products? Share your recipes below!