Organic Bliss Gluten Free Deli and Bakery
As an Amazon Associate and member of other affiliate programs, I earn from qualifying purchases.
Nestled just south of the Michigan border, and west of Toledo, sits the quaintest deli. Organic Bliss Deli and Bakery makes gluten free, vegan and organic baked goods. They also offer an assortment of sandwiches and smoothies.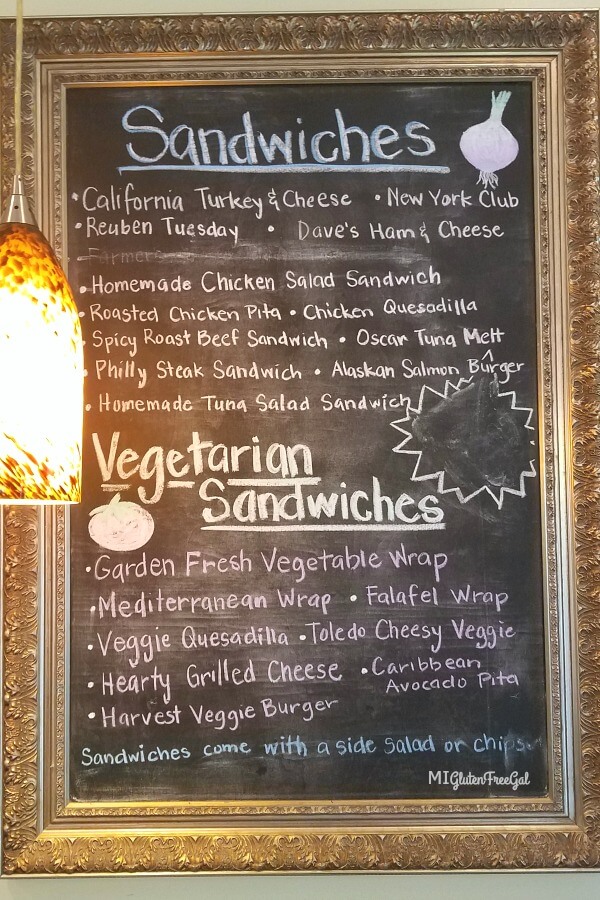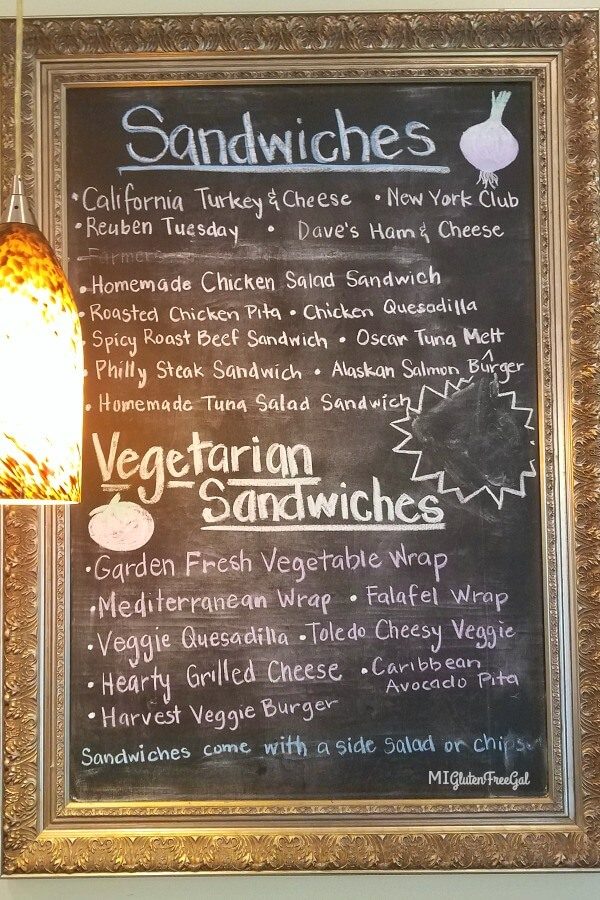 Returning To What's Familiar
I first stopped into Organic Bliss in 2013. If memory serves me correct, I stopped with my parents, after a consult for my father at Cleveland Clinic. Hard to believe he's been driving there every three months for the past 6 years. Alas, that's a story for a different time.
At my last trip to the Columbus GFFA Fest (which has since closed up shop), I stopped in once again. I knew my previous pictures could use an update. I find Organic Bliss to be almost halfway between Flint and Columbus, therefore making it the perfect time to stretch your legs. And eat chocolate. 🙂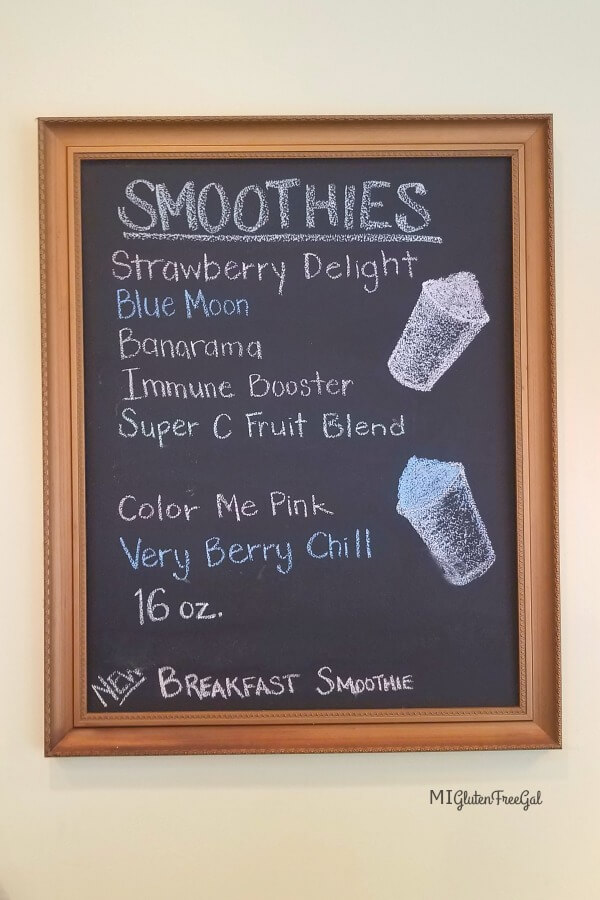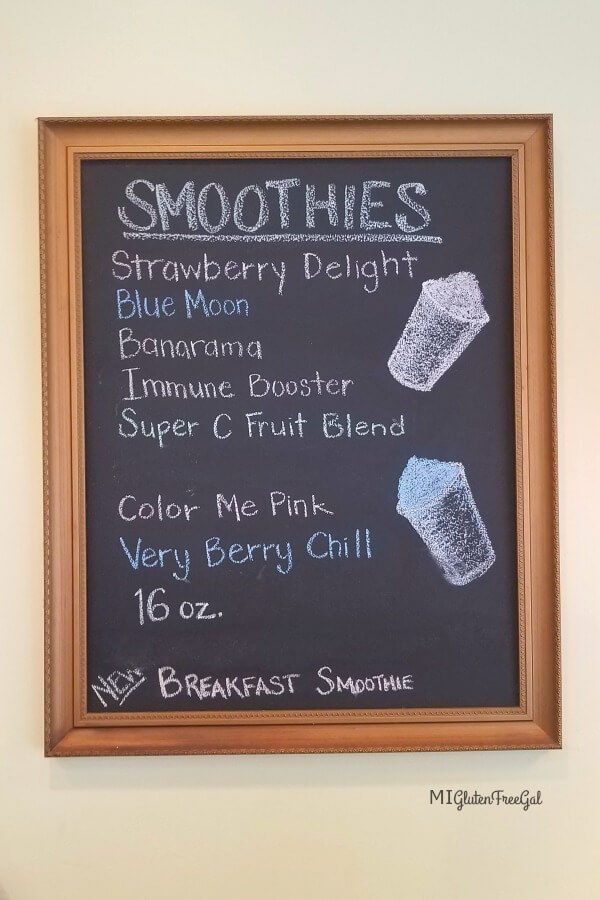 Organic Bliss also makes smoothies. I don't know if it's the school teacher in me, but I am a sucker for a well designed chalkboard. I love how the pink and blue seem to pop off the board. Which would likely lead you to think I ordered one. I didn't, because I'm weird like that. I wish I had.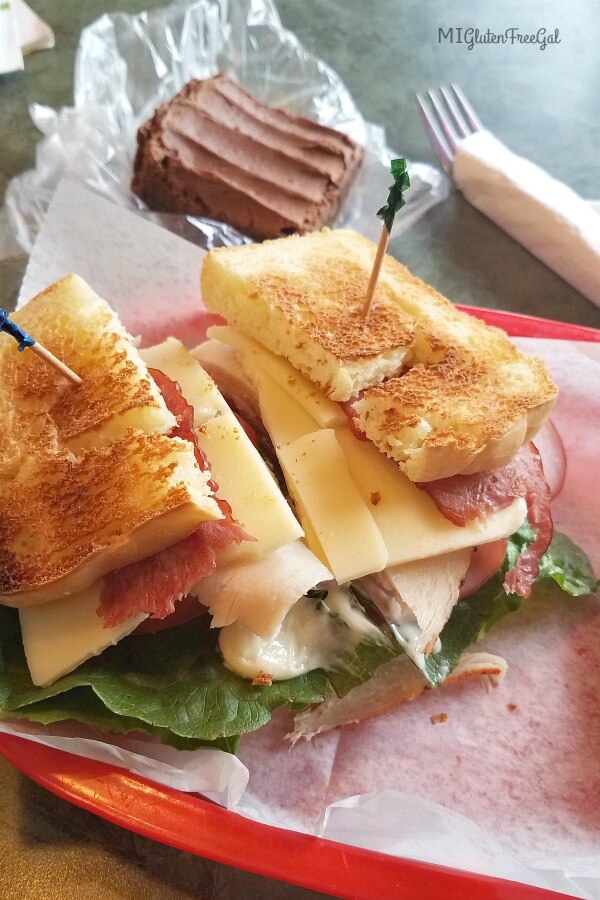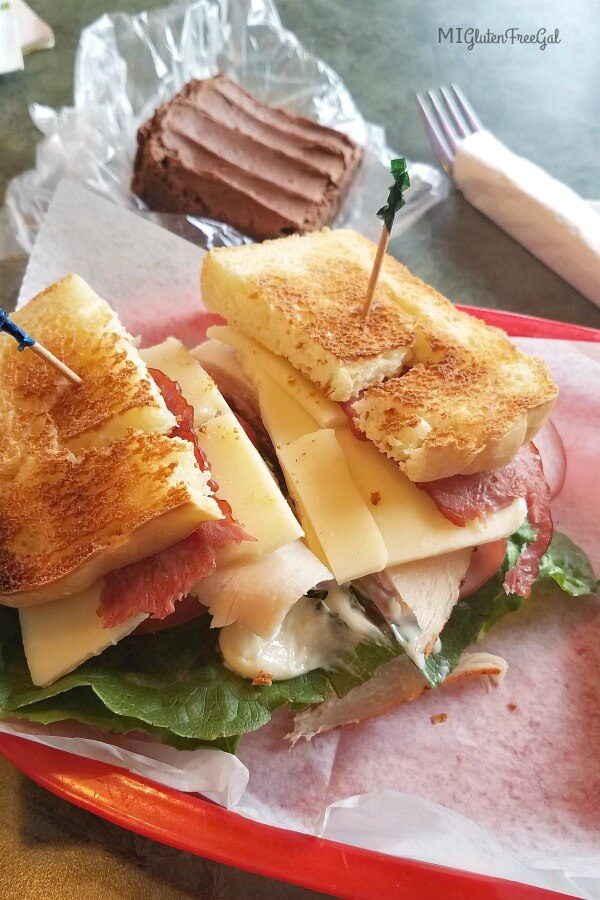 Lunch is Served
I did however order a sandwich. I ordered the New York Club, on toasted gluten free bread*. Well, actually, I didn't order it on toasted bread. They did that anyway. Which honestly bothered the roof of my mouth a bit. But I digress. (*Despite Organic Bliss being a gluten free bakery, they do have non gluten-free breads available for sandwiches.) View their online brochure for their full menu.
Sandwiches do come with a side, and I chose grape leaves. A little more dry than I remember 6 years ago, but still tasty. I also ordered their chocolate brownie, complete with thick, fudgy frosting. I didn't allow myself to eat the whole thing, and saved half for later. How's that for super power?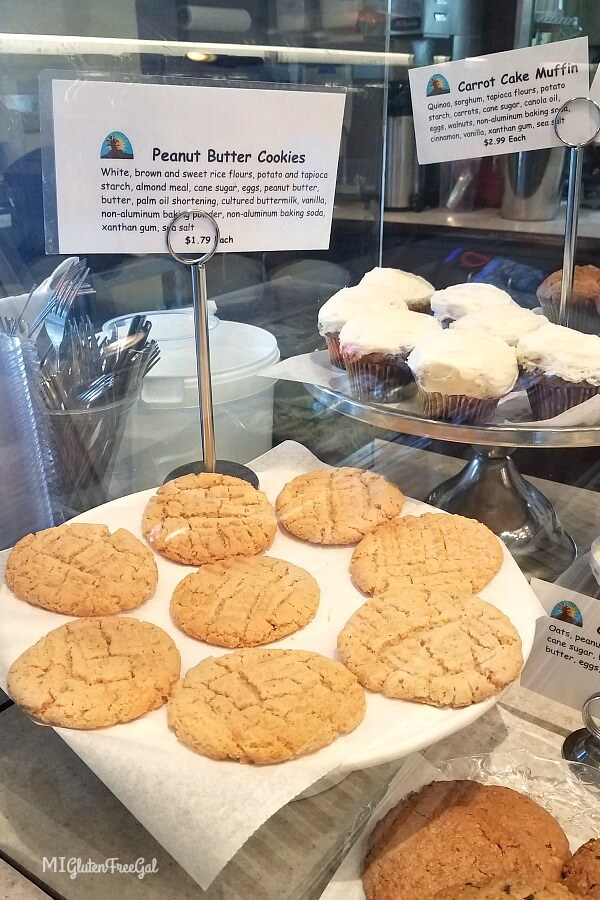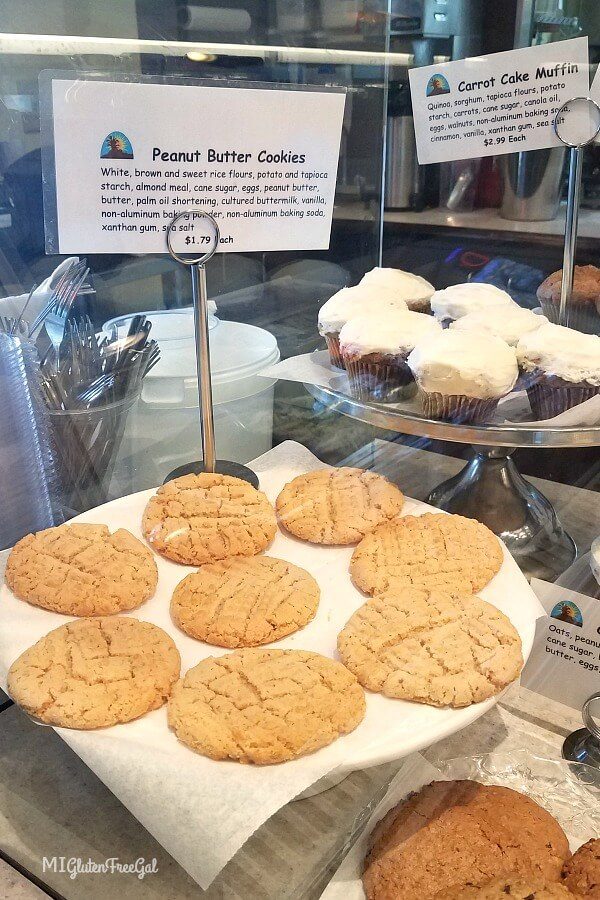 Gluten Free Baked Goods at Organic Bliss
Organic Bliss offers a wide variety of baked goods. The first time I visited, I enjoyed a cookie and scone from their line up. They also make cupcakes, muffins, breads, pies and more. In addition, they offer vegan options for those avoiding dairy, eggs and animal products. View their gluten free bakery menu menu here online.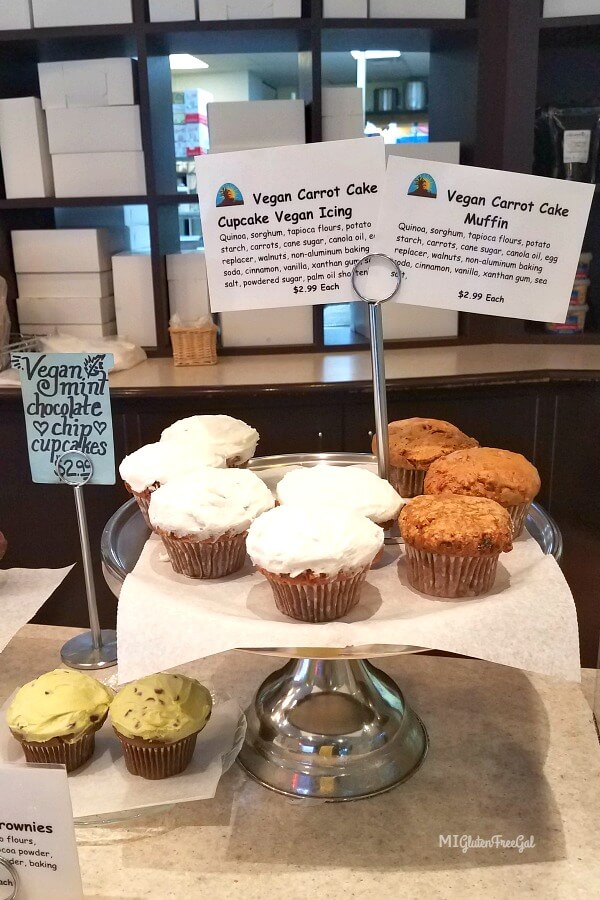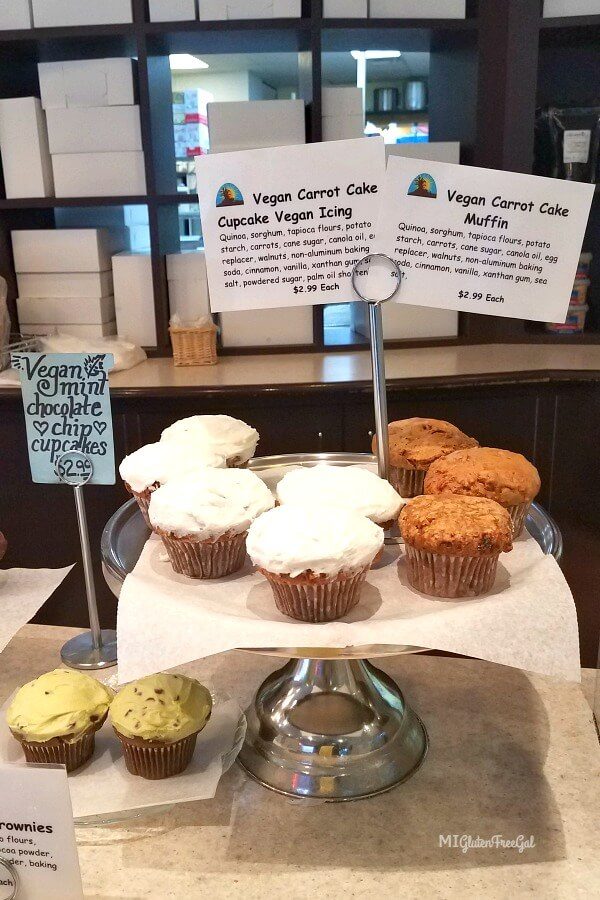 So if you're traveling from Michigan to Ohio, a stop at Organic Bliss may be just what you need. I highly recommend their Mediterranean wrap, loaded with hummus and veggies, as well. (And feta cheese!) Oh, and the scones. The last time my husband ate one, he asked "are you sure this gluten free?!" (I always say, it you want an honest opinion of a gluten-free baked good, ask someone who doesn't eat that way on a regular basis!)
I found Organic Bliss using the Find Me Gluten Free app. Please remember that listings are user generated. I always recommend reading all reviews before ordering from a business or restaurant. In addition, ALWAYS ask questions about preparation. If you're traveling to Columbus, I also recommend Cherbourg Bakery and Bake Me Happy. I found both of those dedicated gluten free bakeries on FMGF as well.
Organic Bliss Deli and Bakery
3723 King Rd,
Toledo, OH 43617 (Sometimes listed as Sylvania, OH)
419-517-7799 (Closed on Sundays)
Website
Have you stopped at Organic Bliss Gluten-Free Deli and Bakery? What do yo order there? What other dedicated gluten-free bakeries should I be aware of? Leave me a note in the comments!