Nirit's Bakery- Gluten, Dairy, Soy & Nut Free
As an Amazon Associate and member of other affiliate programs, I earn from qualifying purchases.
Nirit's Bakery, based in Ann Arbor, has been home baking gluten, dairy, soy and nut free baked goods since 2016. Find their products at the Saline's Farmers Market, or order directly from their website.
**This is an interview with the owner. Please scroll to the bottom of the page for bakery address, phone number, website, email, and social media links.**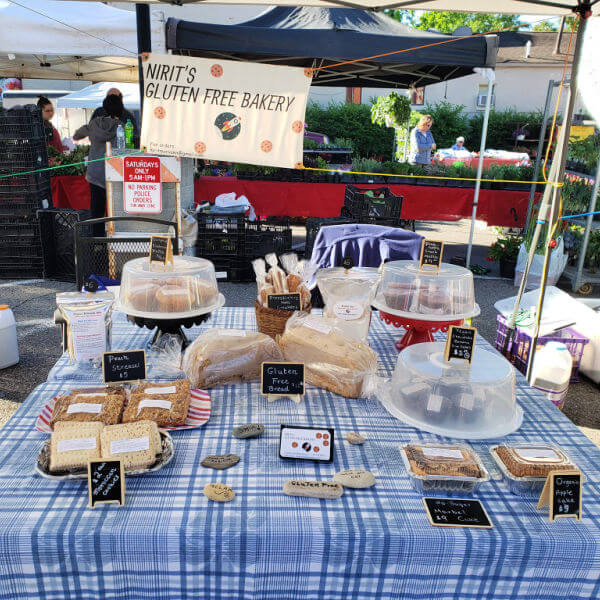 Small businesses are truly the backbone of the gluten free industry. While there are big name companies one may find at the grocery store, it's small independent bakers who strive to meet our various health needs. Finding gluten free products can be difficult enough in itself. Imagine adding additional allergens to the "nope" list.
Nirit's Bakery hopes to help everyone. In fact, their business mission is "To share amazing gluten free delicacies with everyone. Everyone who has food allergies should eat the same as people without allergies, and we make that possible!" Learn more about this small business in my interview with owner, Nirit Vaknin.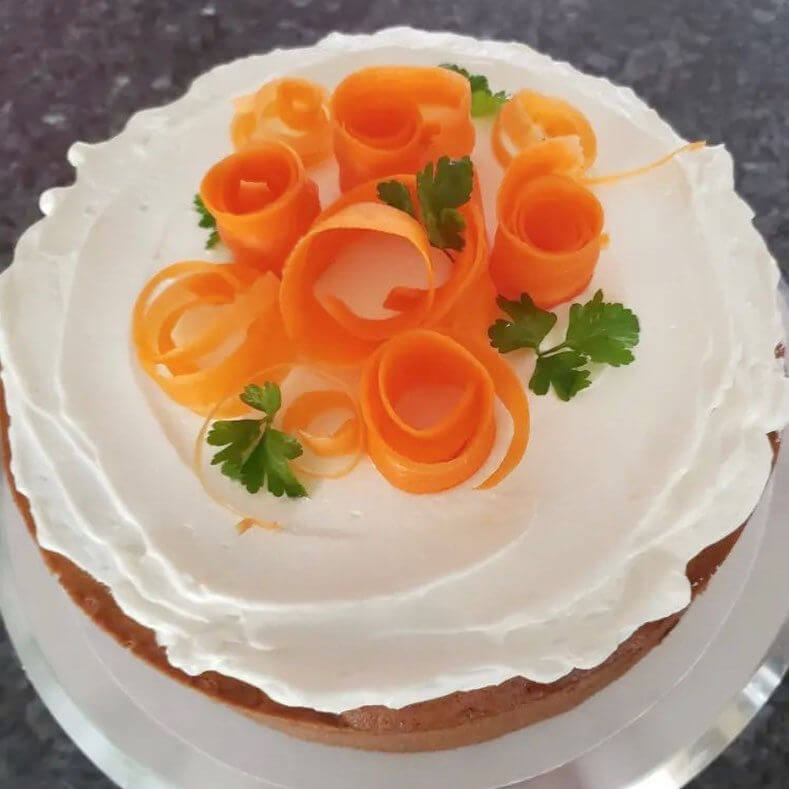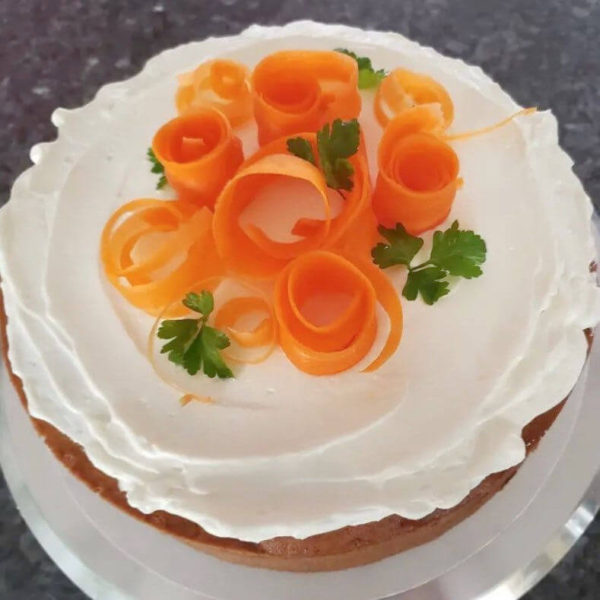 1. What inspired you to become a baker? Why the focus on gluten-free?
I am a retired scientist that always loved baking. I studied autoimmune diseases for over 20 years, especially arthritis and inflammatory bowel diseases (IBD). When health issues appeared at our home and no real solution from allopathic medicine improved our condition, we found that avoiding gluten really helped.
Quite often, if you have any type of food sensitivity, it's possible you may develop additional food intolerances. Thus, it is so important to eliminate it from your diet to allow your intestines to heal and avoid using medications.
I am a true believer of the notion that we are what we eat, and food is our medicine. I have it as my main mission to spread the word and offer healthy and tasty baked goods from my kitchen to everyone in need.
2. Are there other highlights of your products? Dairy-free, egg-free, nut-free etc.? Local ingredients?
We use high quality ingredients, which are mostly organic and non-GMO. Our baked goods include healthy vegetables and fruits, such as bananas, carrots, apples, blueberries, sweet potatoes, and pumpkin. For those who cannot consume eggs, we also produce a few egg-free, vegan products.
To avoid any chance of soy contamination, we buy our eggs from local farmers that do not use soy-based chicken feed. We also make our own vanilla extract. In addition, we use organic products such as superfood cocoa powder and aluminum free baking powder.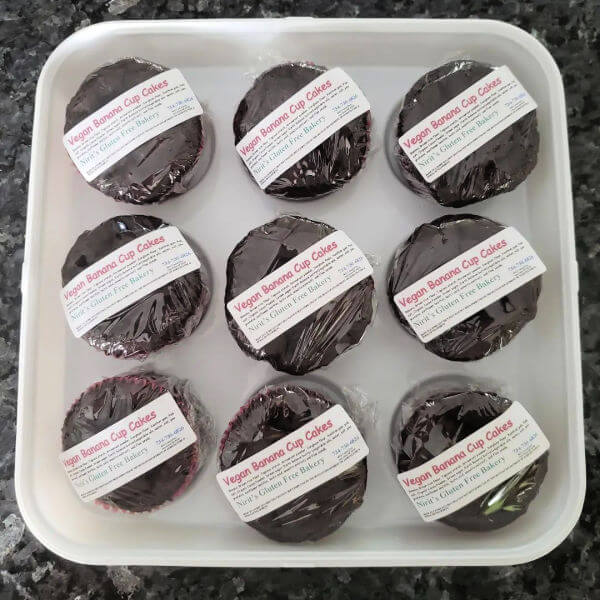 3. What steps do you take to make sure Nirit's Bakery products are truly gluten-free?
We are a strict gluten-free, dairy-free, soy-free, and nut-free bakery, and have been since 2016. You'll find no glutenous products in our home whatsoever. We use no coconut in our baked goods, either.
Our product line includes only one item that contains oats. For that, we use Trader Joe's gluten free oats. However, I avoid using oat flour or oat milk in most of my baked goods, to accommodate individuals with Celiac who cannot tolerate oats.
4. Can you share a story of a customer who's been greatly impacted by your business?
A 6-year-old boy that was diagnosed with celiac was referred to us by a friend. His mom felt overwhelmed with his new dietary requirements. We assured her that it is possible to live a happy life under these conditions. In addition, we offered her a variety of products and shared many other tips. The 6-year-old boy enjoys the ability to eat everything at our booth in the farmer's market. He's definitely as happy as any kid in a candy store!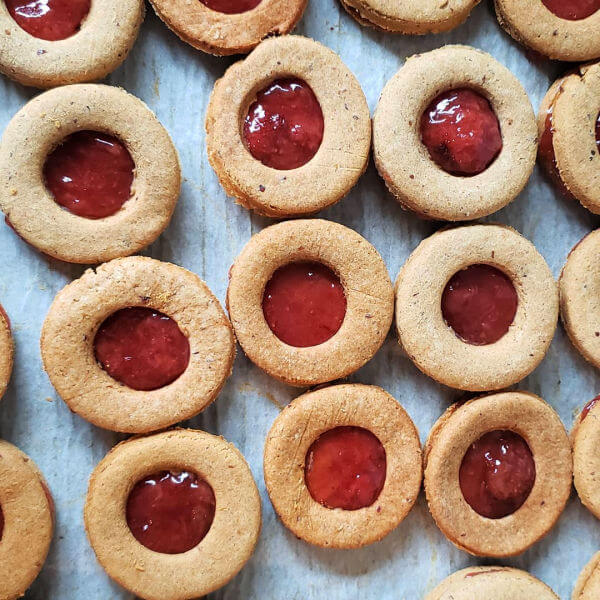 5. What would you like consumers to know about Nirit's Bakery and your products?
We are a small home-based bakery with very high standards for quality of ingredients. We have been selling in farmers Markets in the Ann Arbor area for over 4 years and have many repeat customers. Every product is baked fresh, handmade with love and attention. We try to accommodate everyone's needs in terms of their food allergies or intolerances.
Nirit's Gluten Free Bakery
Ann Arbor
Available Year Round at Ann Arbor Farmers Market, and by special order
Northville Farmers Market every other Thursday, 8 am – 3 pm
Phone (734) 730-6826
Preferred Contact Method for Orders: Website
Website | Facebook | Instagram | Email
Nirit's Bakery is one of many dedicated gluten free bakers across the state of Michigan. Click this link to see a comprehensive list of all the gluten-free bakeries in Michigan, complete with interactive map! Looking for more local eats? Check out my list of gluten free baked good options at Michigan Farmers Markets.