The Little Mustard Seed Cafe And Shoppe
As an Amazon Associate and member of other affiliate programs, I earn from qualifying purchases.
Michigan offer a short list of dedicated gluten free restaurants. At The Little Mustard Seed Cafe and Shoppe, you"ll find no gluten on the menu. However you will find delicious food, and vegan options too!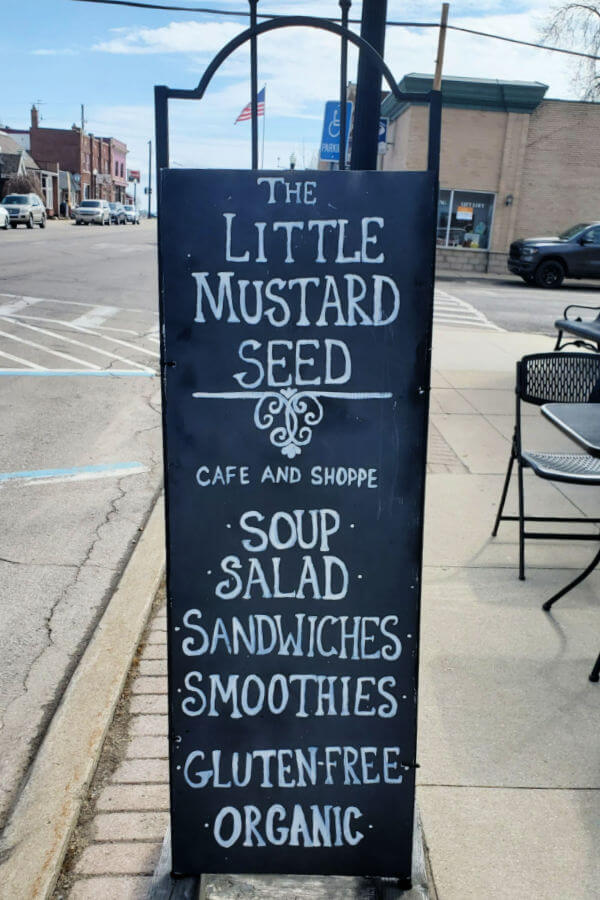 Where is Little Mustard Seed Cafe Located?
This 100% dedicated gluten free and organic eatery is located in New Balitmore, MI. Where's that, you ask? Located north east of Detroit on Anchor Bay, you'll find this waterfront town just south of 1-94. The cafe is is just two blocks from the beach, which is the perfect walking distance after a enjoyable gluten free lunch.
Why gluten free and organic? I spoke with Kathy, the owner of The Little Mustard Seed Cafe and Shoppe. Her daughter had experienced gastrointestinal and other health issues. She therefore started a gluten, corn, soy and dairy free diet. Kathy felt that she could prepare better tasting and healthier foods than what she found in stores. So she started her own business. UPDATE 2022- Under New Ownership. Still 100% gluten free!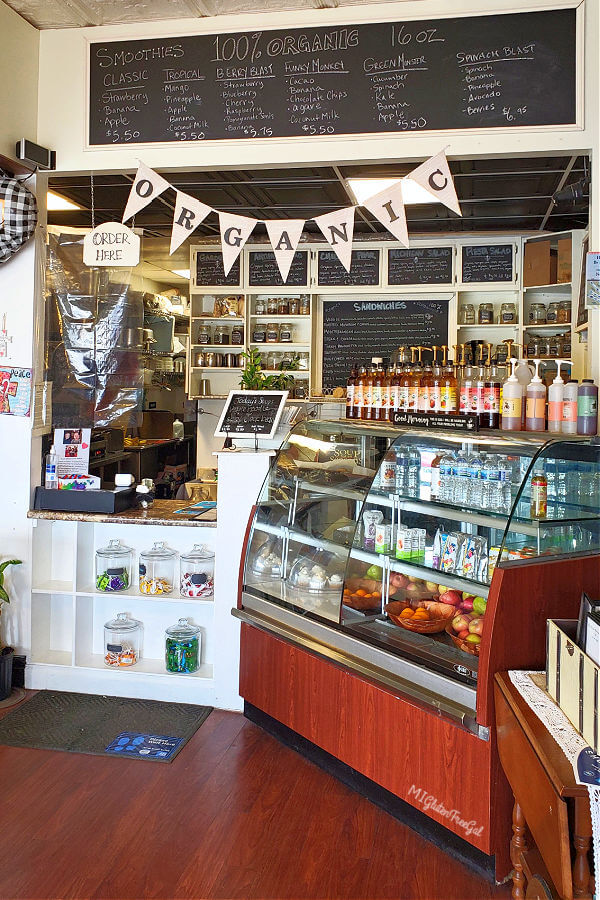 What Does Little Mustard Seed Cafe Serve?
When you walk into the restaurant, you're greeted by various chalkboards that boast of what they have to offer. (There's also a box with printed menus, for those like me who need to hold something in their hands.) They offer salads, sandwiches, pizza, soup, smoothis and other drinks. The majority of their menu is organic, except for the bacon and pepperoni. They also have many dairy free options. You can find their menu online.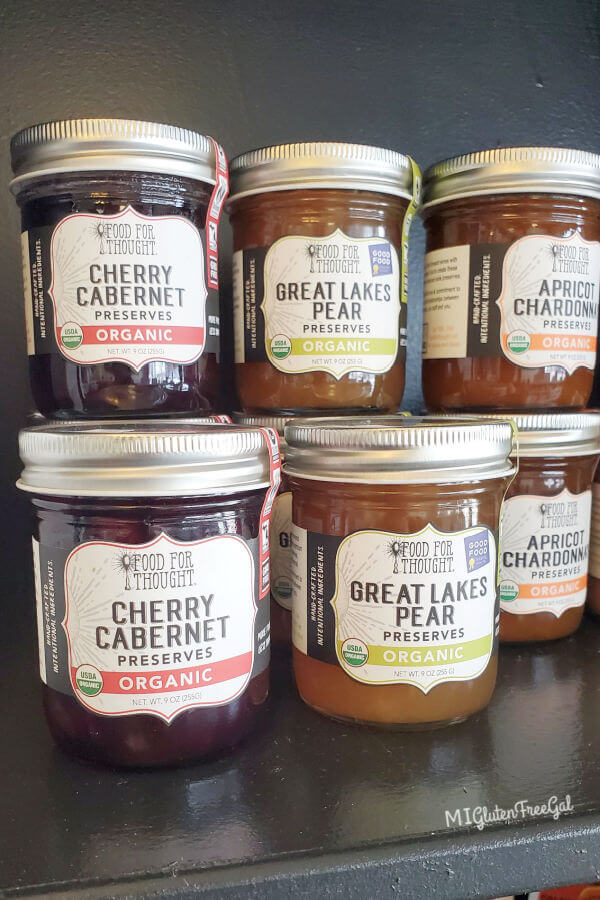 More Than A Restaurant
In addition to all the food they make, they also sell a small selection of products from other businesses. For example, they stock Food for Thought preserves, which is a Michigan brand. They also sell tea and coconut bacon, and even toys for children. When you stop by, I highly recommend taking a look at what they have to offer!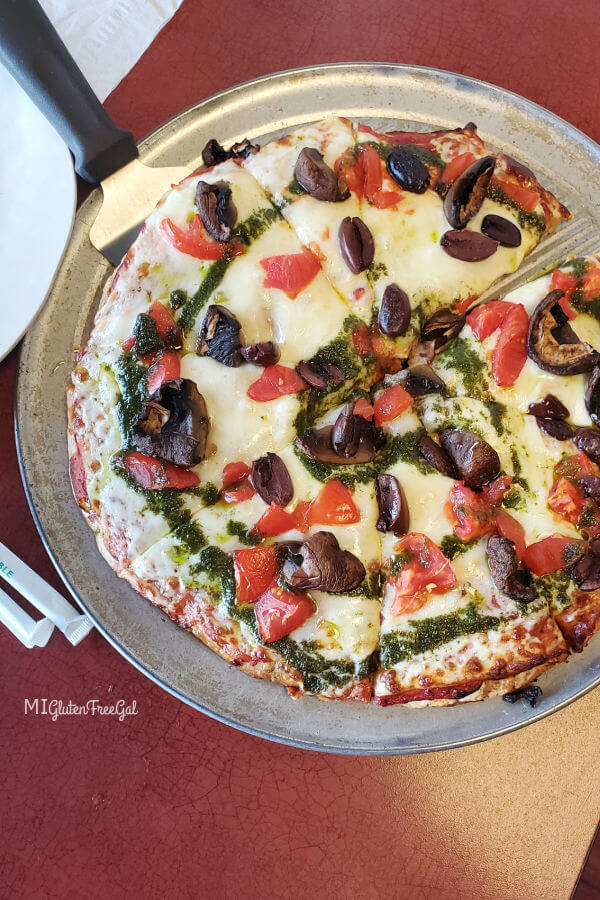 I Am That Weird Person
So, I didn't order this pizza. While pizza was on their menu, my husband and I both wanted sandwiches. However, a mother and her daughter ordered this pizza, and it looked AMAZING. (They make their gluten organic pizza crust from scratch.) So I walked over to them, explained who I was, and asked if I could take a picture of their pizza. They were fine with it as long as they weren't in the picture. On a scale of 1-10, how weird am I?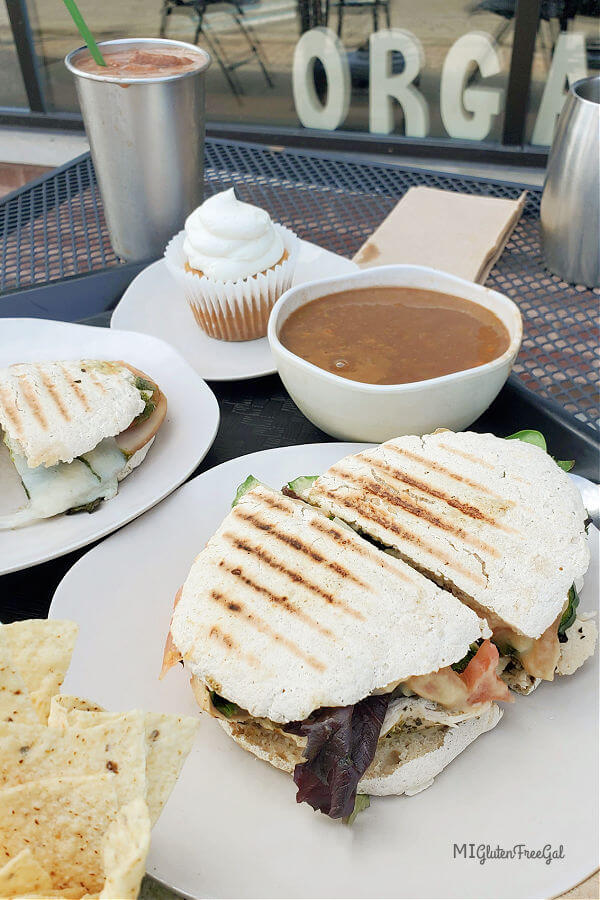 What We Ordered
We both ordered panini sandwiches, which are made on housemade gluten free ciabatta rolls. My husband orderd the Mediterranean sanewich, which contains organic chicken, hummus, cucumbers, onios, tomatoes, lettuce and a Mediterranean dressing. He orderd a side of Black Bean soup, which he said had a bit of a "zip" to it.
I ordered the Turkey Bruschetta, which contained organic turkey, mozzarella cheese, basil spread, tomatoes and onions. Usually sandwiches come with carrot sticks, but I upgraded mine to have chips and hummus on the side. In addition, i ordered their dairy free Funky Monkey smoothie, which is made with cacao powder, banana, agave, coconut milk and chocolate chips.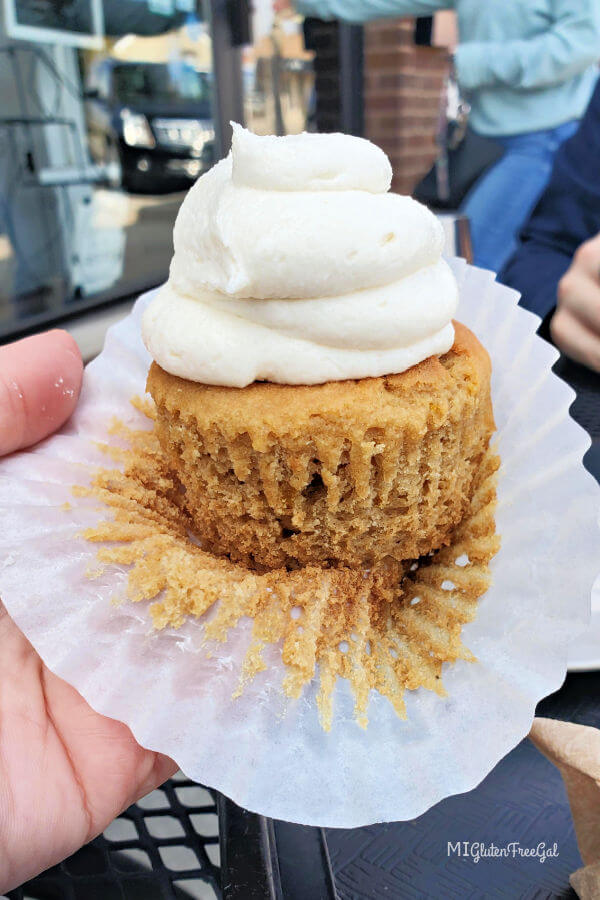 Little Mustard Seed Cafe Sells Baked Goods
While the majority of the menu is sandwiches, salads and soups, Little Mustard Seed Cafe also sells some tasty baked goods. Their display case that day held their gluten free, vegan cinnamon rolls, gluten free chocolate chip cookies, and these gluten free lemon cupcakes. It was so big I cut it in half and shared it with my husband.
The prices at The Little Mustard Seed Cafe and Shoppe are comparable to other organic restaurants. ($8.95 for the sandwich, $3.95 for cup of soup, and $5.50 for the smoothie.) However, spending more when you now the food is totally safe, and grown under ethical practices, is totally worth it.
The Little Mustard Seed Cafe and Shoppe
51111 Washington St.
New Baltimore, MI 48047
586.716.9255
Hours: Monday – Thursday 11 am – 5 pm, Fri & Sat 11 am – 6:30 pm, Sunday 11 am – 3 pm
Website | Facebook |Instagram
Have you eaten at Little Mustard Seed Cafe and Shoppe in New Baltimore? What's your favorite thing to order? I highly recommend taking a stroll along the waterfront if you're visiting on a warm day. There's a great children's playground at the park as well.
Hungry for more? Visit my list of restaurants with Michigan Gluten Free Dining Options. In addition, always remember to ask about food prep before dining, as practices can change. Not sure what to ask? Read my list of gluten free dining questions.