Honcho – A Leader in Gluten-Free Latin Food
As an Amazon Associate and member of other affiliate programs, I earn from qualifying purchases.
Honcho, the newest Union Joint in Clarkston, is a unique experience in tastes. It's a combination of locally roasted coffee, a full sized bar and the most amazing blend of Latin American street food tinged with Asian inspiration.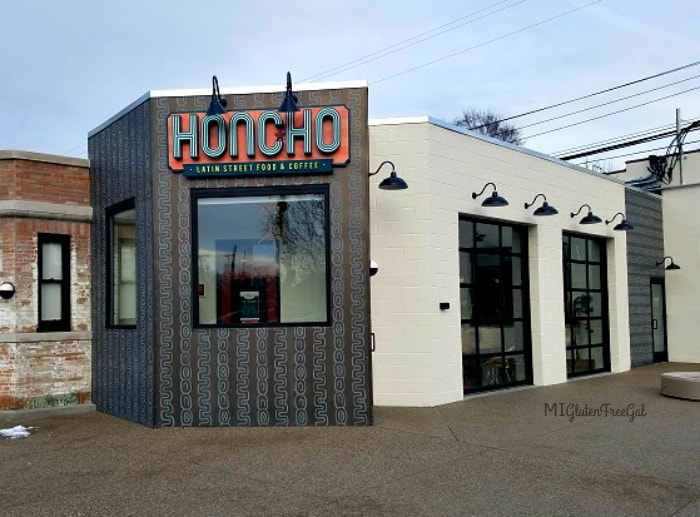 What is a Honcho?
While many may think that the word "honcho" is related to cowboys and the southern U.S., it's actually a Japaneses word that means "squad leader." This newest restaurant is definitely a place that's makes you leave your expectations at the door and opens your mind to an interesting world of flavors.
Honcho- Part Restaurant, Part Coffee Shop
When you first walk in from Main street, you're greeted by the quaintest of coffee stands. They roast their own coffee and serve pastries daily until 4 pm. (The pastries are not gluten-free.) To your right is a fully stocked bar. The bar chairs look similar to the ones on the lower level at their other location, Fenton Fire Hall. Then as you walk past these two libation stations, you step up into the restaurant section of Honcho.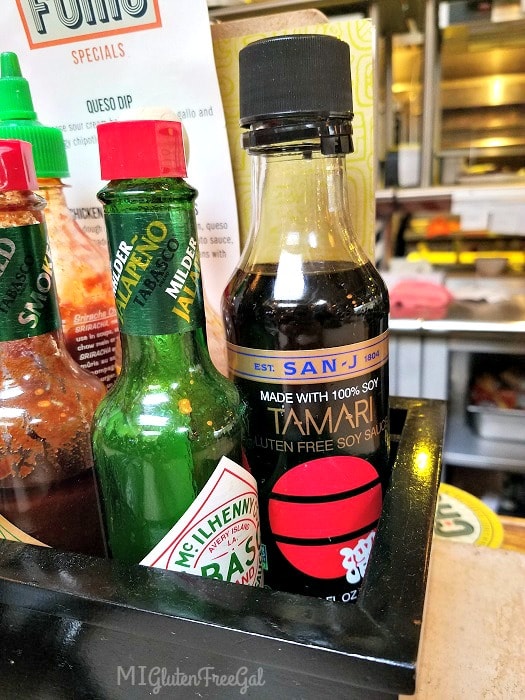 What's Gluten Free At Honcho?
Through my reviews of the other Union Joints, I'm blessed to have built a friendship with their executive chef, Aaron Cozadd. I messaged him that we were planning to visit Honcho, and I inquired about what was safe to eat there. He messaged that he would be in later that day and would personally walk me through the menu.
After we caught up with each other, my husband and I had a seat at the counter, where one can watch the cooks at work. I was excited to see San-J tamari at the ready. All too often any Asian food consumed at a restaurant is made with soy sauce that contains wheat. As they say, first impressions are everything, and I was pretty sure that seeing this was an indication that this was going to be a great meal.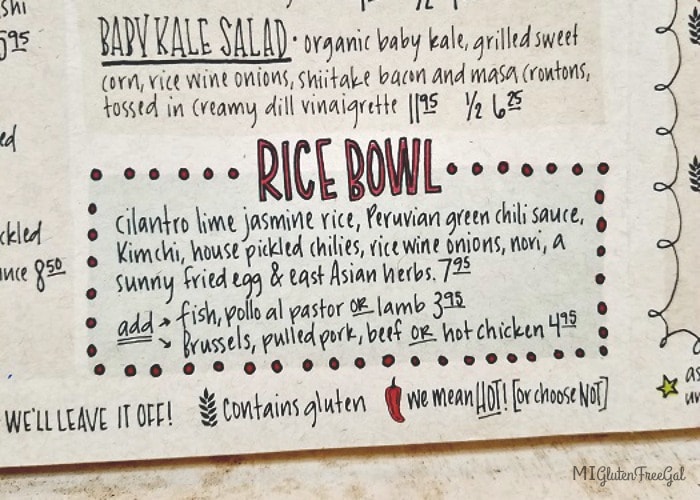 The Honcho Menu is 90% Gluten Free
Chef Cozadd explained that the majority of their menu is corn based, and tamari is used in place of soy sauce in their dishes. All of their chips, arepas and tortillas are made from locally ground fresh corn masa. The few non-gf fried items they have are cooked in a separate fryer so there is no cross-contact.
The 5-6 items on the menu that contain gluten are marked with a small icon next to them. For instance, their miso black beans contain gluten, as well as their fried chicken. I was blown away about how much "safe" gluten-free food there was to eat!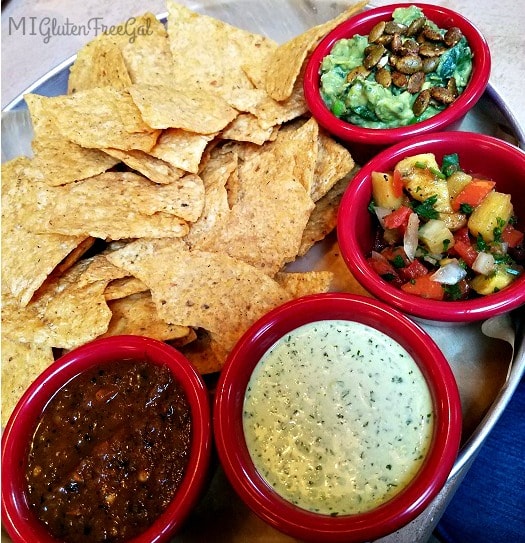 The Best Guacamole I've Ever Tasted
We started our meal at Honcho which fresh chips and an assortment of dips. From left to right is their house made Union Salsa, their Peruvian green chili dip (which is crazy delicious), grilled pineapple pico de gallo, and their own unique sweet pea guacamole.
This guacamole is unlike anything else I've ever tasted, and I am SO in love with it. It's a blend of avocado, scallions and cilantro, mixed with English sweet peas and topped with spiced pepitas. Totally nontraditional, but it blew my mind. I might be my new addiction.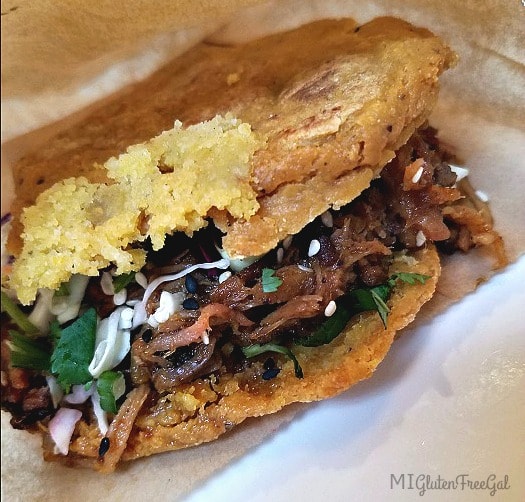 What are Arepas?
It took my husband and I a long time to decide what to order. It literally all sounded SO good. We finally settled on two arepas, a side of shaved caramelized Brussels sprouts (flavored with garam masala), and their rice bowl.
Arepas can be served either open faced with meat and cheese on top , or served more like a sandwich. Honcho serves their arepas like sliders. I ordered the Korean BBQ arepa. It's made with the pulled pork that they slow cook at the Union Woodshop, and it's oh so good.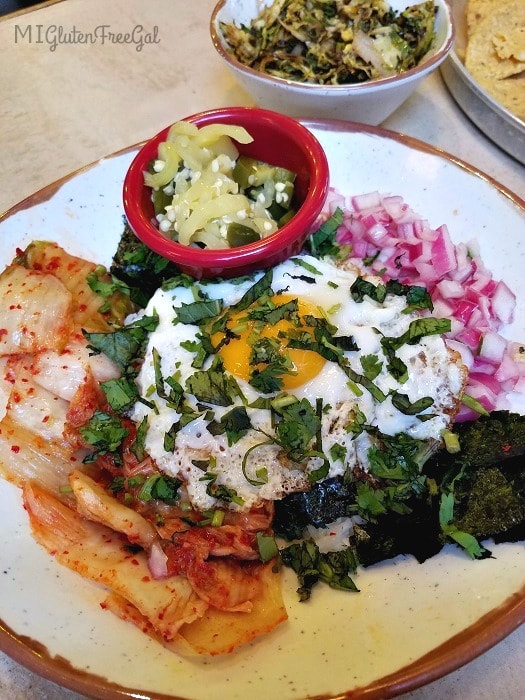 What's on Their Rice Bowl?
The rice bowl at Honcho is inspired by Korean Bi Bim Bap, but with a tinge of southwest flavor. Their dish comes with Kimchi and pickled chilis. Instead of the traditional gochujang, it's mixed with their Peruvian green chili sauce. And of course, topped with a fried egg. The kimchi was a bit too spicy for me, so I let my husband finish it.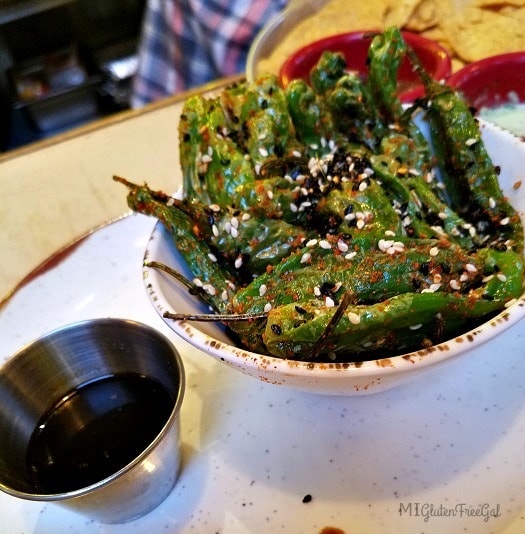 Asian Cuisine Fusion Optional
Honcho is definitely a place of taste adventure. Chef Cozadd encouraged me to try their blistered shishito peppers. While the heat was a bit more than I could handle, my husband stated that these may have been his absolute favorite part of our meal.
My husband and I appreciated the Latin American and Asian flavor combinations. I think it's important to expand your taste repertoire. For those who may not be super excited about the fusion of flavors, Honcho creates weekly specials that leave out the Asian touches.
I truly appreciate the care Chef Cozadd and his team take to craft such a Celiac Disease friendly menu. They understand the seriousness of cross-contact, and take other food allergies just as seriously. We'll definitely be heading back for arepas and more of that sweet pea guacamole!
Honcho
3 East Church Street
Clarkston MI 48436
(248) 707-3793
Facebook / Instagram / Twitter / Website
**While I originally paid completely for our meal, Chef Cozadd was generous enough to later send us a gift card to cover part of our costs. All of my thoughts and opinions are my own.**
Honcho is one of many Michigan restaurants I've visited. You can view a list of them on my Michigan gluten free dining post. Please remember to always ask any restaurant about their food preparation practices.