Herb and Fire Pizzeria – BYO Gluten Free 'Za
As an Amazon Associate and member of other affiliate programs, I earn from qualifying purchases.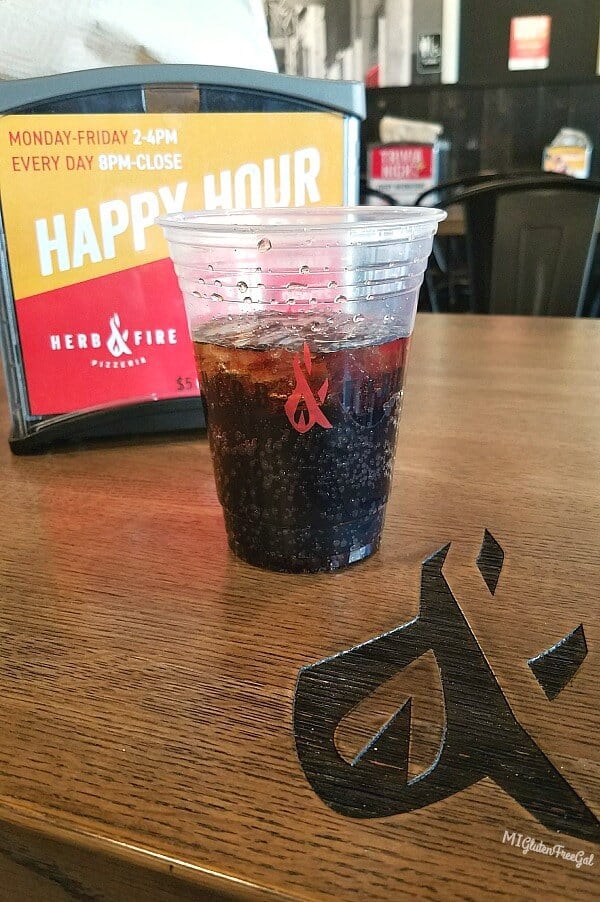 One can aptly describe the gluten-free dining scene in Grand Rapids as "phenomenal." Seriously, I start salivating when I think of all the great restaurants I've tried there. Recently, the owners of Herb and Fire Pizzeria invited to me to try their build – your – own pizza joint. After asking extensive questions about the steps they take to prevent cross -contact, we loaded up the van and headed east.
At first glance, you may think "BYO" means "bring your own." However, in this case it means "Build Your Own." Haven't been to a place like this? Think of it like Subway, except you pick your crust and toppings, and then they bake it. While the "build your own" pizza idea isn't new, Herb and Fire Pizzeria holds one unique factor. Grand Rapids locals own this joint. No massive national corporate structure, but organized and run by the Uccello's family. When I visited Herb and Fire Pizzeria, an actual Uccello's family member managed the restaurant and made my pizza. Love that level of accessibility to management.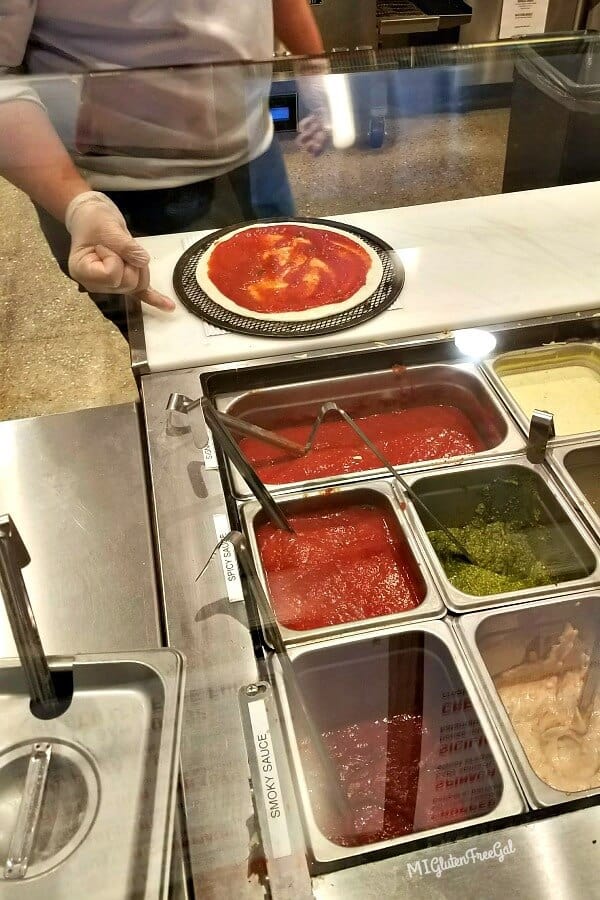 So let's talk gluten-free pizza process, shall we? At Herb and Fire Pizzeria, they use Udi's gluten-free and dairy-free pizza crust. (While dairy-free, it is not vegan, as it contains egg whites.) They will gladly retrieve fresh sauce and toppings from the back, if you ask. (I did suggest to management that they may want to do that as standard practice when they are alerted that a customer has Celiac Disease. Not every one will think – or feel comfortable- to ask for that accommodation.) Workers change gloves prior to building your pizza, and place it on a smaller screen that is not used for regular pizzas. It is baked in a smaller conveyor oven, separate from the wood fired oven for their regular pizzas.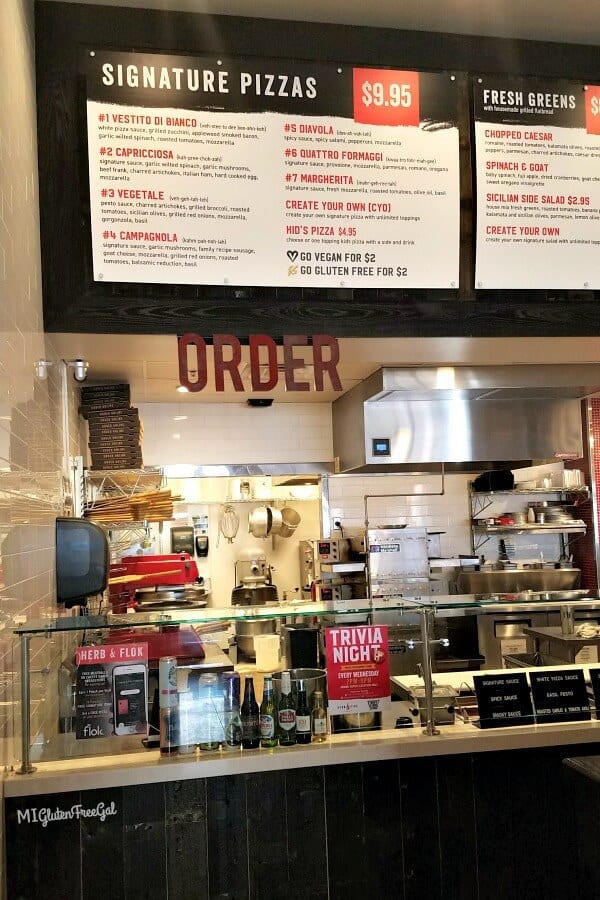 You can create your own pizza for $9.95, or order one of their signature pizzas if your creativity eludes you. (Gluten-free pizzas do incur a $2 upcharge.) My husband and I joined two friends, who belong to the Grand Rapids area celiac disease Facebook group. (The group used to meet in person, but no longer does.) There were so many options, we chose to go with some of the signature pizzas. My husband and Emma both ordered the Vegetale. This pizzas comes sauced with pesto and topped with "charred artichokes, grilled broccoli, roasted tomatoes, Sicilian olives, grilled red onion, mozzarella, gorgonzola and basil."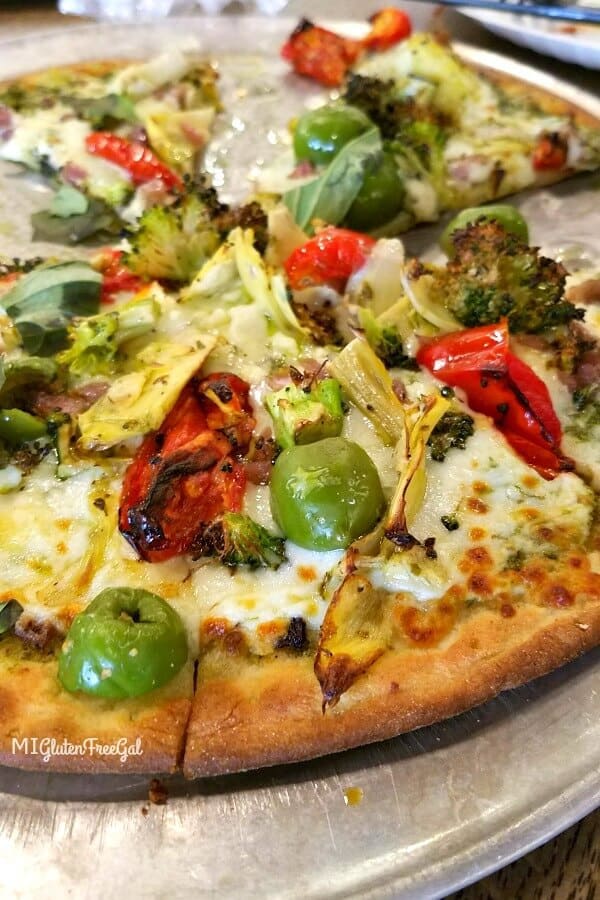 I ordered the Vestito De Blanco. Topped with a white pizza sauce that staff assured me contained no gluten, this pizza comes loaded with with some of my favorite things. On top of the sauce, one finds "grilled zucchini, applewood smoked bacon, garlic wilted spinach, roasted tomatoes, mozzarella and Romano." It tasted pretty great. I told myself I didn't need to eat a whole pizza. However after a long meeting at camp and having not eaten anything in about 6 hours, that pizza didn't stand a chance to my level of hunger.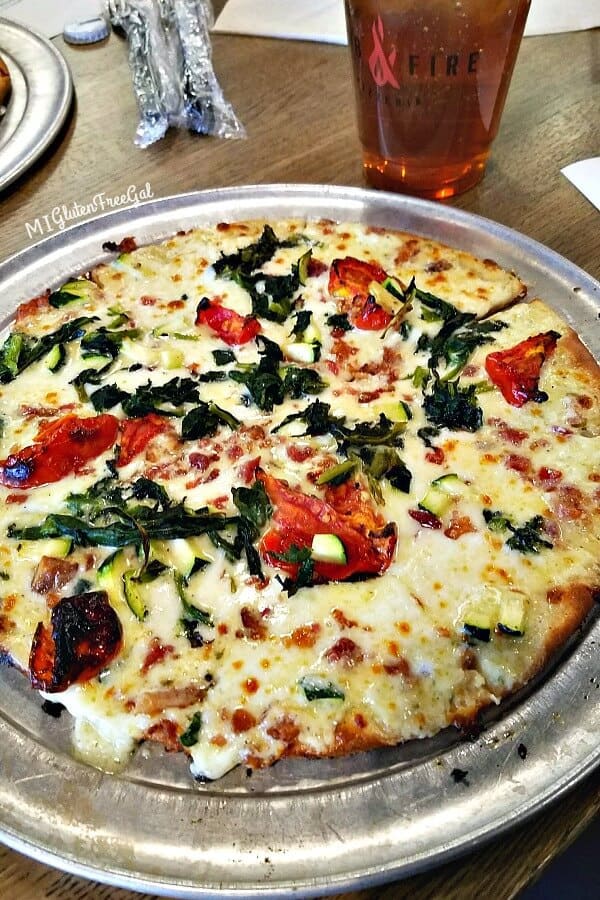 We all agreed it was a great option to have. Located near Frederik Meijer Gardens and Celebration Cinemas, it becomes a place where one with Celiac Disease can eat out with other friends in a fast casual atmosphere. Especially on Thursdays, when Herb and Fire Pizzeria offers $2 off their gluten-free and vegan pizzas. (They offer Daiya cheese for those wanting a dairy-free pizza.) Each day they boast a happy hour from 8 pm – close. Deals include $2 lemonades, half off (non-gf) drafts, $3 cheesy breadsticks and $5 1-topping pizzas. Every Wednesday, they host trivia night and offer discounts for medical personnel (with scrubs or ID.) Safe to say, Herb and Fire Pizzeria is a pretty happening place.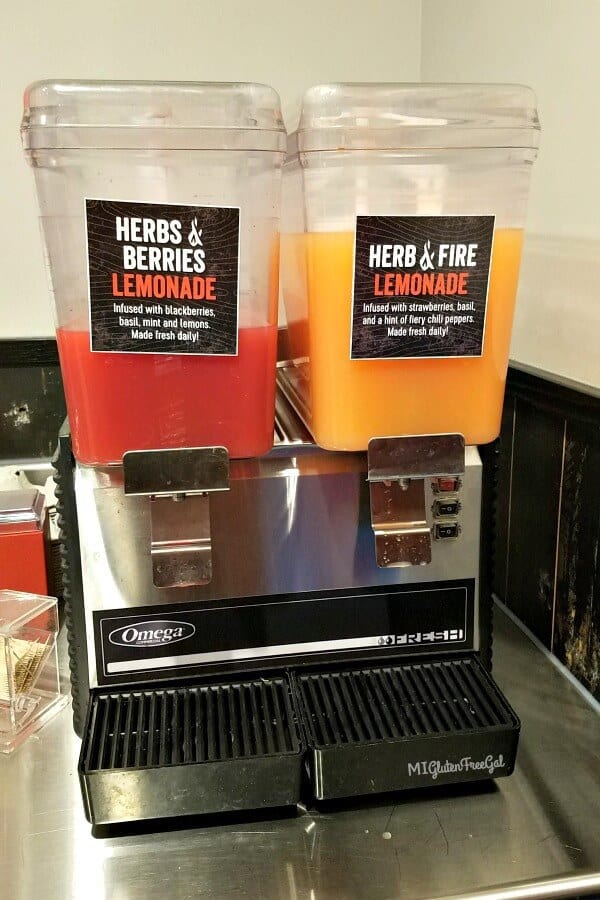 One other thing of note. Herb and Fire Pizzeria has some seriously unique beverages. They infuse their Herb & Berries Lemonade with blackberries, basil and mint. The Herb & Fire Lemonade includes notes of strawberries, basil and "a hint of chili peppers." While they were not my proverbial "cup of tea," they are creative! They also have Uncle John's Hard Cider and White Claw Hard Seltzer in cans. So while we may not be able to enjoy the Foster's or Bell's they may have on tap that night, you can still order an adult beverage with your pizza!
Overall, our pizza was good. Christy and Emma, who are highly sensitive to gluten, enjoyed their meal and experienced no after effects. I was gassy after eating mine. However, that may have been due more to the hefty dose of pureed beans I had the night before instead of this pizza. I watched them closely every single step through preparation, and they followed all the right protocols. For the highly reasonable price and the ability to join friends on a fun night out, I'd definitely try it again.
Herb & Fire Pizzeria
2121 Celebration Dr NE
Grand Rapids MI 49525
Website | Facebook | Instagram
(2nd location in Grandville, on 44th St, near Cabela's)
Herb & Fire Pizzeria is one of many Michigan restaurants I've visited. You can find a list of them on my Michigan gluten free dining post. Please remember to always ask any restaurant about their food preparation practices. I was not paid or compensated in any way for this meal.
**Neither my husband or I were charged for our meals, however all thoughts and opinions are my own. My husband did enjoy a regular beer with his meal, for which we paid full price.