Grain Free Cranberry Brie Bites
As an Amazon Associate and member of other affiliate programs, I earn from qualifying purchases.
Missing those crescent roll based appetizers? These grain free Cranberry Brie Bites, made with Chebe, will fulfill all of your handheld food longings. Add these to you New Year's Eve spread and watch them disappear! This post is sponsored by Chebe.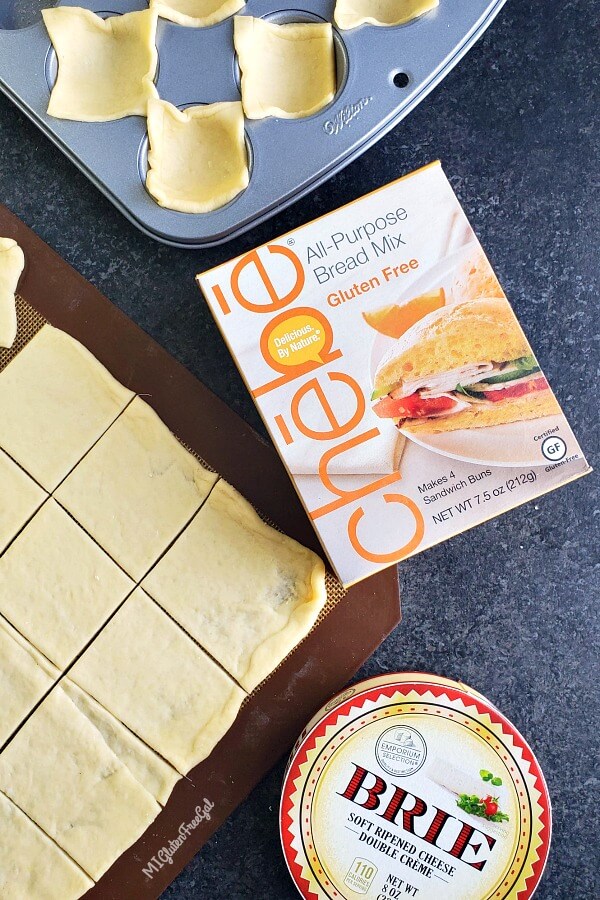 What is Chebe?
Chebe uses tapioca (manioc) starch as the base for their grain free mixes. Made from the cassava root, tapioca flour is "the starch extracted from the cassava root through a process of washing and pulping." Cassava flour, on the other hand, is the complete root, ground up and turned into flour. (Learn this and more from 5 Things You Need to Know About Cassava Flour by Downshiftology.)
Their All-Purpose Bread Mix contains just 5 ingredients. "Manioc (tapioca) flour, modified manioc starch (100% manioc), cream of tartar, iodine-free sea salt, sodium bicarbonate." You can use their product locator to find it in a store near you, order directly from their website, or order it through Amazon.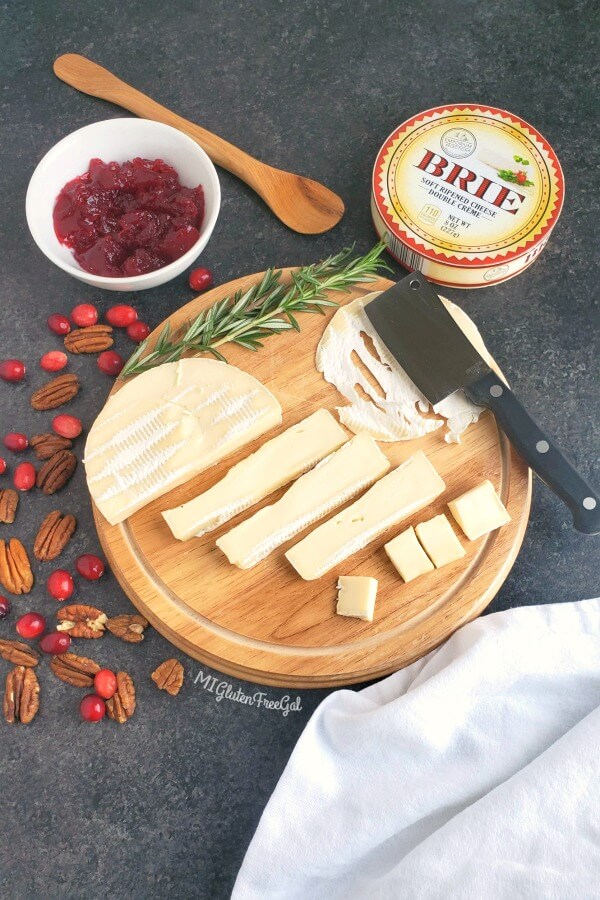 Where to Buy Brie and Other Cheeses
Believe or not, my fancy cheese hook up is Aldi. I purchase everything from gouda to brie to gruyere there. I don't even bother looking at other stores anymore. Speaking of gouda, this cheese will also work in these grain free cranberry brie bites. Someone suggested on the Delish website about using goat cheese, and I bet it would be great.
Recipe tip. I recommend trimming the top and bottom rind off the the cheese. It melts better, and IMO, tastes better. This works better if you chill the cheese in the freezer first. Just plop in the freezer prior to making the dough, and you're all set.
Need it Dairy Free? I haven't tried it with a dairy free cheese, but would think that Miyoko's would work well in this. Kite Hill and Follow Your Heart also make really good dairy free cheese.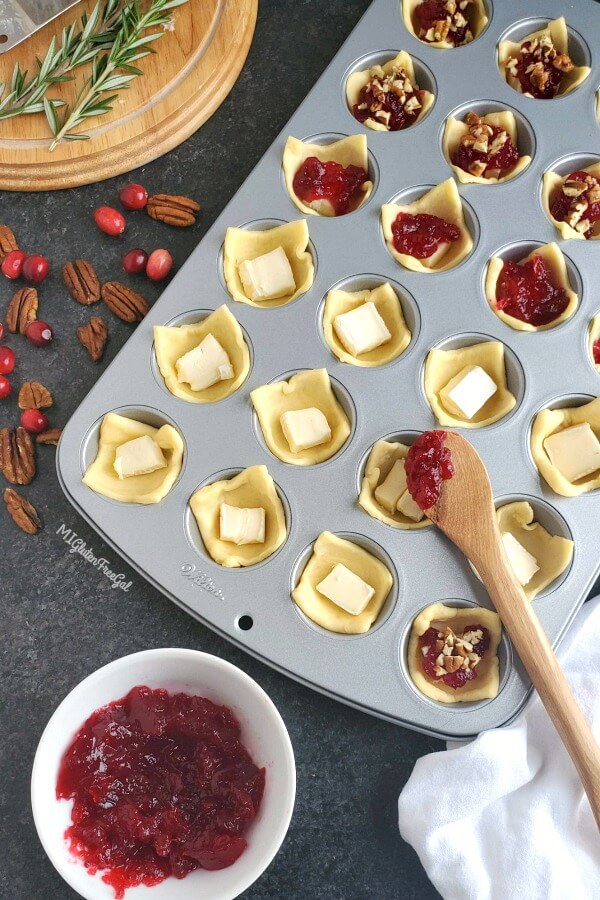 How to Assemble Your Grain Free Cranberry Brie Bites
Unlike my Gluten Free Black Bean Enchilada Cups, this recipe requires a mini muffin pan. NOT a standard size muffin pan. I snagged my Wilton mini muffin pan at JoAnn Fabrics. After using other pans in my life, Wilton has become my absolute stand by.
I originally saw this recipe on the Delish website. They started with 8 oz of crescent dough. I tried these gluten free Cranberry Brie Bites with 8 oz of Chebe dough, and it was NOT enough. One prepared box of Chebe is approximately 14 oz, and I recommend using all of it for this recipe.
Roll the dough into a 12 x 8 rectangle. Cut 6 strips along the top edge, and 4 strips along the width/ short edge. This will create 24 squares of dough. I found the need to roll each square just a bit each more to make a slightly larger square of dough. Then press into a oiled muffin cup, with the points of the square pointing up.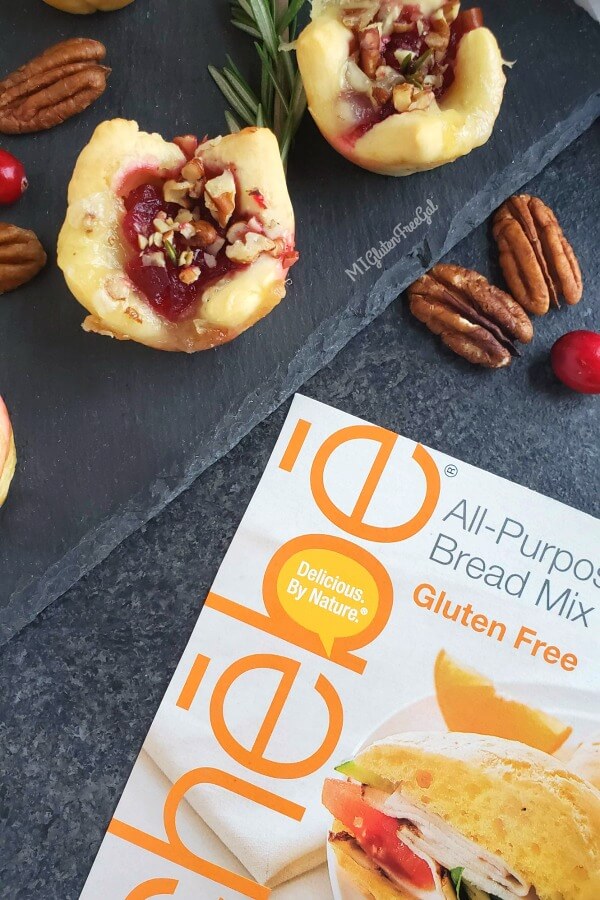 Grain Free Cranberry Brie Bites Recipe Substitutions
I'm not one to often use fresh herbs. But I gotta admit, the little bit of rosemary in this appetizer really heightens the flavor. (Trust me, I baked a batch of grain free cranberry bites without it. Definitely preferred this appetizer WITH the rosemary.
What about nuts? If you are allergic to nuts, you can leave them off. (Or use SuperSeedz. I'd recommend the cinnamon sugar ones.) If you can eat walnuts, those could be subbed as well. I wouldn't recommend peanuts.
Egg or Dairy Free? The dough can be made with aquafaba,per directions on the Chebe website. (Although I have not tried this recipe, with that method.) I chose to use butter instead of oil to make the dough softer. You can use 2 tbsp of oil instead of butter, instead. The recipe calls for 4 tbsp of milk, but you should be able to substitute a dairy free milk.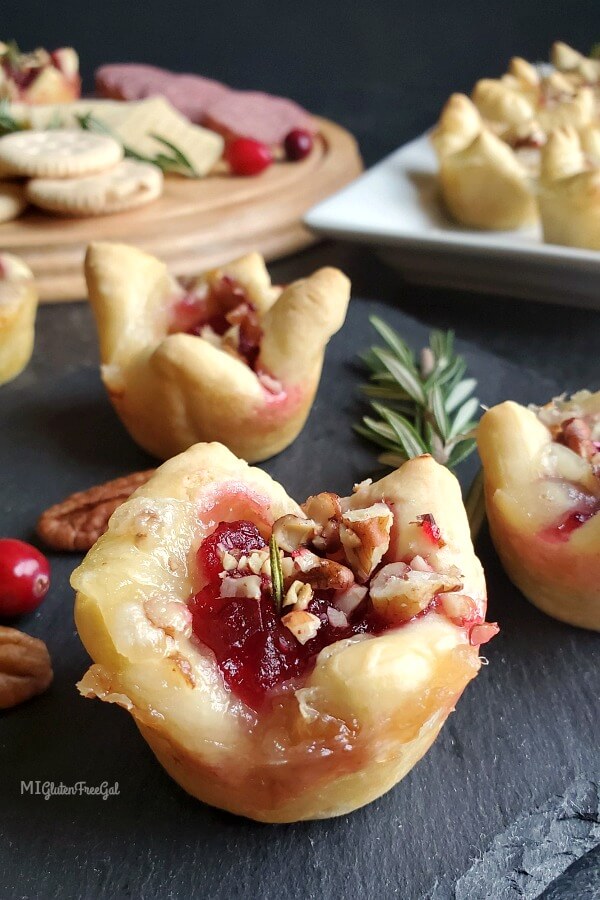 Other Gluten Free Appetizers You'll Love
Have you visited the Chebe recipe website? It contains multiple pages of grain free appetizer and snack recipes! In addition, these grain free Cranberry Brie Bites pair perfectly with a gluten free charcuterie board, as well. Looking for more hand held eats? Visit Gluten Free Palate for her list of Best Gluten Free New Year's Eve Appetizers.
What are your favorite gluten free appetizers? What nibbles do you enjoy on New Year's Eve? Leave me a comment below!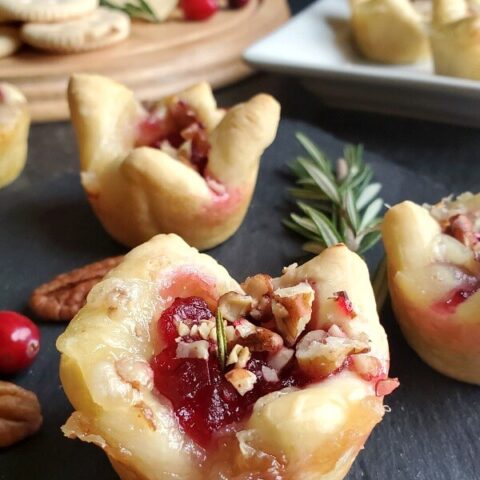 Grain Free Cranberry Brie Bites
Ingredients
For the Chebe Dough
1 box Chebe All Purpose Bread Mix
2 tbsp cold butter, cut into small pieces
2 eggs
4 tbsp cold milk
extra tapioca starch for rolling
For the filling
1 cup whole berry cranberry sauce (canned or homemade)
8 oz brie, but into small pieces
1 cup pecans, finely chopped
24 rosemary leaves
Instructions
Place wheel of Brie in freezer for 30 - 60 minutes to firm up. Prior to assembling the Cranberry Brie Bites, trim the top and bottom ends of the brie to remove the rind. Finely chop the pecans.
In a food processor, combine Chebe All Purpose Bread Mix and cold butter pieces. Pulse until butter is completely incorporated.
Next, add both eggs and pulse until thoroughly mixed. Finally, add milk one tbsp at a time until dough starts to form.
Turn dough out onto silicone mat or lightly floured parchment paper. (Use tapioca starch for rolling purposes to keep this recipe grain free.) Knead dough until a soft ball forms.
Spray mini muffin tin with cooking oil and preheat oven to 350 degrees.
Roll dough into a 12 x 8 inch rectangle. Mark each end in 2 inch segments, and then cut dough into 24 equal squares. You will likely need to roll each square a bit thinner to stretch it over the cavity of the mini muffin cup. You want the tips of the square to be sticking up over the rim of the muffin cup.
Remove cheese from freezer. Trim off the rind, and cut 24 small pieces of cheese from the cheese. I had 1/3 of the cheese leftover. If you fill the cup too full of cheese, it will overflow on to the muffin tin.
Fill each cavity with one small piece of Brie, approximately 1 tsp of cranberry sauce (or other preserves with fruit pieces) and about 1/2 tsp of chopped nuts. (I just eyeballed it.)
Finally, add one or two leaves of rosemary to the top of each appetizer.
Bake in a 350 degree oven for 10-12 minutes, rotating the pan half way through.
Notes
**Note - The baked brie may bubble and melt a bit over the top of the appetizers. You can gently scoop the cheese back into each cup when you remove the pan from the oven. Do so immediately, as it firms up quickly. 
**Chebe provided the ingredients for this post, and also monetarily compensated for my time. This post does contain affiliate links. Purchases made through those links help support this blog with no extra expense to you. Thank you for your continued support!**