Gluten Vs. Gluten Free Packaging
As an Amazon Associate and member of other affiliate programs, I earn from qualifying purchases.
Many brands have started to offer gluten free versions of their wheat-based products. Which is exciting for many, but sometimes the gluten free packaging looks identical to the original. Here are a few to really be aware of.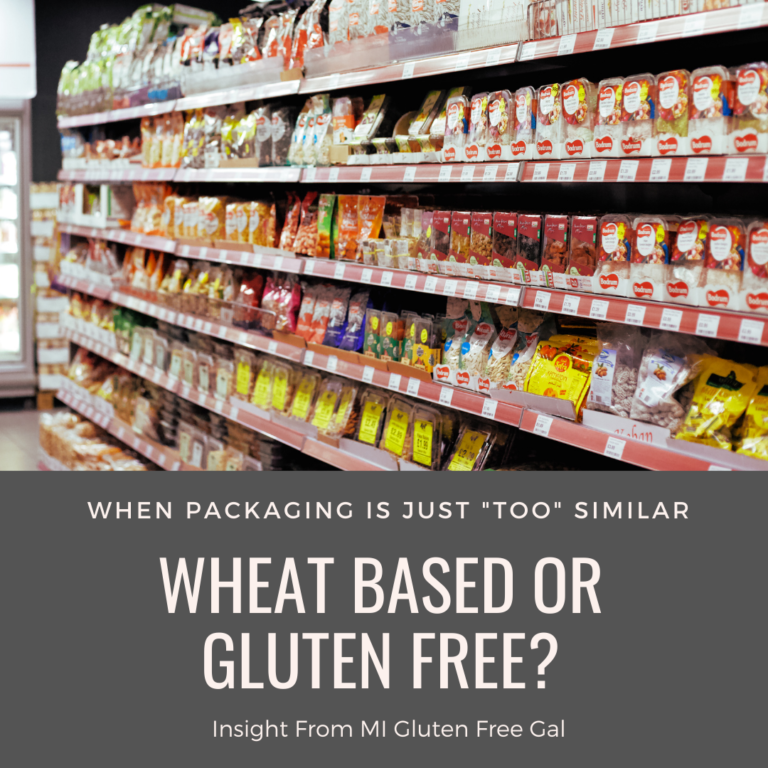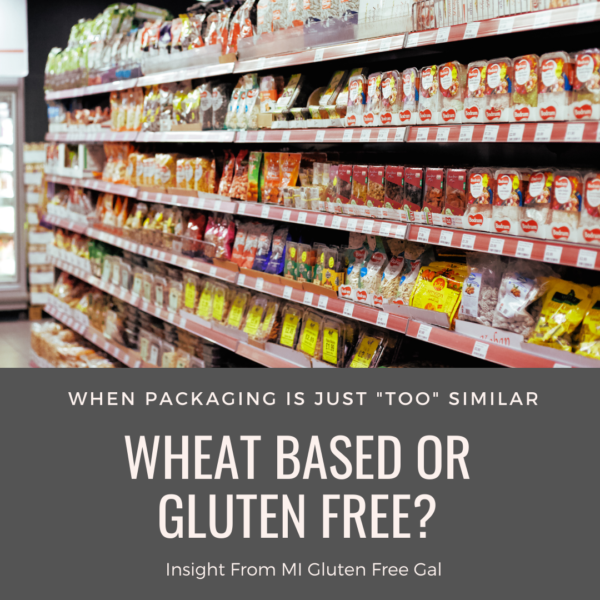 Did You Grab the Gluten Free Package?
We've all done it. We're in a rush at the store, see our favorite product, and grab it without a second glance. If that product is from a company that also makes wheat based items, sometimes the packaging is too similar, and we grab the wrong one. Today I'm sharing some products that cut it too close, as well as praise those who have tried to do good job with different packaging.
With each photo, the wheat based product is on the left, and the gluten free product is on the right. I will provide a link to each brand's website page, as well. Also, in the description of each photo, I offer a recommendation for an alternate, dedicated gluten free brand. Amazon affiliate links are included for some of those alternatives. At the end I link to other grocery shopping tips.
The Most Similar Packaging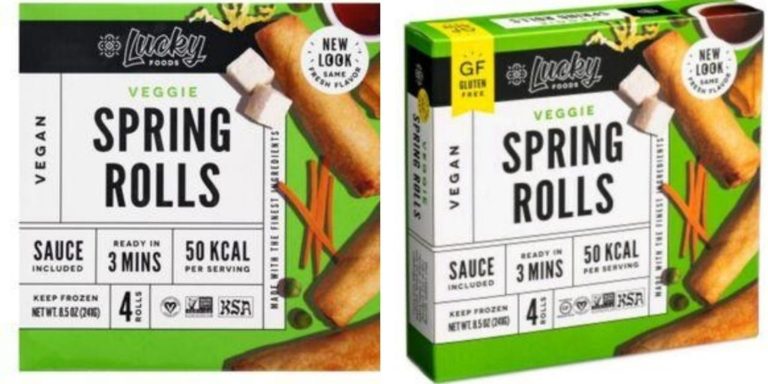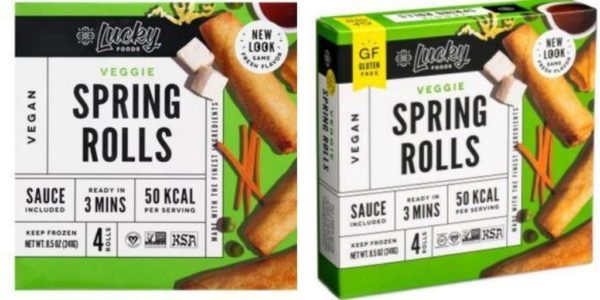 Lucky Spring Rolls
When a Facebook follower alerted me to this in 2020, my jaw dropped to the floor. The only major differentiation between Lucky's wheat based and gluten free packaging is the yellow strip in the left hand corner. All the remaining elements are completely identical. If you can find them, I recommend buying Feel Good Foods egg rolls, which are completely gluten free.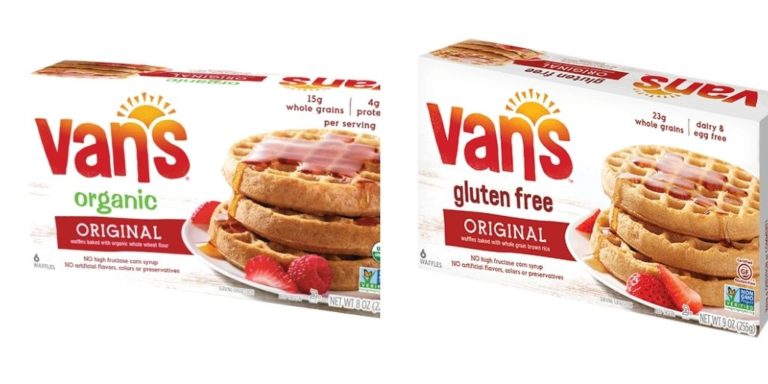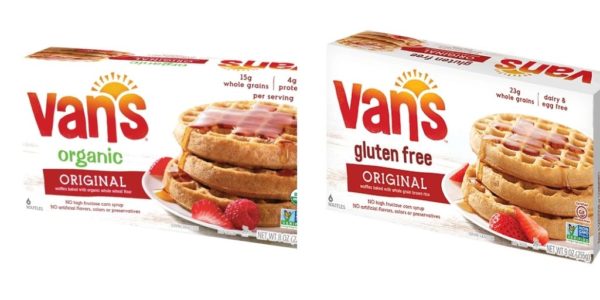 Van's Waffles
Far too many people with Celiac Disease have been tripped up by Van's Waffles. As you can see, the packaging is JUST too similar. Their gluten free waffles have actually been recalled in the past, because they accidentally used the gluten free packaging for their regular waffles. Yikes. I actually make my own gluten free waffles from scratch, using this Dash waffle maker.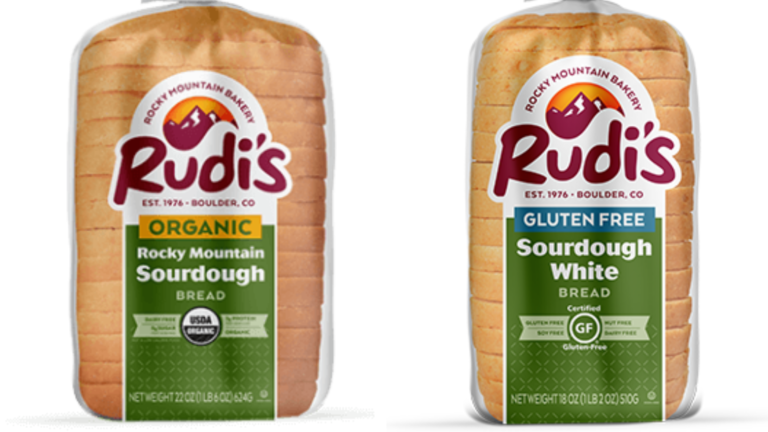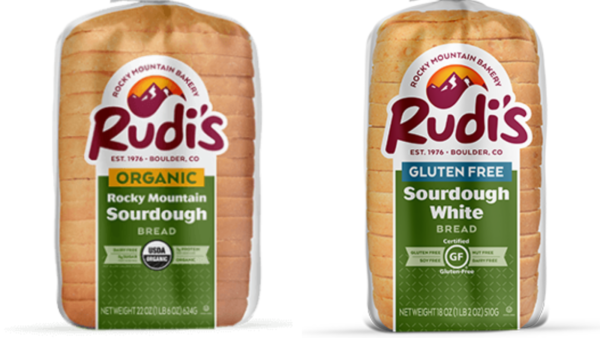 Rudi's Bakery
First, many people don't realize that Rudi's Bakery makes non-gluten free bread. In my opinion, I think that's one of the biggest stumbling blocks. People falsely assume that when they find a gluten free product, everything that brand makes is gluten free. These packages are so simliar, it's scary. Personally, I stick with Canyon Bakehouse bread. Because they ONLY make gluten free bread. Nothing else.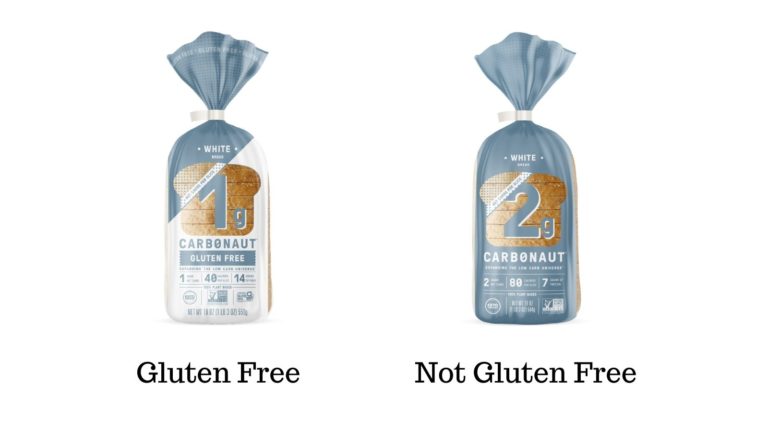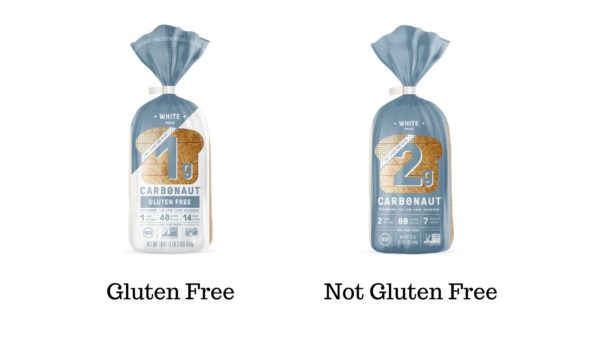 Carbonaut
This low carb bread is all the rage right now. However, please be advised that not all Carbonaut Bread is gluten free. While there is a differentiation between the two bags, they're still similar enough to cause confusion.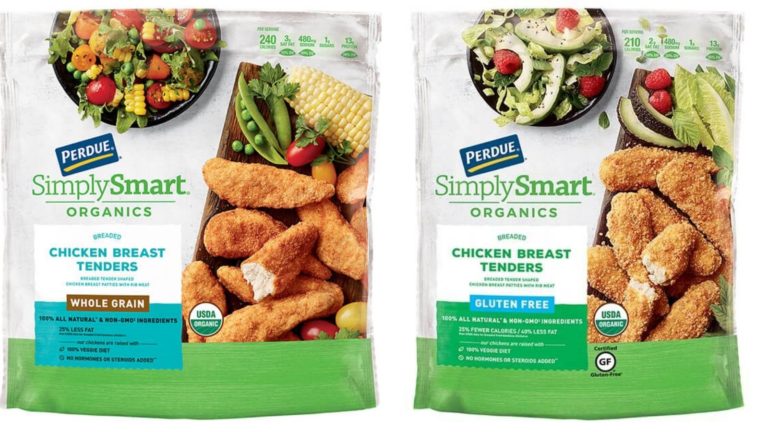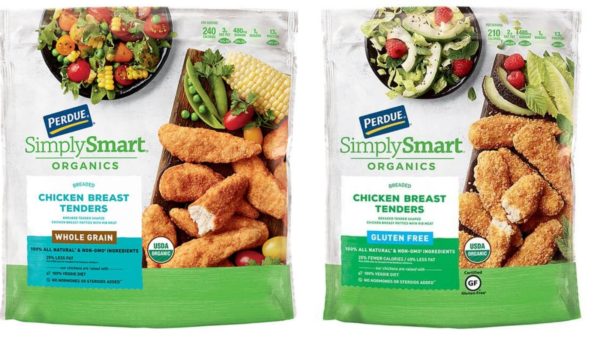 Perdue Simply Smart Chicken Strips
My friend Lesley on Instagram brought this one to my attention. I do buy these Perdue Simply Smart Organics Gluten Free Chicken Breast Tenders, but not often. I hadn't realized just how close the packaging was to the wheat based strips. It makes me want to stick to making my own, with Aleia's Gluten Free Coat and Crunch, or their bread crumbs.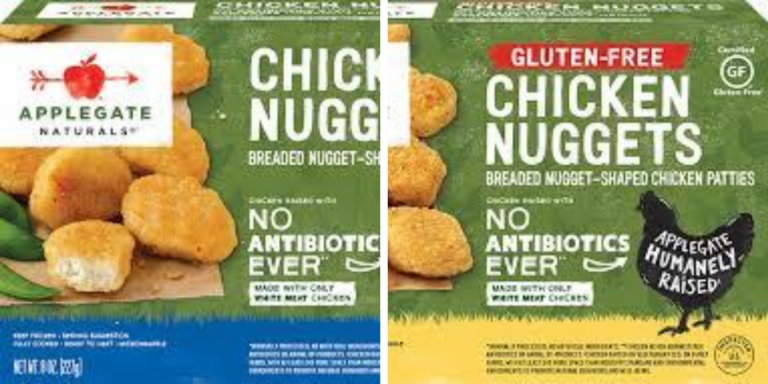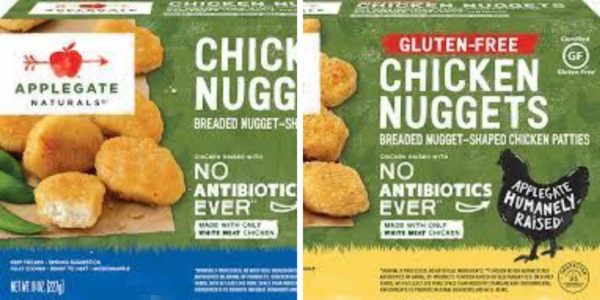 Applegate Chicken Nuggets
Aside from the words "gluten free" at the top of the box, Applegate does use a different colored stripe at the bottom of their gluten free packaging. The organic gluten free version of their nuggets, which come in a white box, also has a yellow stripe at the bottom. I tend to stick to Golden Platter gluten free nuggets, as all of their products are gluten free.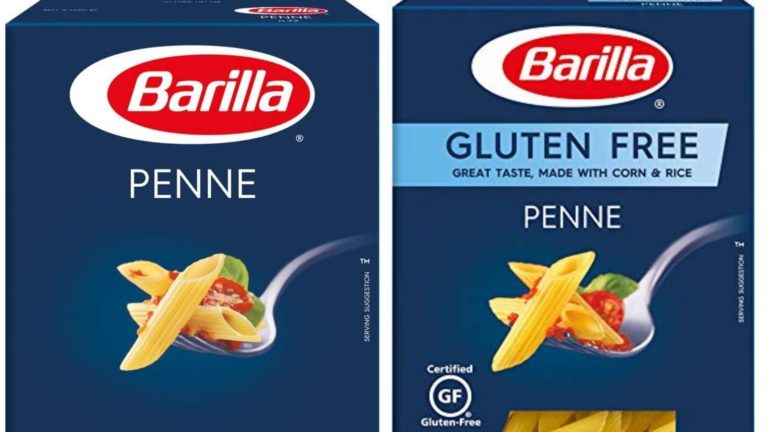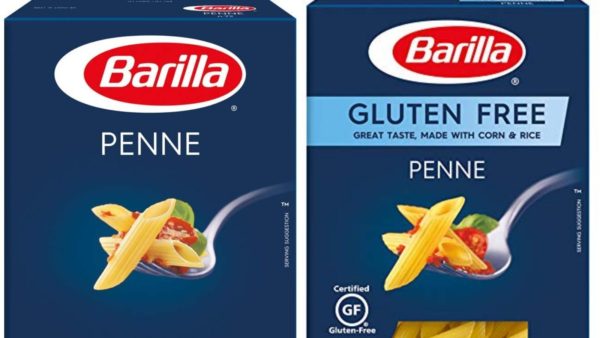 Barilla Pasta
The most noticeable difference between Barilla wheat based and gluten free pasta is the light blue stripe under the word "Gluten Free." As well as the certified gluten free logo on the packaging. In all honesty, this is my "go to" pasta. If you'd like to support a brand that ONLY makes gluten free pasta, I would recommend Tinkyada.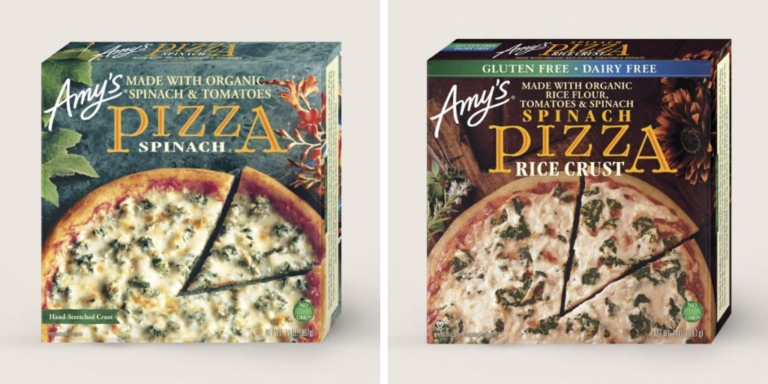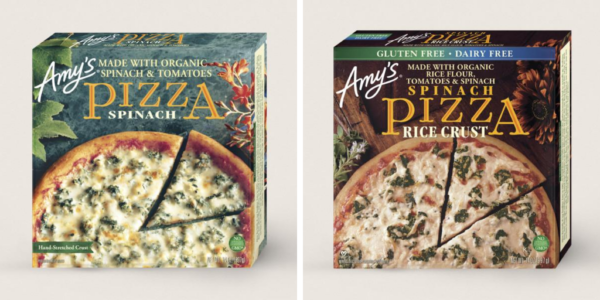 Amy's Products
These pizzas are what started the concept for this post. Last summer, a woman in a gluten FB group shared the picture on the left, and told others how delicious it was. It took quite a few comments before we convinced here she was actually eating wheat based pizza. The image on the right IS a gluten free pizza from Amy's Kitchen.
The biggest issue is too many people mistakenly believe that all Amy's Kitchen products are gluten free. Sadly, they are NOT. One woman even commented, "I fed my 8 year old (gluten free) granddaughter Amy's (wheat) pizza (on accident). She vomited all night. I cried for days. Still upsets me." PLEASE read the packaging of Amy's Kitchen products carefully for the presence of wheat.
Similar Packaging, Different Colors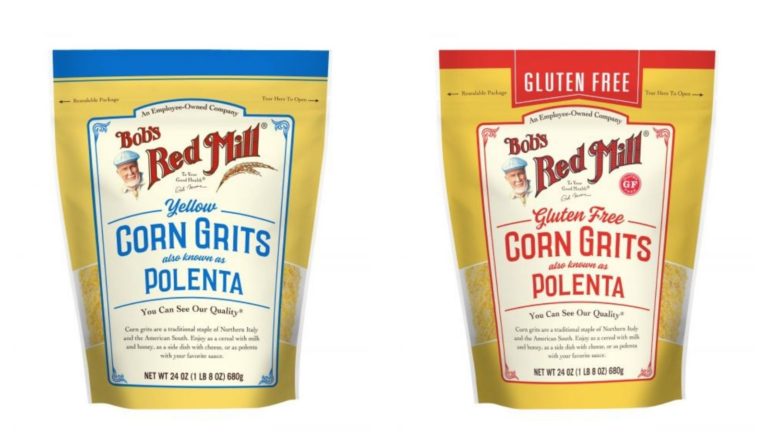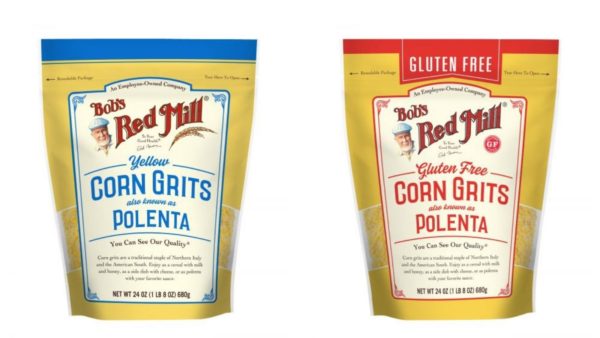 Bob's Red Mill Polenta / Corn Grits
In theory, any corn polenta / corn grits should be gluten free, because it's made from corn. However, Bob's Red Mill has two different milling facilities. One handles wheat, barley and rye. The other only mills gluten free produts, which are also tested in-house to make sure they test under 20 ppm. (Bob's Red Mill products are not third-party certified by an outside organization.)
The last time I was at the store, the polenta milled in the non-gf facility also had red lettering, and not blue. (The images above are from the Bob's Red Mill website.) So maybe they've understood the need to make the non gluten free packaging more noticeable. Which is much appreciated.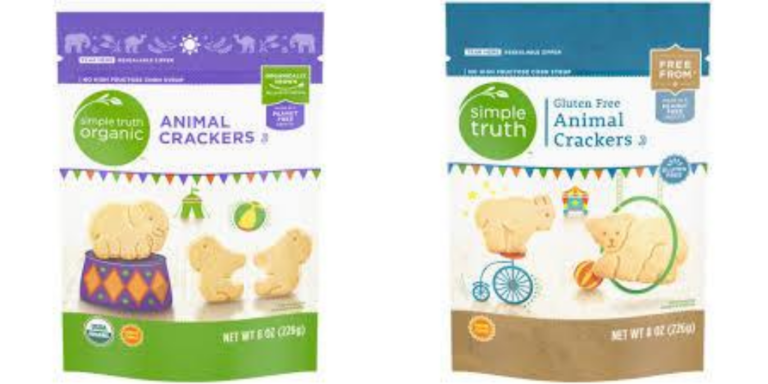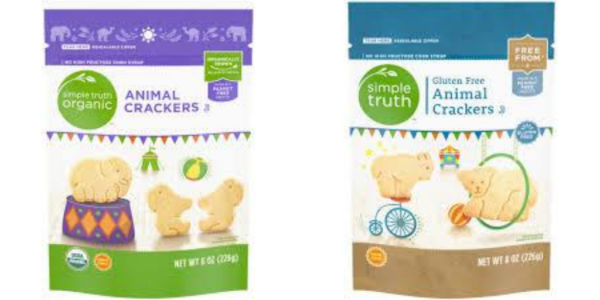 Simple Truth Products (Kroger)
I personally have grabbed the wrong back of Simple Truth animal crackers and have eaten them. Others have mentioned the similar packaging for their sandwich cookies is also an issue. For animal crackers, I buy either Glutino or Kinnikinnick.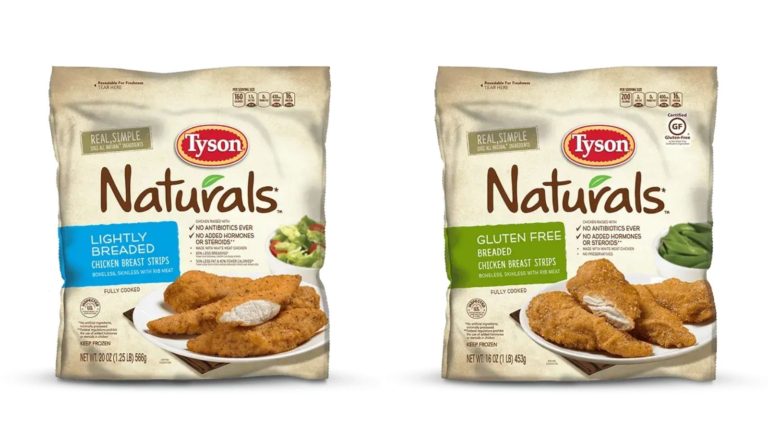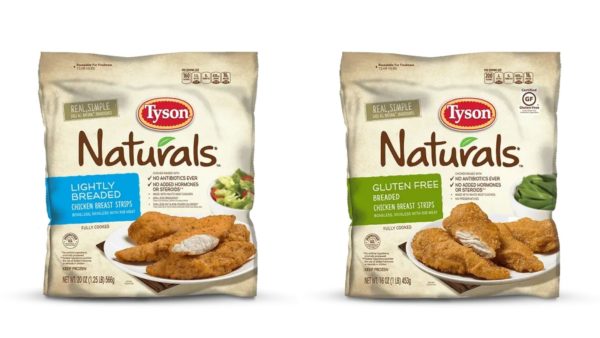 Tyson Naturals
A Facebook follower brought up the Tyson Naturals chicken strips. I don't usually buy them, so it took me looking up the packaging to see the similarity. The blue vs green background under the writing the is most obvious difference. I tend to buy Golden Platter products when I can find them, because all of their products are gluten free.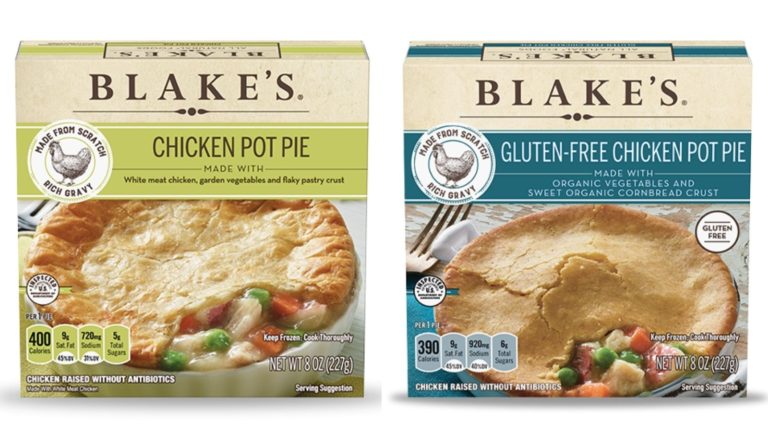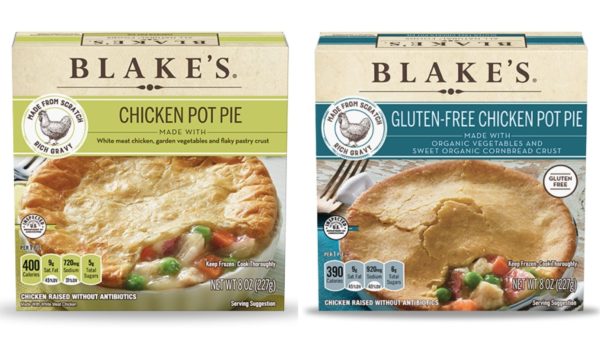 Blake's Pot Pies
Again, simliar, but the color behind the text on the Blake's gluten free packaging is very different. There is a "gluten free" in a circle, and the picture is slightly different. I recently tried Raised Gluten Free vegan pot pies. All of their products are gluten free and vegan. Good enough that I'd definitely buy it again! (Available at Kroger.)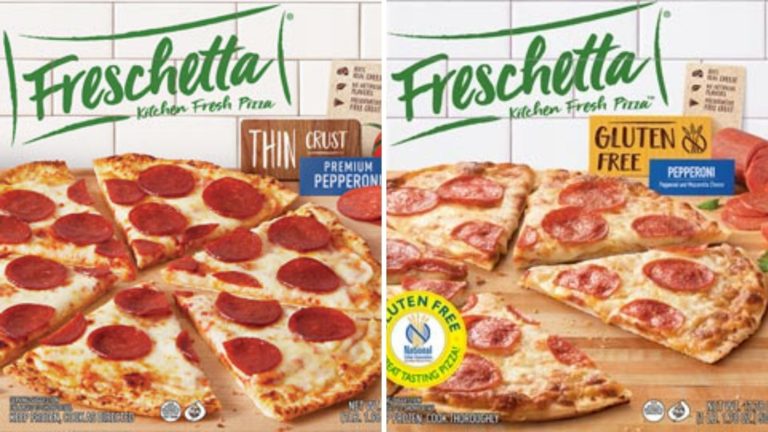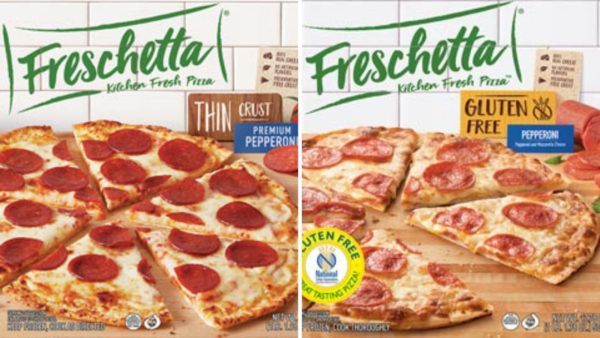 Freschetta Pizza
Another Facebook follower also brought up this product. I have difficulty finding the Freschetta gluten free pizza in my area, and my husband can't eat pork. So I have only bought it once. I intentionally search for the big yellow gluten free circle. I recently bought the Banza cheese pizza, which my (non-gluten-free) husband really enjoyed. All Banza products are gluten free.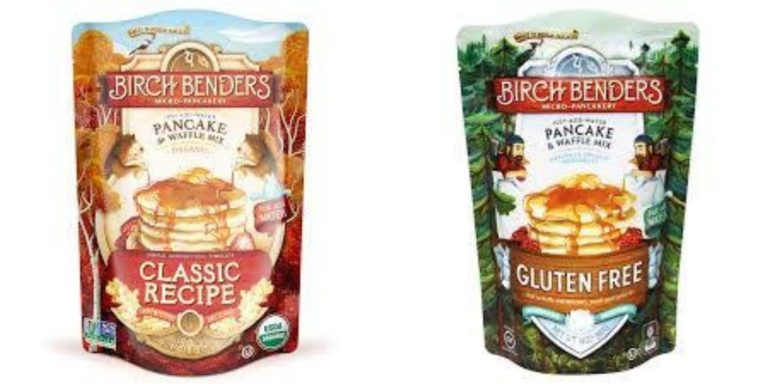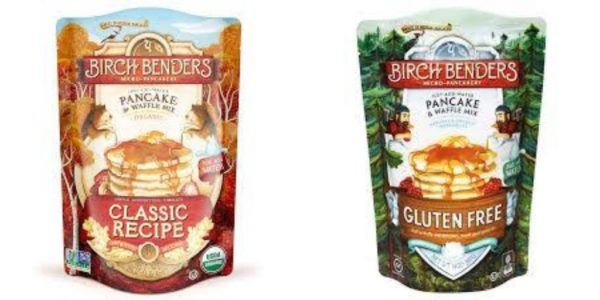 Birch Benders
I will say that Birch Benders gluten free packaging looks pretty different from their Classic recipe. They also have many other certified gluten free pancake mixes, including Keto and Paleo mixes. I think because they have so many gluten free products, people mistakenly believe that all of their products are gluten free. Josie's Best Gluten Free is a 100% gluten free mix company.
Brands with Good Gluten Free Packaging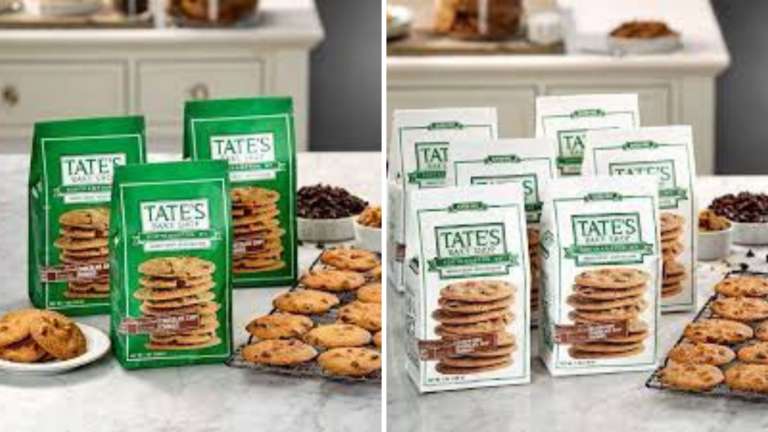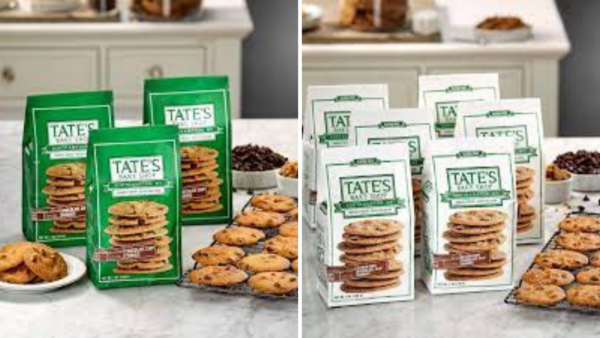 Tate's Bake Shop
While some people have complained that the packaging is similar, I think Tate's is a brand that gets gluten free packaging right. The bags are a completely different color. While there are dedicated gluten free cookie brands available, Tate's might be more readily available in grocery stores. Enjoy Life Foods Crunchy Cookies are completly gluten free, and free from the top 9 allergens.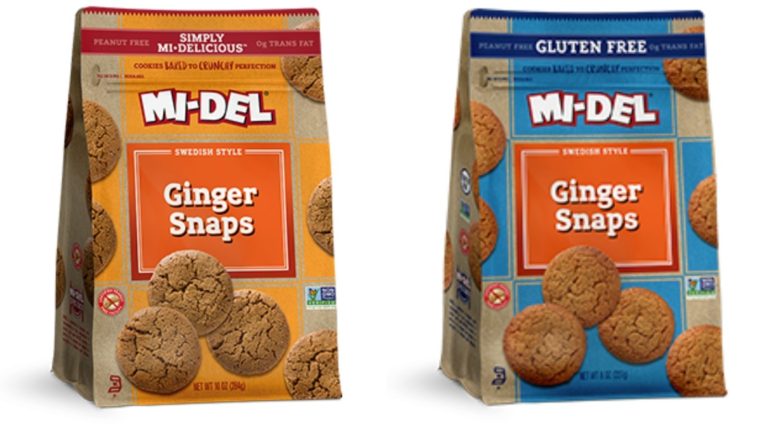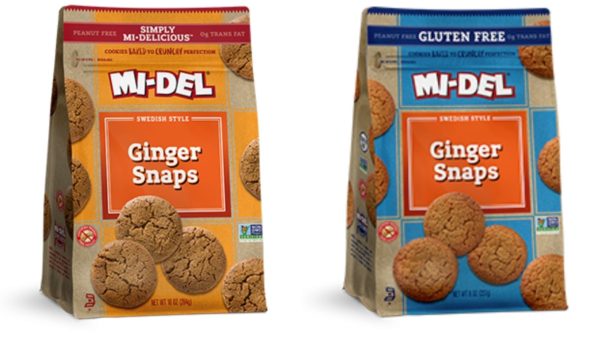 MI-Del
If you've been diagnosed with Celiac Disease for more than a decade, MI Del is likely a familiar name. When I was diagnosed 20 years ago, they were the "go to" gluten free cookie. Their packaging is very similar. However, it appearts that MI Del recently made a change to make all their gluten free packaging blue. Which is very helpful. I still prefer Kinnickinnick Cookies, which are made in a dedicated gluten free facility in Canada.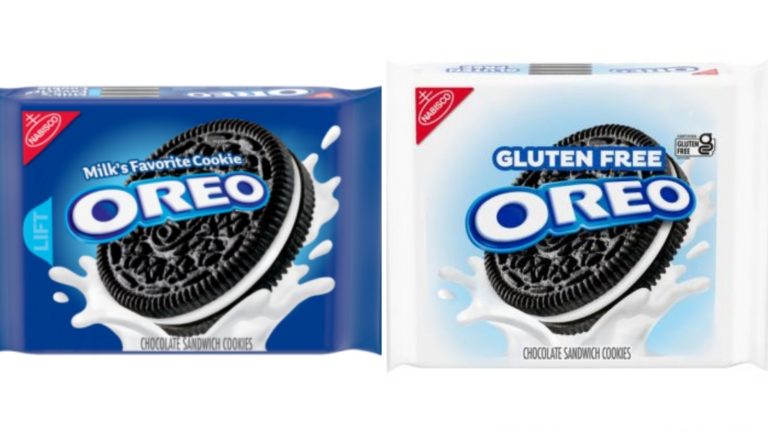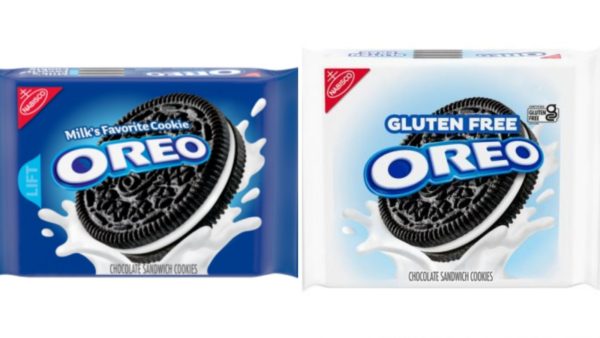 Oreo
Whether you love or dislike the new Nabisco gluten free Oreos, I have to give them kuddos for their white gluten free packaging. While other Oreo cookies may have non-blue packaging, only white packaging (so far) is used for gluten free cookies. I'm one of those people who can't tolerate oats, so I stick with Glutino Super Stuffed Sandwich cookies.
A Word About Allergens and Packaging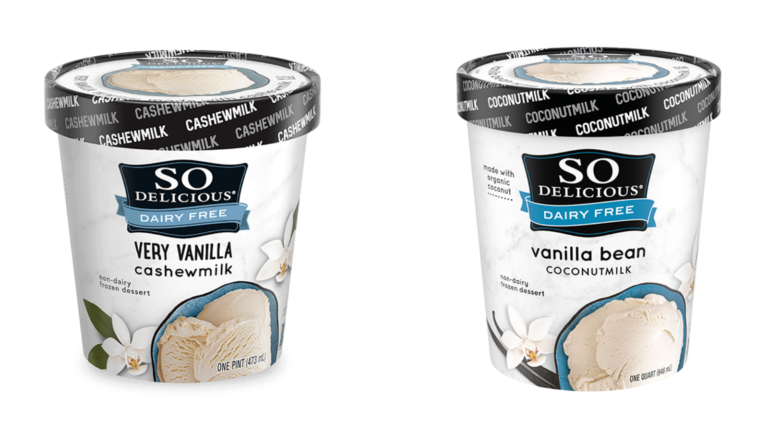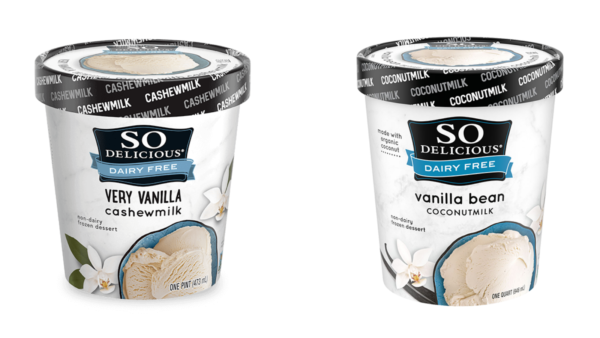 So Delicious – Nut Based vs Nut Free
While both of these ice creams contain no gluten, there is a big ingredient difference between the two. With just a quick glance, can you tell which So Delicious vanilla ice cream contains nuts? This issue was recently brought to light on Twitter. A father, whose child is allergic to dairy and nuts, accidentally bought and fed the one with nuts to his daughter. Luckily, they had an epipen and she survived. (I personally prefer Coconut Bliss dairy free ice cream, or Nada Moo.)
But this brings to light why distinct allergen and gluten free packaging is so important. It can literally be a matter of life and death.
For more on this topic, check out GF Jules' article on Safe Gluten Free Shopping and Eating.
More Shopping Tips
Looking for more gluten free products? Check out my shopping articles about Aldi, Trader Joe's, Horrocks Farm Market and Plum Market. My friend Fearless Dining has a great article about shopping gluten free at Costco, and Life After Wheat wrote an article about Thrive Market. If you shop at Sprouts, check out Milk and Honey Nutrition's post on Gluten Free Shopping.
What other brands have you noticed that have incredibly similar packaging. On the reverse, which brands do you think do a great job with gluten free packaging? Please share your stories in the comments below!