Gluten Free Thanksgiving Products
As an Amazon Associate and member of other affiliate programs, I earn from qualifying purchases.
Looking for gluten free products to create your Thanksgiving menu? From turkey to stuffing, potatoes to pie, I've compiled a list of products available for sale across the United States. Wishing you a wonderful holiday, surrounded by those who love and support you!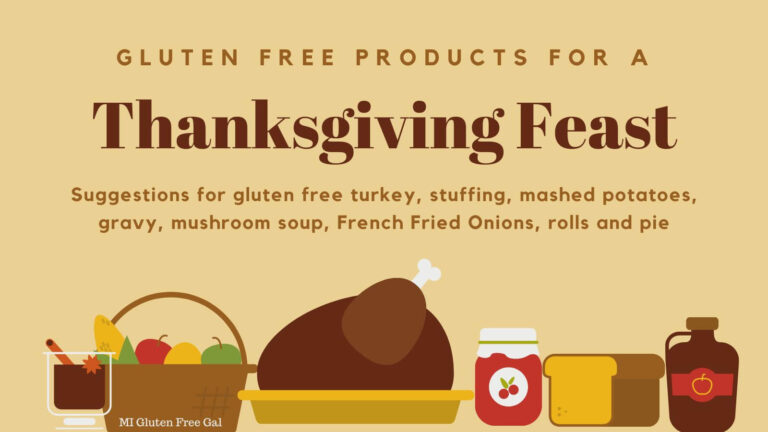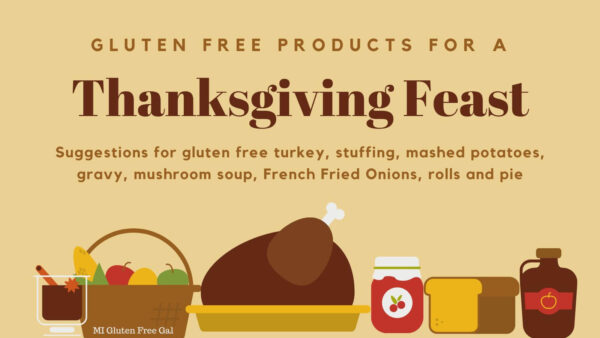 How To Make a Gluten Free Thanksgiving Feast
Preparing a gluten free Thanksgiving dinner is more than just about using gluten free products. Cross contact must be taken into consideration, as well. My post "Gluten Free Thanksgiving from A to Z" offers insight on menu suggestions, links to recipes, and other tips to keep your meal safe for those with Celiac Disease. Recipes links include dairy free options, as well.
Questions About Gluten Free Products and Where to Buy Them
On my website, I focus on gluten free products and ingredients. However, I know that many of you have additional dietary restrictions. Therefore, I've linked each product to their respective website. That way you can look up ingredients to see if a product meets your dietary needs. In addition, each website should have a "Where to Buy" or "Store Locator" tab. Click there, input your zip code, and see where you can find these items, near you.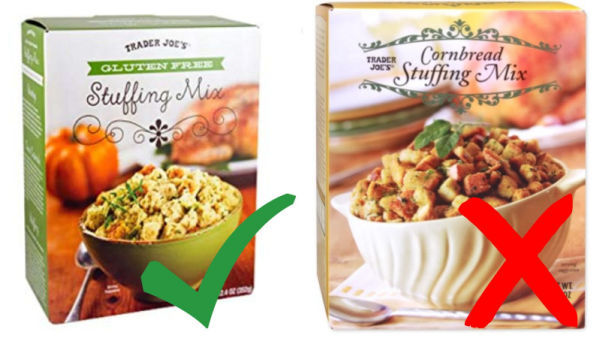 Be Aware of Similar Product Packaging
Some brands make a gluten free version of a product, and a non gluten free version. For example. Trader Joe's makes a gluten free stuffing and a non gluten-free stuffing. In addition, they're often on the same end cap, since they're seasonal. Make sure you're grabbing the right product, and read labels. In addition, Fresh Thyme sells gluten free french fried onions, and non- gluten free version. They're packaging are different colors. Read my post on other brands with similar packaging, for more examples.
Important Note About Soy Sauce & Worcestershire Sauce
Many Green Bean Casserole recipes call for adding soy sauce or Worcestershire sauce. Make sure you're using a gluten free brand. I use San J Tamari in place of soy sauce. In addition, I use Lea and Perrins Worcestershire sauce. Please know that while Lea and Perrins Worcestershire sauce is gluten free in the United States, it is not in other countries. For those who cannot eat soy, consider using coconut aminos, instead.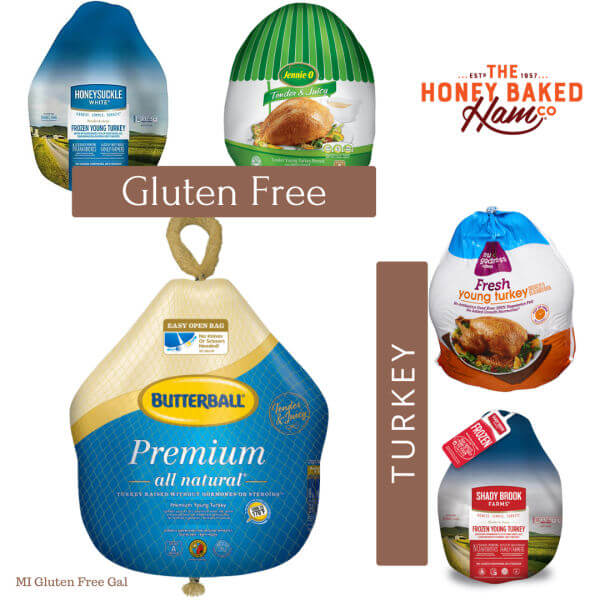 Gluten Free Turkey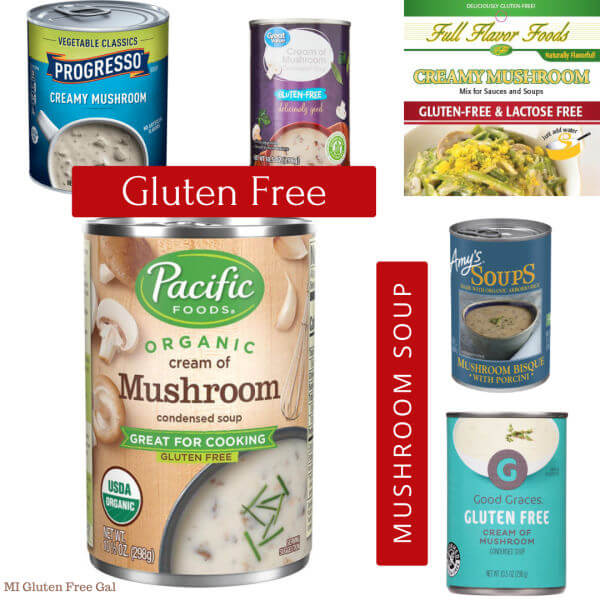 Gluten Free Cream of Mushroom Soup
(Whole Foods 365 Cream of Mushroom soup is not marked gluten free, but its ingredients are identical to Pacific Foods Mushroom soup.)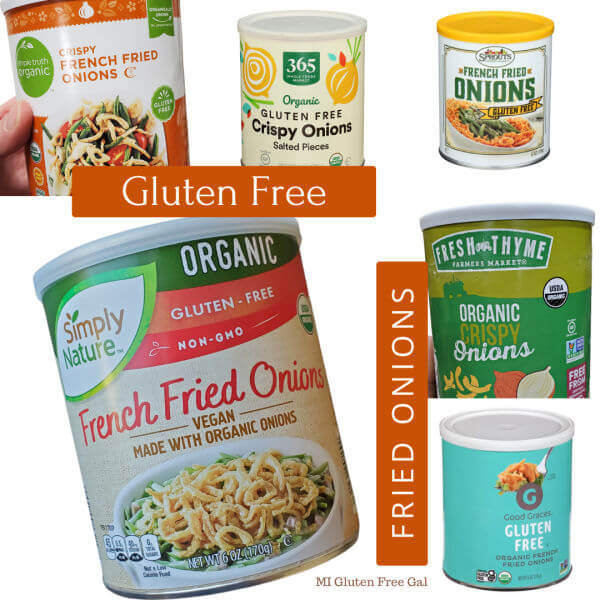 Gluten Free French Fried Onions

Gluten Free Stuffing

Gluten Free Gravy

Gluten Free Mashed Potatoes

Gluten Free Dinner Rolls

Gluten Free Pie Crust

Premade Gluten Free Pies
Take Only What You Need
Unpopular opinion. Please don't buy more gluten free Thanksgiving products than you need. Aldi's and Trader Joe's gluten free stuffing are seasonal. Please remember others want to try these products, too. I live in a city where there is high poverty. Some people use food stamps and only have resources at certain times of the month. Please be mindful of those in the Celiac Disease community who may be less fortunate. For more on this, read my friend Johnna's post about Celiac Disease and having a Food Scarcity Mindset.
Don't Yuck Someone Else's Yum
You may or may not like some of the products listed here. That's ok. We all have different taste and texture preference, and dietary restrictions. I try to live by the general rule of "eyes on your own plate." What someone chooses to eat on Thanksgiving is up to them. Erica Dermer's post about Food Superiority addresses this issue very well.
What are your favorite Thanksgiving gluten free products to use? Leave me a note in the comments, so others can learn!
**This post contains affiliate links. Purchases made through those links, or the Amazon search bar above, help support this blog with no extra expense to you. Thank you for your continued support!**