Gluten Free Tahini Chocolate Chip Cookies (Vegan)
As an Amazon Associate and member of other affiliate programs, I earn from qualifying purchases.
These gluten free tahini chocolate chip cookies make it possible for everyone to enjoy a sweet treat. With no added dairy, eggs, soy, nuts or fish, these cookies are free from the 8 most common allergens. This post is sponsored by Enjoy Life Foods.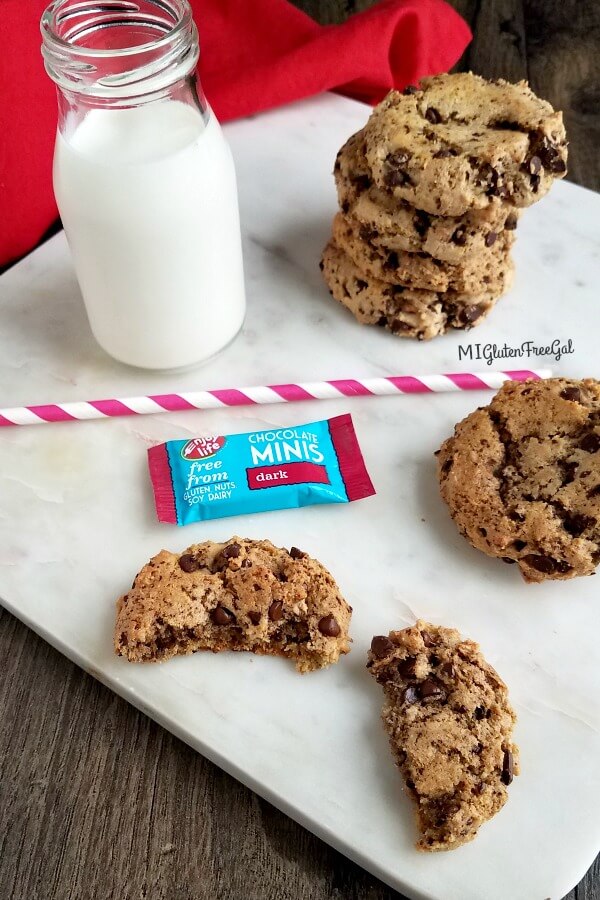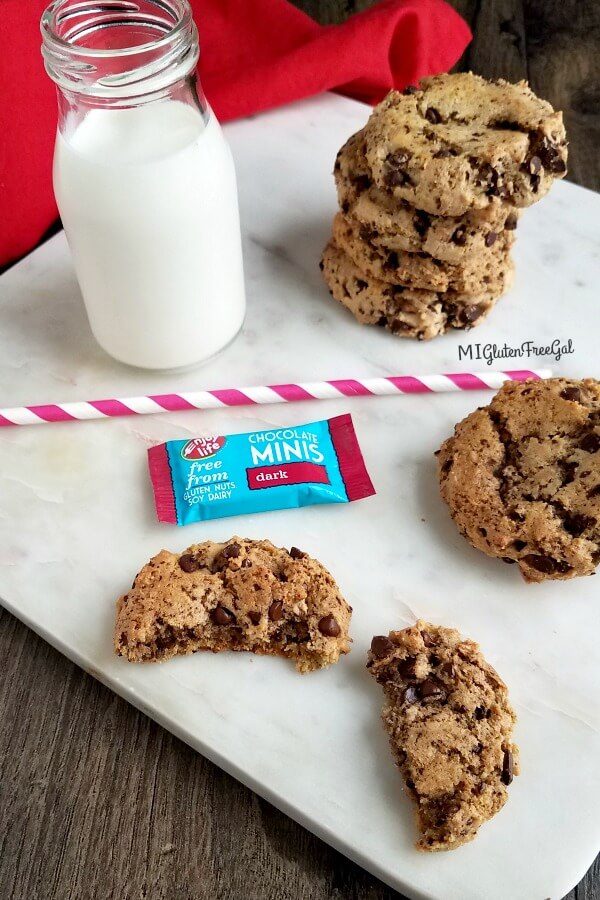 Awhile back, I made Food 52's New Fashioned Chocolate Chip Cookies With All Tahini and No Butter. Tahini brownies were a thing, but I had never heard of using it in cookies. Inspired, I made a batch of these tahini chocolate chip cookies. I thought for sure the tahini would overpower the cookies. Au contraire. Noticing the recipe contained no dairy, I wanted recreate them to be completely vegan. Enter my take on gluten free tahini chocolate chip cookies, with a vegan twist.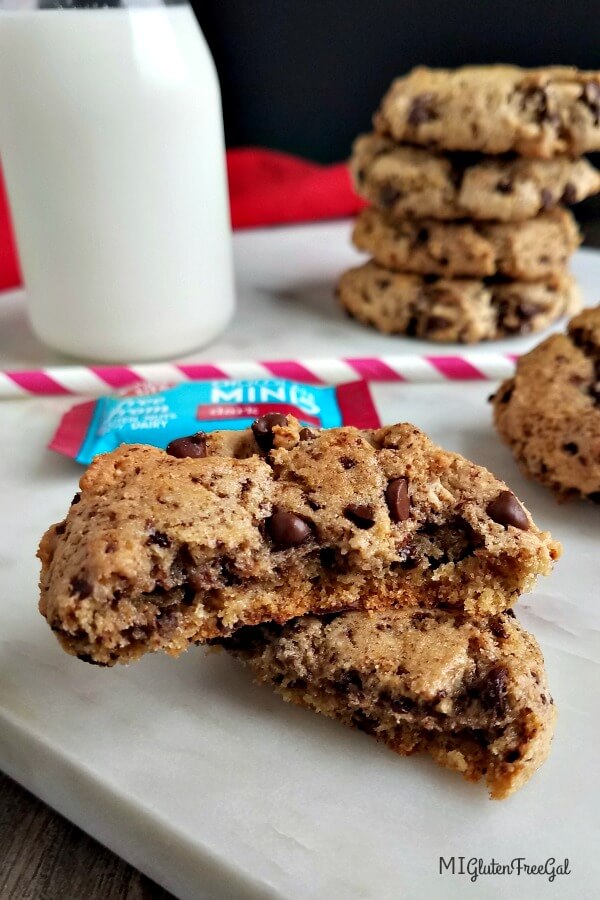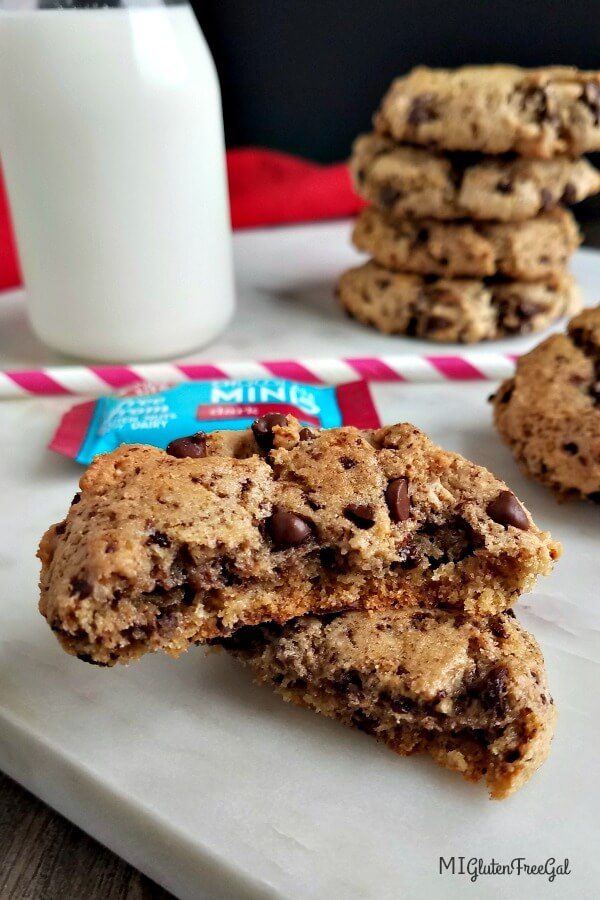 Egg Substitution
As I mentioned, the original recipe contains no dairy. To make them vegan, I simply needed to replace the egg. Many substitutes exist for replacing eggs. Bob's Red Mill makes a powdered egg replacer. Many vegan bakers create a "flax egg" by combining 1 tbsp flax meal with 3 tbsp of hot water, and allowing it to set up for 5 minutes. (Minimalist Baker adds 2.5 tbsp of water.) However, my digestive system and flax seed aren't the best of friends. Besides, I wanted to to find a substitute you likely stock in your pantry. (Visit Allergylicious for more tips on Egg Free Baking.)
Applesauce. That's right, applesauce. Many use applesauce to replace fat (like in my Applesauce Bundt Cake), but you also can use it as a substitute for eggs. One quarter cup equals one egg. Some people add baking soda to the applesauce. I made these gluten free tahini chocolate chip cookies three times. The first time I added the baking soda. The other two batches I left it out, and did not notice a huge difference.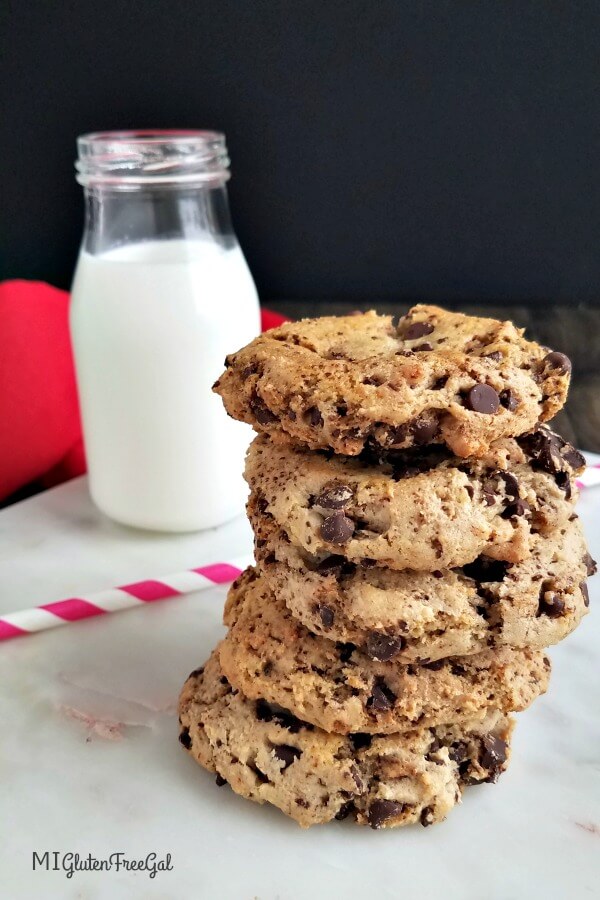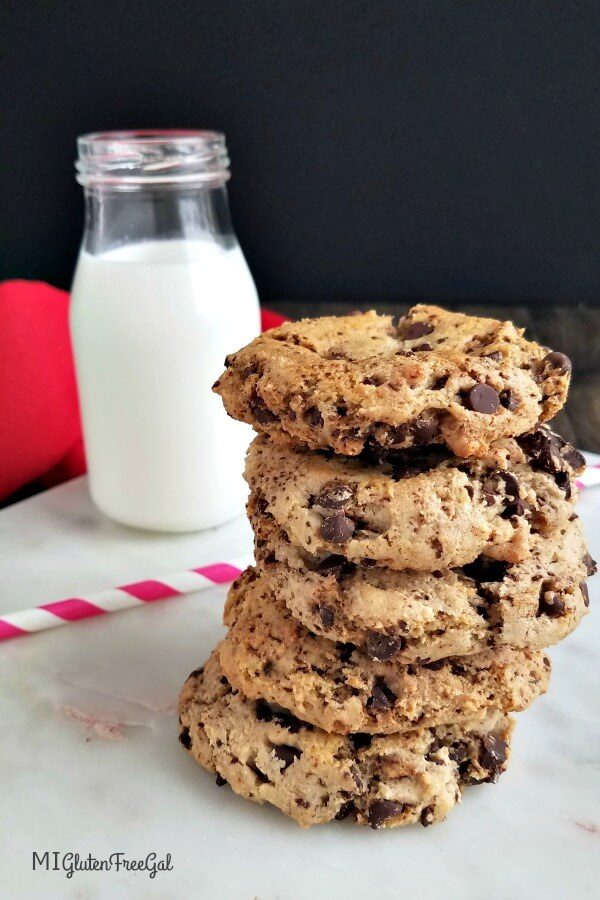 Tips on Tahini and Sesame
What is tahini, you ask? Similar to peanut butter, tahini is a seed butter made from sesame seeds. Much like natural peanut butter, it separates at room temperature. Therefore, you must make sure to stir the whole container thoroughly before measuring. Otherwise, you may have more "ground seed" in your batter than oil. In addition, start with a fresh jar of tahini. I baked my first batch of gluten free tahini chocolate chip cookies with old tahini, and it definitely didn't taste as good. (Other uses for tahini? HUMMUS.)
Recently, the FDA sought insight on possibly labeling sesame as an allergen, here in the United States. In Europe, they include sesame in their Top 14 allergen list. The incident of food allergies to sesame appears to be on the rise here in the US. If serving these gluten free tahini chocolate chip cookies to friends, please make sure to alert them to the inclusion of sesame. Enjoy Life Foods products do not contain sesame.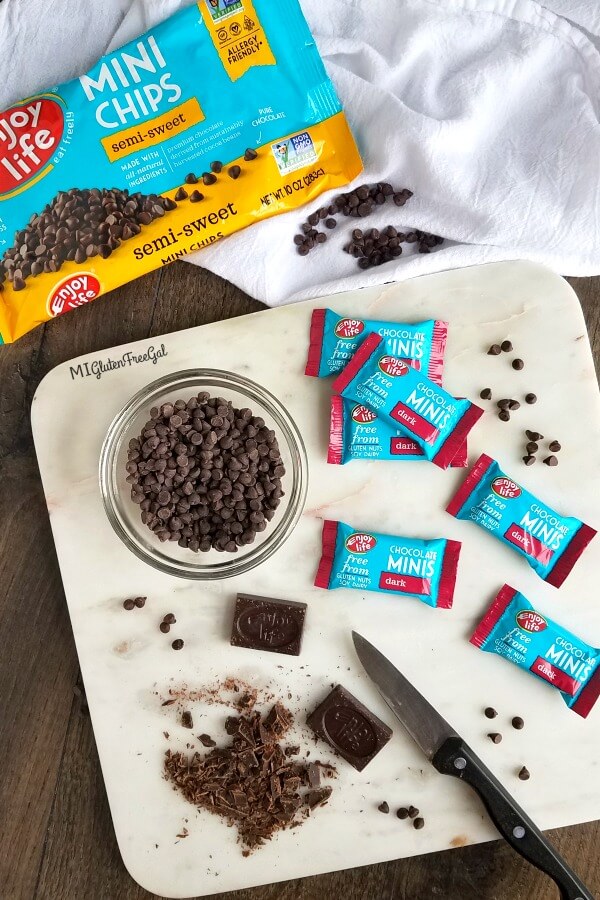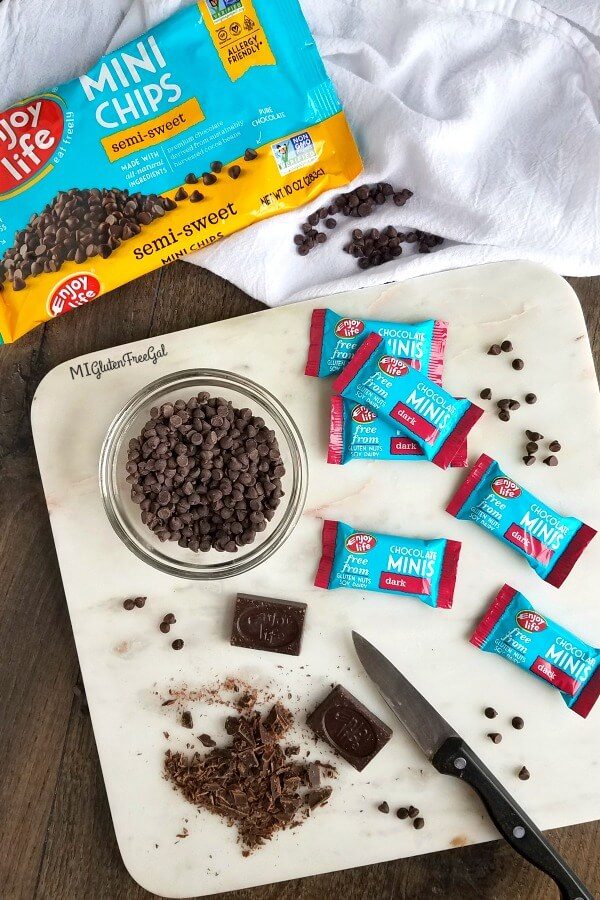 Two Types of (Enjoy Life Foods) Chocolate
The first time I made these, I only had a few ounces of dairy free chocolate chips on hand. Therefore, I chopped up some dairy free chocolate bars I had on hand. Lemme tell ya, the best culinary substitution ever. I mean, you can use just chocolate chips if you want. However, I find the chopped chocolate almost melts into the cookie, creating different layers of chocolate in every bite. PHENOMENAL.
I used two Top 8 allergen free Enjoy Life Products for these gluten free tahini chocolate chip cookies. With Valentine's Day around the corner, I used their Dark Chocolate Valentine's Chocolate Minis for chopping. Second, I used the Enjoy Life Foods Mini Chips. I always have a bag of these on hand. They work perfectly in recipes like my Easy Gluten Free Chocolate Chip Blondies, or my Gluten Free S'mores Bars. Of course, eating them straight from the bag works too. Life can always use more chocolate.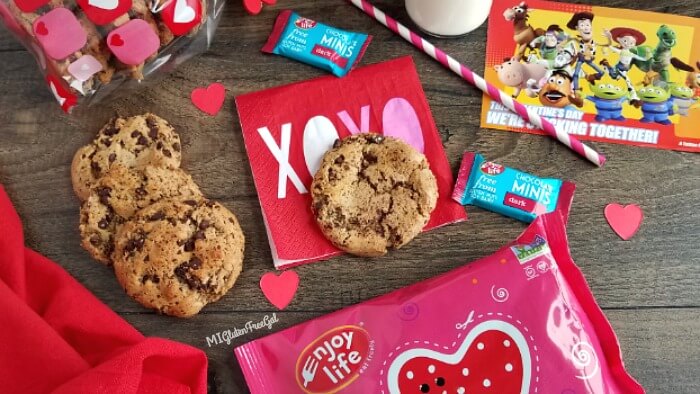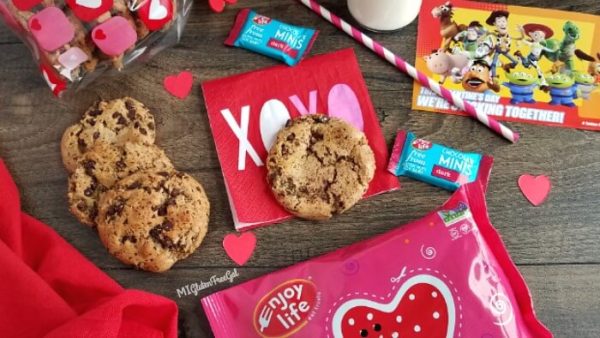 Treats for All To Enjoy
As mentioned before, these cookies contain none of the top 8 allergens. (Make sure the flour you use contains none of them, either.) That makes my gluten free tahini chocolate chip cookies a great option for Valentine's Day parties! (Always provide a list of ingredients, as kids / adults may have additional food restrictions.) Enjoy Life's seasonal chocolate minis add a great treat to parties, as well. They come in 4 bags – dark chocolate (orange bag), rice milk chocolate (pink bag), rice milk crunch (remember Nestle Crunch bars?!?!) and a variety bag of all three (purple bag).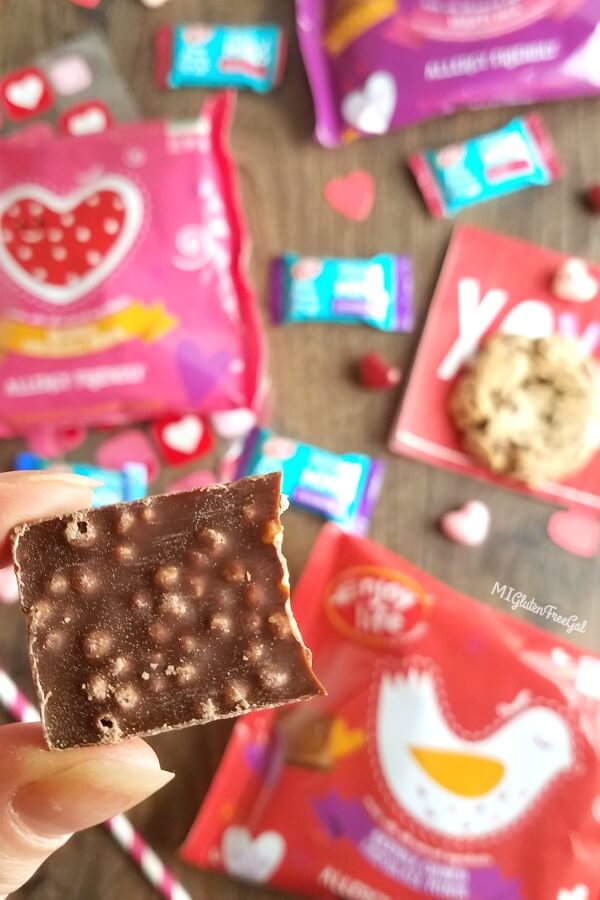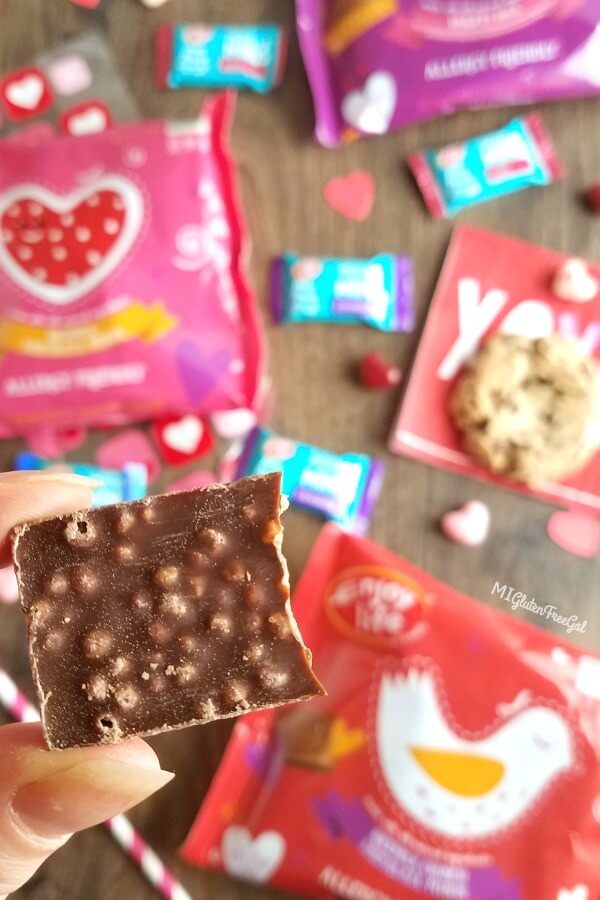 SHOP AND SAVE!!!
Shop for the new Valentine's Day Minis and Baking Chocolate and create something fun!
Find other fun recipes for your Valentine's Sweetheart below!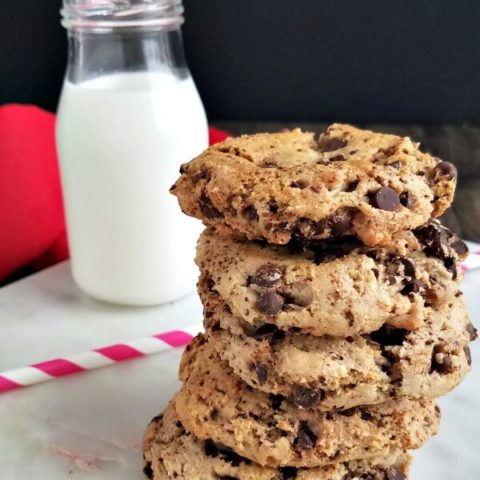 Gluten Free Tahini Chocolate Chip Cookies (Vegan)
Ingredients
4 oz tahini (make sure it is well stirred) (Scant 1/2 cup)
100 g sugar (1/2 cup)
70 g brown sugar (1/3 cup)
1/4 c unsweetened applesauce (or one egg)
1 tbsp water
1 tsp vanilla
124 grams gluten free flour, sifted (1 cup) (I used King Arthur Flour)
1/2 tsp salt
1/2 tsp baking soda
3 oz chopped chocolate (I used 9 Enjoy Life Valentine minis) (about 1/2 cup)
3 oz mini chocolate chips (I used Enjoy Life mini chips) (about 1/2 cup)
Instructions
Chop chocolate bars (or minis)and set aside.
Preheat oven to 350 degrees.
In a small bowl, combine sifted flour, baking soda, and salt. Set aside.
In bowl of a stand mixer, combine tahini, both sugars, applesauce, water and vanilla. Fit stand maker with paddle attachment and cream for at least 3 minutes.
Slowly add flour blend, mixing until completely incorporated.
Remove bowl from stand mixer, and add chopped chocolate and chocolate chips. You can use just chocolate chips if you want, but I find that the thinly chopped bits of chocolate practically melt into the cookie, creating a bite of chocolate in every bite.
Using a one ounce cookie scoop, distribute dough on cookie sheet that has been lined with parchment paper. Wet your fingers, and gently push down on the rounded top of each dollop of dough. This bit of flattening helps the cookies to spread more evenly. I place 8 dough balls per cookie sheet, and I usually do one sheet at a time.
Bake cookies for a total of 12 minutes, rotating the cookie sheet halfway through baking. Remove from oven and allow to cookies to cool on cookie sheet for 5 minutes.
Remove cookies from sheet and place on baking rack to cool. Cookies are best eaten warm, or gently reheated in microwave for 12 seconds.
**This post is sponsored by Enjoy Life Foods. They provided me free product and compensated me for my time and efforts. Regardless of sponsorship, I love this brand and their staff. They truly feel like family! This post also includes Amazon affiliate links.**