Gluten Free Spumoni Cookies
As an Amazon Associate and member of other affiliate programs, I earn from qualifying purchases.
These Gluten Free Spumoni Cookies are unlike any you've ever tried before. Loaded with chocolate, dried cherries, and pistachios, it's a chewy and crunchy taste sensation! So good, they won a baking contest!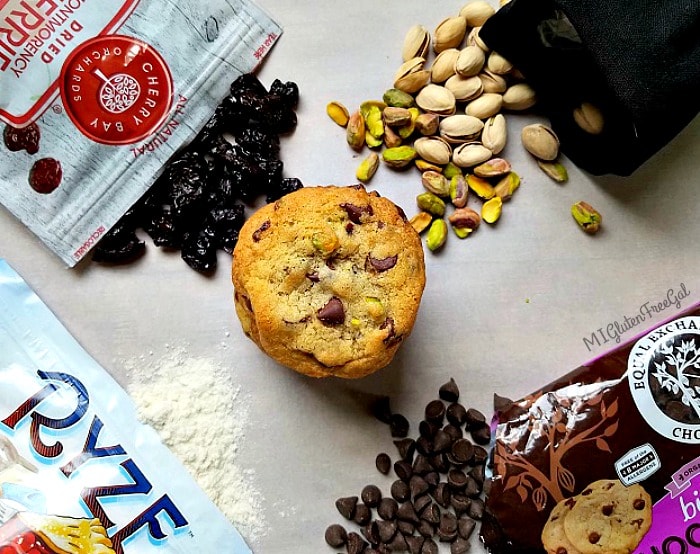 What Exactly is Spumoni?
Spumoni is a funny name for an interesting combination of flavors. DeLuca's Restaurant in Lansing was the only place I knew that offered this ice cream made of three unique flavors. I always wanted to try this blend of chocolate, cherry and pistachio ice cream. Somehow, I never got around to ordering it.
Between Christmas gifts and my February American Gluten Free box, I had a collection of pistachios, dried cherries and bittersweet chocolate chips. Since it's cold here in Michigan, I wasn't up to making my own spumoni ice cream. However, I imagined these ingredients would make for an amazing cookie. The blend of saltiness of the pistachios along with the sweetness of the chocolate makes for a blend of flavors that won't soon be forgotten.
Therefore, Gluten Free Spumoni Cookies were born!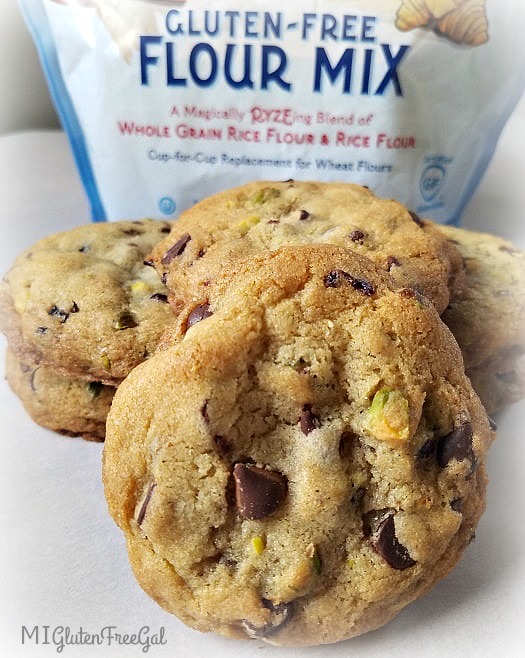 Ryze Gluten Free Flours : Blue Bag vs Yellow Bag
I based the recipe for these gluten-free spumoni cookies off the back of Ryze Gluten-Free Flour Blue Bag. Ryze Flour is made completely from rice. It contains no refined starches, gums, or genetically modified ingredients. Ryze makes two different blends. Their Yellow Bag is better for muffins, cake, brownies and quick breads.
The Blue Bag is better for cookies, pastries, biscuits and cinnamon rolls. In the gluten-free world, there isn't any one individual flour that's a one-to-one replacement for wheat flour. To get the right protein profile, different types of flours are mixed together. Somehow, Ryze has managed to mill and process this flour blend made of rice alone.
Can I Use a Differen Flour Blend?
Please remember that different flour blends absorb moisture differently. Since first writing this cookie recipe, I have tried making them with King Arthur Baking's Measure for Measure flour blend. It required more flour. Instead of 2 cups of flour, I would use 2 1/2 cups of flour. I will attempt to make them again and update when I know more.
Why We Refrigerate Cookie Dough
So, I used Ryze's basic chocolate chip cookie recipe and added chopped pistachios and chopped dried cherries. I suppose you could leave them whole, but I like cookies that have a bit of each taste in every bite. When it comes to pistacions, I prefer to use Wonderful Pistachios, because they are speciically marked gluten free.
When making a cookie dough, it's always best to refrigerate your dough prior to baking. It helps the gluten free cookie dough hold its shape. It also allows the flavors of the ingredients to meld together. I found that this Gluten Free Spumoni cookie dough, when refrigerated, doesn't spread as much as others. Therefore, after scooping out dough, pat the cookie into a round shape to get the well rounded cookie. Otherwise the cookie stays in a round heap.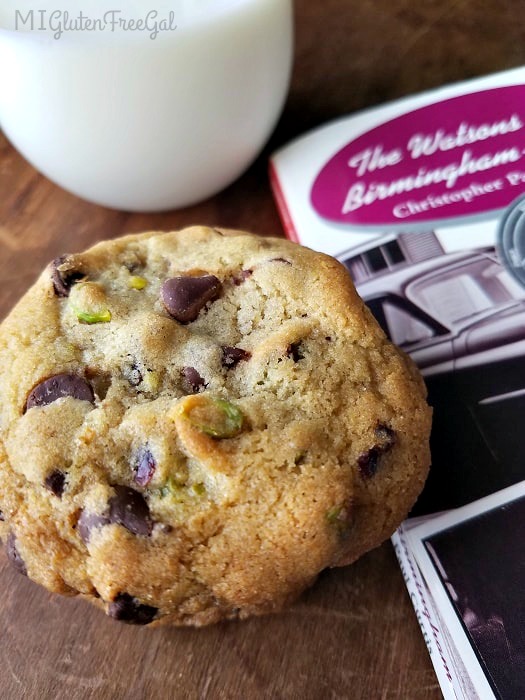 The Perfect After School Treat
These spumoni cookies are loaded with fruit and nuts, so that makes them healthy, right? Doesn't this mean you could eat them for breakfast? They'd definitely be great for an after school snack, with a cool glass of milk. These cookies, which are a blend of sweet and tart, remind me of one of my favorite children's books, The Watson's Go To Birmingham.
Written by a Flint native (whose sister-in-law lives in my neighborhood), this Newberry award winning book combines memorable moments of laughter with poignant stories of a distressing time in our country's history. The book is intended to teach children about the events that happened at 16th street Baptist Church in Birmingham. However, I think it speaks to the heart of any person, regardless of age.
Other Chocolate Chip Cookie Recipes
These Gluten Free Spumoni Cookies are just one of many gluten free chocolate chip cookies on my website. Want them without nuts? I recommend my Gluten Free Cherry Chocolate Chunk Cookies. Need them to be egg and dairy free? Try my Vegan Chocolate Chip Cookies. Short on time and can't take time for all those individual cookies? Make my easy Gluten Free Chocolate Chip Blondies. One pan, two mixes, and you're practically done!
Need a grain free chocolate chip cookie? Try these Almond Flour Gluten Free Cookies from A Saucy Kitchen. Or these Coconut Flour cookies from Texanerin. Want a cookie tried with various kinds of gluten free flour blends? Try this well researched recipe for Gluten Free Chocolate Chip Cookies from There is Life After Wheat.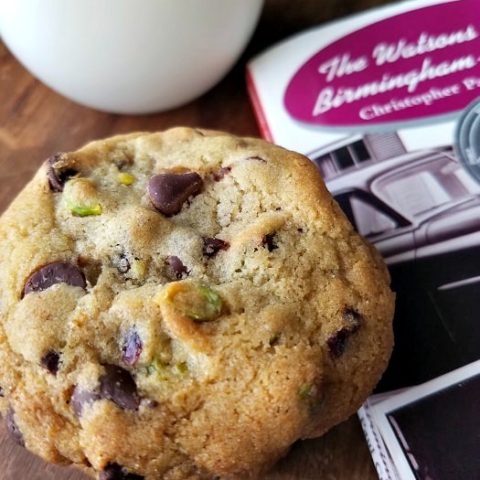 Gluten Free Spumoni Cookies
Total Time:
2 hours
27 minutes
Ingredients
6 tbsp butter, room temperature
1/3 c sugar
1/2 c brown sugar
2 tsp vanilla
1 egg
3 tbsp milk
2 cups King Arthur Measure for Measure Flour
1/2 tsp baking soda
1/2 tsp baking powder
1/2 tsp salt
2/3 c. chopped pistachios
2/3 c. chopped dried cherries
2/3 c. - 1 cup chopped chocolate chunks
Instructions
In a large mixing bowl, cream the butter with salt and vanilla. Add in sugars and beat well until mixture is smooth. Add eggs and mix well.
Add baking soda and half of the flour. Beat batter after each addition.
Fold in chocolate chips, chopped pistachios and chopped dried cherries. Mix with spoon until distributed throughout.
Refrigerate dough for 1-2 hours until well chilled.
Preheat oven to 375 degrees and line cookie sheets with parchment paper. Using a large tablespoon, scoop dough and roll into balls. Using hands, gently flatten dough balls into a disk shape.
Place on cookie sheet and bake for 11 minutes. Remove cookies from oven and let cool, on cookie sheet, for 2 minutes. Remove to rack to cool completely.
**American Gluten Free provided some of the ingredients for this post. I was not otherwise paid or compensated for my time. This post does contain affiliate links. Purchases made through those links help support this blog with no extra expense to you. Thank you for your continued support!**