Vinsetta Garage – Gluten Free Berkley, MI
As an Amazon Associate and member of other affiliate programs, I earn from qualifying purchases.
CookLocated down the street from the Detroit Zoo, Vinsetta Garage is a fantastic joint to indulge in a gluten free meal.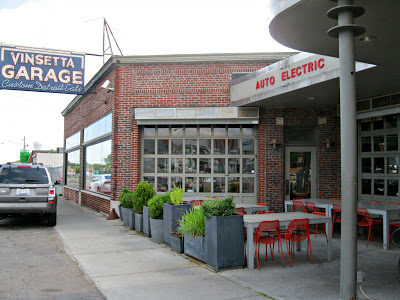 Vinsetta Garage- A Union Joint Restaurant
I think I'm in love with Vinsetta Garage. Is it possible to love a restaurant? I mean, see an image from your last meal and actually have your heart go pitter-patt? That leaves you speechless? I'm sure that one may think I'm going a bit overboard. But after visiting my third Union Joint restaurant, I love this place with all my heart.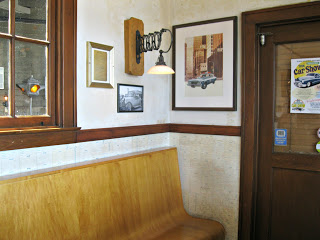 If you've never been to a Union Joint restaurant (which includes Clarkston Union and Fenton Fire Hall), you're really missing out. It's more than just the food. Eating at one of these restaurants is an experience. In a world where people are eager to tear things down, Ann Stevenson and her husband are in the restoration business. For example, the waiting area at Vinsetta Garage is lined with old repair tickets from when this garage was in actual operation. (Look for one with Chelios' name on it!)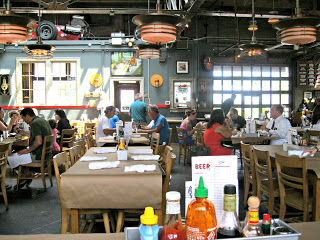 The Oldest Mechanic Shop in Michigan
Vinsetta Garage is the oldest car repair garage in the state of Michigan. Actually, it's the oldest garage east of the Mississippi. It opened in 1919 and serviced generations of families who drove along Woodward Avenue. Mechanics still repaired care here, until Union Joints purchased it in 2012. A photo hangs on the wall of some of the original Vinsetta mechanics.
I love that Ann personally found every piece of decorative hardware, and repurposed them for this restaurant. There really isn't anything else quite like it. There's an old hot rod up on the wall, and car-related paintings by famous artists grace the walls.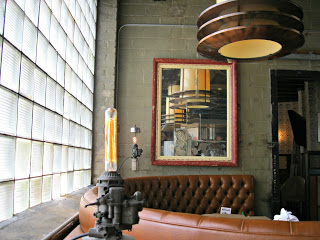 The Best Time to Visit Vinsetta Garage
When we arrived, executive chef Aaron Cozadd greeted us at the door and showed us to our seat. We arrived at 1:45 on a Wednesday. This appeared to be a great time, any other time of the day you'll likely experience a wait. After 5 p.m. they even have valet parking. Friday and Saturday nights, they have a live DJ spinning tunes while you dine.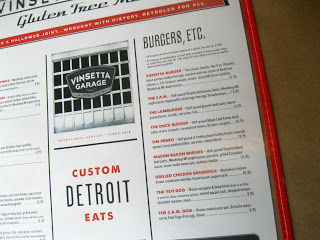 Vinsetta Garage's Gluten Free Menu
The phrase in the center of the menu really sums up the food theme here – Custom Detroit Eats. More than any other Union Joint, the meals here are customizable. This is great for those of us with Celiac Disease and other food allergies. Don't eat meat? There are lots of vegetarian options too. Of course, Vinsetta Garage serves their famous macaroni and cheese, which they now offer gluten-free!
Unique Eats
There are plenty of creative house favorites too. If you're feeling luxurious, order something with the word "Yeti" in it. For example, their Yeti dog is a hot dog wrapped in bacon and deep fried (in a shared fryer). Their Yeti Kale bowl is topped with "tomato basil sauce, homemade Italian sausage, pepperoni, pickled chilies, red onion, Ellsworth cheese curds and finished with grated Pecorino cheese and fresh herbs".
Or try their 3 a.m. dog, spread with "homemade bacon jam, sriracha mayo, a sunny side up fried egg and chives". That's right- bacon jam. Think of pate only way better, because chefs prepare it from house made bacon.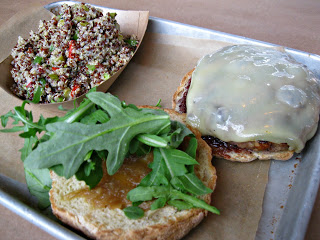 A Burger So Good You Might Need a Moment
This my friends is what sends my heart a flutter. Their duck burger, topped with caramelized onions and house made cherry compote. This half pound burger is graced with melted Gruyere cheese and a few light sprigs of arugula. All of their patties here are hand-made. No factory parts here.
Have you ever eaten food so good that your eyes about roll back in your head? Yeah, this is one of those meals. It usually comes with fries, but since they're cooked in a shared fryer, we subbed the seasonal quinoa salad instead. In all honesty, the salad was good enough that I could have eaten that as a meal.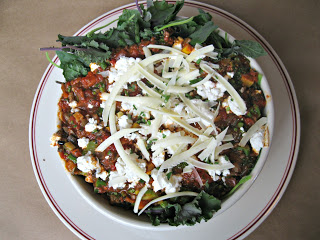 Vinsetta Garage's Signature Kale Bowls
This is the Ann Kale Bowl. I've actually heard about their kale bowls before, and was intrigued. Imagine a pasta dish, but with slightly cooked, tender kale as a base. These creations by Chef Aaron are pure genius. I loved EVERY bite of my Ann bowl. It's topped with "roasted vegetable ragout, broccolini, grilled corn, goat cheese, shittake bacon, finished with grated pecorino cheese & fresh herbs."
Shittake bacon is deep fried shittake mushrooms, which are made in a shared fryer. Therefore I simply asked if I could have sauteed mushrooms on mine instead. "No problem." There is no meat in this dish, but trust me that you won't miss it. It was so filling I couldn't even finish my dish.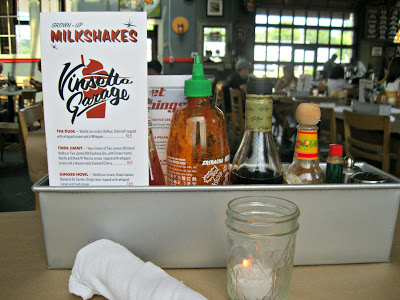 These Milkshakes Will Bring All the Boys to the Yard
One thing that Chef Aaron pointed out to me is that they serve "adult" milkshakes at Vinsetta Garage. This means alcohol mixed with their house-made ice cream. I had to chuckle at the first one. The Dude milkshake is an homage to The Big Lebowski. It contains vanilla ice cream, Kahlua and Smirnoff. It's topped with a Whopper, which is definitely not-gluten free, so ask for that to be left off.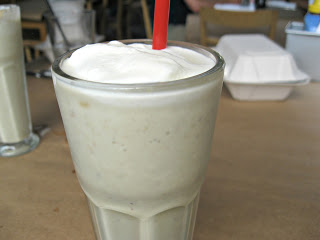 We opted for a non-alcoholic Caramel Banana Milkshake. It reminded me of banana bread, Sweet, creamy, deliciously cold banana bread. I could definitely go back for one of those. Or maybe the salted caramel milkshake on their menu. Or their Faygo ice cream topped with Pop Rocks. Mmm.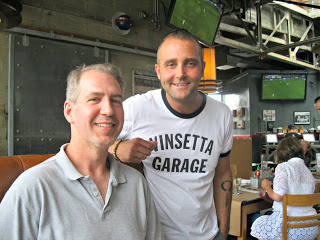 The Man Behind the Menu
Chef Aaron, pictured on the right, isn't just a creative chef. He's a food-allergy conscious executive chef. He knows first hand what it's like to live with intolerances to food. He trains his staff diligently on preventing cross-contact. Cooks prepare gluten-free pizzas on a separate line. Gluten-free macaroni and cheese are only baked in red ramekins for which they are intended. In addition, they bake their gluten free mac on the top shelf, to prevent cross contact.
His philosophy is to make food as allergy-free as possible. As he said when we visited the Clarkston Union, "he doesn't want anyone to feel like a second class citizen." (Follow the link to learn about his experiences with food allergies.) Chef Aaron and Vinsetta Garage have totally won my gluten-free trust. **Chef Aaron no longer works for Union Joint restaurants.
Vinsetta Garage
27999 Woodward Avenue
Berkley MI 48072
Monday – Saturday 11am – 11 pm, Sunday 11 am – 9 pm
Website / Facebook/ Twitter / Instagram
Vinsetta Garage is one of many Michigan restaurants I've visited. You can view a list of them on my Michigan gluten free dining post. Please remember to always ask any restaurant about their food preparation practices.
**A big thank you to Chef Aaron Cozadd and his crew for making us a great gluten-free meal. Vinsetta Garage did not charge us for our dinner. All my thoughts and opinions are my own.**
Have you eaten at Vinsetta Garage? What's your favorite meal there? Make sure to sign up for my newsletter below, so you can read about other great Michigan restaurants!