Gluten Free Salmon Patties
As an Amazon Associate and member of other affiliate programs, I earn from qualifying purchases.
Salmon patties were not part of my childhood upbringing. The first time I ate them was at my in-laws house, and all I remember was that I didn't like them. After trial and error, I now have a recipe for gluten free salmon patties that even my non-gf husband loves!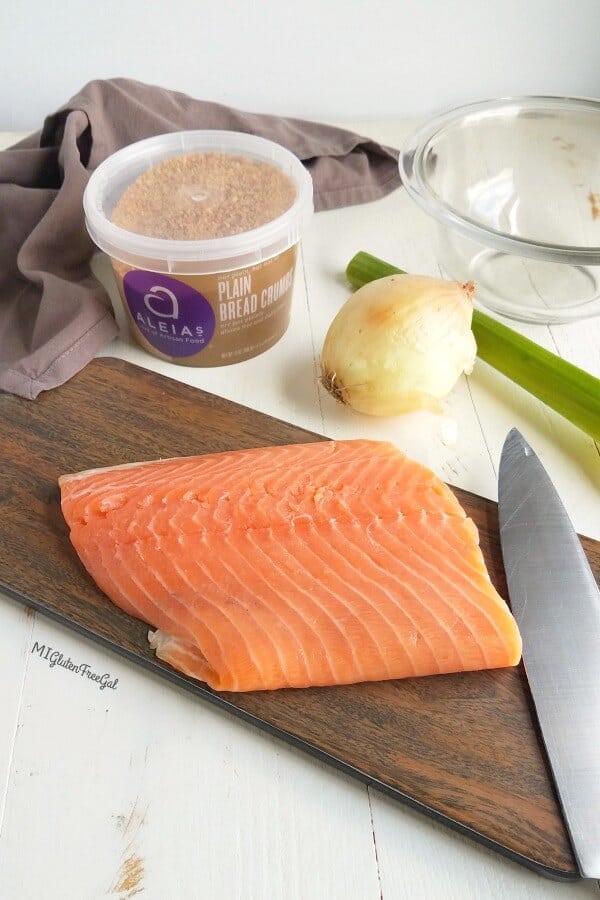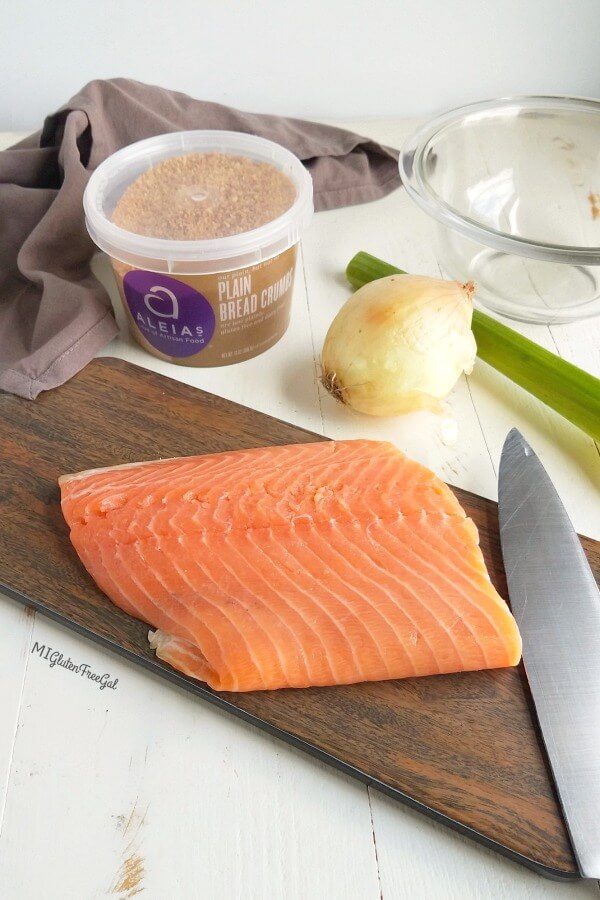 Fresh Salmon is Key
My second experience with salmon patties was from our church cookbook. You know, the cookbook where Miss Velma shares her jello salad with canned ham in it she thought was oh so good. No? Count yourself lucky. Those salmon patties also called for canned salmon, but I used leftover cooked salmon instead. It also called for mashed potatoes and cooking the patties for 20 minutes. Not a fan.
So I dared to be wild. Wild as in fresh salmon, that is. If I was going to create gluten free salmon patties for my readers, I wanted them to be noteworthy. Memorable. Pinnable. So I did my research. The math minor in me even created a spreadsheet, comparing quantities and methods of various recipes.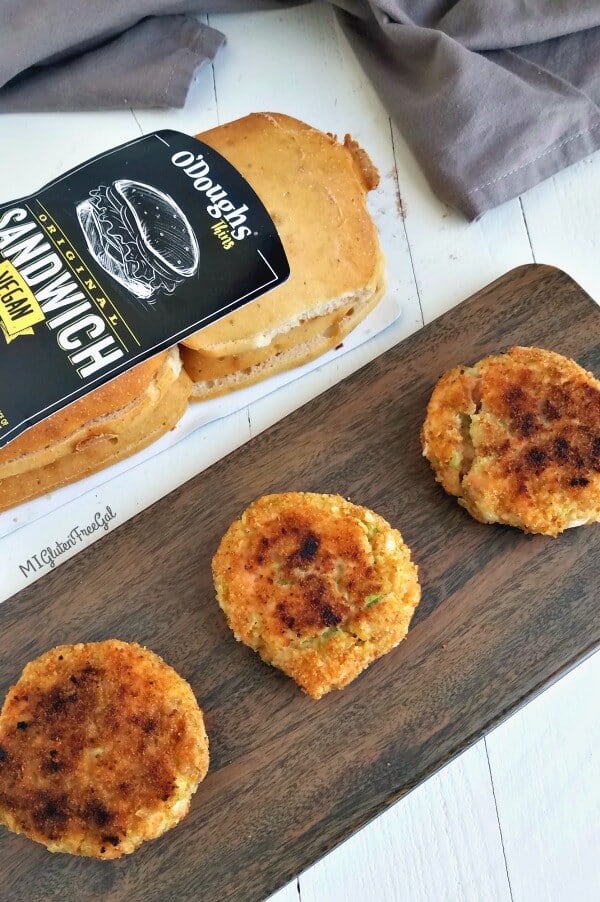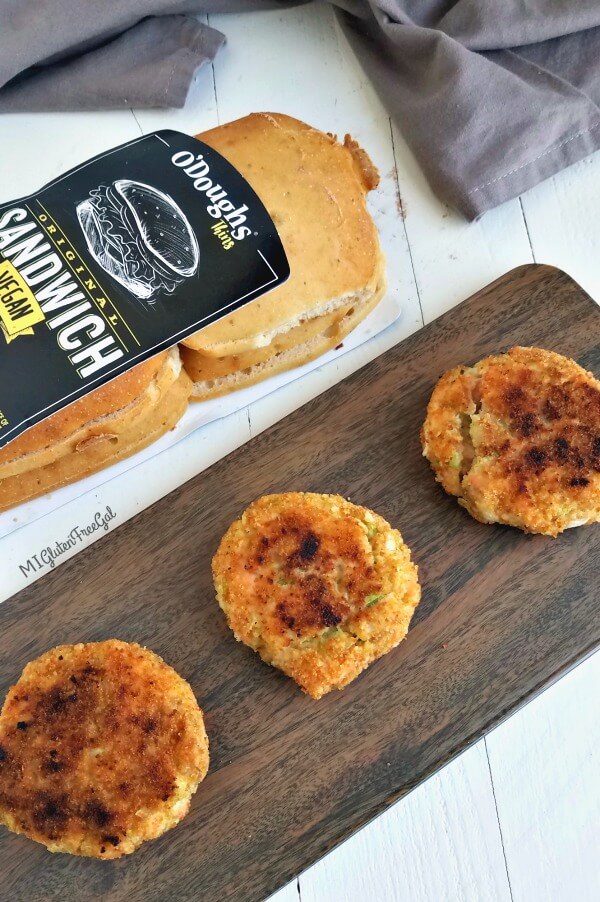 What Binding Is Used in these Gluten Free Salmon Patties?
Throughout my almost 20 years of Celiac Disease diagnosis, I've used many things as "binders." Chex. Gluten free cornflake crumbs. Even mashed potato flakes. However, I really love the gluten free breadrumbs from Aleia's Gluten Free Foods. Their Italian breadcrumbs work fantastic on breaded chicken.
For this recipe I used their plain gluten free bread crumbs. (They also make gluten free panko bread crumbs.) Find them at Meijer or online. Note, you'll divide the quantity of needed breadcrumbs in two, because half will go IN the salmon mixture, and the other half will be used to coat the outside. It truly makes a world of difference!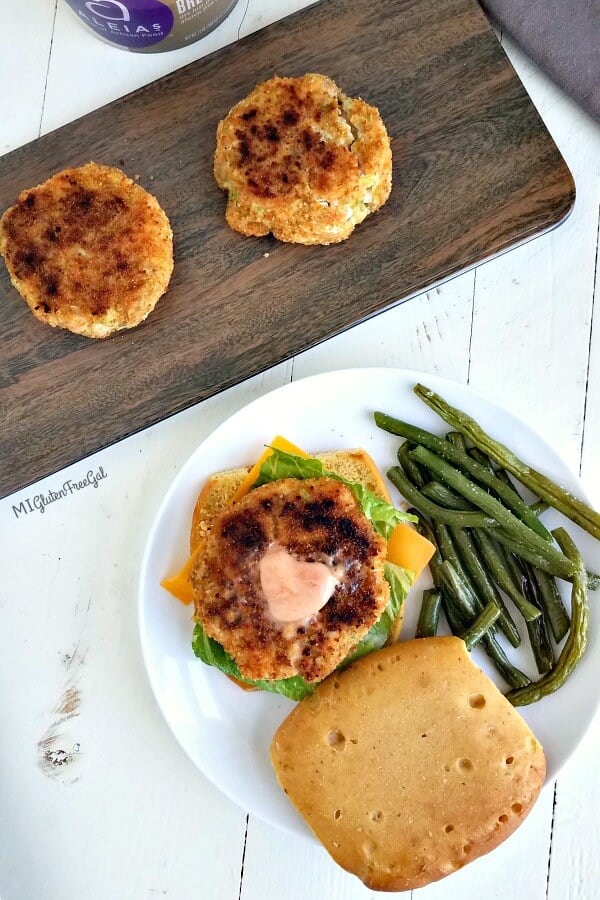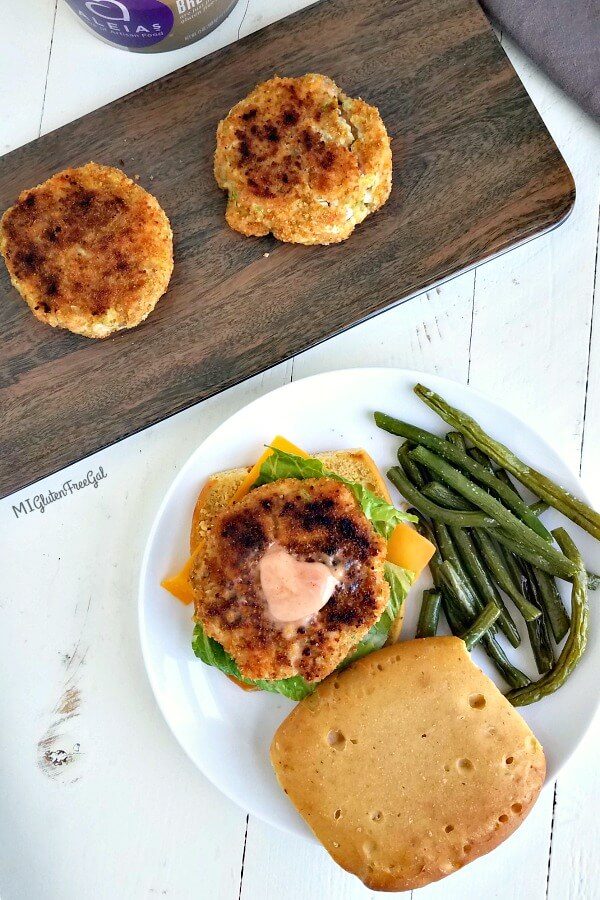 Improved Recipe
When I recently remade this recipe, I implemented a few changes. The first time I made these, I started with thawed salmon that had been frozen. This time I used cold, fresh salmon. Also, last time I put all the ingredients in a food processor, including the salmon. This time I cut the salmon into small chunks and they were MUCH improved.
I did put the onion and celery into the food processor to mince them as fine as possible. Next time I may consider cooking them a bit, to eliminate some of their added moisture. Either way, my husband loved these! I almost sent leftovers in his lunch, but figured that his co workers would prefer the microwave to not smell like fish!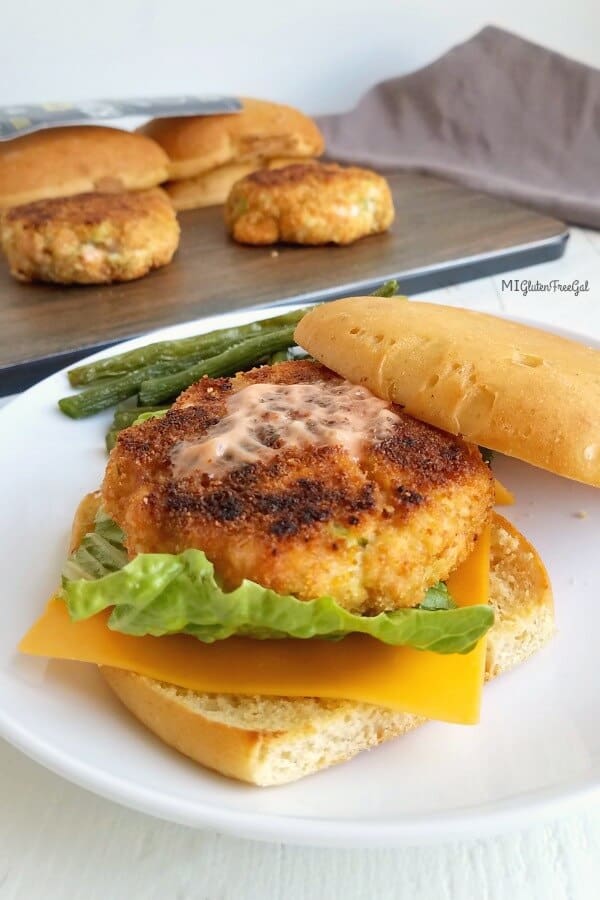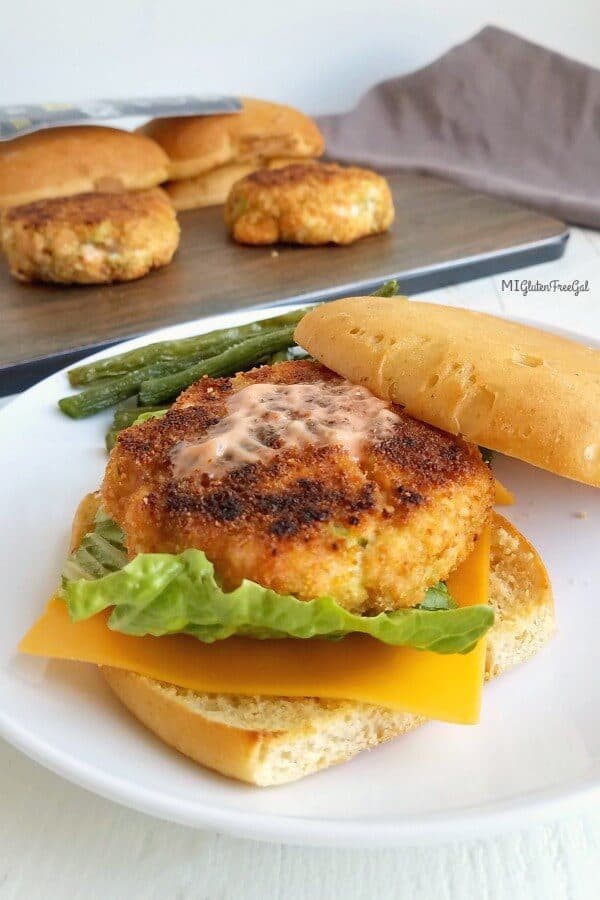 How To Serve Gluten Free Salmon Patties
Proper presentation of gluten free salmon patties always causes me panic. Some people serve them on buns, some on lettuce leaves, and some people serve them simply on their own. Which serving method is best? My husband decided we should have it as a sandwich, with cheese and lettuce.
These gluten free salmon pattes were great on an O'Dough's gluten free sandwich thin. (I toasted them in the oven for 5 minutes.) However, they taste wonderful on their own, too. I'll let you eat your gluten free salmon patties any which way you choose. Although, a dinner invitation when you make them would be greatly appreciated. xoxo
Crab Cakes and Other Recipes
Since making these last night, I wondered if this recipe would work with crab. However, my husband is allergic to crab, so I can't try it. Trans Ocean makes gluten free imitation crab, should you want to try the substitution. However, my friend GF Jules lives on the east coast and shares an amazing gluten free crabcake recipe on her site.
Don't eat grains? Jump on over to Cotter Crunch and check our her Easy Paleo Salmon Cakes recipe. Looking to add a bit of zing? Ty this Remoulade Sauce Recipe from Simply Recipes on your gluten free salmon patties. (Sir Kensigton's Or may be this easy aioli recipe from Epicurious.
This recipe uses mayonnaise. If you can't eat eggs, I recommend Follow Your Heart's Vegannaise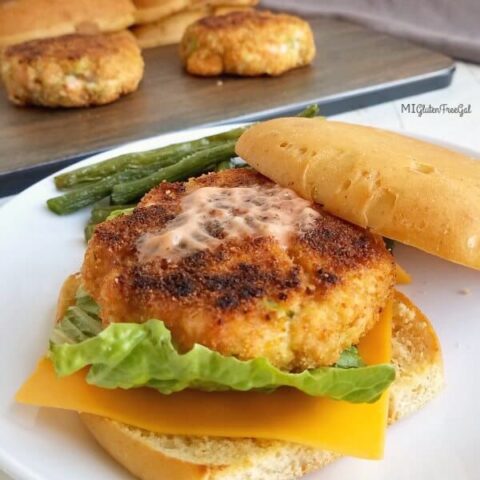 Gluten Free Salmon Patties
Ingredients
1 lb fresh salmon
1/4 onion, finely diced
1 rib celery, finely diced
1/2 c crumbs, divided (add'l if needed)
2 tbsp mayo
1/2 tsp salt
1 tbsp lemon juice
1 egg
1 tsp Dijon mustard
Instructions
Finely dice onions and celery. (If desired, use a small mini food processor to combine.) Place in a large mixing bowl. To that, add cold, fresh salmon that's been cut into small chunks.
Add 1/4 cup of gluten free bread crumbs, mayo salt, lemon juice, egg and mustard. Stir until all ingredients are well combined. Refrigerate for at least one hour. If the mixture still seems too wet, add up to 2 tbsp of extra bread crumbs.
Lightly coat the skillet in oil and warm over medium heat.
After the mixture has chilled, form into patties the size of your palm. Coat each side of the patty in gluten free bread crumbs. Cook on each side for approximately 5 minutes. Alternatively, they can be baked in a 350 degree oven for 25 minutes.
Serve with tartar sauce or remoulade and enjoy!
**Aleia's provided me with a free tub of breadcrumbs. I was not otherwise paid or compensated for my time. This post does contain affiliate links.
Purchases made through those links help support this blog with no extra expense to you. Thank you for your continued support!**
Are you a fan of salmon patties? What's your favorite recipe? Share with me below your favorite way to eat them!