Gluten-Free Pumpkin Chai Snickerdoodles
As an Amazon Associate and member of other affiliate programs, I earn from qualifying purchases.
These gluten-free Pumpkin Chai Snickerdoodles are full of warm flavors and sweet aromas. The perfect treat after unwinding from a long day. The chai-spiced sanding sugar helps the outside stay crisp while the inside is delectably soft.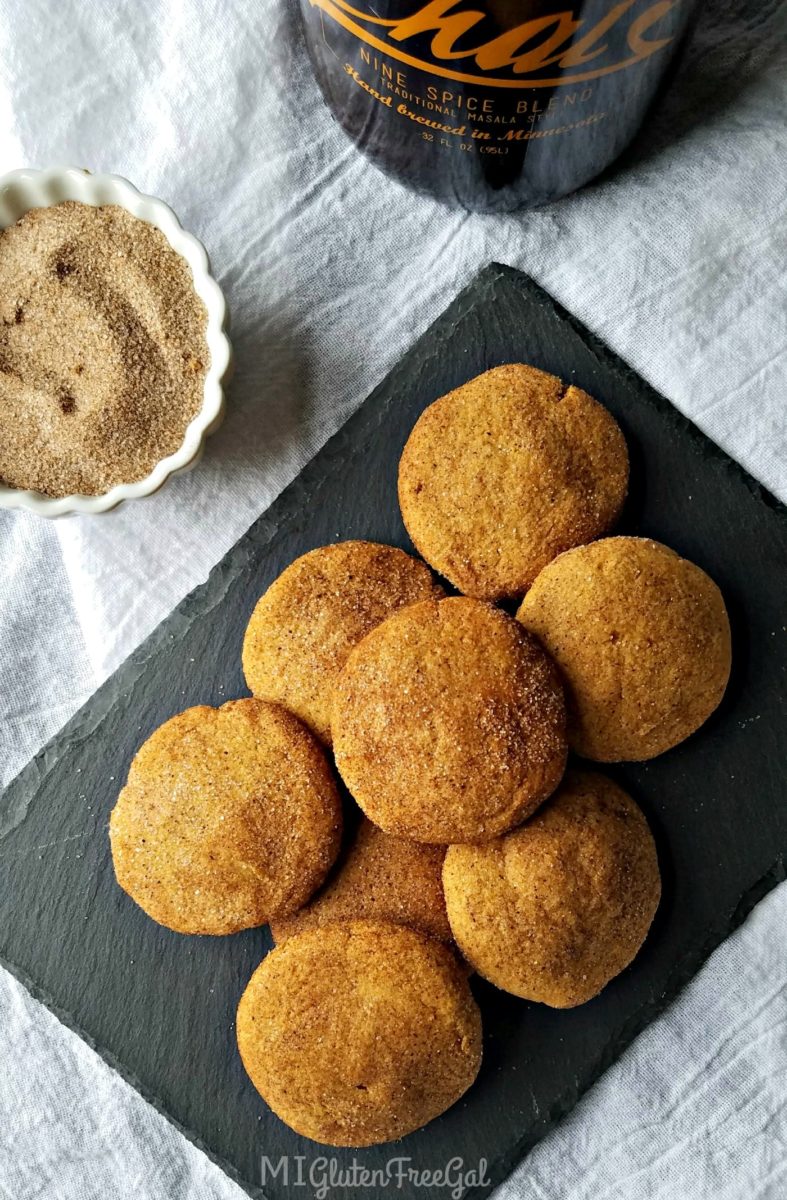 Sugar and Spice and Everything (Not) Nice
These gluten-free Pumpkin Chai Snickerdoodles are full of sugar and spice and everything nice. I wish I could say the same of my life lately. The darkness of crime has infiltrated our neighborhood recently. On one day, a young man about to start a family, gunned down at a corner gas station.
Another evening, a single mom clings to her child as thugs, armed with a gun, break into her home. Neighbors threatening to move, because the ugliness has encroached even nearer to their doorstep. Truth be told, all this darkness knocks at the door of my heart too. There are days I live in fear and anger. Not so much fearful of my own safety, but fearful as I don't know how to make it stop.
Baking is my Therapy
So I turn to baking. There's something so comforting about the repetition of rolling cookie dough. The small ball of sugary sweetness, gently manipulated in your hand. The added sparkle of sugar, clinging to outside of the dough, like symbiotic glitter.
Baking these gluten-free Pumpkin Chai Snickerdoodles acts like therapy and art all at once. There is almost a sense of hope, as baking becomes the art of the "possible." You as the baker help these random ingredients form together to make something extraordinary.
Egg Free Cookies
And trust me, these (egg-free!) gluten-free Pumpkin Chai Snickerdoodles are extraordinary. My secret ingredient? Gray Duck Chai concentrate, made from freshly ground spices on the day it is brewed. Crafted by hand, in small batches, and made from organic ingredients that support local economy. Oregon Chai concentrate would work well in these cookies, as well.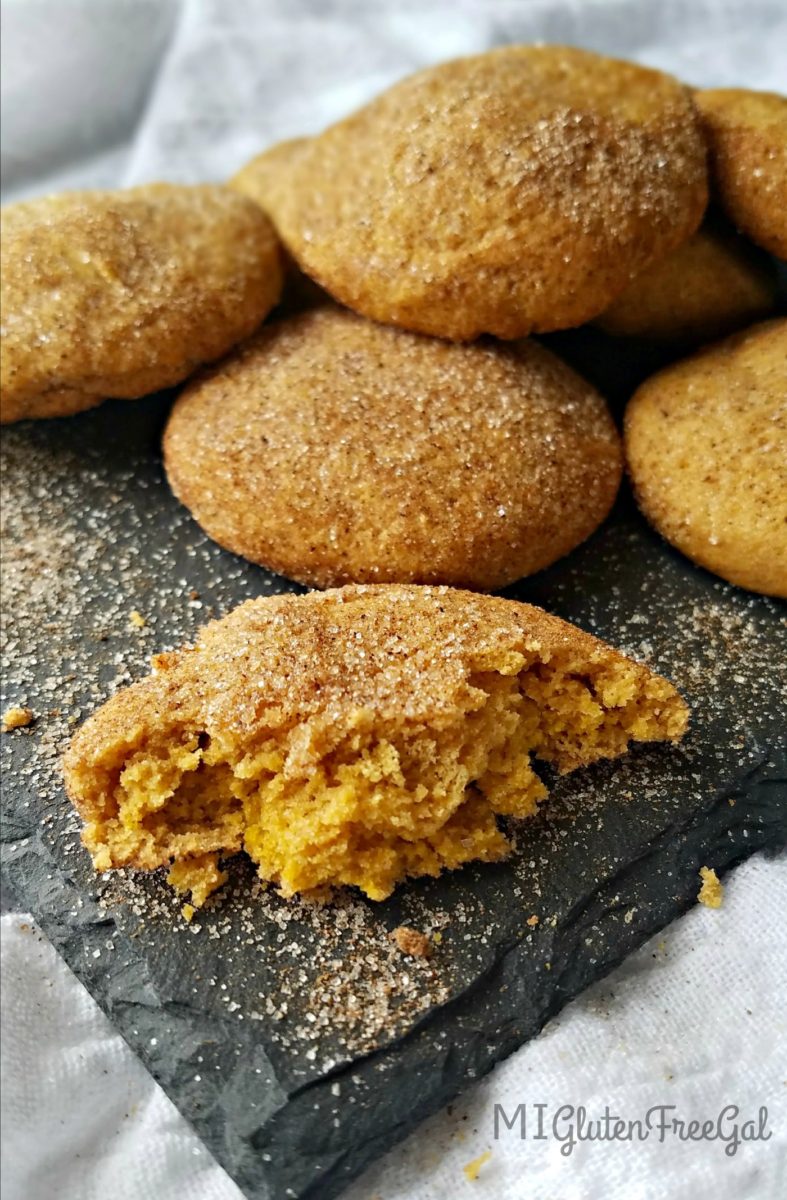 Why We Stay
People ask us all the time why we don't leave Flint. So much of that answer mirrors the creation of these cookies. These gluten-free Pumpkin Chai Snickerdoodles came about because I had leftover pumpkin to use. (After remaking my chocolate-swirled pumpkin muffins.) I dislike throwing away leftovers. Even the smallest remainder is worth saving and repurposing.
Similarly, so many in Flint feel they are "left over' or "abandoned." Especially the kids in my neighborhood, living without fathers or intentional role models. If I gather their potential, add some layer of sparkle to the bitter tang in their lives, isn't it worth it? Just like these cookies, these kids appear hard on the outside, but a softness hides inside that is worth discovering.
It Takes a Village
We also don't leave Flint because we also see the investment from so many others, trying to make this city a better place. Young couples moving into the neighborhood, so they can be a resource for others. Businesses setting up shop because they want to be part of building a better community.
Non-profits like Communities First, renovating an abandoned, beat-up school because they know outside appearances don't determine inner worth. Coffee shops partnering with the local homeless shelter to teach skills and change lives. Flint needs all of our investment, because drastic change requires combined effort.
Inspiration from Others
I didn't create these gluten-free Pumpkin Chai Snickerdoodles on my own, either. I gained insight from blogs like Sally's Baking Addiction and The Whole Bite blog and Half Baked Harvest. Half Baked Harvest's Chai Spice Sugar makes these cookies really phenomenal, while Sally's wisdom taught me how to make these egg-free. (Without additional substitutes, just like my gluten-free pumpkin donuts!) These ladies share their baking wisdom and insight for all of us trying to make something beautiful from bits of grains and spices.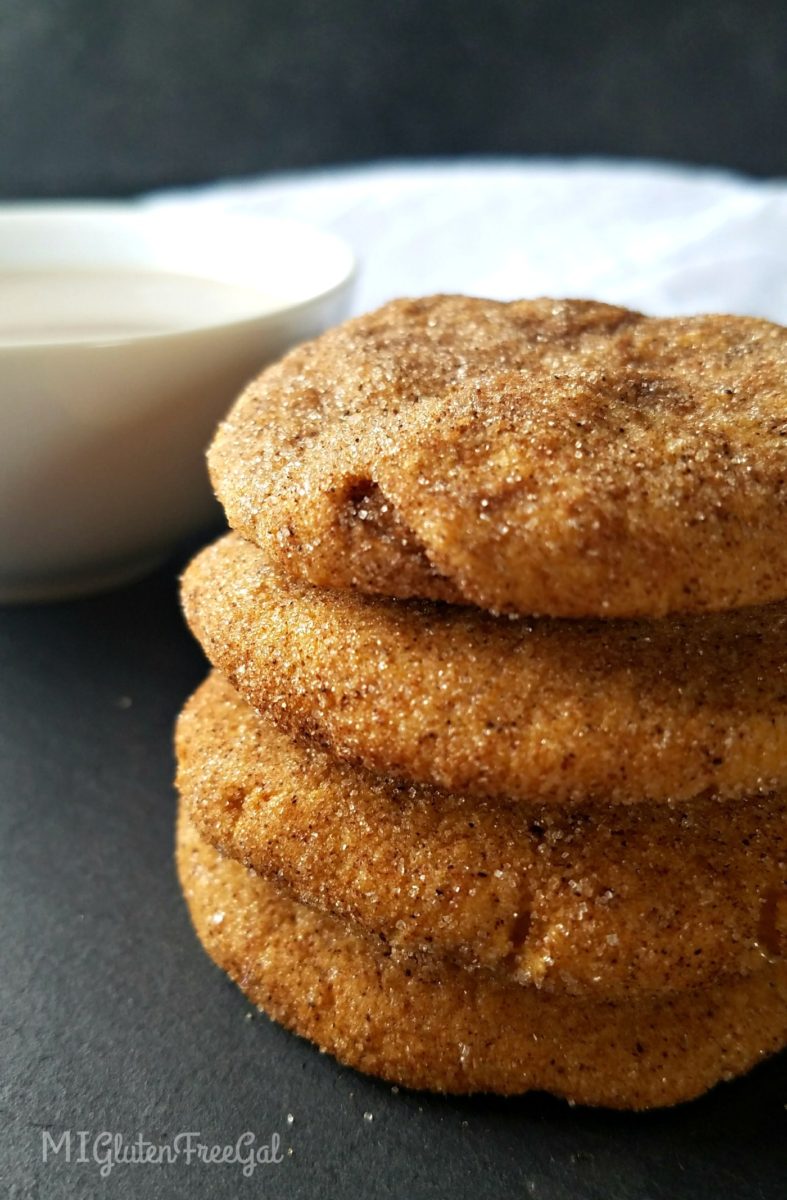 It Gets Better
So here I sit, sharing my heart and this recipe for gluten-free Pumpkin Chai Snickerdoodles. They're made with love and creativity and belief that that things can get better. That a gathering of simple things and simple people can add sweetness to the day of someone else.
It may take getting your hands dirty. Like these cookies you may get rolled around a bit, squished at times. However, if you're like me, you realize it molds you into something new. Something different than you expected, but it changes your life for the better. That is, if you let it.
Time Well Spent
As I write this, we have just entered the season of advent. The church defines it as time of waiting and preparation. A time of anticipation and hope. While the holidays can seem hectic, may we enjoy the simplicity of baking cookies and drinking tea and simply spending time with those around us.
Even when we use that time helping clean up broken glass or giving a ride to the store or hugging the heartbroken. The miracle of Christmas isn't just that Jesus was born. The miracle was that He saw our crazy mess and decided to "move into the neighborhood" anyway. May we be just as bold.
Other Pumpkin Based Recipes
Looking for more uses for canned pumpkin? If you need it egg free, these two ingredient pumpkin donuts are my FAVORITE! I love these small batch pumpkin muffins, swirled with Nutella! This decadent small batch gluten free pumpkin roll is a sure winner as well! And of course, the holidays aren't complete without pumpkin pie.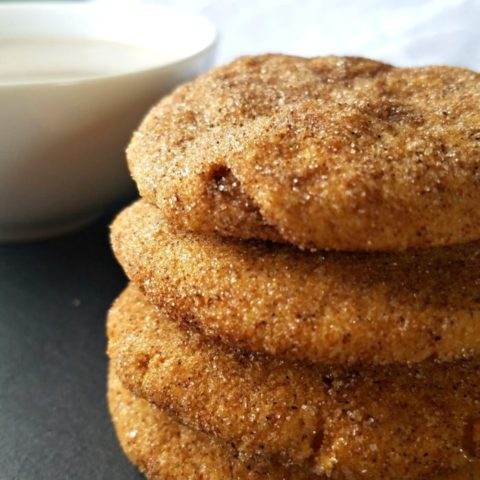 Gluten Free Pumpkin Chai Snickerdoodles
Prep Time:
1 hour
30 minutes
Total Time:
1 hour
42 minutes
Ingredients
Cookie Dough
2 cups gluten-free flour (I used Krusteaz)
1/2 tsp baking soda
1/2 tsp cream of tartar
1/2 tsp salt
(optional 1 tsp corn starch)
1 stick butter, softened (or vegan butter)
1/3 c brown sugar
2/3 c white sugar
1/2 c pumpkin (114 g), room temperature
2 tbsp chai concentrate (or less depending on preference)
Chai Spice Sugar from Half Baked Harvest
1/3 c sugar
2 tsp cinnamon
1/2 tsp allspice
1/2 tsp ginger
1/2 tsp cardamom
1/4 tsp cloves
Instructions
In a small bowl, measure the gluten-free flour. This is best done with the "spoon and level" method. Lightly spoon the flour into the measure cup and then use a flat edge to level off the excess.
To the flour add the baking soda, cream of tartar, and salt. *When making the batter, I thought it was too wet and added the cornstarch. I would suggest baking one or two cookies prior to adding it. However, corn starch often adds a softness to cookies that is wonderful! *
In a separate larger bowl, cream the butter and sugars together. Next, add the pumpkin. (Make sure it is not super cold, as cold pumpkin will harden the butter.)
Finally, instead of adding traditional vanilla, use up to 2 tbsp chai concentrate. As these cookies do not contain egg, you can add the chai concentrate to taste. Place batter in refrigerator and allow to firm for at least an hour. (Most gluten-free cookie batters benefit from refrigeration.)
Remove batter from refrigerator. Preheat oven to 350 degrees.
In a small container, mix together the Chai Spice Sugar ingredients. Using a large tablespoon, scoop out some batter, and roll between palms to create a ball. Next, coat dough ball in Chai Spice Sugar blend. Next, flatten the dough ball between your palms. Finally, if desired, coat the flattened cookie with an extra dusting of the Chai Spice Sugar. I highly recommend it!
Bake cookies at least an inch apart on a parchment lined cookie sheet. Bake for 10 - 12 minutes. (I accidentally baked one batch for 16 minutes and they still turned out just fine. I assume this is due to the moisture in the pumpkin.)
Allow cookies to cool on cookie sheet for 5 minutes, then transfer to a cooling rack. Makes approximately 2 dozen cookies.
What speaks "Christmas" into your heart? What are your favorite cookies to make? Please share your story with me below. I promise I'll read and respond!
** This post does contain affiliate links. Purchases made through those links help support this blog with no extra expense to you. Thank you for your continued support!**