Gluten Free Pizza Crust For One (Yeast Free)
As an Amazon Associate and member of other affiliate programs, I earn from qualifying purchases.
This gluten free pizza crust for one serving comes together easily. Perfect for those nights when everyone else orders pizza you can't eat. I'm sharing my favorite quick and easy dough recipe, with 3 topping ideas, including Strawberry Shortcake!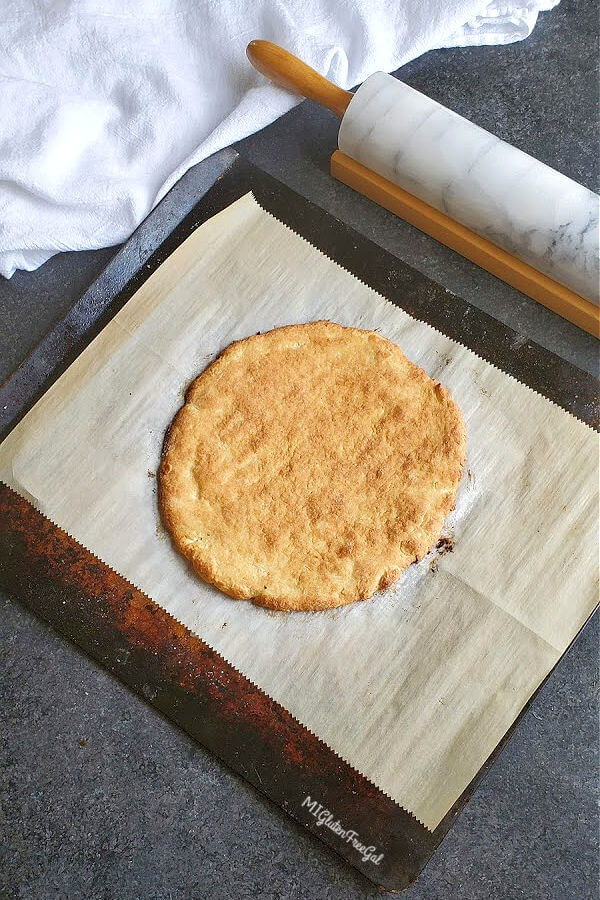 The Inspiration for my Gluten Free Pizza Crust
The inspiration for this recipe started during the beginning of the pandemic. My husband received a gift card to Jet's Pizza. While they may offer a "gluten free" crust, they clearly state they don't recommend them for those with Celiac Disease. Therefore, he ordered a pizza and I found myself searching for what to make for dinner.
I searched online for a "gluten free pizza crust for one." I found nothing. What I did find was Zona Cooks' Easy No Yeast Pizza Dough Recipe for One. The only non-gluten free ingredient in her recipe was the flour. I subbed out all purpose wheat flour for a gluten free flour blend. It turned out good, and I was determined to tweak it a bit further. And now I share it with you!
Her original recipe calls for oil. Because this dough is similar to biscuit dough, I felt cutting cold fat into the flour would create a bit more lift as it baked. Also, she called for milk in her recipe. When I first created this, I used 2 tbsp of cream, and 2 tbsp of milk. Why? Because biscuit recipes call for cream. You can use all milk, if you prefer. I also bumped up the baking powder.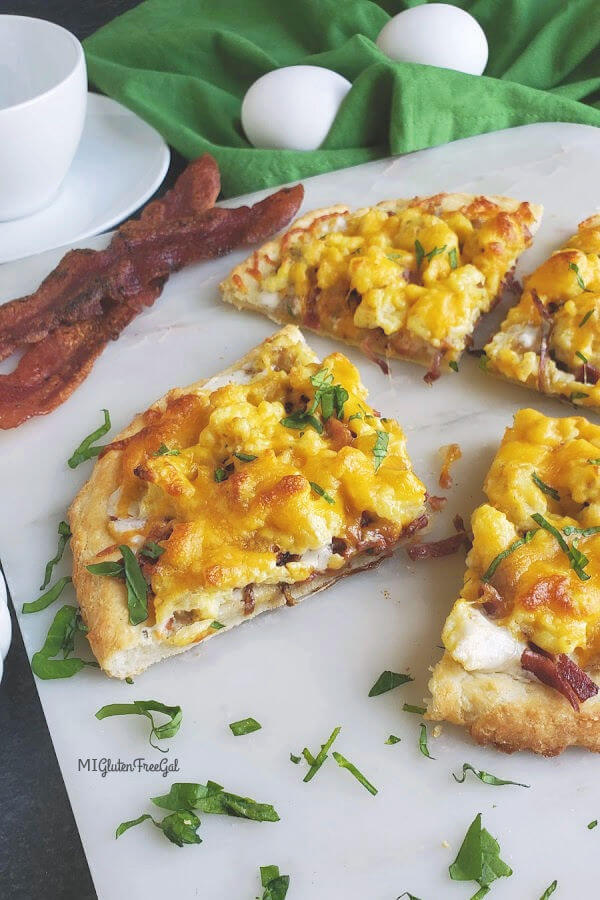 Gluten Free Pizza for Breakfast? Yes, Please!
When most think of pizza for breakfast, they're thinking of cold leftovers from last night's pizza party. Maybe from one of these pizzerias I mention in my previous Gluten Free Pizza pizza post. However, when I think about pizza for breakfast, I'm imaging scrambled eggs, bacon and cheese. And no tomato sauce. Gimme a creamy and herby ranch dressing.
This easy gluten free pizza crust for one uses no yeast and requires no rise time. Therefore, it's the perfect base for a quick breakfast pizza. Since pork makes my husband ill, we use chicken or turkey bacon in our house. If you're following a vegetarian diet, you could use this 4 Ingredient Coconut Bacon from The Bojon Gourmet. Or, this Tofu Bacon from Vegetarian Mamma.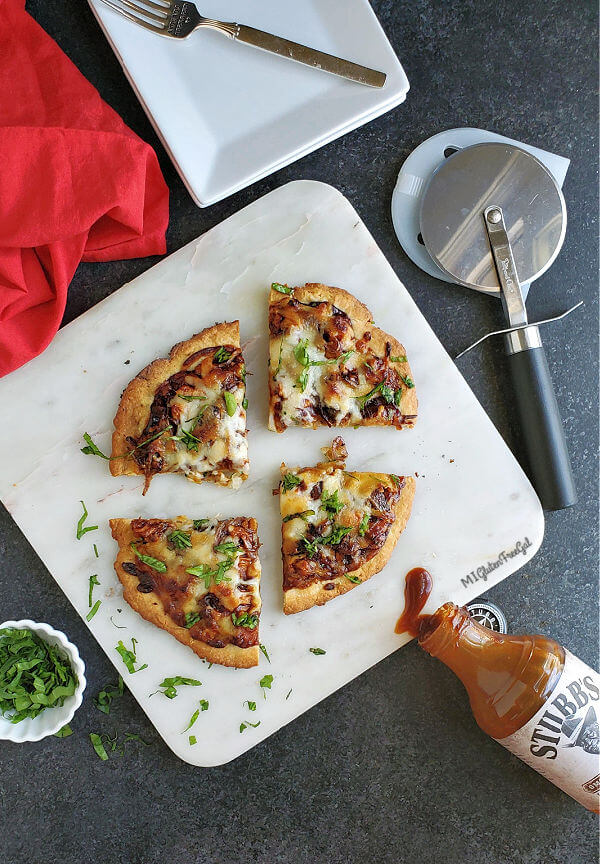 My Favorite Sauce for Gluten Free Barbecue Chicken Pizza
Many time people ask me for my "favorite" brand in a certain type of food. While I reply honestly, I also remind people that we all have different taste and texture preferences. What I like, you may not like. However, when it comes to barbecue sauce, my favorite has always been Stubb's. All of their products undergo third party gluten free certification through GFCO.
While they have several gluten free barbecue sauces, their Smokey Mesquite variety is my current favorite flavor. It combines the perfect blend of bite and sweet. While preparing this Gluten Free Barbecue Chicken Pizza, I mixed some of the cooked chicken with the sauce, to keep it moist. I also used some as the sauce base, to give the perfect amount of moisture.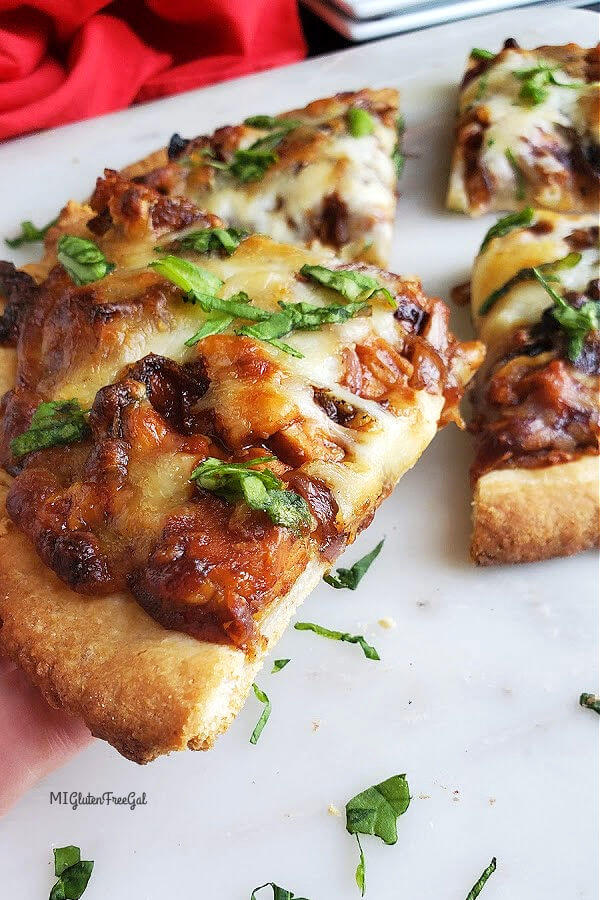 Can You Prepare this Dough Dairy Free? Egg Free?
As written, this gluten free pizza crust for one uses no eggs. Zona Cooks' original recipe uses oil instead of butter. Therefore, you could simply use oil. I prepared this crust once with full fat coconut milk, and it worked fine. In fact, I prepared all of these pizzas using canned Coconut Cream. Why? Because I never remember to have fresh cream on hand.
I created the pizza in these posts with Cup 4 Cup Multipurpose Gluten Free Flour. It does contain milk powder. If you want to make these dairy free, I recommend using King Arthur Flour Measure for Measure. I actually first created this dough using King Arthur Flour, but subbing part of the flour with corn starch, and it worked perfectly. I share my measurements in the recipe card.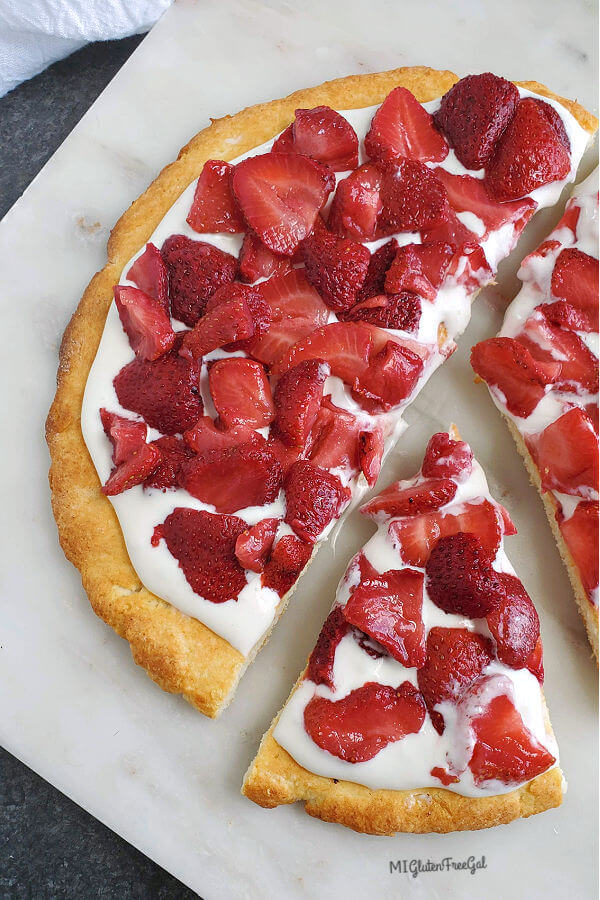 Gluten Free Strawberry Shortcake Pizza
As I previously mentioned, this gluten free pizza crust is basically a large, flat gluten free biscuit. Being that it's summer time, my mind immediately went to strawberry shortcake. Could one create a pizza version? The blog Thursday Night Pizza shares a Strawberry Shortcake Pizza, but with the cream on the top. However, I wanted sauce on the bottom.
I gleamed some further inspiration from Eat At Our Table's Gluten Free Cheesecake Stuffed Strawberries. I figured that a variation of her cheesecake filling would work great as a sauce base. Therefore, I combined sliced strawberries with sugar, which draws some of the juices out. (This is called "maceration.") I then topped the crust with my sweet cream sauce, and the sliced & drained strawberries. My husband agreed that this is one amazing dessert!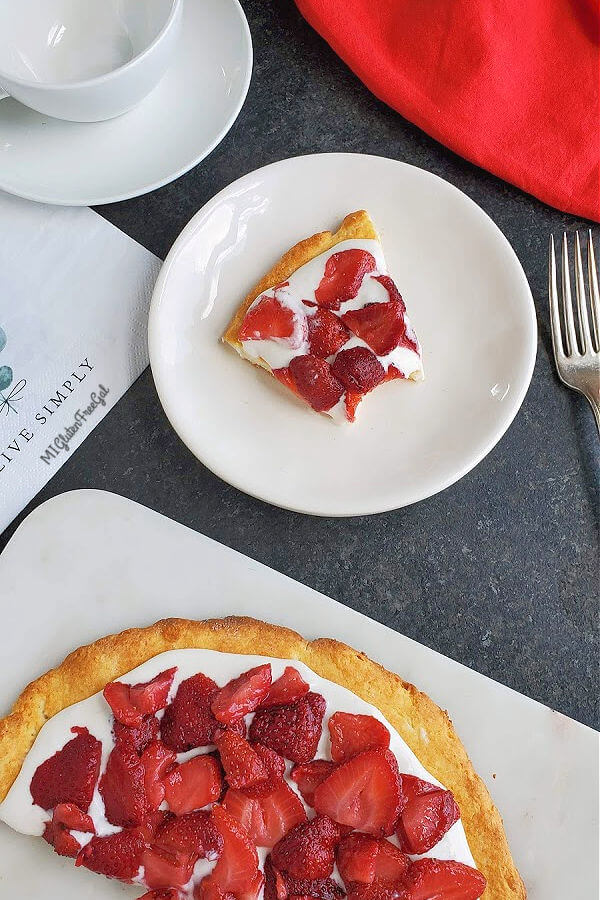 Small Batch Gluten Free Desserts
My household includes only 2 people. Well, three if you include the dog, who's always up for a snack. Therefore, I like to find and cook "small batch" recipes, serving 4 or less. My Small Batch Vanilla Cupcakes or Single Serve Gluten Free Cheesecake, easily fit the bill. My Basic Gluten Free Donut Recipe makes only 6 donuts, and my Small Batch Pumpkin Roll serves 6 as well.
Looking for other small batch inspiration? I love the Gluten Free Recipes on Dessert for Two's website. Don't want to heat up the oven, and the house? These Gluten Free Microwave Desserts from Gluten Free Palate will fulfill your sweet tooth. Looking for something savory? This Quick and Easy Broiled Steak with Mustard Sauce from Baking Mischief is naturally gluten free!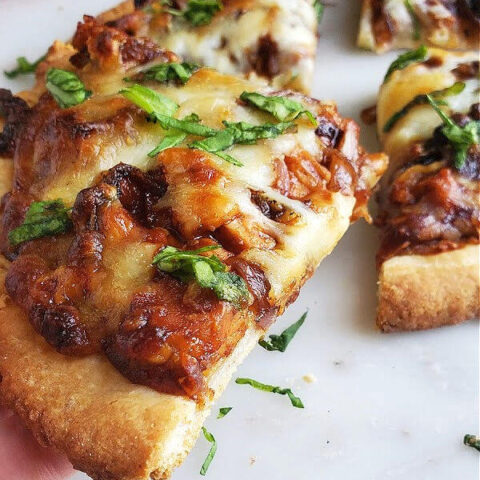 Gluten Free Pizza Crust For One (Yeast Free)
Ingredients
For The Crust
2/3 c (93 g) of Cup 4 Cup flour
(OR 1/2 c (60g) King Arthur Flour Measure for Measure + 1 tbsp corn starch)
3/4 tsp baking powder
1/4 tsp salt
1/2 tsp sugar (1 tbsp for dessert crust)
2 tbsp butter
2 tbsp milk
2 tbsp cream
Toppings for the Breakfast Pizza
3 tbsp ranch
1/4 of one red onion, sauteed in 1/2 tsp butter or oil
3 strips bacon, cooked and chopped
2 eggs, scrambled
1/4 c shredded cheddar
(very thinly sliced spinach for garnish)
Toppings for the BBQ Chicken Pizza
1/2 c. fully cooked, chopped chicken
3 tbsp bbq sauce + 3 tbsp mixed with cooked chicken
1/4 red onion, sliced, sautéed in 1/2 tp butter or oil
1/2 c. mozzarella cheese
(very thinly sliced spinach for garnish)
Toppings for the Strawberry Shortcake Pizza
2 cups strawberries, sliced + 2 tbsp sugar
3-4 tbsp cream
2 oz softened cream cheese
3-4 tbsp powdered sugar
1/2 tsp vanilla
Instructions
Preheat the oven to 425 degrees.
For the crust, combine all dry ingredients in the bowl of a food processor. Add butter and pulse until butter is cut in. Don't own a food processor? Use a grater, and grate in two tablespoons of butter. Then mix.
Dump into a bowl and stir in milk and cream. (If you don't have cream, you can use all milk. Preferably full fat. I've used full fat coconut milk and it's turned out well.)
Place bowl in fridge for approx 10 minutes while you prepare other pizza ingredients. When ready to prepare pizza, place on a parchment lined cookie sheet, sprinkle with a bit of flour, and roll out to approximately 6-8 inches.
Par bake in a preheated 425 degree oven for 8 minutes, if planning to make a savory pizza.
(If planning to make the strawberry shortcake pizza, bake completely for 12-14 minutes until golden brown.)
If baking a savory pizza, remove parbaked pizza crust, top with sauce and toppings, and place back in oven to bake for another 8 minutes.
For the strawberry shortcake pizza, combine sliced strawberries and white sugar in a bowl to macerate for at least 20 minutes. I prepared mine and allowed it to rest overnight in a glass bowl, covered with saran wrap. Prior to preparing the pizza, I placed them in a strainer, to remove the excess juice.
To prepare the cream sauce, mix together cream and softened cream cheese in a small bowl and whip using a hand mixer. Add powdered sugar a tbsp at a time until it reaches desired thickness and sweetness. Add vanilla.
Spread sweetened cream sauce over baked biscuit pizza crust, and carefully arrange sweetened and drained strawberry slices. This dessert pizza is best served chilled.
**Stubb's sent me a package which included an assortment of their sauces. I was not otherwise compensated for this post. All thoughts and opinions are my own. I do earn a small advertising commission through Amazon by purchasing the items above. It does not impact your cost.**