Gluten Free Nanaimo Bars: Canadian Tradition
As an Amazon Associate and member of other affiliate programs, I earn from qualifying purchases.
Gluten Free Nanaimo Bars are a Canadian tradition. A rich, chocolatey, decadent tradition that I will gladly bring to the United States! Simply use Schar Honeygrams to make them gluten free! This post is sponsored by Schar.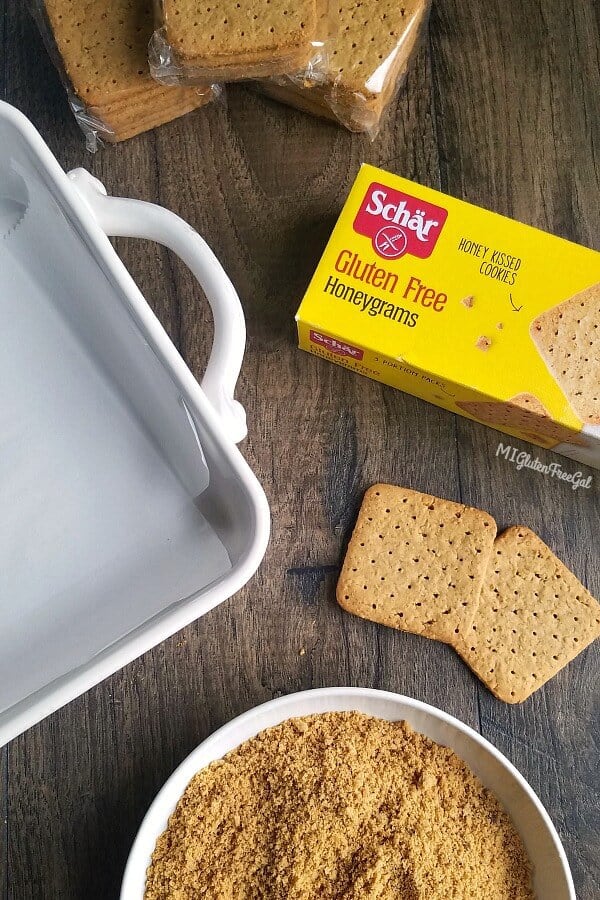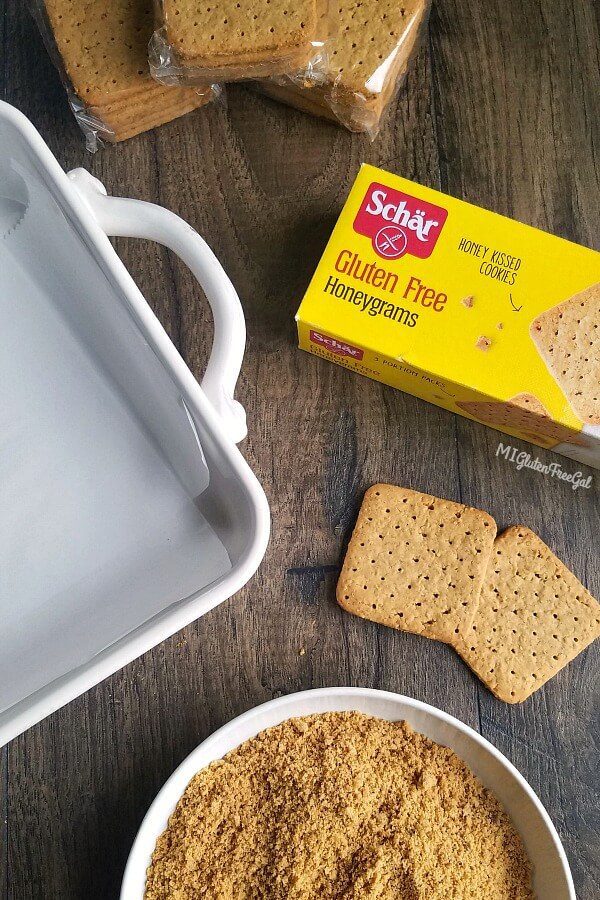 What Are Nanaimo Bars?
Back at the end of September, I asked my Facebook followers what Christmas recipes they needed converted to a gluten free recipe. Cori, from Canada, asked for a recipe for Gluten Free Nanaimo Bars. I admit, it required a bit of research on my part! Up until then, I'd never heard of Nanaimo Bars. They appear to be a traditional Canadian Christmas dessert. They consist of three, decadent layers. Looking at the recipe, it appeared to be relatively simple.
For the most part, only one ingredient in the original recipe presents a problem for those with Celiac Disease. Graham Cracker crumbs. Lucky for me, my local grocery store stocks Schar Honeygrams. I love that each box contains three individual packages. This not only helps keep them fresh, but also helps with portion control! I found that each "6 cracker package" breaks down into approximately one 1/2 cup of crumbs. Therefore, one box equals 1 and 1/2 cups of crumbs.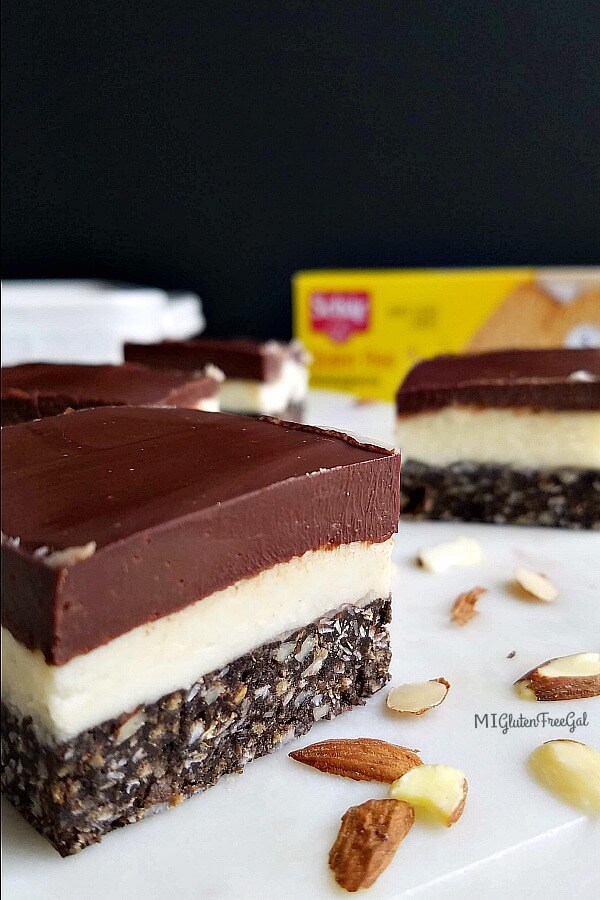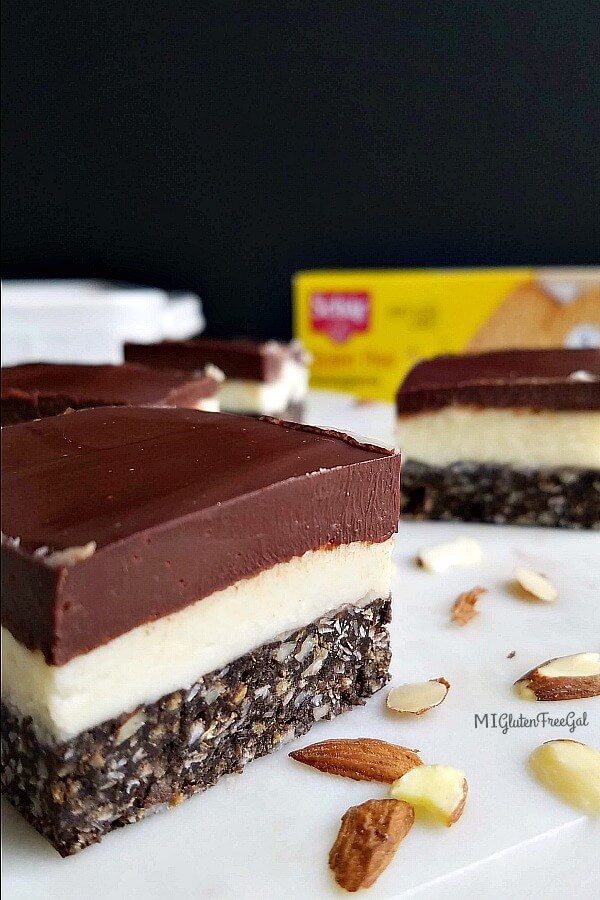 Origins of the Nanaimo Bar
Prior to making this recipe, I researched other recipes on the internet. People take their Nanaimo Bars very seriously. The original recipe originated in Nanaimo, British Columbia. However, when others have tried to duplicate and make a few tweeks, some people get a bit defensive! (You should see the comments on the King Arthur Flour Nanaimo Bars recipe! Oh my goodness!) Therefore, I tried to stick the the main recipe, making as few changes as possible in my Gluten Free Nanaimo Bars recipe.
When I read the ingredients for the crust, I realized the texture would be similar to no bake cookies. (By the way, this recipe requires no baking!) Therefore, I chose to pulse the coconut and almonds in my Gluten Free Nanaimo Bars recipe. I felt this would make a more uniform crumb mixture. In addition, I chose unsweetened coconut, because many mentioned how sweet these bars taste. The rebel in me added a bit of espresso powder to the crust mixture, but it's not necessary. A touch of espresso powder enhances the taste of chocolate.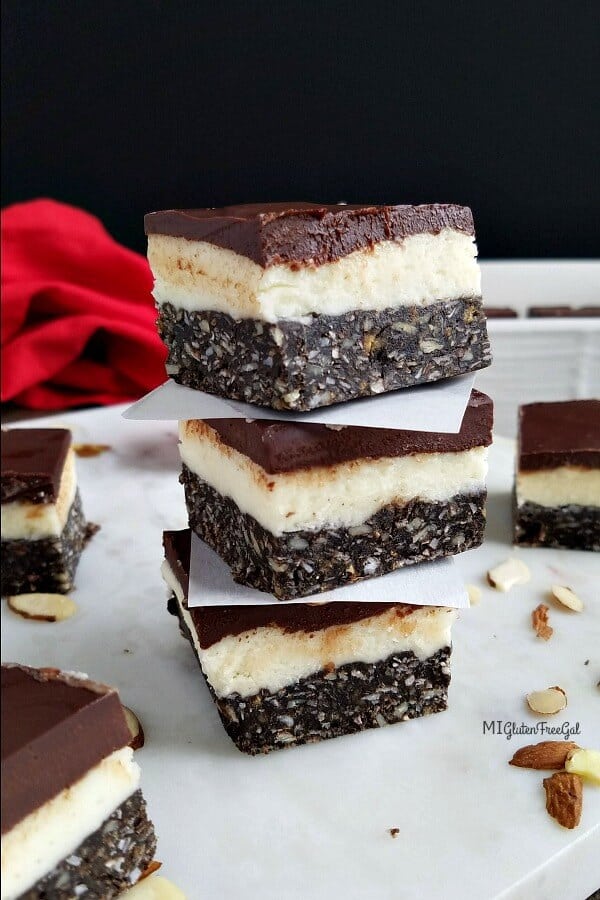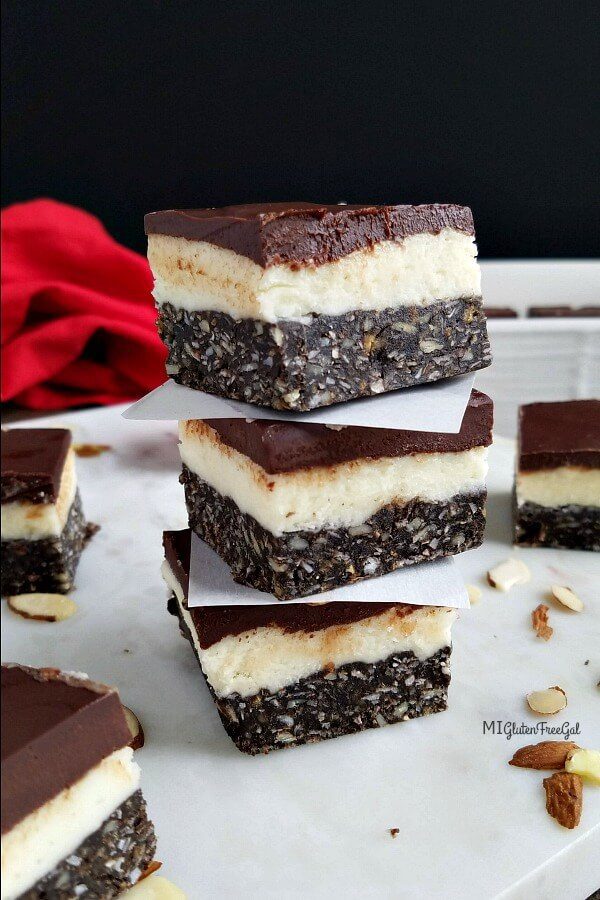 Custard Powder vs. Vanilla Pudding Mix
In Canada, they use Bird's Custard Powder in Nanaimo Bars. While being gluten free, this ingredient is not readily available here in the states. Therefore, I used Jello-O Simply Good Vanilla Bean Pudding Mix. However, any vanilla pudding mix will do. For the powdered sugar, I chose Domino's, as I find my store brand has an off taste. If you need powdered sugar WITHOUT corn starch, you can order it from Better Batter.
Possibly my biggest difference in my Gluten Free Nanaimo Bars from the original is the ganache. The original recipe calls for adding butter to the melted chocolate to make ganache. However, when I hear the word "ganache," I automatically think cream. Being I never keep regular cream in the house, I used coconut cream. It comes in a can, is shelf stable, and contains only the slightest hint of coconut in my opinion. If you want to use butter instead of cream, combine 6 oz of chocolate with 2-3 tbsp of melted butter.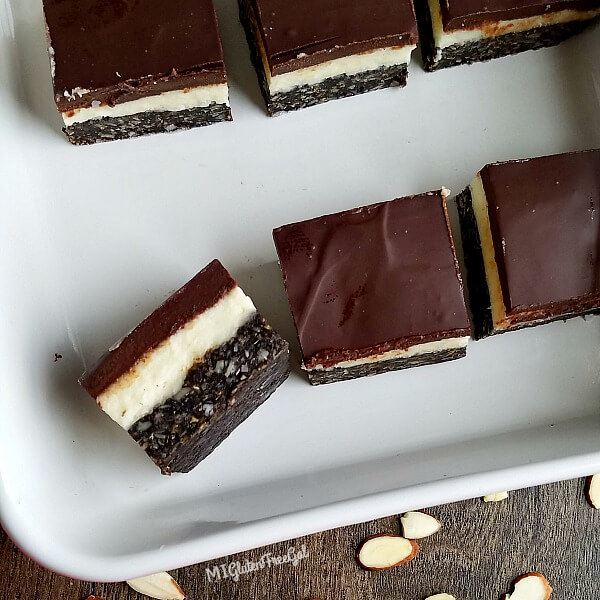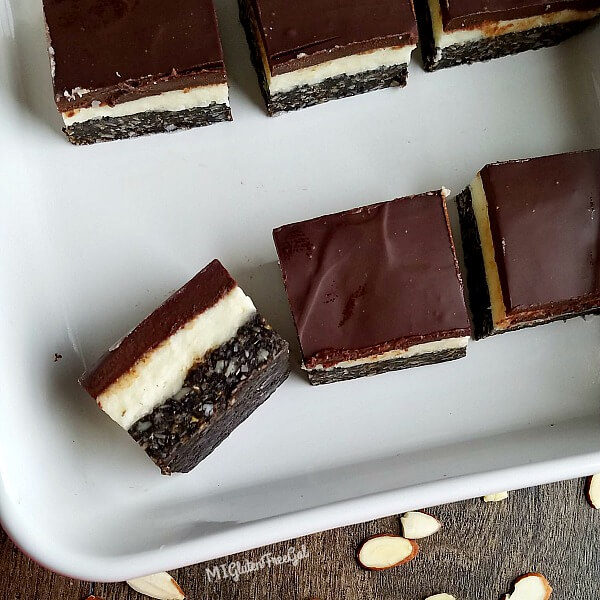 Gluten Free Nanaimo Bars SUCCESS!
All in all, I'd call these Gluten Free Nanaimo Bars a huge success! I sent a few over to my friend who just had a baby and she LOVED them! This recipe veers from the original a bit. However, I feel it approximates it closely, and allows us all to make it easily. That's my goal here. To make our favorite "pre Celiac diagnosis" dishes doable, and as with much ease as possible. An additional note. These Gluten Free Nanaimo Bars freeze well if you want to make them ahead of time.
If you love layered bars like these, you might also like my Gluten Free Triple Mint Brownies! Craving something with more layers? These Gluten Free Magic Cookie Bars from What the Fork definitely fits that order! Looking for thinner? Try this Gluten Free Dairy Free Christmas Crack from Celiac and the Beast!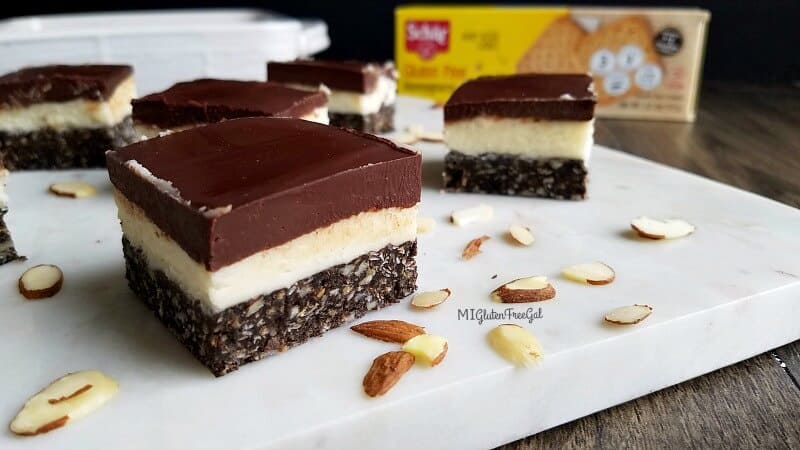 Gluten Free Nanaimo Bars
Ingredients
For the Crust
1/2 c butter
1/4 c sugar
3 tbsp Hershey Dark Cocoa (or 5 tbsp regular)
1/4 tsp espresso powder (optional)
1 egg
1 1/2 c gluten free graham cracker crumbs
1 c unsweetened coconut
1/2 c almonds
For the Filling
1/2 c butter, softened
2 tbsp vanilla pudding mix (I used Jello brand)
3 tbsp milk
2 c. powdered sugar, sifted (I used Domino's)
For the Ganache
6 oz. semi sweet dark chocolate chunks (I used Scharfenberger)
3 oz. coconut cream (I used Thai Kitchen)
**Note, make sure you whisk the contents of the can of coconut cream together before using, as separation occurs.**
Instructions
In a food processor, break down gluten free graham crackers into crumbs. Once completely ground, add coconut and almonds. Pulse a few times until they are coarsely chopped. Set aside.
Place a large glass bowl over a medium pot of hot water, on the stove. (Creating a double boiler.) Add butter and sugar to bowl, and melt. Add cocoa powder and espresso powder (if using) until all dry ingredients are thoroughly absorbed.
Add egg to hot mixture and whisk for about a minute until mixture thickens. Remove from heat and add graham cracker crumb mixture. Press crust into an 8x8 pan, lined with parchment paper. (This makes removal of the finished bars from the pan MUCH easier.) Chill crust in fridge while creating cream filling.
For the filling, place softened butter in the bowl of a stand mixer. (Or use a medium bowl and hand mixer.) Cream butter until smooth and fluffy. Add vanilla pudding mix and milk, and incorporate thoroughly. Finally, add sifted powdered sugar, and blend all ingredients together. Spread filling over the chilled crust. Return to refrigerator while preparing the ganache.
In a small / medium bowl, add 3 oz of coconut cream. Microwave for 30 seconds. Remove from microwave, and add the 6 oz. of chocolate chunks. (You can use chocolate chips if you have that on hand.) Allow chocolate to rest in bowl, covered, for 2-3 minutes. Remove cover (I tend to use a plate) and whisk chocolate into cream until all is melted and smooth. Spread ganache mixture over the cream filling, and return to refrigerator for 1-2 hours. (If not serving that day, cover with plastic wrap after bars are completely chilled.)
To serve, pull up on parchment paper strips to remove bars from pan. I cut this recipe into 16 squares. You can cut them into 25 if you want them more "bite sized."
What's your favorite way to use graham cracker crumbs? What holiday goodies are you making with Schar products this year? (I'm hoping to make Almond Banket with their new Puff Pastry!) Leave a note in the comments so we can all get some holiday inspiration!
**Schar graciously sponsored this post. However, all thoughts and opinions are my own. I am beyond grateful to Schar for their continued support of my blog, as well as our Michigan Gluten Free Kids Camp.**