Gluten-Free Mocha Cake with Dark Chocolate Ganache
As an Amazon Associate and member of other affiliate programs, I earn from qualifying purchases.
If you love coffee and chocolate, this gluten-free mocha cake is what you've been craving. With espresso blended into every layer, and dark chocolate ganache, you will be transported to dairy-free dessert heaven!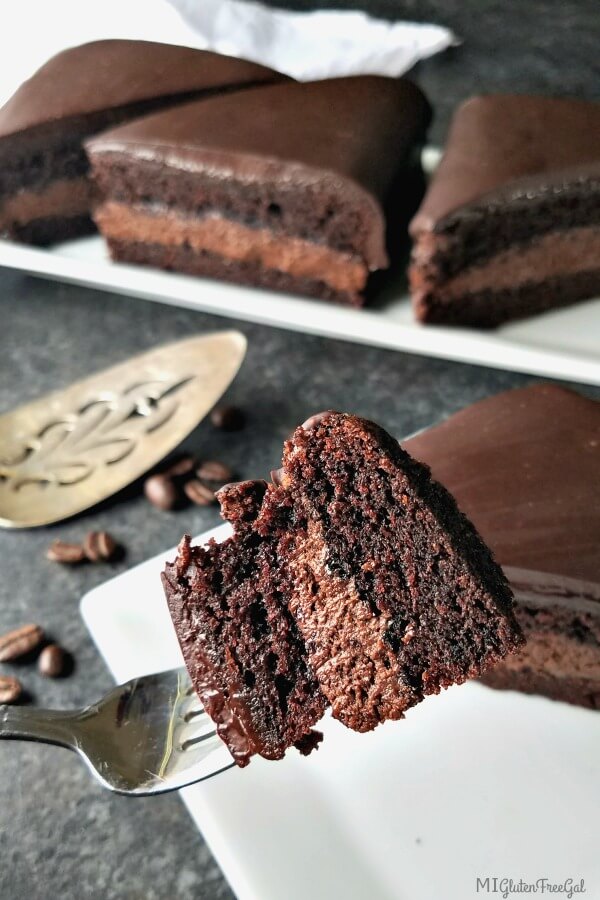 Coffee Lovers Unite
My husband loves coffee. Like, seriously loves coffee. We counted, and he owns eight different styles of coffee makers. EIGHT. They all reside in our kitchen, with the exception of the Espresso maker which has been in our basement since we moved into this house 10 years ago. He enjoys coffee in any form, too. Hot, cold, in ice cream, in coffee flour chocolate chip cookies, and definitely in this gluten-free mocha cake I made for his birthday.
While I like the the flavor of coffee in general, I don't drink it. Too acidic. However, mix it with chocolate in a dessert, and a taste sensation happens. I wanted to toy with making a mayonnaise cake, I just knew that I had to incorporate coffee somehow. And not just a hint. This mayonnaise cake uses DeLallo's Espresso Powder in every single layer. The dairy-free mocha buttercream in this cake is phenomenally good. Like, "skip the cake and pass me the spoon" good.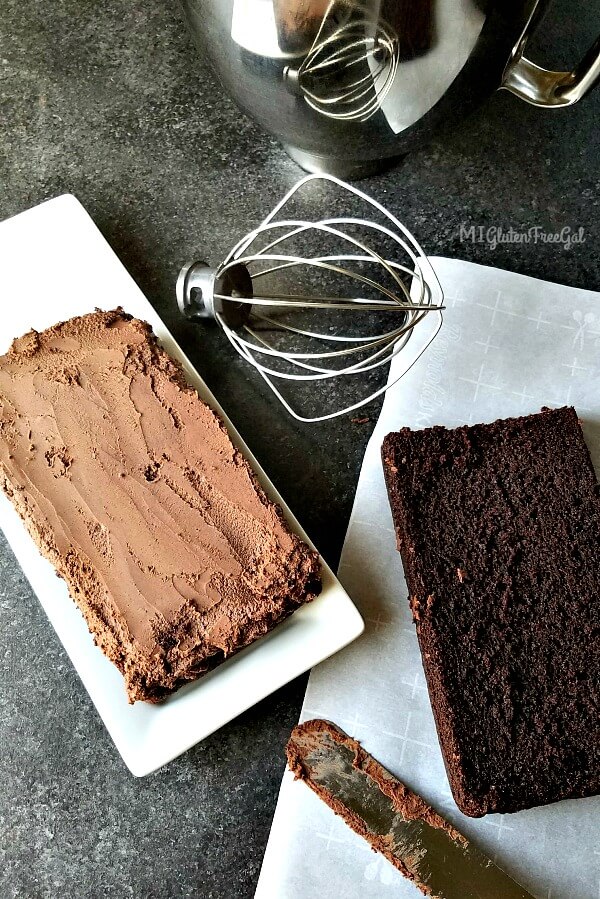 Mayonnaise Cake???
Oh yeah, did I mention that this cake is dairy-free? I was always intrigued by the idea of making a mayonnaise cake. (Before you gag, remember that mayonnaise is made from eggs and oil.) I realized Spicy Southern Kitchen's recipe for Duke's Chocolate Mayonnaise Cake, which I based my gluten-free mocha cake on, contained no dairy.
So I figured I'd go whole hog and attempt dairy-free frosting. I already mastered dairy-free chocolate ganache when I made my gluten free mocha donuts. Therefore I researched recipes on "the net" and came up with a foundation for a luscious mocha buttercream frosting.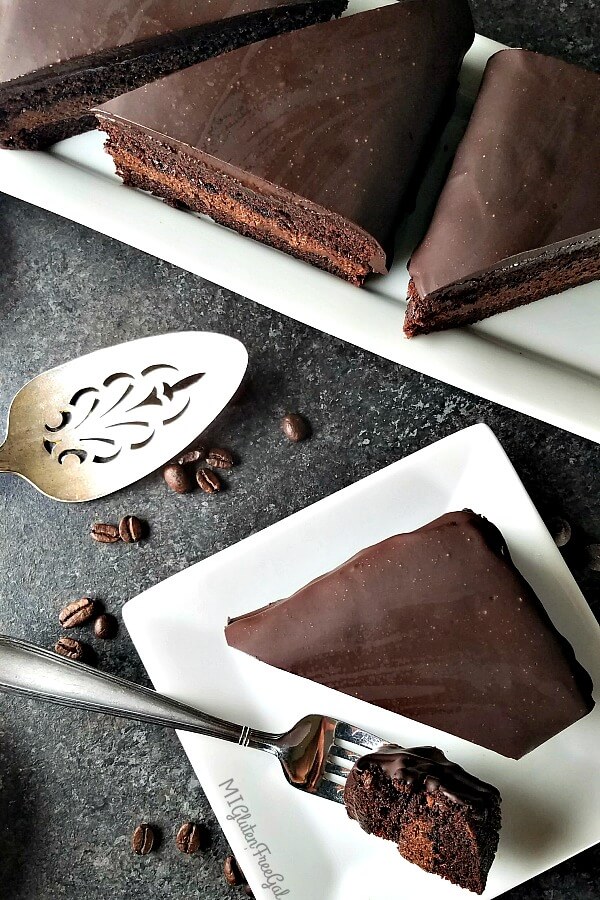 Sifting Sugar and Crumb Coats
So I added some softened coconut oil and shortening in my KitchenAid stand mixer, and got to whipping. I added the remnants of a bag of powdered sugar, about 200 grams. Then I crossed my finger that it would be "enough." (By the way, remember to sift your sugar, or you'll end up with lumpy frosting. And no one wants that.) I thinned it down with a bit of almond milk, and was amazed at how fluffy and DELICIOUS it tasted. Wowzer!
Now I'm going to pass on a lesson to you that I learned from my grandmother. She used to bake wedding cakes and she always FROZE them prior to frosting them. This helps the cake hold together and prevent crumbs from getting into the frosting. So I sliced my gluten-free mocha cake in half and froze it prior to making the frosting.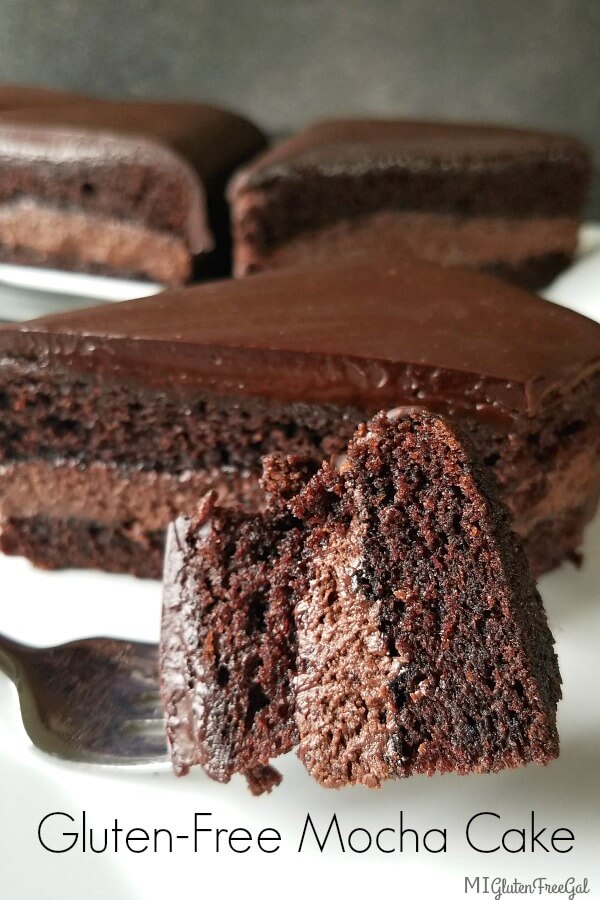 Coconut Cream and Chocolate Ganache
This is my favorite ganache recipe in the whole world. One, it's crazy easy. A simple one-to-one weight ratio of cream and chocolate. Two, I love using coconut cream because it comes in a can. I can buy it, keep it in the cupboard, and use it at the last minute without having to run to the store to get cream. Third, it makes the most amazing truffles if you have leftover ganache. You know, just a little sweet treat for yourself. That you don't have to share. Wink, wink.
Speaking of sharing, this mayonnaise cake is a "small batch" cake. Made in a loaf pan, it's meant for sharing with a small group of people. Howevr, I actually did share this gluten-free mocha cake with my husband's family, for my husband's 45th birthday. They loved every bite. So much so, that my brother-in-law totally forgot that it was "gluten-free." That my friends, is #winning. By the way, if you need a egg-free mocha cake, try this recipe from Sarah Bakes Gluten Free.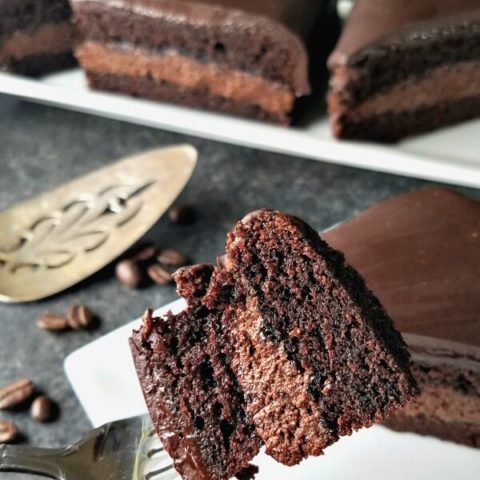 Gluten-Free Mocha Cake with Dark Chocolate Ganache
Ingredients
For The Gluten-Free Mocha Mayonnaise Cake
2 tbsp cocoa
1 c Ryze Yellow Bag Flour
1 tsp baking soda
2-3 tsp DeLallo Espresso Powder
1/2 c sugar
pinch salt
1/2 c Hellman's Mayonnaise
1 egg
1/2 tsp vanilla
1/2 c water
For The Dairy-Free Mocha Buttercream Frosting
3 tbsp coconut oil
3 tbsp shortening
1 2/3 c powdered sugar, sifted (200 grams)
1 tsp DeLallo Espresso Powder
drop of vanilla paste (I use LorAnn Oils)
4 tbsp almond milk (can use coconut milk instead)
For the Dairy-Free Ganache
4 oz Thai Kitchen Coconut Cream
1/2 tsp DeLallo Espresso Powder
4 oz Enjoy Life Foods Dark Chocolate Morsels
Instructions
Preheat oven to 350 degrees. Line bottom of loaf pan with a strip of parchment paper.
In the bowl of your mixer (or in regular bowl) add cocoa, gluten-free flour, baking soda, espresso powder, sugar and salt. Mix together until all ingredients are well blended.
In a separate small bowl, combine mayonnaise, egg, vanilla and water. Whisk ingredients together, then add to dry ingredients. Whisk together until all ingredients are thoroughly moistened.
Pour batter into parchment lined loaf pan and bake for 20-30 minutes. (I will admit that I forgot how long I baked it for. I say check it after 20 minutes with a toothpick and go from there. I'm pretty sure I baked it for 30 minutes.) After removing pan from oven, allow to cool in pan for 5 minutes. Then transfer to a baking rack. Cool completely, slice down the middle and freeze for 30 minutes to an hour.
After cake has completely frozen, make the mocha buttercream frosting. Make sure your coconut oil is soft, but not melted. Add coconut oil and shortening to clean bowl in your stand mixer. Cream oil and shortening for 1 minute until smooth and creamy.
Sift powdered sugar into a separate bowl, making sure there are no large lumps. Add espresso powder to powdered sugar and then add both to the creamed coconut oil and shortening. Turn mixer and slowly start to whip together. As sugar and oils are mixing, add a drop of vanilla paste, then add almond milk, one tbsp at a time. Once all ingredients are together, whip frosting for 3 minutes on medium speed until fluffy.
Remove cake layers from freezer and spread mocha buttercream frosting on bottom layer of cake. Place remaining layer on top, wrap the whole thing in plastic wrap, and return to freezer to chill prior to topping with ganache.
What recipe have you successfully converted to gluten-free? What culinary challenge have you recently conquered? Share your story with me below!
**This post contains Amazon affiliate links. If you decide to purchase ingredients or items through my links, Amazon credits a small portion back to me. However, this does not influence the cost of your items. Thank you for supporting MI Gluten Free Gal.**