Gluten Free Mexican Lasagna
As an Amazon Associate and member of other affiliate programs, I earn from qualifying purchases.
Missing lasagna but don't want to mess with noodles? This gluten free Mexican Lasagna made with gluten free Maseca corn masa flour will leave you saying "Delicioso!"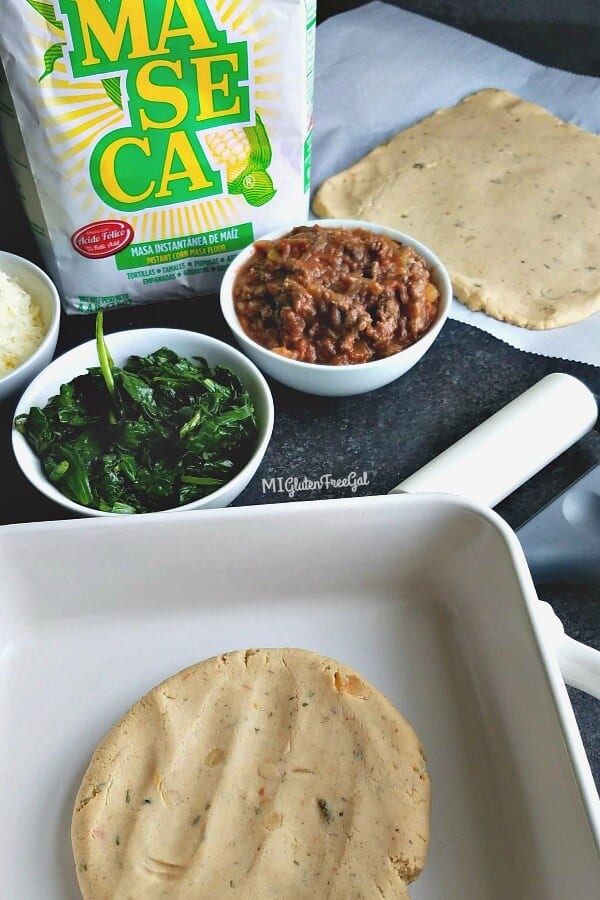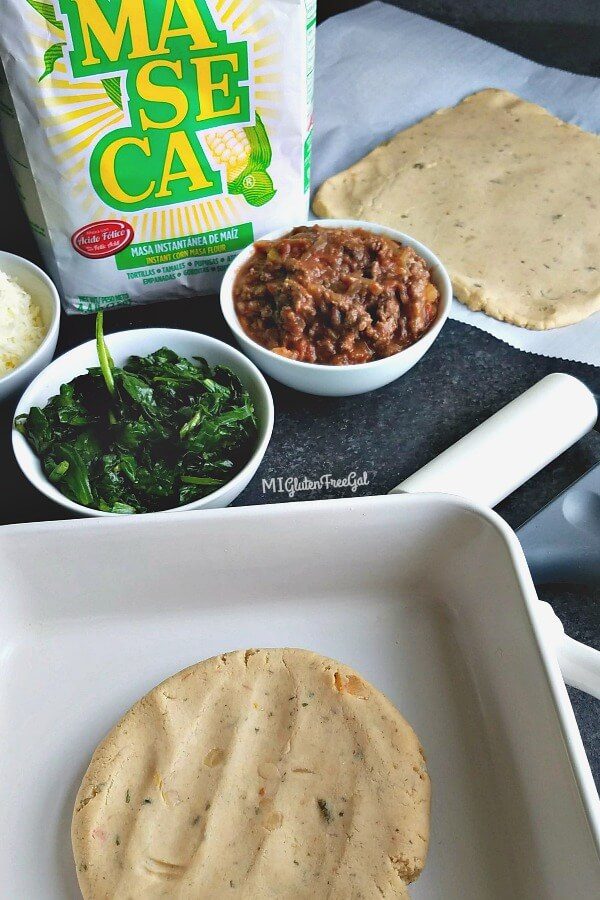 Is Maseca Corn Masa Flour Gluten Free?
So the other day I put a teaser on my Instagram page. I posted this picture and asked "What do you think I'm making?" There were lots of great guesses – tamales, arepas, empanadas, and more. One even suggested pupusas, which I already have a recipe for on my site. In spite of all the great guesses, gluten free Mexican Lasagna is the real answer.
Confession. The recipe for this gluten free Mexican Lasagna really belongs to the folks at Maseca. I've been using gluten free Maseca corn masa flour for years now. I first made this dish years ago when I was recipe testing with this flour. As I explained in a previous post, gluten free Maseca was previously certified through GFCO. While they no longer pay for the additional certification, their safe manufacturing processes have remained the same, and they test their products for gluten regularly.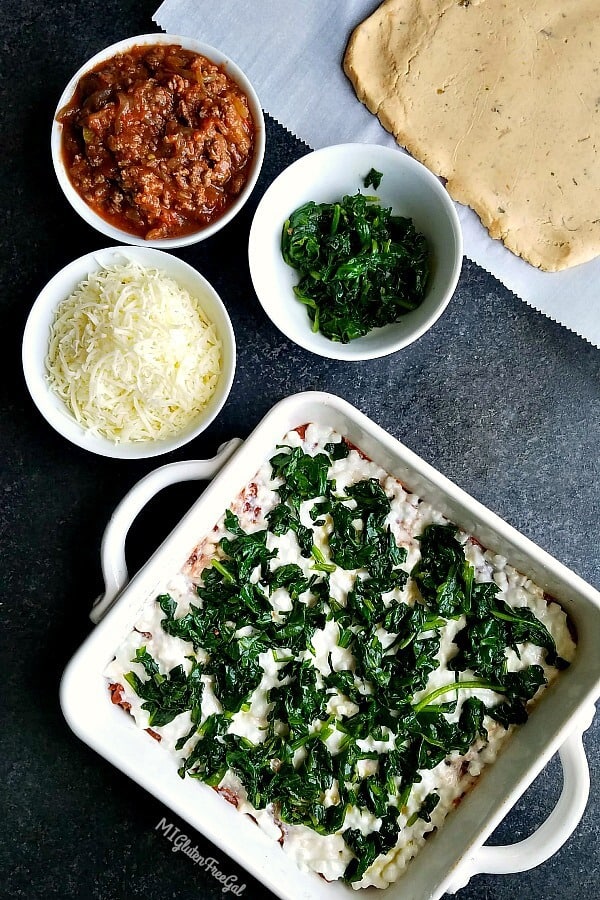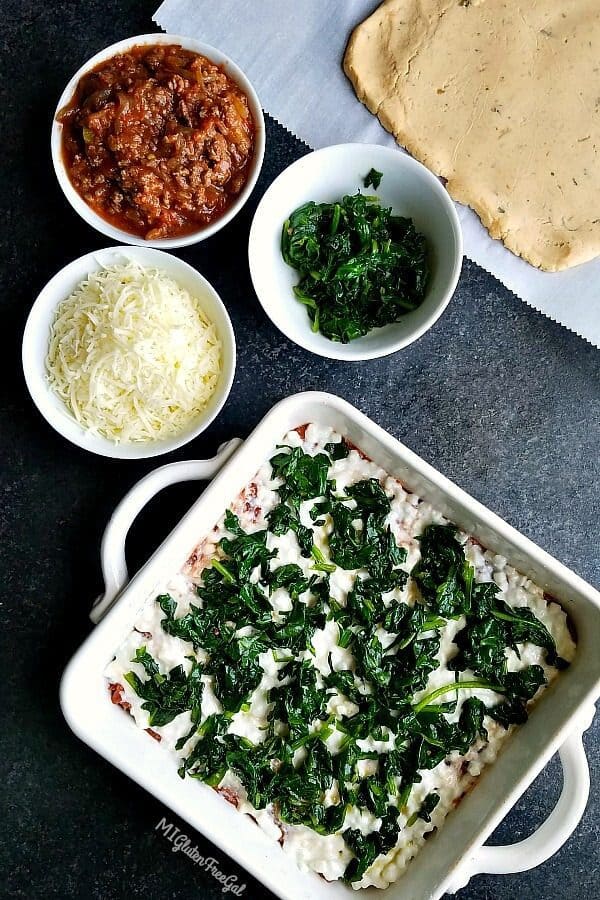 Does This Mexican Lasaga Use Tortillas?
Unlike other gluten free Mexican Lasagna recipes, this "casserole" does not start with pre-made tortillas. I never seem to get those recipes to turn out right. No, this gluten free Mexican Lasagna made with Maseca gluten free corn masa flour begins with a dough.
To that you add spices, some salsa, and just a touch of bouillon. For gluten free bouillon, I use only HerbOx or Massel products. Most other brands either contain wheat, or will not guarantee their product to be gluten free, even if it does't contain wheat as an ingredient.
Are There Vegetables In This Gluten Free Mexican Lasagna?
In true "me" style, I adjusted this gluten free Mexican Lasagna recipe from the original. You know me, culinary rule breaker. This original recipe contained no vegetables except for onions. Ludicrous, I tell ya. Much like my gluten free no boil baked ziti recipe, I boosted the nutritional profile by adding cooked spinach. Plus, it adds a great variety of color! Now, cooking the spinach first is "Muy importante." Spinach contains a lot of water that will make your lasagna soupy, if you don't cook it first. No bueno, mi amiga.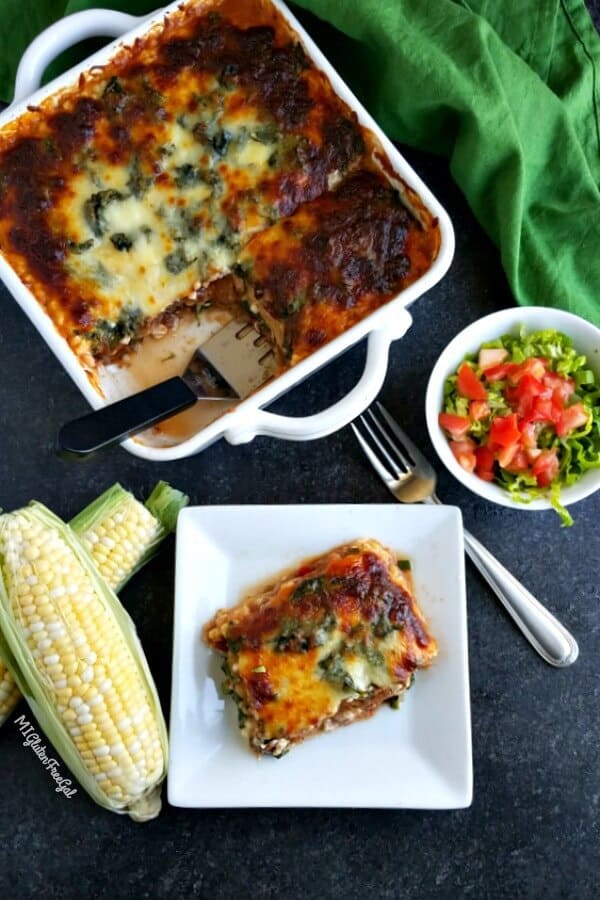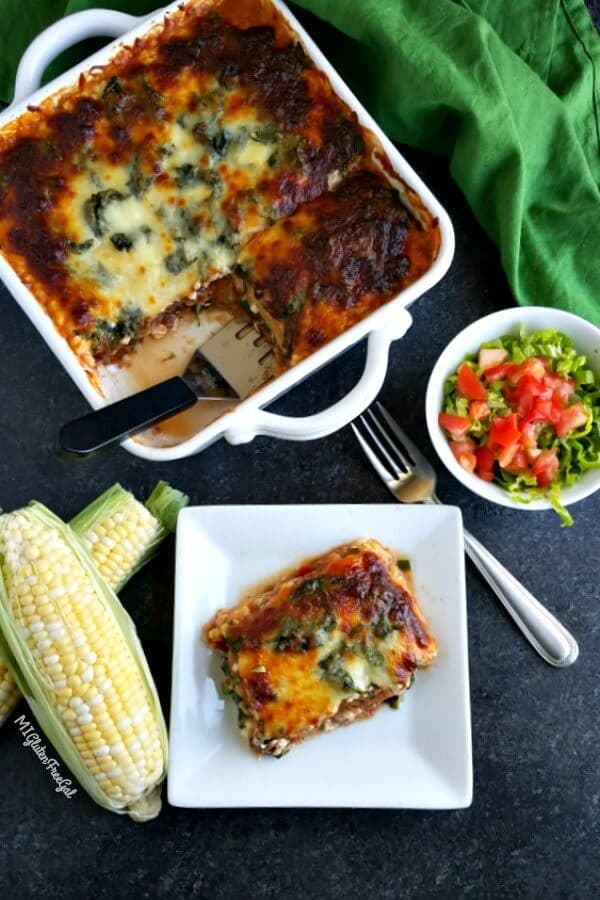 What Kind of Cheese Is In This Gluten Free Mexican Lasagna?
The other tweek I made is more cottage cheese than the original gluten free Mexican Lasagna recipe suggested. Because let's be honest, isn't MORE cheese always the answer. Now, if you can find Requesón, that is a more traditional Mexican cheese that is similar to cottage cheese.
You could also possibly try cotija cheese if you want to use a more "authentic" Latin American cheese. Either way, if you love cheese, this is definitely a dish for you! (Note – I ALWAYS use Daisy cottage cheese, as it is the only brand I trust for my Celiac Disease diet.)
What Do You Serve with Mexican Lasagna?
You can serve this dish with just about any side that you like. A nice tossed salad pairs nicely with it. One could also serve green beans, street corn, or sauteed peppers. Of course, guacamole and chips are ALWAYS a delicious option. If you really want to cheese it up, you can serve it alongside this Cheesy Bean Dip from My Gluten-Free Kitchen.
Of course, no meal is complete without dessert. Therefore, I suggest making this NO BAKE gluten free Mexican dessert torte from Eat At Our Table as well! My Tres Leche Rice Pudding and Mexican "Fried" Ice Cream are great options, as well.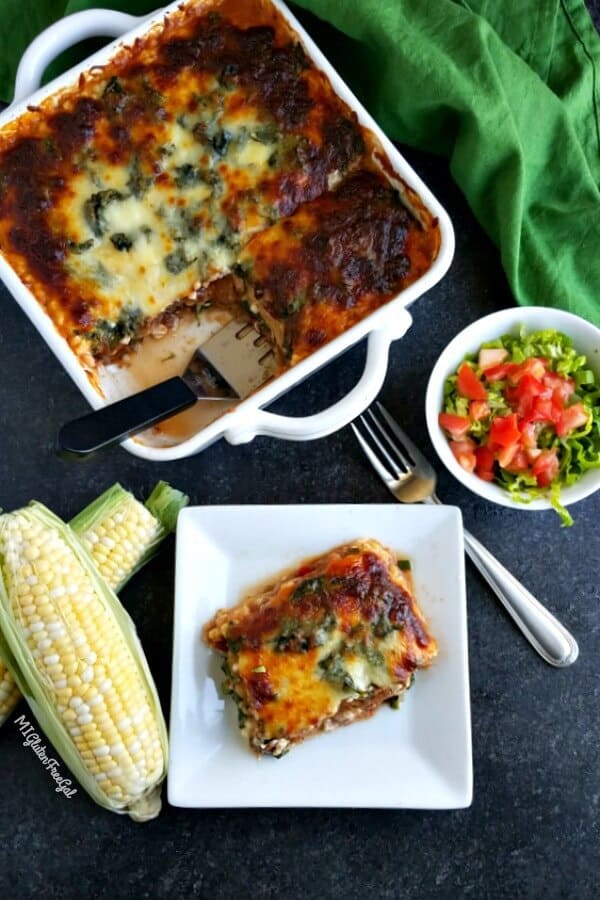 Gluten Free Mexican Lasagna
Ingredients
For the Meat Sauce
1/2 onion, chopped (+ a touch of oil for sauteeing)
1/2 tbsp chopped garlic
1/2 lb beef
7 oz spaghetti sauce (1 cup)
3 oz salsa (1/2 cup)
For the Dough
1 c. gluten free Maseca corn masa flour
1/2 tbsp onion powder
1/2 tbsp garlic powder
1 tsp dried parsley
1 tsp (or cube) Herb Ox beef bouillon
1/2 c water, warm (plus additional if needed)
1 tbsp Pace salsa
For the Filling
1 16 oz container Daisy Cottage cheese (2 cups)
9 oz bag of spinach, sauteed to remove water, lightly salted
2 oz shredded mozzarella cheese
Instructions
Preheat oven to 350 degrees F.
Chop onion and saute over low-medium heat. I let mine cook for quite a while on the (3) setting on my stove, to caramelize them more than just saute.
When that is done cooking, then add the garlic and ground beef. When the ground beef is thoroughly cooked, remove all ingredients from pan and transfer to a bowl. Add spaghetti and salsa to the bowl, and allow to cool.
While the pan is still hot, saute the spinach until it is all wilted and the water has cooked off. Lightly salt it and transfer it to a bowl for later.
Meanwhile, make dough. In a medium bowl, combine all ingredients. I used 3/4 cup of water when i made this, and it was too much. So I suggest using 1/2 cup, and then adding 1 tablespoon more at a time if it seems to dry. You want it to me a firm dough, but not crumbly.
Divide the dough in half. Press out the first ball of dough into a GREASED 9x9 pan. To help achieve a uniform size for the second layer of dough, I put a layer of saran wrap on top of the first pressed out layer, use a rolling pin to form the second layer, and then lift our the second layer to be used later.
Finally, time to build the Mexican Lasagna. With the first layer of dough in the bottom of your 9 x 9 pan, top it with half of your meat sauce, then one cup of cottage cheese, then half the spinach. Next, place the second layer of dough, and repeat with beef sauce, then cottage cheese, then spinach.
Finally, top whole Mexican Lasagna with mozzarella cheese. Try to make sure the lasagna is completely covered in shredded cheese, even to the corners.
Bake the Mexican Lasagna at 350 degrees for 40-45 minutes
**This post is NOT sponsored by Maseca. All thoughts and opinions are my own. This post DOES contain affiliate links. Purchases made through those links help support this blog with no extra expense to you. Thank you for your continued support!**