Gluten Free Gingerbread Cake
As an Amazon Associate and member of other affiliate programs, I earn from qualifying purchases.
The holiday season always has me craving gingerbread. While I'm always down for cookies, this Gluten Free Gingerbread cake is moist and fluffy, thanks to the use of Whole Milk Kefir. This post is sponsored by Lifeway Kefir.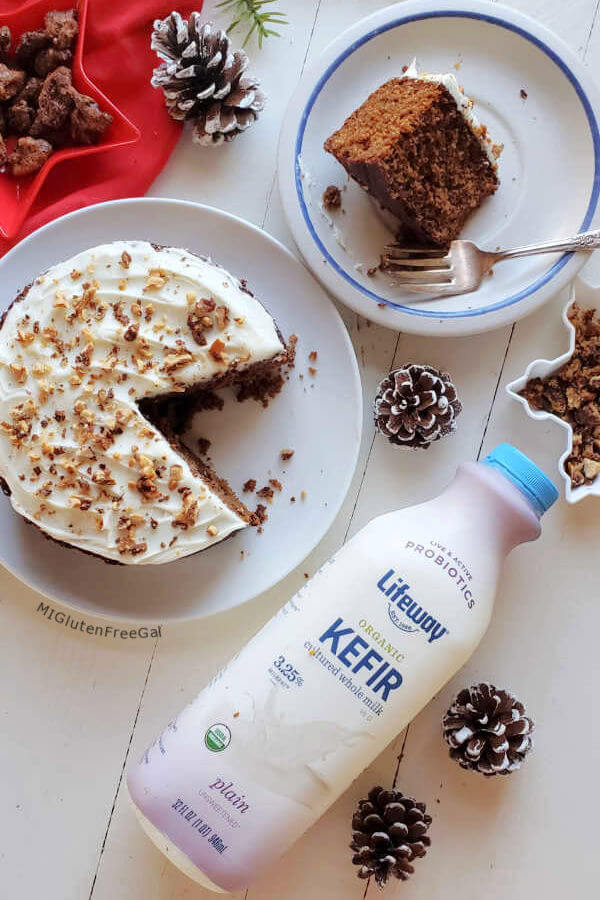 Gluten Free Gingerbread Cake
At Christmas time, wthe word Gingerbread usually brings cookies to mind. However, Gingerbread Cake is also very common. This year, aftet a Facebook follower recommended it, I researched recipes. I found many of them called for buttermilk. Which made me excited, because I was fairly certain I could use my favorite Kefir as a substitute.
What is Kefir? (and Why I Prefer it to Buttermilk)
So glad you asked. Kefir is like a drinkable yogurt. It's a fermented milk beverage, created by adding bacteria and yeast cultures. (Because of its fermentation, it's often called the "Champagne of Dairy.") The probiotics found in kefir help create good bacteria for the gut.
When it comes to baking, I don't always bake items that call for buttermilk. Lifeway's Organic Whole Milk thick and fermented Kefir is a perfect substitute for buttermilk. Buttermilk is mostly only used for baking. However, Lifeway Kefir can be used in many recipes, and more than just smoothies. One can use it in soups, as well as my fluffy Gluten Free Biscuits!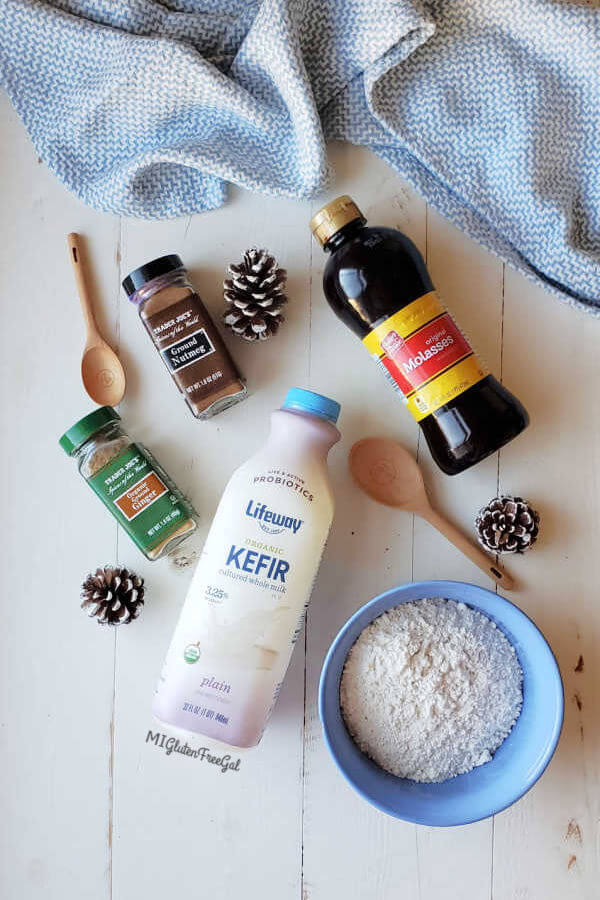 Where Do I Find Kefir?
You'll find Lifeway Kefir in the yogurt section at your local grocery store. I also recommend using Lifeway Kefir's store locator function on their website. They have over a dozen amazing flavors, and some flavors are only available at specific stores. (If you have a Fresh Thyme market, they have the largest selection of Lifeway Kefir I've ever seen!)
Which Gluten Free Flour Blend Did You Use?
For this Gluten Free Gingerbread cake, I used King Arthur Flour Measure for Measure Blend. I find it works as a great substitute for wheat flour in cake and cookie recipes. In addition, it's fortified with vitamins and minerals, and tends to be available at most grocery stores. (That being said, I did use Cup 4 Cup to make my Gingerbread Cookies.)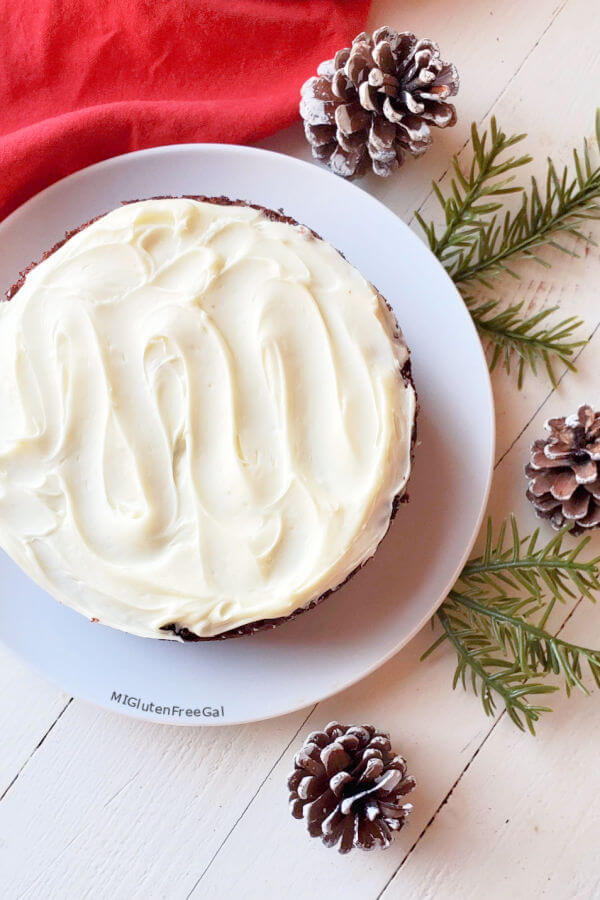 Why I Make Small Batch Recipes
The recipe, as written, makes a 6″ Gluten Free Gingerbread Cake. I prefer to make "small batch" recipes for two reasons. One, I live in a household of two. Some days I want something sweet, without a lot of leftovers. We're at the stage of life where we're taking care of older parents. One 6″ cake perfectly serves my husband and I and both of his parents.
Second, gluten free ingredients can be expensive. When recipe testing, I like to make as small of a dessert as possible. In addition, I like to make small batch recipes that start with one whole egg. Then I can usually double the recipe, if I need to. (If you haven't tried it, I recommend my small batch Applesauce Bundt Cake.)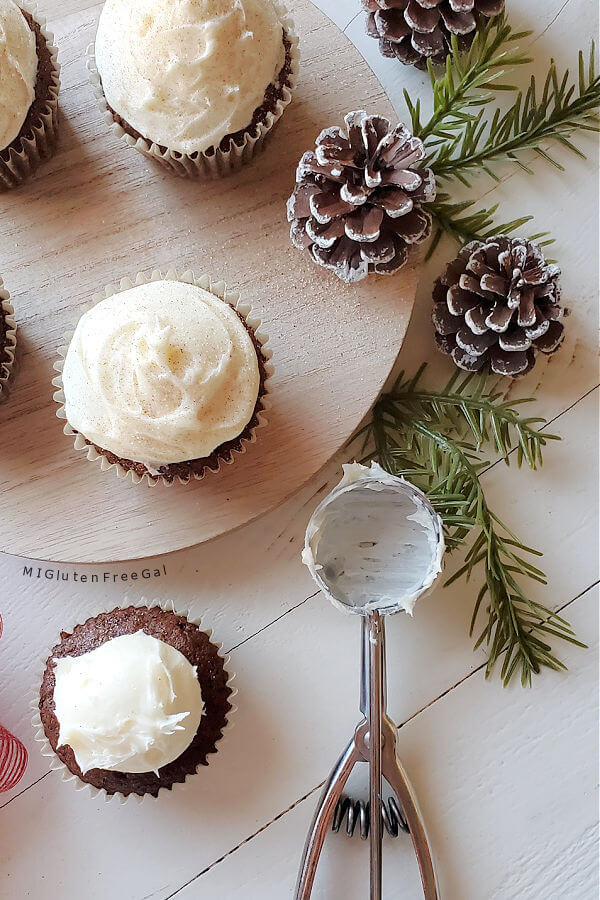 Can I Make This Gluten Free Gingerbread Cake as Cupcakes?
Sure! After some research, I was fairly confident this was the case. I especially appreciated this post from Handle the Heat on Converting Cakes into Cupcakes. I love that she not only gives tips for standard size cupcakes, but also mini cupcakes as well!
When it comes to gluten free cupcake making, I also reached out to my friend Daniela from The Gluten Free Austrian. One thing she definitely helped settle for me was using a 3 tbsp (#20) scoop for filling your cupcake liners. (If you're not following her, you should! She's a trained pastry chef, who also lives with Celiac Disease.) Uniformly filled cupcakes = uniform baking times.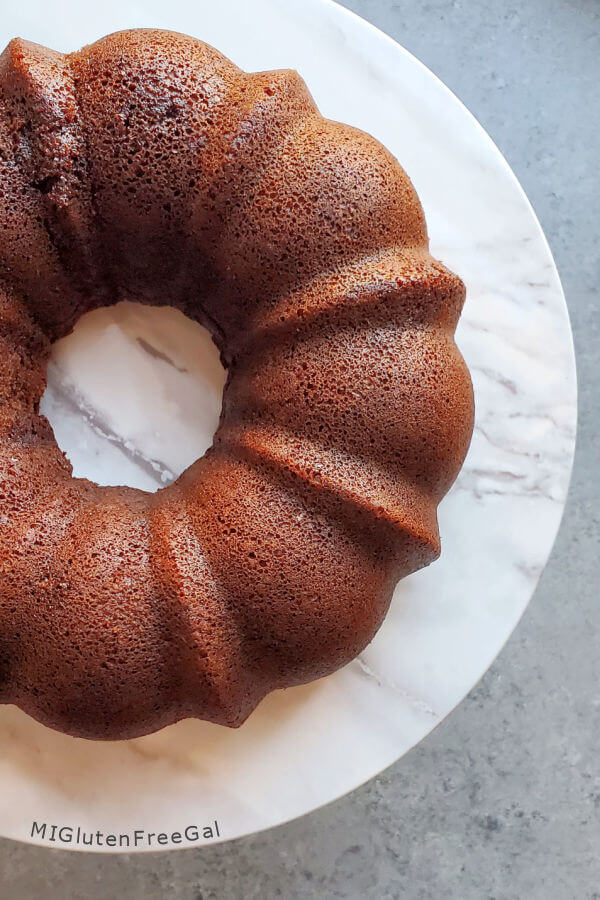 Can I Make This Gingerbread Cake as a Bundt Cake?
I originally focused on making this recipe because a Facebook follower requested a recipe for gluten free gingerbread cake with lemon frosting. I figured a bundt would be a beautiful presentation! New to baking bundts? Make sure to read King Arthur Baking's "Tips on how to Prevent Bundt Cakes from Sticking." It's a wealth of information!
If you choose to make this as a bundt cake, double the ingredients, and bake it in a 8 -12 cup bundt pan. A doubled recipe makes 4 cups of batter. I baked mine in a 12 cup bundt pan, but wish I had used an 8 cup pan instead. I would have resulted in a taller cake. For more on which pan to use, read this article on Bundt Pan Sizes from King Arthur.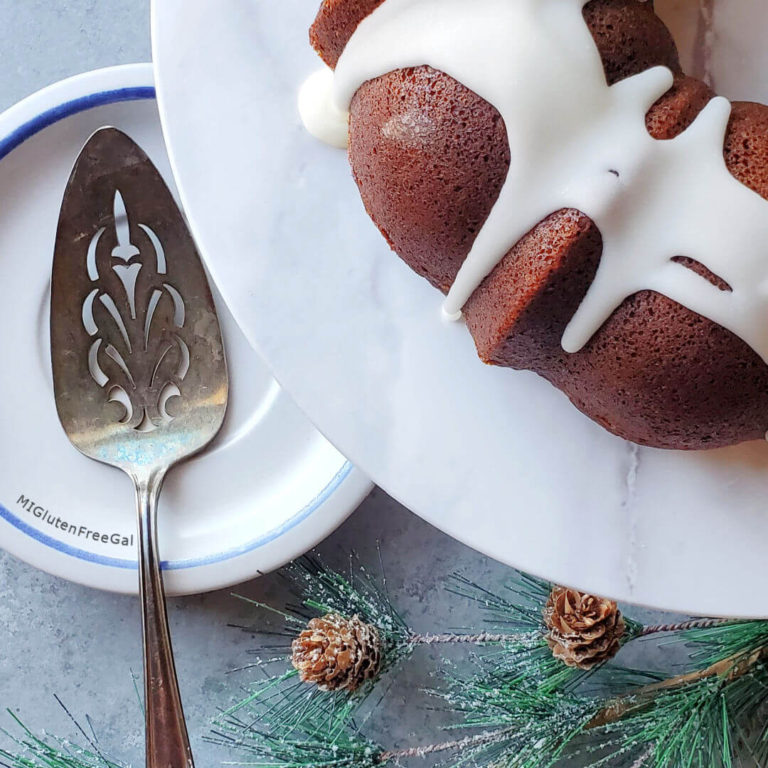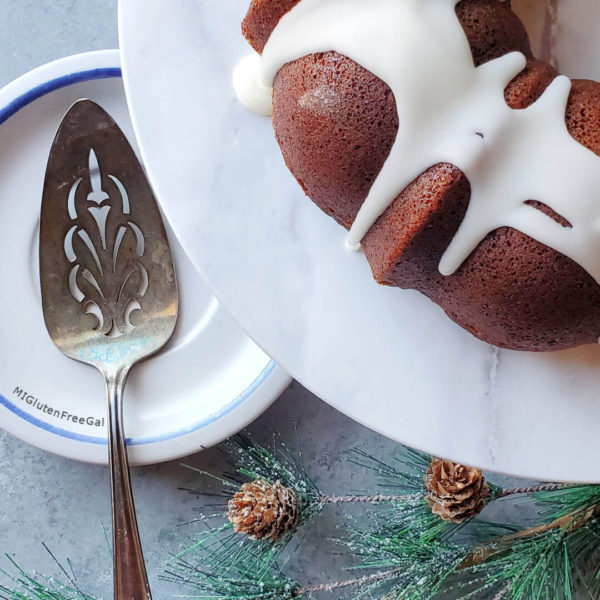 What Kind of Frosting Should I Use?
Try Baking Mischief's Small Batch Vanilla Frosting. for the cake or cupcakes. Any glaze you prefer would work well with the bundt cake, or simply dust it with powdered sugar. For a lemon glaze, try this 3 Ingredient Lemon Glaze recipe from Julie Blanner. (I cut the recipe in half.) You can also use Betty Crocker frosting, which is labeled gluten free.
In addition to the frosting, I also like topping the cake with Gluten Free Austrian's Cinnamon Spiced Pecans. You could also do sugared cranberries like A Dash of Megnut did on her Gingerbread Bundt. If you want to really boost the ginger flavor, you can make and add Alpha Foodie's recipe for Crystallized (Candied) Ginger on top.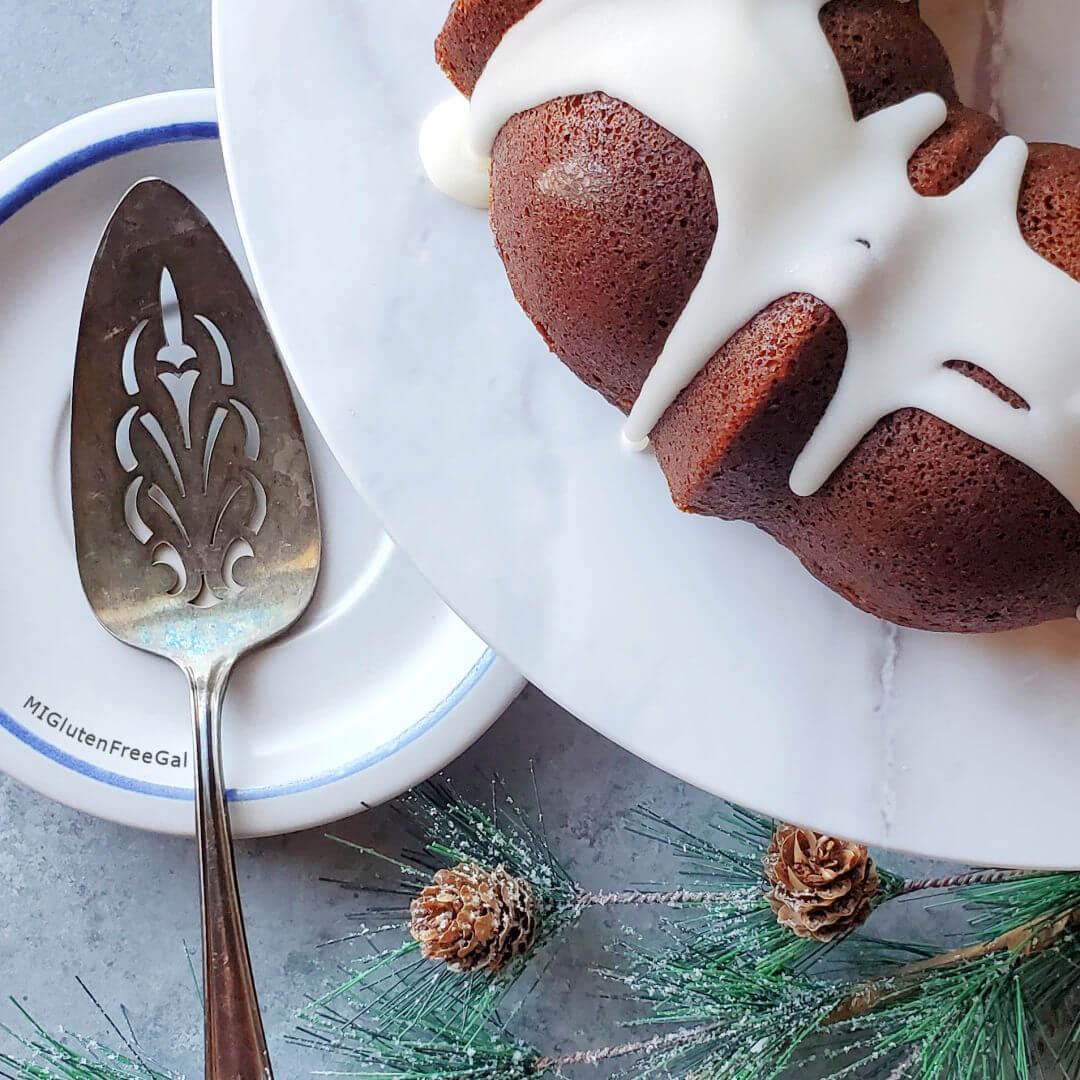 Gluten Free Gingerbread Cake
Cooling TimeTime:
30 minutes
Total Time:
1 hour
15 minutes
Ingredients
Dry Ingredients
1 cup King Arthur Measure for Measure Flour blend
1 tsp soda
1/4 tsp salt
1 tsp ginger
1 tsp cinnamon
1/4 tsp clove
1/4 tsp nutmeg
Wet Ingredients
4 tbsp room temp butter
4 tbsp dark brown sugar
2 tbsp white granulated sugar
1 egg
4 tbsp molasses
1 tsp vanilla
1/2 c. Lifeway Organic Plain Whole Milk (3.25%) Kefir (added at end)
Instructions
20-30 minutes prior to baking, set out your butter and egg. This will make the butter soften, and allow your egg to blend together better when mixing.
Combine flour, soda, salt and spices in a small bowl. Give it a whisk until all ingredients are blended together, and then set aside.
In a large bowl or stand mixer, cream together softened butter and brown sugar. This will take 2-3 minutes.
Add room temperature egg to creamed butter and sugar, and blend. Then add molasses and vanilla, and whisk again until all ingredients are creamy. *Note- I find it easier to measure molasses if i spray the measuring cup with cooking spray first. This makes the molasses come out of the measuring cup, easier.
Alternate adding the flour mixture and the kefir to the wet ingredients, until all ingredients are added and batter is creamy.
Preheat the oven to 350, and allow the batter to rest for 15 minutes prior to baking.
Pour the batter into a greased 6" pan, and place on top of a cookie sheet in the oven. (I find it makes it easier to place/ remove from the oven, as well as catch any batter if it overflows.)
Bake 25-30 minutes. Remove from oven and allow to cool 5 minutes in pan.
Remove cake from pan on to baking rack to cool completely before frosting or serving.
Frost with a buttercream or cream cheese frosting, and sprinkle with cinnamon, and/or top with candied nuts.
To make as cupcakes, use a 3 tbsp (#20) large scoop to fill a lined muffin tin. This recipe should make 9- 10 cupcakes. Bake for 5 minutes at 400 degrees, then drop the temperature to 350 and bake for an additional 12 minutes. Remove muffin tin from oven, and place individual cupcakes on a rack to cool. (I don't recommend leaving the cupcakes in the tin to cool.)
To frost cupcakes- I used a 1.5 tbsp (#40) small scoop to dollop on the frosting, then used an offset spatula to spread the frosting. I sprinkled them with a cinnamon and sugar blend.
To make as a bundt - Double the recipe ingredients and bake in a greased 8-12 cup bundt pan. (I simply used cooking spray. Remember to spray the inner tube as well.) Bake in a 350 degree oven for 30 minutes (if baking in a 12 cup pan.) Standard bundt pan cooking times range from 35-55 minutes, depending on how much batter you have in the pan.
Once the cake is full cooked, remove from oven and allow to cool for 10 minutes in the pan. Then gently invert the pan onto a baking rack to allow it to compleetly cool. (You may to loosen the sides of the cake with a knife before flipping it over.
Once cake is fully cooled, cover with powdered sugar or your preferred glaze.
Notes
Inspiration for this recipe was taken from King Arthur Baking's recipe for Gingerbread Cake.
**Lifeway Foods sponsored this post. This post does contain affiliate links. Purchases made through those links help support this blog with no extra expense to you. Thank you for your continued support!**