Gluten-Free Dairy-Free Chocolate Donuts
As an Amazon Associate and member of other affiliate programs, I earn from qualifying purchases.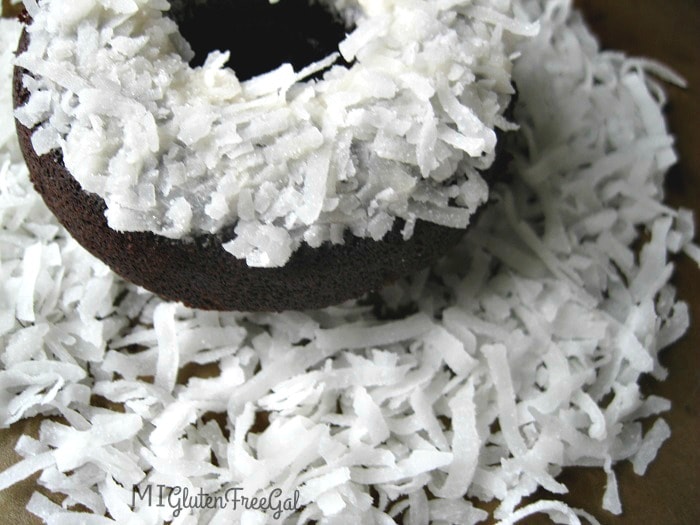 So a funny thing happened on the way to the store. I went with the purpose of buying new workout shoes. Instead I came home with a donut pan and made gluten-free dairy-free chocolate donuts.
I've been wanting to make homemade donuts for a long time. Some of my favorite gluten-free bloggers have been giving me serious donut envy. Then I remembered that I had a Betty Crocker Gluten Free Devil's Food Cake Mix
and a package of Dang Gluten Free Toasted Coconut Chips
. Being the frugal use-what-you-have-in-the-pantry kind of gal, I decided to combine the two. Therefore, gluten-free dairy-free chocolate donuts with coconut were born!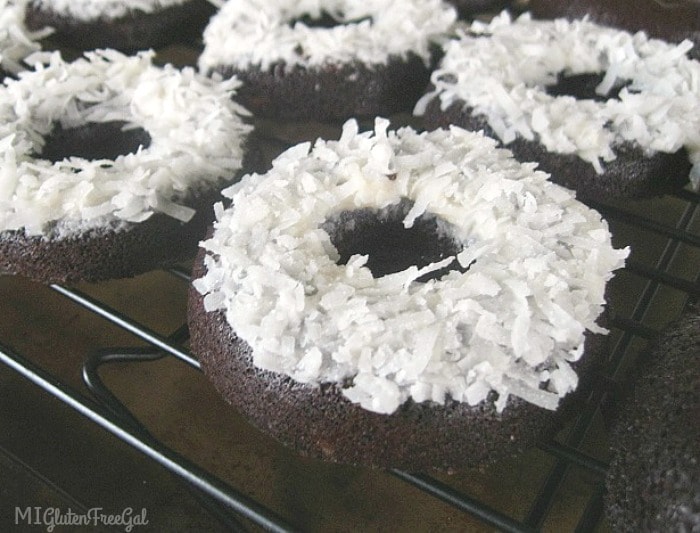 While I don't have to eat dairy-free, I know many people that do. Sometimes I like to play around in the kitchen, seeing how I can make items safer for those with additional allergies. I did some research and read from other bakers that coconut oil was great for dairy-free baking. Therefore I grabbed some coconut oil and subbed that for the butter called for on the Betty Crocker cake mix box. To that I added crushed Dang Coconut Chips. The batter was thin, not like a dough that one could roll out. Due to this, I allowed the batter for these gluten-free dairy-free chocolate donuts to rest 10-15 minutes. This allowed the mix to absorb the liquid and did become slightly thicker.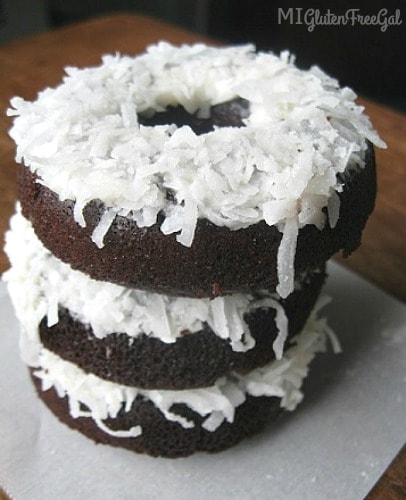 I used my favorite Pampered Chef one ounce scoop to divide the batter into the donut wells. Through experimentation, I found that using two scoops per well achieved the baked thickness that I desired. These were baked for 15 minutes, much like you would a cupcake. These gluten-free dairy-free chocolate donuts are delicious, fluffy and very moist. If you prefer a dryer and firmer donut, I might suggest only using 2 of the 3 eggs that the recipe directs. (I haven't actually tried this, so I'm not sure what the results will be.)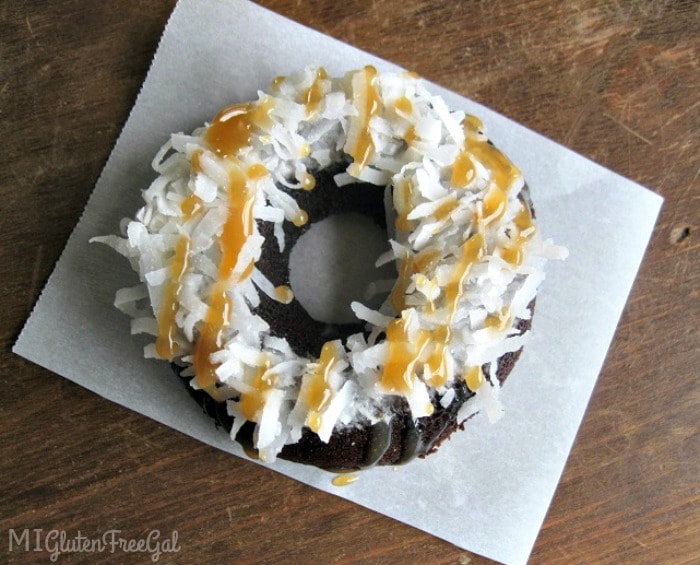 Since my batter was dairy-free, I wanted to have a dairy-free frosting as well. I made a coconut oil based "buttercream" by blending coconut oil, powdered sugar, vanilla and a touch of water. The recipes I found all called for a bit of milk, but I didn't have any dairy-free milk. The consistency worked out just fine. After dipping the gluten-free dairy-free chocolate donut in the glaze, I dipped it in shredded coconut and let it rest.
I just so happened to have some leftover caramel sundae sauce left in the refrigerator. It is not dairy-free, but I couldn't resist trying it out. I miss the Girl Scout Samoa cookies and thought this would be a close alternative. Admittedly, the sauce was thin and didn't stick as well as I would have liked. This just gives me an opportunity to make these gluten-free dairy-free chocolate donuts again to perfect the idea!
What gluten-free baked goods have you been missing? If you make gluten-free donuts at home, what's your favorite recipe and method? Share a note with me in the comments!
**This page contains affiliate links. I make a small percentage back which helps cover the cost of maintaining this site.**