Gluten Free Cinnamon Rolls for Two – Yeast and Egg Free
As an Amazon Associate and member of other affiliate programs, I earn from qualifying purchases.
These Gluten Free Cinnamon Rolls for Two are going to change your life. Or at the very least your breakfast menu. And since it makes two, sharing is TOTALLY optional.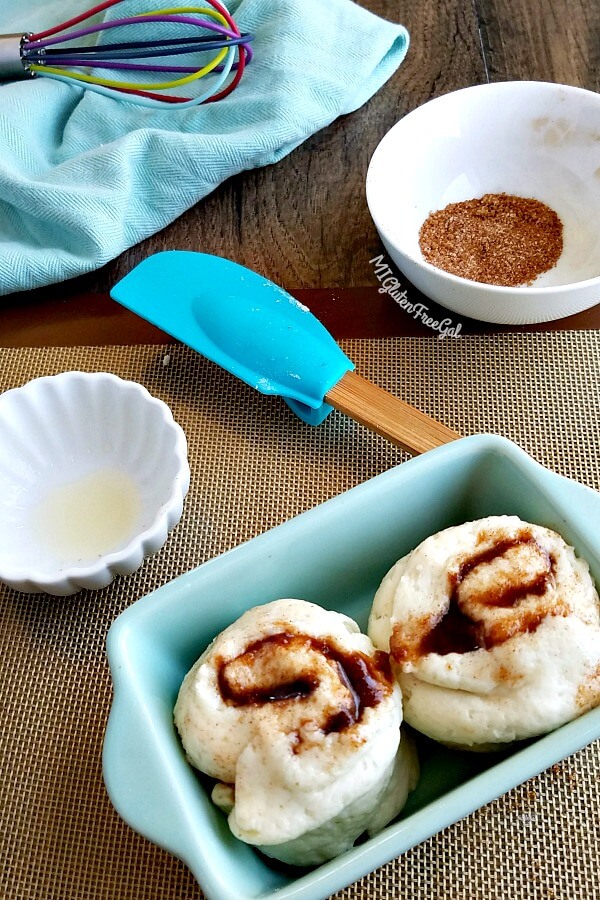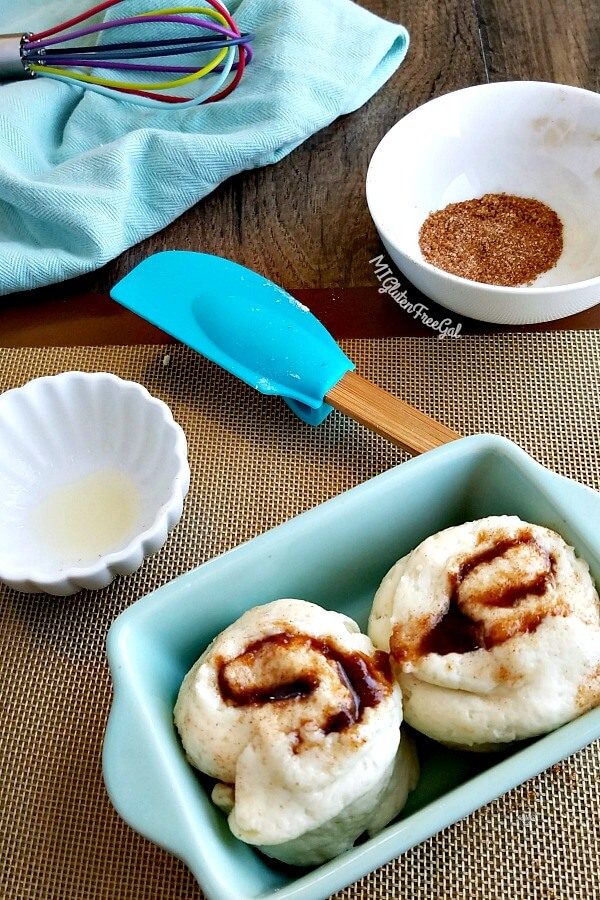 I wish I could take total credit for this amazing gluten free cinnamon rolls for two recipe. The brilliance of this recipe solely lies with Christina Lane of Dessert For Two. I don't know how I stumbled upon it. But thank heavens I found the recipe, and Christina. She graciously is allowing me to repost her original Small Batch Cinnamon Rolls here, only in a gluten-free version.
To be honest, modifying her recipe to make these Gluten Free Cinnamon Rolls for Two is ridiculously easy. All I did was simply swap the flour for Cup 4 Cup flour. That's it. (I also reduced the filling a tad, because I always found i had leftovers.) I've found that Cup 4 Cup Multipurpose Flour (affiliate link )truly transforms any "regular" recipe into gluten free perfection. (It was key in those Gluten Free Resurrection Rolls I made for Easter!) Now, I've tried this recipe with a different flour. Totally not the same. Cup 4 Cup truly made these magical.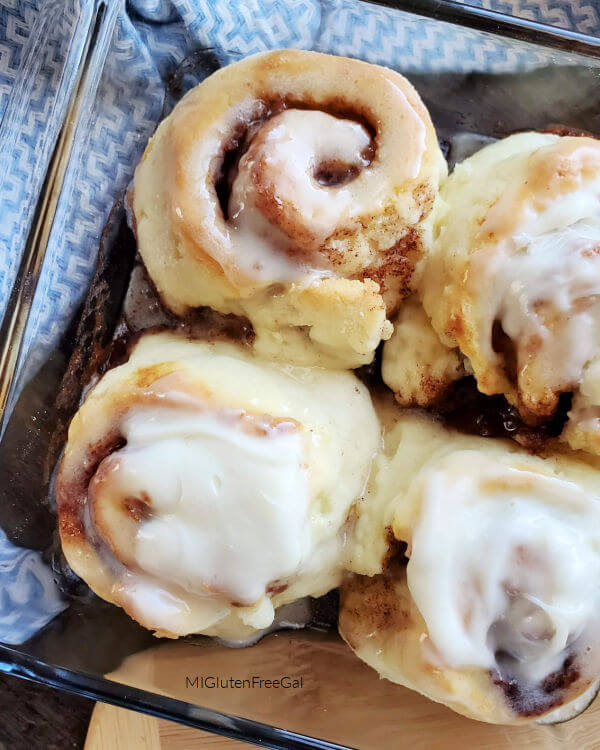 I remember the first time I made these Gluten Free Cinnamon Rolls for Two. Feeling bored, I wanted to exercise my culinary creativity. I followed Christina's original recipe, and baked them in muffin tins, creating four cinnamon rolls. When my husband returned home and tried one, he almost cried. He said they reminded him of the cinnamon rolls his (now departed) grandmother used to make when he was a child. Christina's recipe helped him relive his childhood memories, and it was priceless. That Christmas, I made them as gifts for every household in our family, and everyone raved about how delicious they were.
Why YOU will love these Gluten Free Cinnamon Rolls for Two
NO yeast. So that means no rise time, which means the faster you can eat them!
NO egg. Missing baked goods due to an egg allergy? This solves ALL that.
NO need to share. Seriously, this recipe makes two (or four), so you don't have extras laying around the house, and you don't have to share. I mean, you can, but no shame in keeping these bad boys all to yourself.
While these gluten free cinnamon rolls for two taste great any day, I find myself making them when I have milk that's about to go bad. I hate to pitch out any food, and am always looking for ways to use up leftovers and "scraps" of things. Doesn't it seem like our society has become to eager to throw away that which seems outdated? Pitch things that seem "less than?" Toss that which seems "broken?"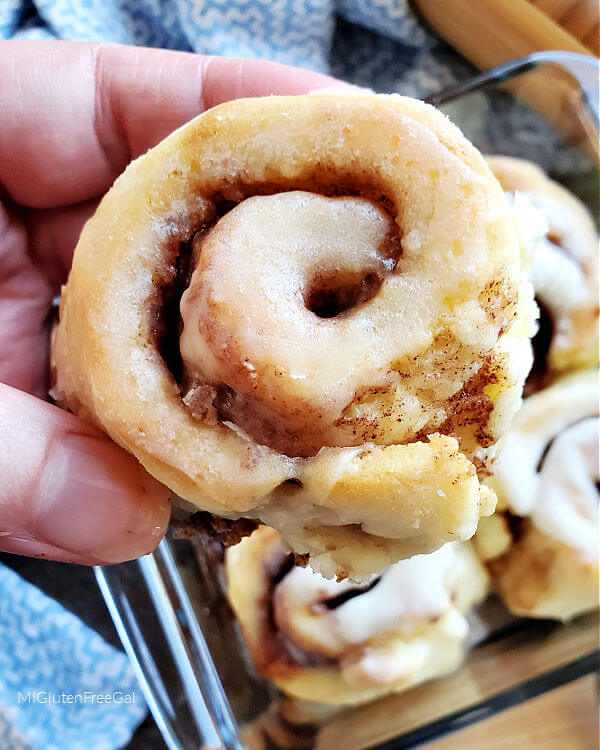 We seem to do that with people too. Humans are not meant to be easily cast aside. If there are those in your life who have broken you down, those who have made you feel you can easily be discarded, THEY ARE WRONG. You have beauty and value and worth. YOU ARE ENOUGH. Feeling like your life is in pieces? They can be mended, transformed. I mean, if one can use sour milk to make amazing cinnamon rolls, imagine what the "sour" parts of your life can be turned into.
I know this is supposed to be a blog about food and gluten-free living. But today, I just want you to know you are loved. Whether it's by recreating these gluten free cinnamon rolls for two, like grandma used to make. Or whether it's a kind word from someone to remind you that you're not alone. Like these cinnamon rolls, there is sweetness in this life to be found. It may just be hidden. So be the icing on someone's cake (or cinnamon roll) today. We can all use a touch of sugar and spice and everything nice.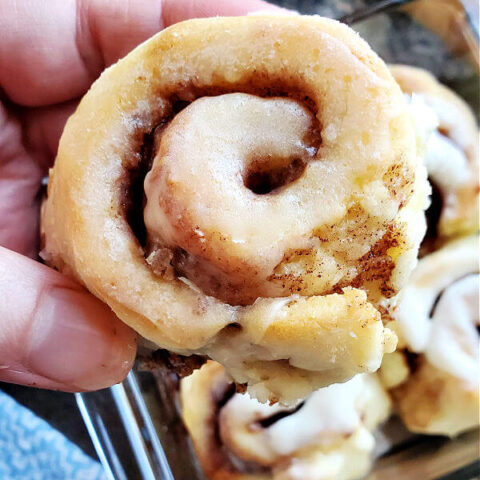 Gluten Free Cinnamon Rolls for Two - Yeast and Egg Free
Ingredients
For the Dough:
5 tbsp milk
1 tsp apple cider vinegar
3/4 c. Cup 4 Cup Multipurpose Flour
1 tbsp granulated sugar
1/2 tsp baking powder
1/4 tsp baking soda
1/8 tsp salt
2 tbsp melted butter
For the filling:
2 tbsp melted butter
2 tbsp brown sugar
1 tbsp granulated sugar
1 tsp cinnamon
For the cream cheese frosting
2 ounces cream cheese, softened
1/4 c powdered sugar
splash of milk
Instructions
Combine milk and apple cider vinegar in a small dish and set aside for at least 5 minutes.
Preheat oven to 375. Gently grease a small loaf pan, or four muffin tin wells.
In a small bowl, combine flour, 1 tbsp sugar, baking powder, baking soda and salt.
After milk has soured with vinegar, add to it 2 tbsp of melted butter. Then incorporate all wet ingredients into dry until you have a soft ball of dough.
Lightly flour a work surface with additional flour. I tend to use my Silpat as a small pastry mat. From there, place your ball of dough and roll into a 6" rectangle. Pour remaining melted butter on top of rolled out dough.
In a small dish, combine 1 tbsp granulated sugar, the 2 tbsp brown sugar and 1 tsp cinnamon. Sprinkle that mixture over the dough and press it into the butter.
Roll the cinnamon roll dough from the long side, and press the seam to seal.
Cut the dough into 4 equal sections. I recommend using floss for this, as it won't smoosh your dough like a knife will
Place into a 5" baking dish, or into 4 muffin tins.
Bake for 15 -18 minutes.
While the rolls are baking, soften the cream cheese and mix with the powdered sugar and a splash of milk. Spread over cinnamon rolls when they come out of the oven, and serve warm. (Or just use vanilla frosting from a can. I often do that.)