Gluten Free Chicken Alfredo Spaghetti Squash
As an Amazon Associate and member of other affiliate programs, I earn from qualifying purchases.
Have you tried spaghetti squash? Not sure how to use it, let alone cook it? Let me share with you three ways to cook this fantastic squash, as well as a great recipe. These Gluten Free Chicken Alfredo Spaghetti Squash Boats may just be the best meal I've ever cooked!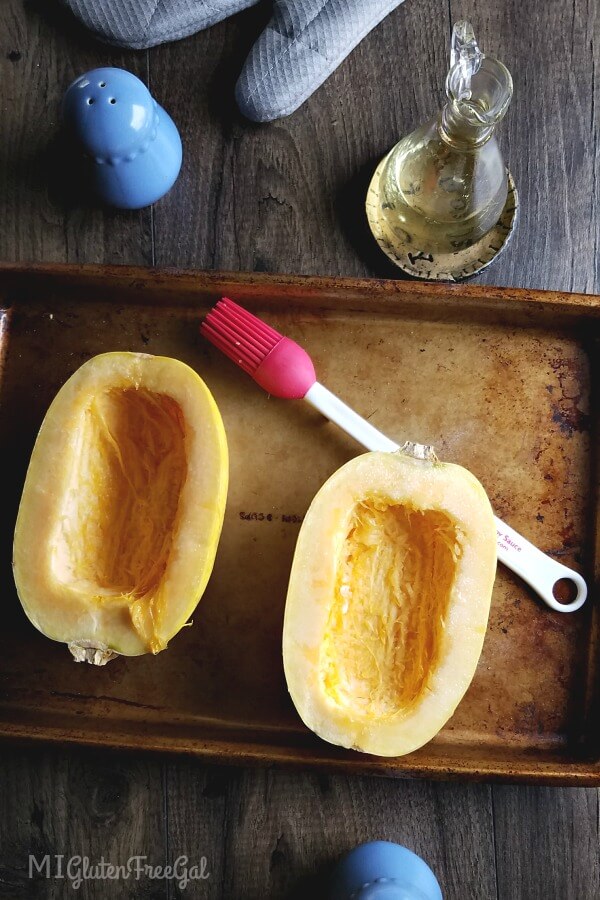 Spaghetti squash derives it's name from the pulp that, when pulled, looks like spaghetti strands. However, let's set the record straight. Spaghetti squash does NOT taste exactly like pasta. Too often I hear people say they don't like it, because they think it's going to exactly replicate their favorite spaghetti. Which is sad, because this squash is delicious and needs to be appreciated for its unique flavor. Let me show you how to cook and prepare a dish that will make you realize the worthiness of this most marvelous vegetable.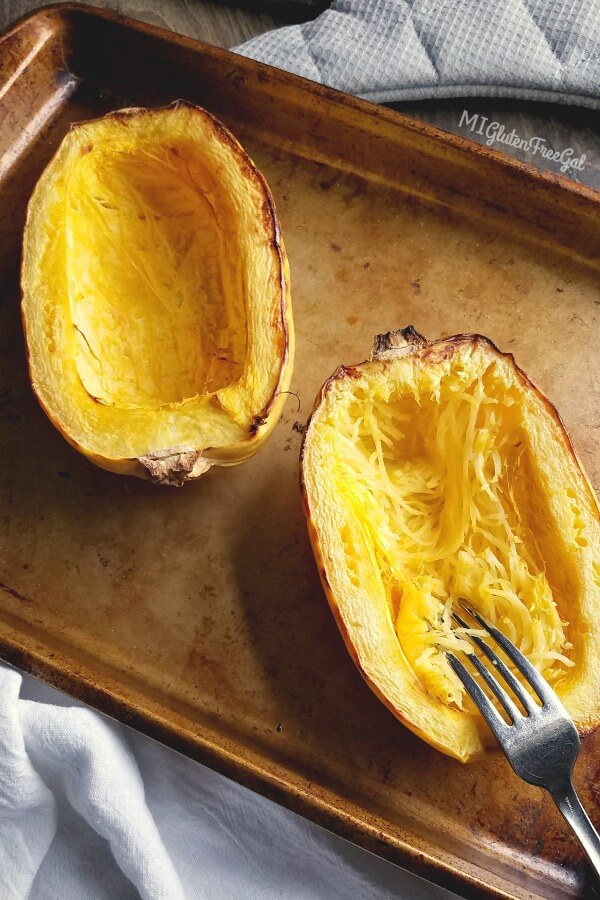 How to Cook Spaghetti Squash
There are multiple ways to cook a spaghetti squash. Any of these methods will work for making these Chicken Alfredo Spaghetti Squash Boats. I prefer to cook mine in the microwave, but that's only because I often fail to plan ahead. Which means I rarely ever choose to cook in a crockpot. This recipe for Chicken Alfredo Spaghetti Squash Boats worked best with roasting the squash in the oven for 30 minutes.
Microwave Method
I learned to microwave spaghetti squash from the wonderful folks at The Kitchn. (No, that's not a typo. That missing "E" is intentional on their part.) Why do I love to microwave spaghetti squash? Because you can fully cook it in less than 15 minutes. And if I'm honest, I'm usually planning dinner 30 minutes before i need to have it on the table. #RealLife Follow this link to get in-depth directions on how to cook spaghetti squash in the microwave.
Here's the brief version. 1) Poke holes in the spaghetti squash, place on glass dish, and then microwave for five minutes. This is to soften the outside. 2) Remove from microwave and cut in half, hot dog style. (All my teacher friends know what I mean.) 3) Return spaghetti squash to microwave. Depending on the size of the spaghetti squash, cook for an additional 5- 10 minutes. 4) Remove squash, allow to cool, and pull out strands with a fork.
Slow Cooker Method
My friend Holly at My Plant Based Family will tell you that cooking this vegetable in the slow cooker is "the easiest way to cook Spaghetti Squash." Cut the squash in half (hamburger way), scoop out the seeds, place in the slow cooker and cook it for 3 hours. Of course, having your hands free for doing other things does make life easier!
Baking / Oven Roasting Method
Roasting spaghetti squash is just as easy. Cut it, oil it, stick it in the oven and let it cook for 30-40 minutes. I chose this method for making these Gluten Free Chicken Alfredo Spaghetti Squash Boats because I would result in a darker color of squash. The things we do for better pictures! Based on advice from Chocolate Covered Katie, I baked my squash at 450 degrees.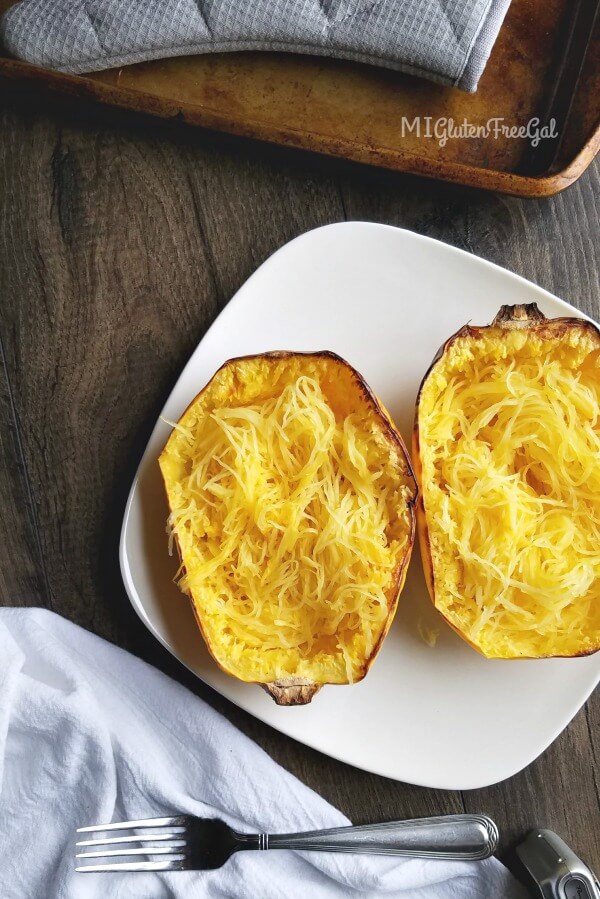 Regardless which method you choose to cook the squash for these Gluten Free Chicken Alfredo Spaghetti Squash Boats, you will destrand (?) the squash with a fork. (Not sure that's even a word. Oh well.) So here is how it should look when you have pulled the insides. Nice and fluffy.
I wanted to include this photo for two reasons. One, I wanted you to see what to expect your spaghetti squash to look like prior to adding toppings. Second, I think it's hilarious that my "regular" camera is in the bottom right corner of the picture. It's an old "point and shoot" Canon that I still use sometimes. But in all honesty, most of my pictures are taken with a Samsung 7 cell phone. No fancy DSLR. No tripod. Just me, natural sunlinght, and prayer that pictures will turn out ok. (and a little lot of help from PicMonkey.) #RealLife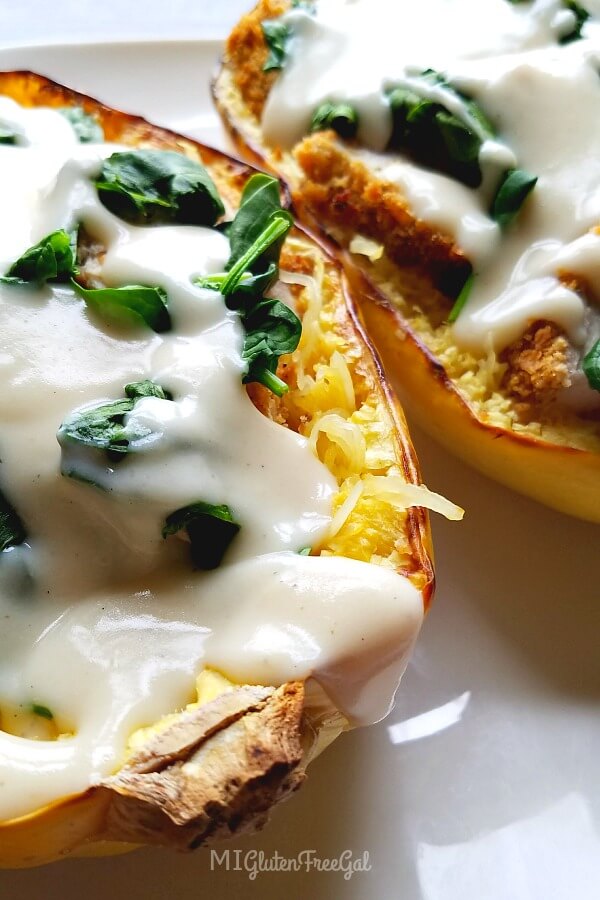 Assembling Your Gluten Free Chicken Alfredo Spaghetti Squash Boats
Now comes the fun part. In truth, you can fill cooked spaghetti squash with anything. Taco filling. Pizza sauce and pepperoni. Since spaghetti squash doesn't truly taste like pasta, it becomes a canvas for anything. I own a large package of Full Flavor Foods' gluten free Alfredo Sauce Mix. Simply combine the mix with water, cook until thickened, and enjoy! I will confess that I "tweaked" it a bit. Dinner time is when I add bits of items that I need to use up. Like the last two tablespoons of cream cheese, the final shakes of Parmesan cheese, and few glugs of milk. (Also, you can use a jar of Classico Alfredo sauce in a pinch. All Classico sauces are gluten-free.)
The chicken in these Gluten Free Chicken Alfredo Spaghetti Squash Boats are pretty stellar. I coated a chicken breast with Aleia's Extra Crispy Coat and Crunch, that I received in a previous American Gluten Free box. (It had some leftover coating from the gluten free mozzarella sticks I just made. Waste not, want not, right?) Absolutely LOVE this stuff. To that I added some cooked spinach and then drizzled that gorgeous Full Flavor Foods Alfredo sauce on top. Can I confess that I love this above picture? Like, seriously, I could make it the wallpaper on my phone.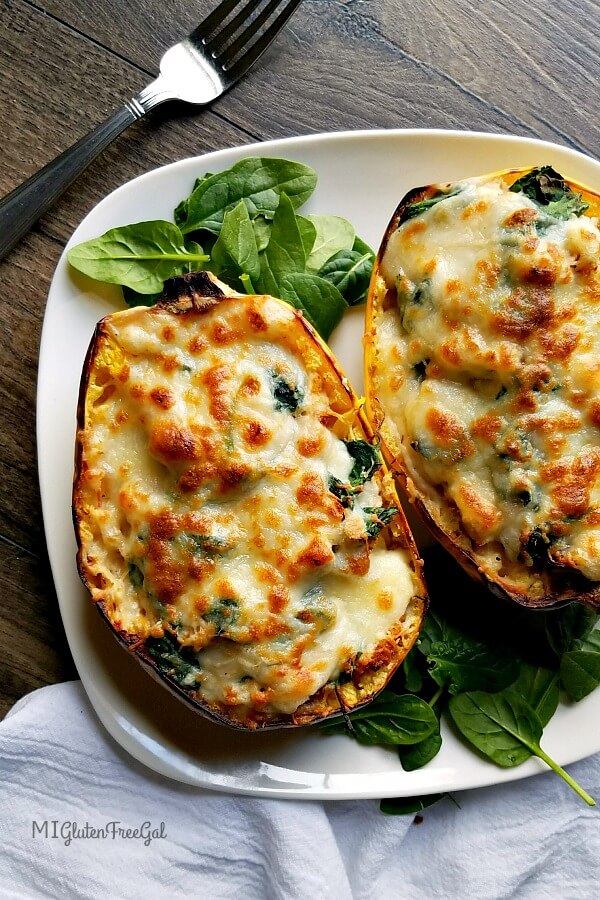 Of course, cheese (or in this case MORE cheese) makes everything better, right? I topped these Gluten Free Chicken Alfredo Spaghetti Squash Boats with a mix of Mozzarella and shredded Parmesan, and placed it under the broiler for about 5 minutes. Spectacular, am I right? My husband thought so, when we had them for dinner later that night.
Confession. When you're a food blogger, you make dinner at lunch time and eat it rewarmed, hours later. Because sunlight waits for no man. Or woman as the case may be. #RealLife Even rewarmed though, this dish was OFF THE HOOK. One of those moments when you wonder "How did I pull off something so amazing?!" This is definitely something I will be making again!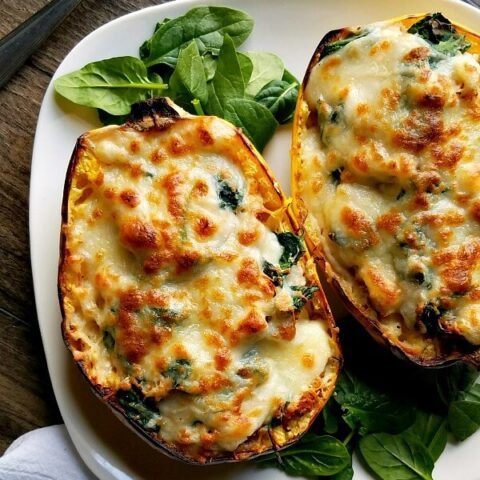 Gluten Free Chicken Alfredo Spaghetti Squash
Ingredients
1 medium spaghetti squash
oil and salt for seasoning
1 packet Full Flavor Foods Alfredo Sauce mix
1/2 c water
2 -3 tbsp cream cheese
2 tbsp grated Parmesan
1/4 c. milk
1 chicken breast (6 oz+)
Rice flour, egg and crumb coating for chicken
2 handfuls spinach
3-4 oz shredded Mozzarella and Parmesan blend
Instructions
Preheat oven to 450 degrees
Pierce spaghetti squash with fork and heat in microwave for 1 minute to soften squash. Cut down the middle, lengthwise, and scoop out seeds.
Brush spaghetti squash with oil and sprinkle with salt. Place on cookie sheet, cut side up. Bake for 30-40 minutes, depending on size of squash.
While squash is cooking, make Full Flavor Foods Alfredo Sauce mix according to directions. It will thicken greatly as it cools, so don't be tempted to cook it all the way down. I added cream cheese, Parmesan and a touch of milk to stretch the sauce. I added these after the sauce had cooked, not before.
My chicken breast was already pre-cooked from a different day. If you have a fresh chicken breast, I would suggest placing it in the oven for the last 15-20 minutes of cooking time, with the squash.
To bread the chicken, dip it in beaten egg, then rice flour, then beaten egg again, and finally in the Aleia's Coat and Crunch. You could use crushed Corn or Rice Chex instead. Or, you could simple cook a fresh chicken breast on the stove top, and not bread it at all.
Wilt the spinach to remove excess moisture. I microwaved mine for approximately a minute because I was in a hurry. You can do this on the stove top, in a non-stick skillet. I suggest using a bit of cooking spray to prevent sticking.
Once the squash is finished cooking, remove from oven and allow to cool approximately 5 minutes. This prevents you from burning your fingers! Using a fork, pull the strands from the sides of the squash.
Leave pulled squash in shell and top with sliced chicken and wilted spinach. Pour Alfredo sauce on top, then sprinkle shredded cheese on top of sauce. Return to oven for 10-15 minutes until cheese melts. Broil for 2-3 minutes if you would like to brown the cheese.
What's your favorite way to eat spaghetti squash? I'm always looking for fun new recipes to try! Share with me below!