Gluten Free Cherry Chocolate Chunk Cookies
As an Amazon Associate and member of other affiliate programs, I earn from qualifying purchases.
What cookie do you think most represents the state of Michigan? We have state trees, birds, flowers, even a state children's book. However, there is no state cookie. I hereby submit these gluten free cherry chocolate chunk cookies as a great representation of our Great Lakes state.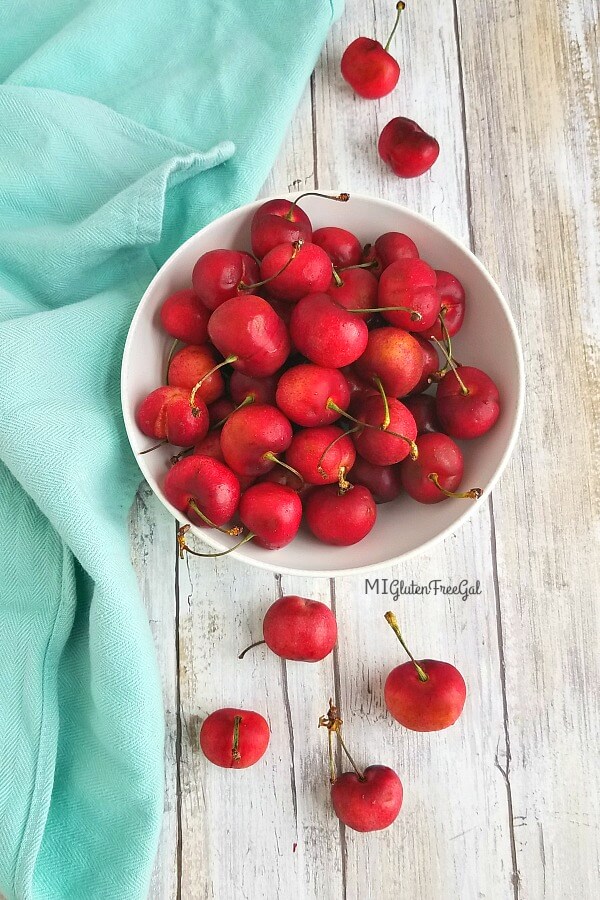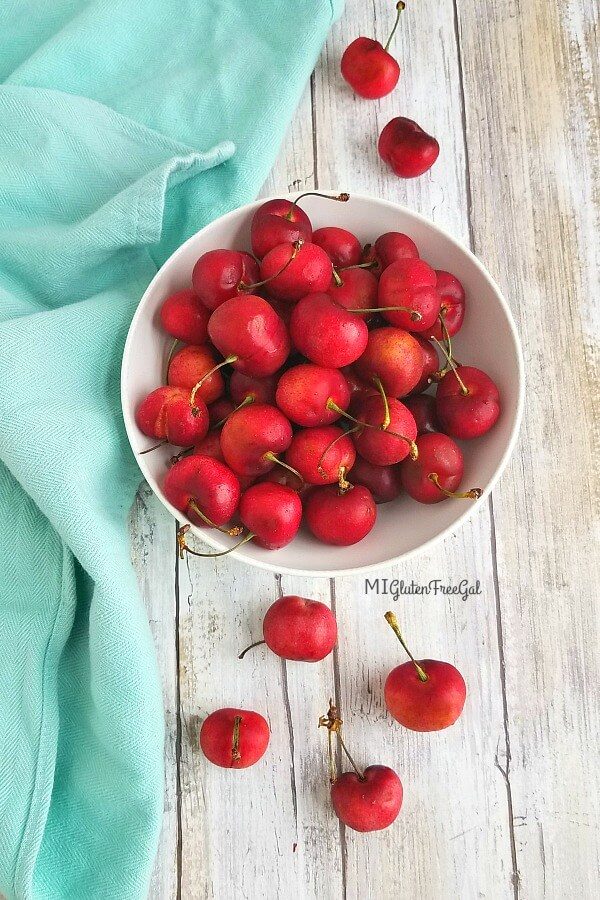 Michigan Cherries
Did you know that Michigan produces more tart cherries than any other state in the country? No wonder Traverse City is designated as the permanent home of the National Cherry Festival! Usually people think of pie or cobbler when baking with cherries.
However, I think these gluten free cherry chocolate chunk cookies should be just as revered. The blend of the tartness of the cherry with the sweetness of the chocolate chunk tastes like a chocolate covered cherry, wrapped up in buttery cookie dough. One bite and you'll be hooked!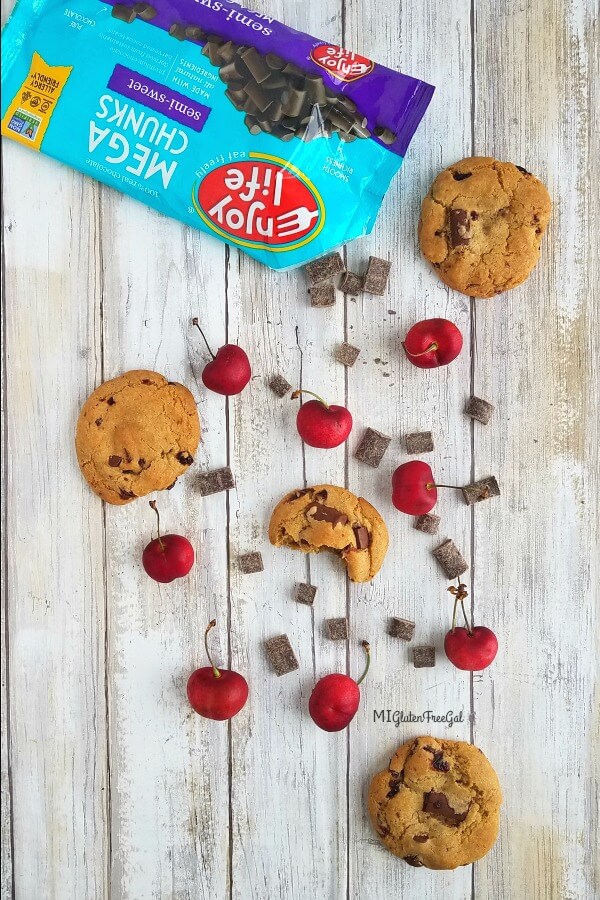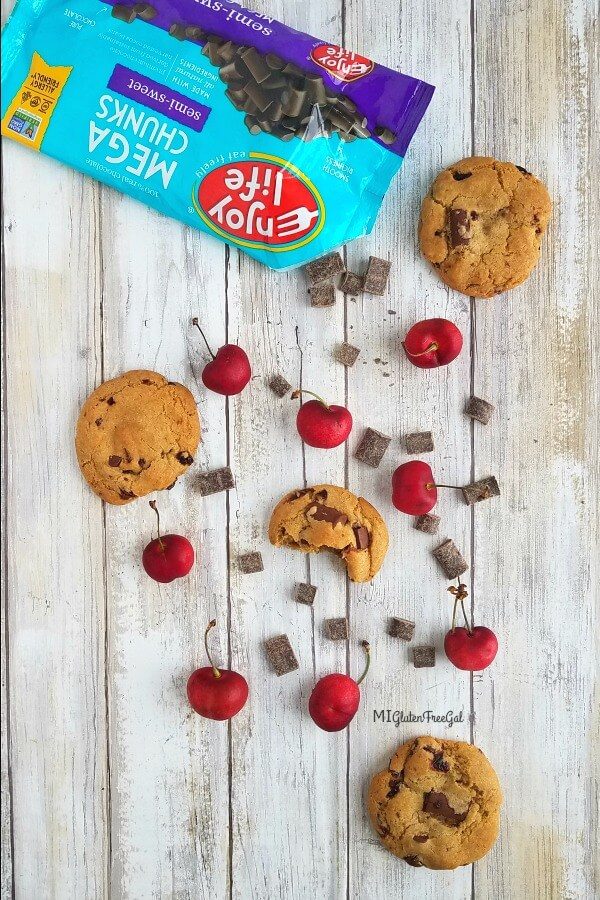 Enjoy Life Foods Chocolate
If you've been following me any length of time, you know I love Enjoy Life Foods chocolate. I often write about their dark chocolate morsels or their semi-sweet chocolate mini chips. However, their semi-sweet chocolate mega chunks deserve a shout out as well. I mean, who doesn't want more chocolate in every bite, right?
I buy them not just because they taste good. Enjoy Life Foods carries a reputation of food allergy safety in all they do. In fact, they earned the first gluten free certification from GIG. In addition to that, these chips are non-gmo, kosher, halal certified, vegan, fodmap friendly, and paleo. I love brands who try to help as many people as possible.
(One of my favorite uses for Enjoy Life Chocolate is this decadent dairy free, Gluten Free Mocha Cake!)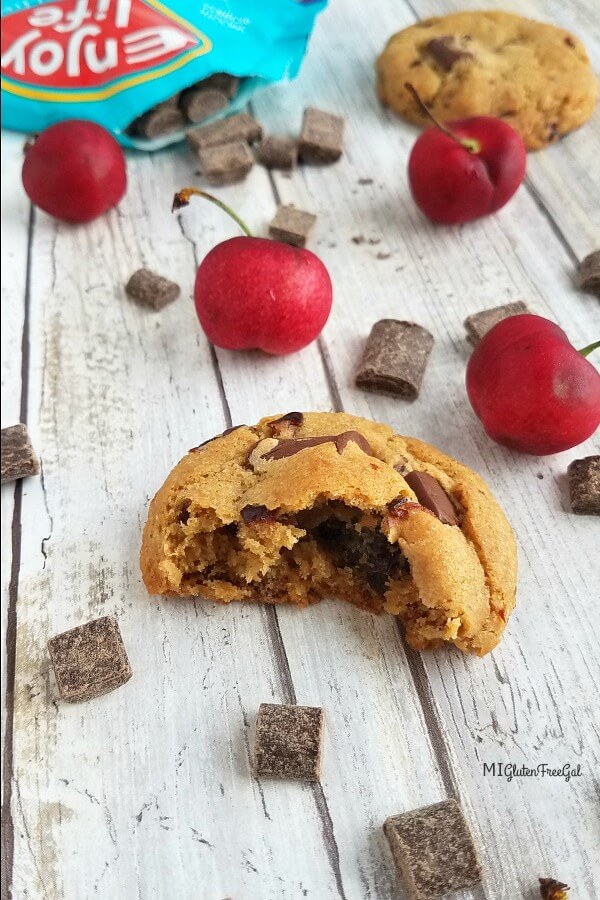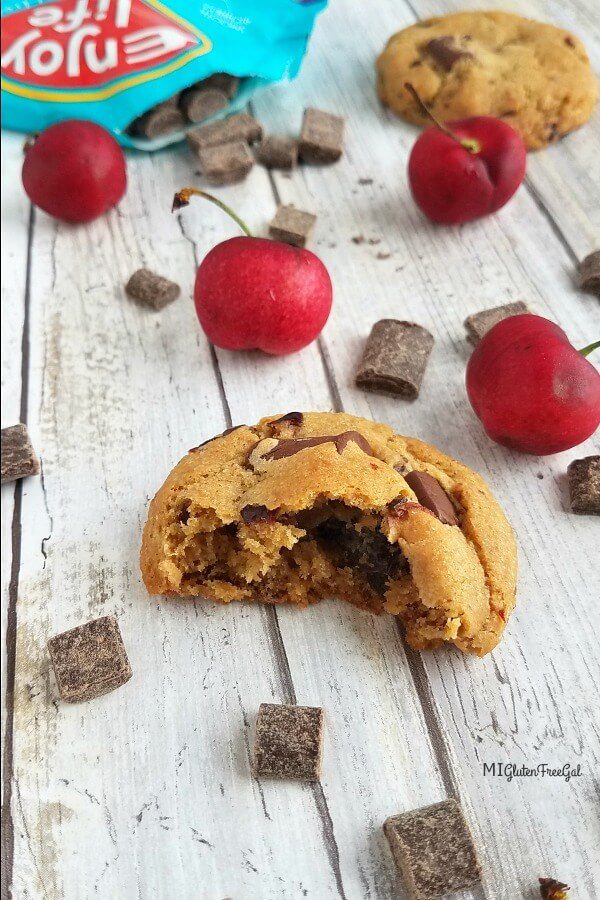 Coconut Oil vs Shortening VS Butter
So, these gluten free cherry chocolate chunk cookies use a blend of coconut oil and butter. Why? Well, shortening and coconut oil in a cookie recipe prevent spread. Since we want the cookies to flatten a little, not a lot, we use an equal blend of both.
Could you use all butter? Sure. However, know that shortening and butter contain different levels of moisture. Butter contains approximately 80% fat and 20% liquid. Shortening and coconut oil contain no liquid. Therefore, if you choose to sub straight butter in a recipe, you will likely need more flour, or reduce the liquid in the recipe.
(Also, why coconut oil vs. shortening? Simply because I use coconut oil for other purposes, and have it on hand. If you want to use shortening, knock yourself out. Well, not literally. That would hurt.)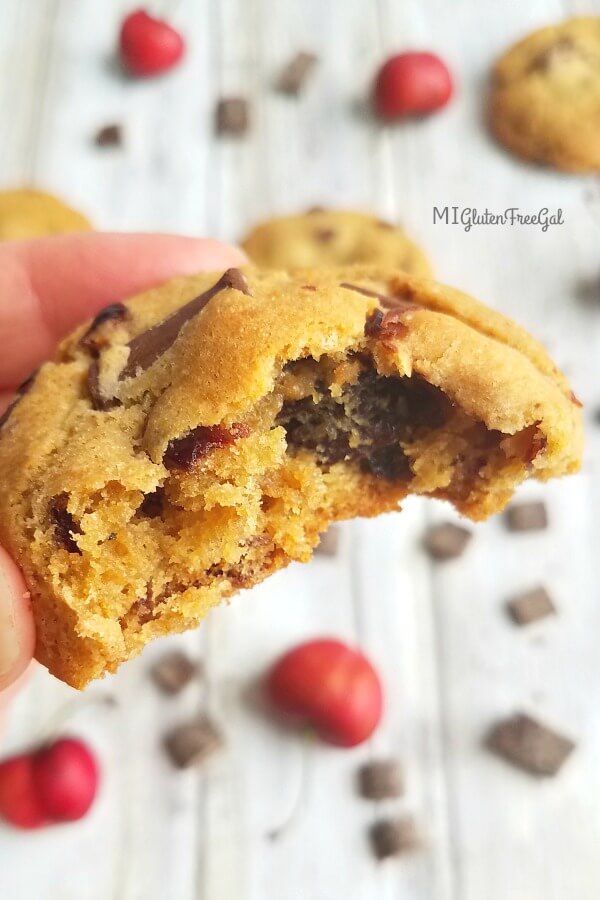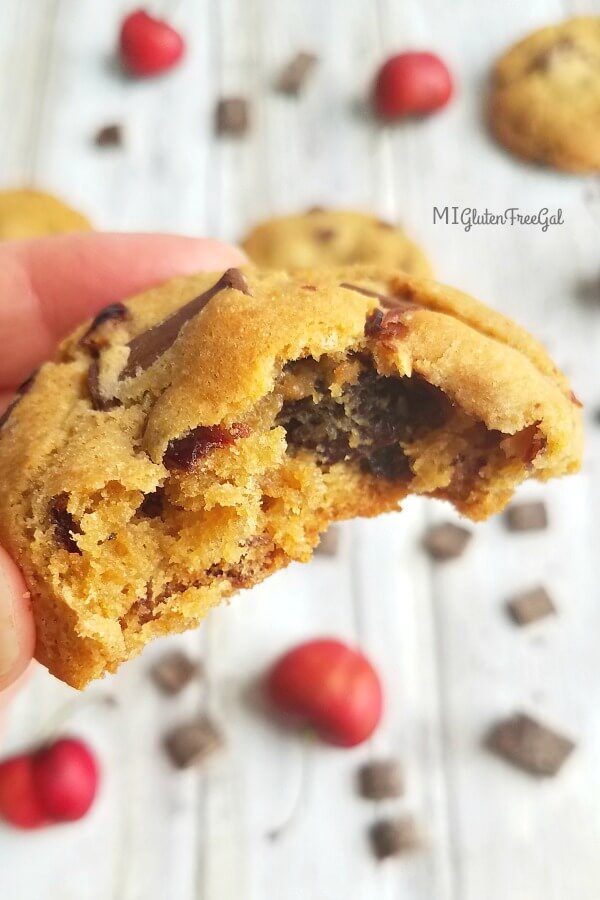 King Arthur Flour Gluten Free Measure for Measure Flour
Speaking of flour, my gluten free flour preferences have changed over the years. In all honesty, I used to bake with whatever flour I had handy. However, I recently started using King Arthur Flour Measure for Measure gluten free flour in almost all of my baking. Let me tell you why.
First, one 1/4 cup of KAF GF flour weighs approximately the same as wheat flour. This does not hold true for all gluten free flours. Second, it contains no dairy and no gmo's. Plus, it's not just what they don't have that impresses me though. King Arthur Flour fortifies this GF flour with iron, calcium and B vitamins. Not a common practice among other companies.
(Note – For those with additional food restrictions, this product contains none of the top 8 allergens. However, King Arthur Flour informed me they process it on lines shared with milk, egg, soy and almonds.)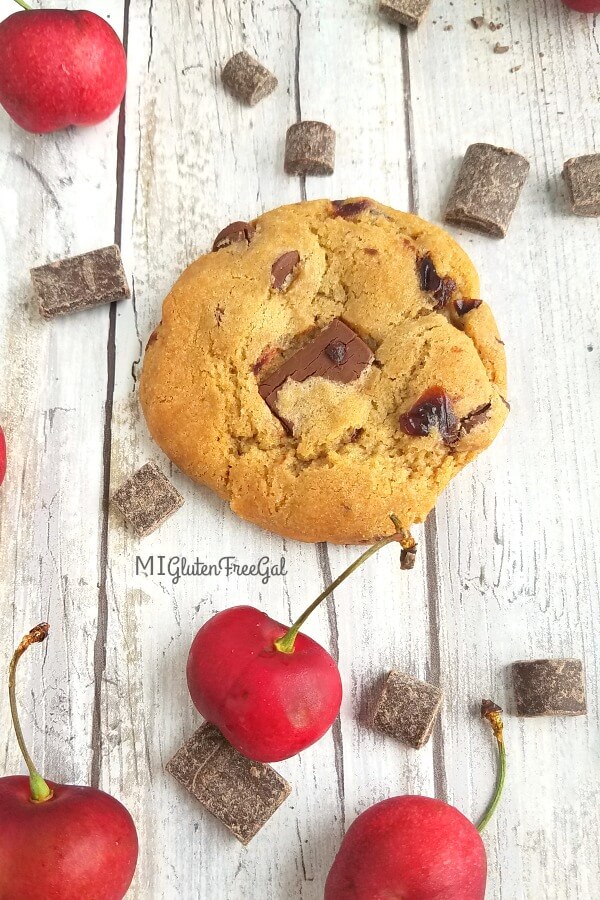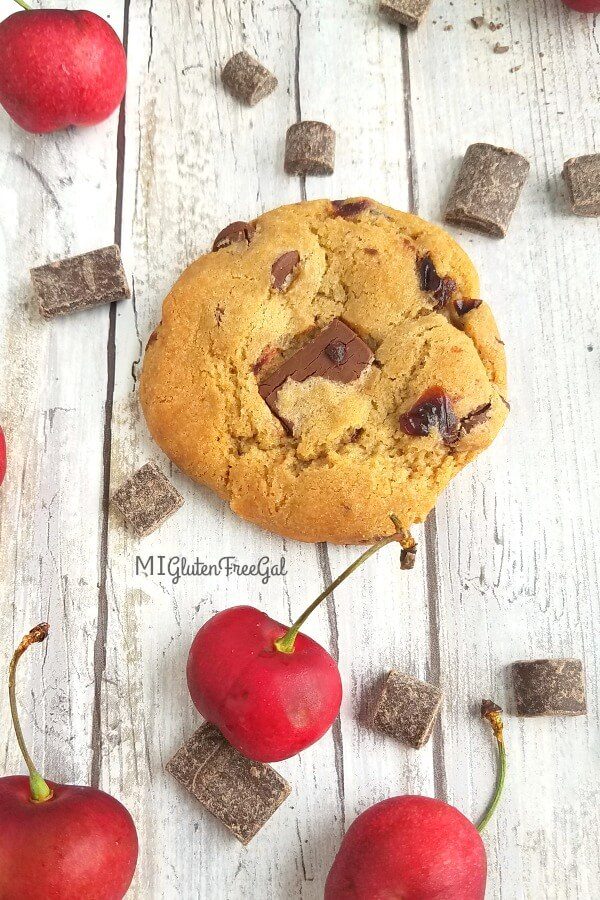 Cherries and their Juice
This recipe for gluten free cherry chocolate chunk cookies uses dried cherries soaked in cherry juice. (No vanilla!) However, it uses only one tablespoon. So, whaddya do with the extra tart cherry juice? Well, drink it, for one. Or use it in this amazing Tart Cherry Glazed Salmon recipe from Running to the Kitchen.
Some research suggests that that cherry juice may help with sleep regulation. Therefore, I've been tempted to try these Tart Cherry Sleep Gummies from WellnessMama. Or use that juice to make these "adult" Sour Cherry Rosé Gummies from Martha Stewart. Fruit snacks aren't just for kids anymore, my friends!
(Looking for more traditional cherry recipes? Check out my gluten free cherry hand pies!)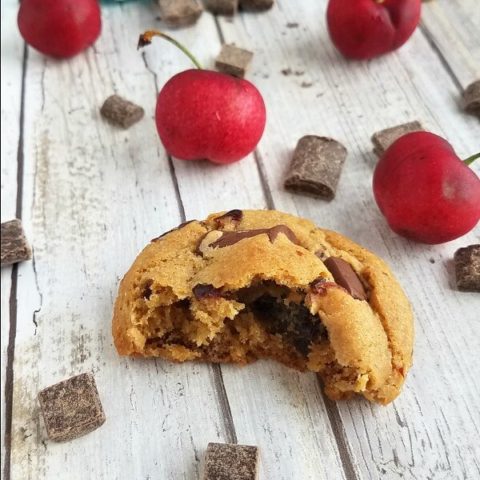 Gluten Free Cherry Chocolate Chunk Cookies
Total Time:
2 hours
10 minutes
Ingredients
1 1/2 c King Arthur Flour Measure for Measure Flour
1/2 tsp baking soda
1/2 tsp salt
1/2 cup dried cherries, chopped
1 tbsp tart cherry juice
1/4 c butter (softened)
1/4 c coconut oil (softened)
1/2 cup brown sugar
1/4 c white sugar
1 egg
5 oz. Enjoy Life Semi-Sweet Chocolate Mega Chunks
Instructions
Chop dried cherries and soak in warm tart cherry juice for approximately 10 minutes.
Using stand or hand mixer, cream butter and coconut oil. Add sugars, and continue creaming until well combined. Add egg into the creamed sugar mixture.
In smaller bowl, mix together flour, salt and baking soda. Gradually add dry ingredients to wet, about one third at a time. Make sure to scrape bowl in between additions to make sure all flour has been incorporated.
Add soaked cherries and chocolate chunks and stir well with a spoon.
Cover dough and chill for at least one hour or longer.
Remove dough from fridge, preheat oven to 350, and line a cookie sheet with parchment paper.
After dough has come to room temperature, use your hands to gather about 2 tbsp of dough. Roll into a ball and then flatten. Place cookies on lined cookie sheet and bake in oven for 10 minutes. Let cool on cookie sheet for 5 minutes prior to moving to cooling rack.
What cookie is your favorite? What's your favorite regional ingredient with which to bake/cook? Leave me a note in the comments below!
**This post was not sponsored by Enjoy Life or King Arthur Flour. However, this post does contain Amazon affiliate links. I receive a small commission from those sales, but that does not affect the cost of your purchase. Thanks for supporting my page!**