Gluten Free Candy Sushi – Fun and Fruity!
As an Amazon Associate and member of other affiliate programs, I earn from qualifying purchases.
Not a fan of regular sushi? You (and your kids) are going to love this take on marshmallow crisped rice treats! These colorful and fun gluten free candy sushi will impress everyone!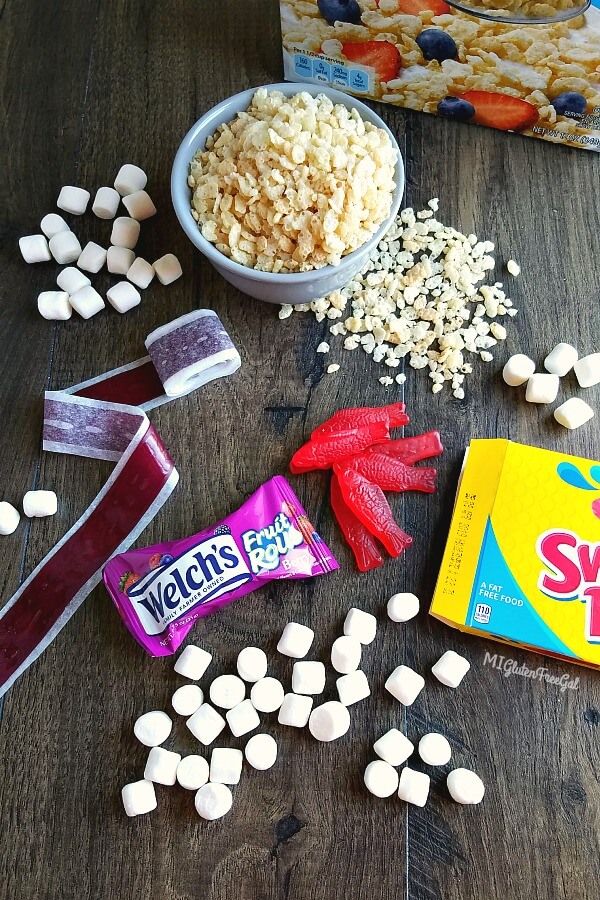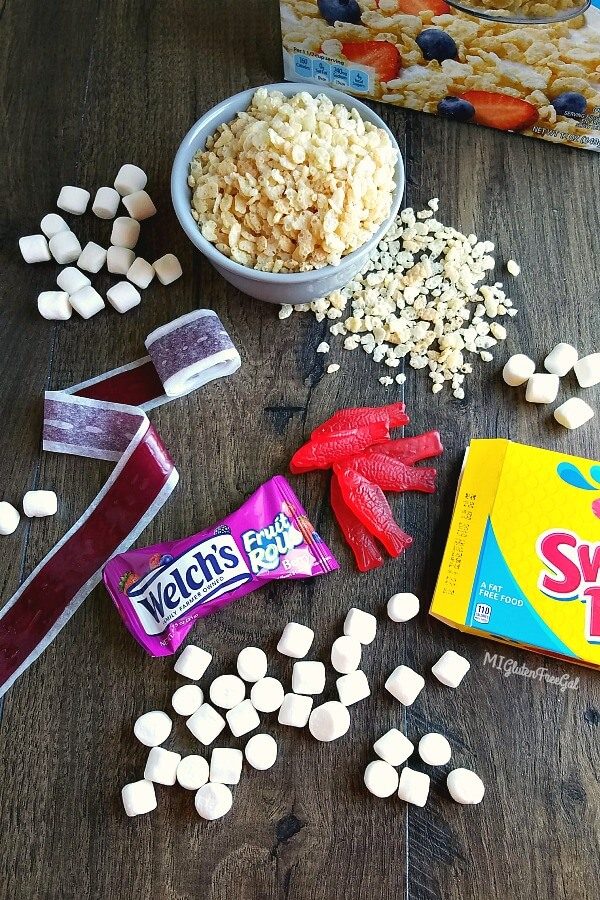 Anime Club and Fruit Sushi
My husband is a saint. Not only is he a middle school teacher, but he also hosts an after school anime club for 7th and 8th graders. In his free time. After already teaching all day. He's totally my hero. I jump in as his sidekick and weekly buy and/or prepare snacks for the kids. I started making these gluten free candy sushi years ago and they have become a "must have" with this students every year! Whenever these ingredients pop up, it's a sure sign to the end of the school year!
The recipe isn't all that difficult, really. It consists of three things: a "rice ball," candy fish, and fruit rolls for the "nori." The base for the "rice ball" for the gluten free candy sushi is your basic marshmallow crisped rice treats. I will share the one I used, that was on the packaging. However, you can use whatever recipe that you want. Now as a reminder, regular Kellogg's Rice Krispies are NOT gluten free. Why? Because they contain barley malt. However the following brands make crisped rice cereal that does NOT malt.
Gluten Free Crisped Rice Cereals
* Nature's Path Organic Crispy Rice Cereal (certified GF by GFCO)
* One Degree Organic Foods Sprouted Brown Rice Crisps (certified through NSF)
* Barbara's Organic Brown Rice Crisps (tested to be under 20 PPM, not certified)
* Malt-O-Meal Crispy Rice (no outside certification, Malt-O-Meal / Post GF product listing)
* Aldi Millville Crispy Rice (no outside certification, verified through company)
So a few tips on making the "rice ball" portion of your gluten free candy sushi. First, melt your butter and marshmallows on low. You want to achieve a creamy marshmallow "fluff" that will evenly coat your cereal. After stirring in the cereal, I suggest waiting approx 4-5 minutes to form your "rice balls." Why? Well, one IT's HOT! But secondly, you need to let some of the marshmallow firm up for the "rice balls" to hold their shape. Trust me, I know from (failed) experience. Also, I used two sandwich bags, over my hands, to form the "rice balls." Keeps my hands from getting all gross and sticky.
One Fish, Two Fish, Red Fish…..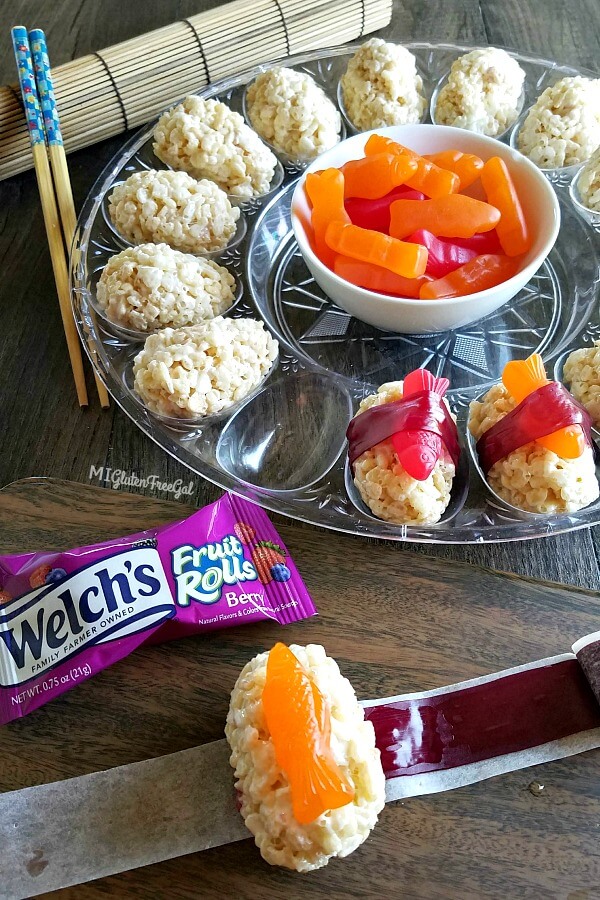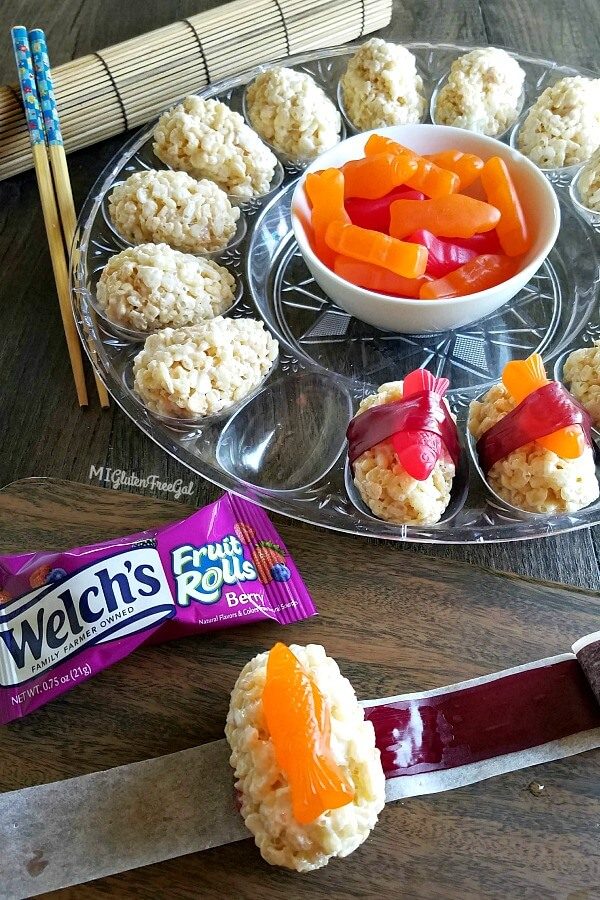 Gluten Free Candy Fish
So, let's talk fish. Candy fish, that is. I used Swedish Fish, because that is what I know to be gluten free. It is listed on the Celiac Disease Foundation General Candy List as being gluten free as well. However Swedish Fish come in only one color red. So you may be wondering, where did those orange fish come from on my gluten free candy sushi?!?!
Kroger. I bought them at Kroger. The ingredient list contains no ingredients that include gluten. It lists "natural & artificial flavor," however as Tricia Thompson states in her article about flavoring extracts, the manufacturer would have to list if it is made from wheat, rye or barley on the label. Wholesome! makes organic "DelishFish," which are certified by GFCO. They'd be another great option for these gluten free candy sushi. Finally, I bought the Welch's Berry Fruit Rolls, which specifically state gluten free on the box. Plus, the dark purple makes it a closer color match to actual nori!
This is How We "Roll"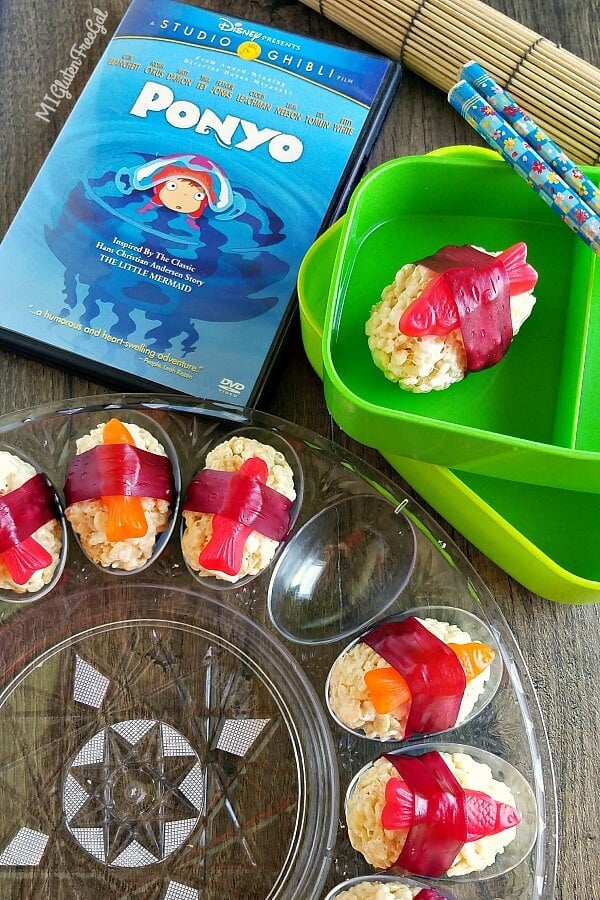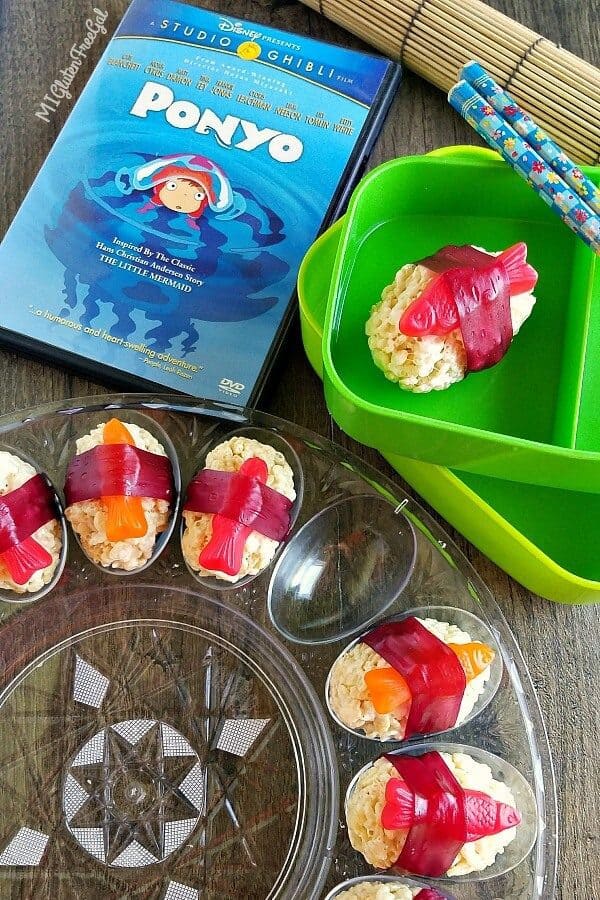 Next, you simply place a fish on top of your formed gluten free candy sushi rice ball, wrap a strip of fruit roll around it, and immediately impress everyone you know. I find it works best to start with the fruit roll at the underside of the "rice ball," pull it over the top and reconnect it on the bottom. These would be great for an underwater theme party, of a fun kid dessert to go with any Asian meal. (For sure, they'd go great with a lunch of onigiri!) Of course, they become the perfect sweet treat when watching your favorite Studio Ghibli film. If you haven't seen Ponyo, it's a must. You'll never be able to say the word ham again without laughing!
Looking for other great marshmallow based treats? Make these Coco Loco Krispies from my friend Cindy at VegetarianMamma! Maybe these Gluten Free Chocolate Dipped Crispy Rice Treat Ice Cream Sandwiches from my friend Amanda at Eat At Our Table are more your style? Of course, if you're really brave, you can try making your own homemade marshmallows, like these from Christina Lane at Dessert for Two. Looking to avoid gelatin all together? Then try this spread that my friend Michelle made for her S'mores Sandwich Cookies!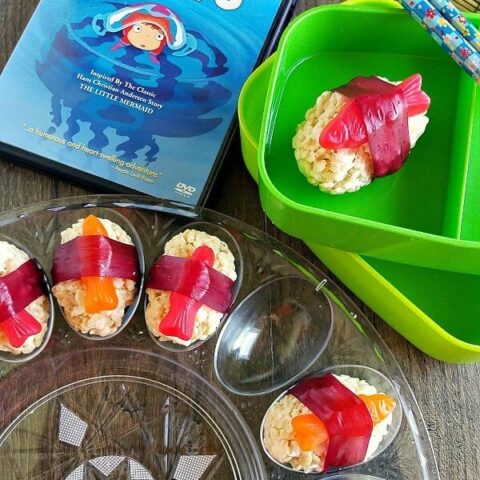 Gluten Free Candy Sushi
Ingredients
4 tbsp butter
1 10 oz pkg mini marshmallows
6 oz (7 cups) Gluten Free Crisped Rice Cereal
24 candy fish
1 box Welch's Berry Fruit Rolls
Instructions
Melt butter in large saucepan over low heat, and add marshmallows. Continue to melt over low heat until it becomes a creamy mixture.
Add in cereal and stir well to coat all of the cereal. Allow to cool 4-5 minutes before attempting to form rice balls.
I use two sandwich bags as "gloves" to handle the marshmallow crisped rice "dough" to form into egg-shaped portions. You should be able to make 23-24 rice balls. Place on a platter. If you have a deviled egg tray, it is PERFECT for this treat.
Once all of the rice balls are formed, top each one with a candy fish and a strip of fruit roll. You should be able to use one fruit roll to complete 3-4 gluten free candy sushi. I find it best to start wrapping the candy sushi rice ball from the underside, pull it over the candy fish, and then connect it to the bit of fruit roll on the bottom.
** This page contains Amazon affiliate links.**