Gluten Free Beef Stroganoff for 2
As an Amazon Associate and member of other affiliate programs, I earn from qualifying purchases.
Beef and mushrooms make the best combination. Especially in this gluten free beef stroganoff. This small batch recipe, created for two, contains about 400 calories per serving. Perfect for any night of the week!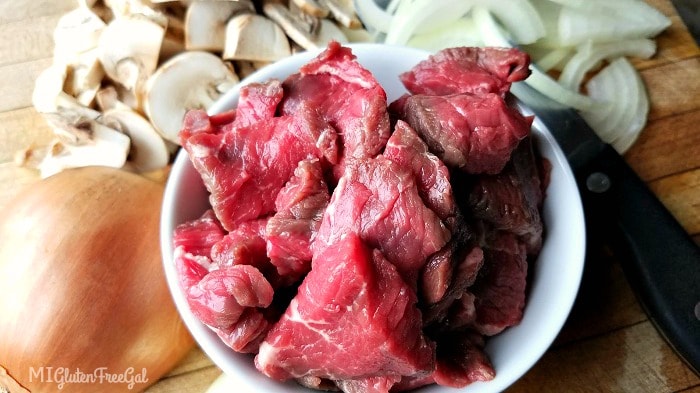 400 Calorie Meal
When I originally wrote this post in 2013, I was working at Curves. If you're unfamiliar with Curves, it's a fitness facility for women. Fast forward to 2017. I'm not longer working there, and I've learned how to take better pictures. I also learned that in weight loss, not everything has to be exact, and not every single calorie has to be minutely counted.
Even though my time at Curves is done, I really enjoyed some of the 400 calorie recipes in their Curves Complete plan. One of these is a what I turned into a gluten free beef stroganoff. I've tried it with various brands of pasta, including this Organic Brown Rice & Quinoa Fusilli from Trader Joe's. At $2.99 for a 1 lb. bag, I thought that was a great deal! Added bonus? This pasta is also organic!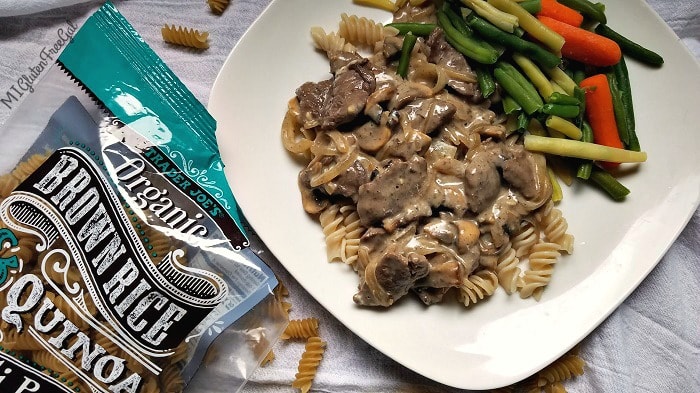 Do What Works Best for You
Now, I have to be honest that I "tweeked" this gluten free beef stroganoff recipe a bit from the original. To start, I sauteed the thin slices of beef in a tablespoon of butter. When those were cooked, I removed the beef from the pan and sauteed the onions and fresh mushrooms.
I used Pacific Foods Cream of Mushroom instead of Cream of Chicken, because mushrooms are amazing. I also substituted Greek yogurt instead of the sour cream. (We never have sour cream in the house and ALWAYS make this substitution.) I also left out the flour and water, because the mixture was plenty thick.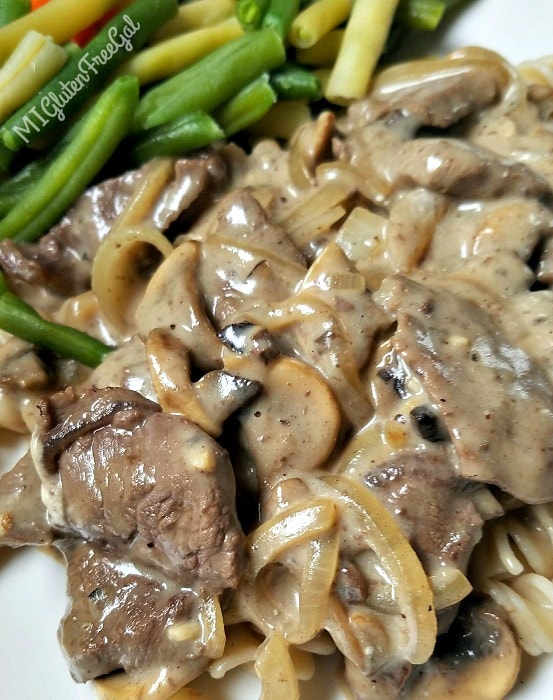 Other Small Batch Recipes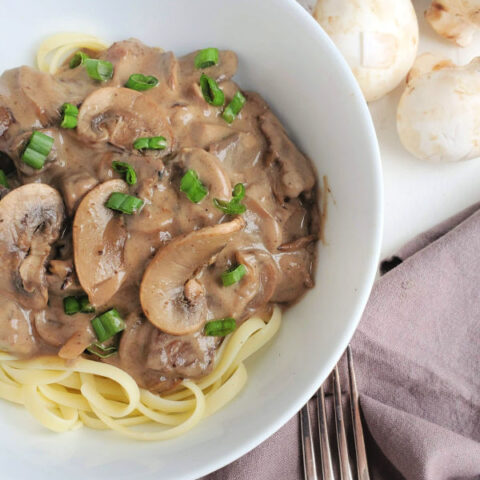 Gluten Free Beef Stroganoff for 2
Ingredients
1/2 cup (4 oz) gluten free pasta
1 tbsp butter
8 oz sirloin steak (or ground sirloin)
1/2 onion(s) - medium
3 oz mushrooms (1/2 cup)
2 cloves or garlic, minced
1/2 cup soup - gluten free cream of mushroom
4 tbsp Daisy light sour cream OR fat free Greek yogurt
salt & pepper to taste
2 cups green beans or broccoli
Instructions
Bring a pot of water to a boil. Add gluten free pasta and cook for 8 to 10 minutes or until al dente. Drain.
Warm a nonstick skillet over medium heat and melt 1 tablespoon butter. Saute thinly sliced beef, 3 minutes per side. Remove beef from pan.
Add onions, mushrooms, and garlic to the pan. Saute until onions are translucent. When the onions soften, add sliced sirloin back to the pot. Pour the soup over the steak and vegetables, and cook until hot and bubbly.
Remove from heat and add light sour cream or Greek yogurt, and salt & pepper to taste.
Serve mixture over noodles with steamed green beans or broccoli on the side.
**This post contains affiliate links. Purchases made through those links help support this blog with no extra expense to you. Thank you for your continued support!**