Frita Batidos : Gluten-Free with a Cuban Flair
As an Amazon Associate and member of other affiliate programs, I earn from qualifying purchases.
Frita Batidos in Ann Arbor offers delicious food with a Cuban flair. Read on to learn what I ordered.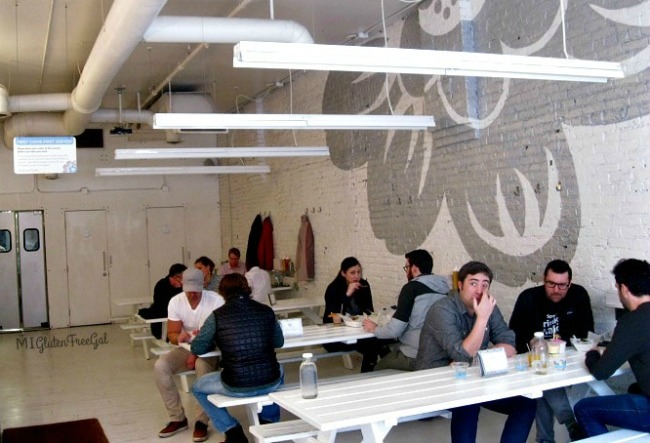 Where is Frita Batidos?
Ann Arbor is home to many amazing restaurants, and Frita Batidos rates high on that list. While it may appear similar to a burger and fry joint, Frita Batidos is a marriage of Cuban flavors that transport you to the tropics. I don't know that I've ever eaten a better burger. And that coconut batido milkshake? Sweet and delectable. All this and they're totally hip on safely preparing foods for those with food sensitivities.
I contacted Paterno Johnson, the general manager at Frita Batidos, prior to our midweek lunchtime visit. They've received great reviews on the Find Me Gluten Free app, but I wanted to inquire further. Reviewers piqued my interest, stating that Frita Batidos has a dedicated fryer. (Gluten-free French Fries are the way to this gal's heart!) They have a guide that lays out their menu by special requirements, be it gluten-free, vegetarian, lighter side, and more. Paterno explained, via email, their step-by-step process for handling an order for a customer with food allergies.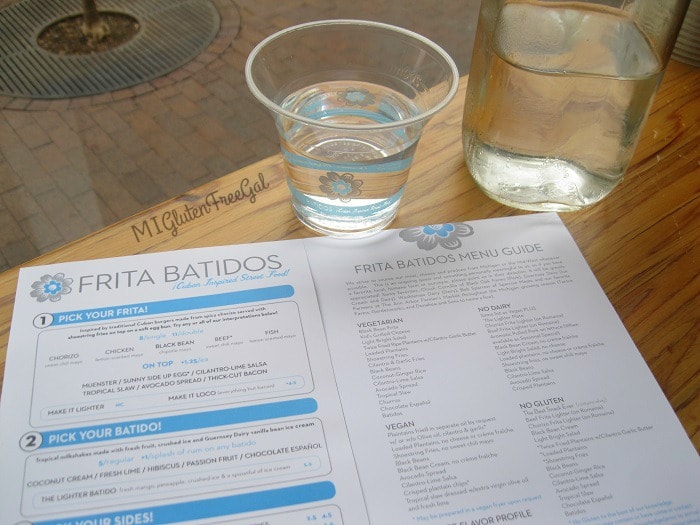 How Does Frita Batidos Handle Gluten Free Orders?
When you place your order at the counter, the front-of-house staff comes in the kitchen to talk to the expediter. The "expo" circles the allergy item in red sharpie on both the yellow and white tickets so the line cooks and "expo" is always aware.
Line cooks wash their hands then don clean gloves as they prepare the food. When someone has an allergy to any item from the grill, we cook the item in a separate, clean and sanitized pan (with clean utensils) to avoid cross contamination. When the food is ready, they put the food in our food trays and give it directly to the expo. He or she clearly marks the tray and informs the Front Of House staff which item has the allergy.
2022 Update
While working on my Detroit gluten free dining guide, I had the chance to connect with Eve, the owner of Frita Batidos. She shared the following information.
"We do ask that guest with Celiac Disease let us know because we take extra precautions with this condition. For guests with Celiac disease we specify on our order ticket, do a verbal call to the expeditor, write it on a white board and have a dedicated person in the kitchen prepare and package the order from start to finish.
We still have the essay question on our Restaurant Test asking each staff member to describe Celiac disease in detail. They study from a version of the test with answer but take the final test without the answers in order to work independently on the floor at Frita. This is part of our mandatory front of the house training.
Over the past year and from our conversations with you, we realized we needed to focus more on training the back of the house to have the same level of understanding so that has been a big help all around! We have tried to constantly improve our practices and training – and have focused on it recently in thanks to a staff member who worked with us over the Summer who has Celiac disease and was able to point out areas we could improve.
We do have a labeled, dedicated gluten free fryer, both in Ann Arbor and Detroit. We also have a kit in a zipped bag with dedicated gluten free cutting board, Chef's knife, pot, pan etc…) in both Ann Arbor and Detroit! Hope all is well with you and yours and, as always, we are open to suggestions, feedback and areas to improve so I hope you will continue to do so! We SO appreciate your support!!!
Does Frita Batidos Have A Dedicated Fryer?
For anything that needs to be cooked in the fryer (like their DELICIOUS French Fries) away from contaminated items, Frita Batidos maintains a dedicated gluten free fryer. Like everything else, line cooks wash their hands then use gloves as they prepare the food.
Food delivery to the customer is the same as above. If a guest is eating with a group, their food will not be on the same tray to avoid cross contamination. Also, per requirements from the health department, a Frita Batidos has a manager that is Serv Safe Allergen Certified. While the law only requires one, Paterno understands the wisdom of having as multiple staff aware of the steps to keep food allergy guests safe.
Now that we've got the food safety covered, let's get to the amazing food at Frita Batidos!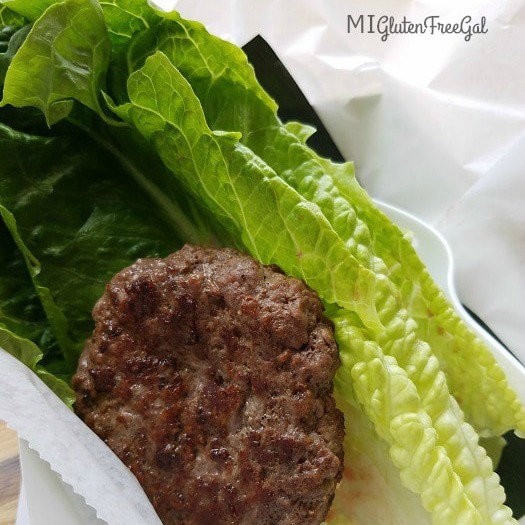 What Does Frita Batido Mean?
The name of the restaurant, Frita Batidos, refers to Cuban burgers named Fritas. They create traditional fritas from chorizo, served on brioche buns, topped with shoestring fries and a remoulade-style sauce. Right now, Frita Batidos doesn't carry gluten-free buns.
To be honest, I'm not sure it totally needs one. It was the MOST perfectly flavored patty I think I've eaten in my WHOLE LIFE. However, manager Paterno Johnson was receptive to my suggestion of a local gluten-free bakery, should they ever decide to carry a gluten-free bun. I really appreciate his willingness to listen to suggestion.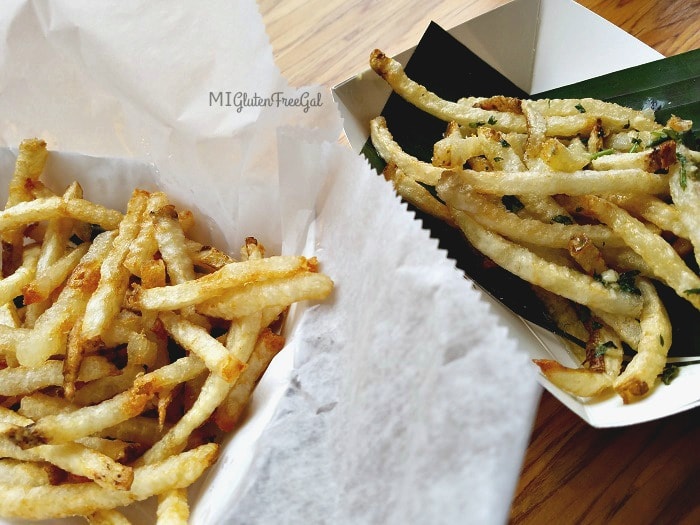 Even if we can't have the fries on our frita at the moment, we can still have the fries. As mentioned, alert the front of the house staff when you order, and they will cook them in a dedicated fryer. In addition to the regular fries, they also make garlic-cilantro fries that Paterno served to us with a lemon scented mayo. What a combination of flavor!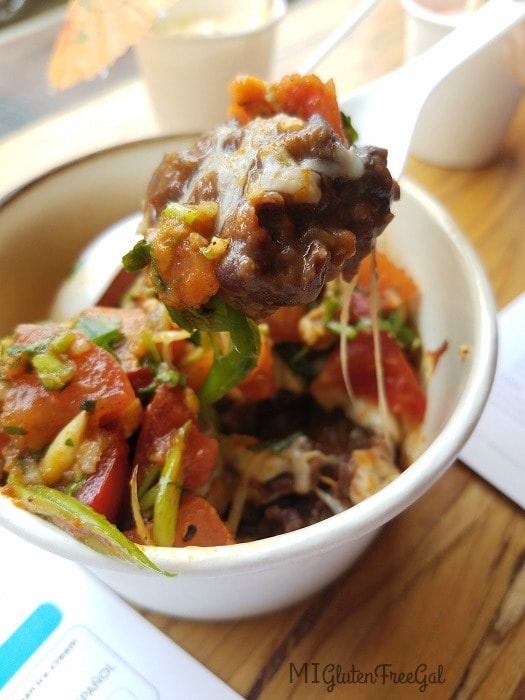 What's The "Best Snack Ever"?
Frita Batidos is more than just burgers, fries and milkshakes. They have some great sides as well. The staff aptly named this dish "The Best Snack Ever." It's comprised of coconut-ginger rice layered with black beans and melted Muenster, mixed with cilantro-lime salsa. I could seriously eat this every day.
You also have to try the twice-fried plantains. They taste a bit like a baked potato, again topped with black beans, Muenster, cilantro-lime salsa, and the addition of avocado spread and creme fraiche. If you are a vegetarian eater, you can eat well with these items, sans meat.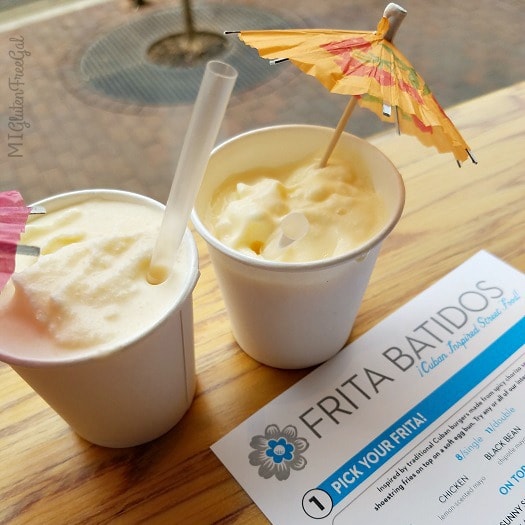 Does Frita Batidos Offer Gluten Free Desserts?
Of course, you have to save room for dessert. Although, life is short, so you might order one of their signature batidos first. Paterno gave us samples of the Coconut Cream and Passion Fruit batidos. I preferred the coconut, while my husband preferred the Passion Fruit. I want to go back to try the Chocolate Espanol batido, which is dark melted chocolate steeped with cinnamon. If you're looking for something lighter, they'll make one with crushed ice and less ice cream. Or take a regular one up a notch and add a splash of rum!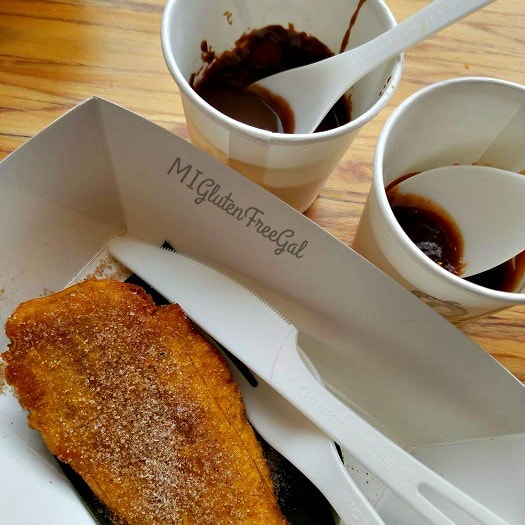 Try the Deep Fried Plantains!
Frita Batidos is famous for their churros, which unfortunately are not gluten-free. However, Paterno was nice enough to give me a deep fried plantain, coated in cinnamon and sugar. With that, he served me some of that delicious chocolate espanol, as well as "cajeta." Cajeta is slow cooked caramel made from goat's milk. I can't even begin to tell you how CRAZY delicious this is. Make a batido with that and chocolate espanol and I would be in HEAVEN.
Frita Batidos Supports Local Michigan Businesses
Eve Aronoff is the creative chef and owner of Frita Batidos. She has won extensive awards for her cooking. After eating here, I can understand why. Eve and her staff are eager to support local, visiting local farms & purveyors and expanding their cooking skills through culinary expeditions.
They also place a high value on ongoing, continuing education for all staff. They take advantage of guidance from like minded businesses, such as Zingerman's Zing Train courses. This and more is what makes Ann Arbor a great dining destination. There's room for all the flavors of the palate here in A2. I look forward to returning to Frita Batidos soon and often. Especially for happy hour, because there's a discount on those amazing fries!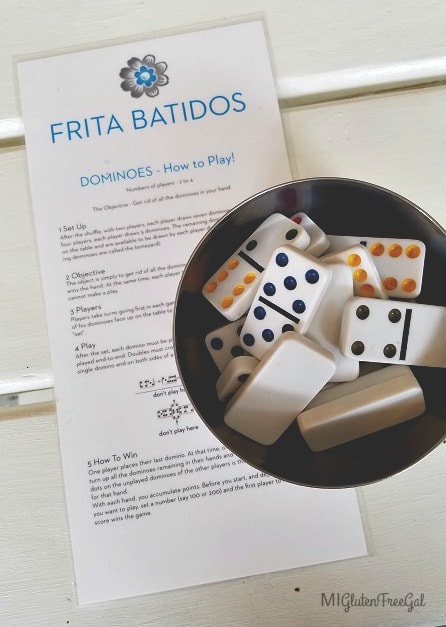 Frita Batidos – Ann Arbor
117 W. Washington
Ann Arbor MI 48104
(734) 761.2882
Website | Facebook | Twitter | Instagram
Frita Batidos – Detroit
66 W Columbia St
Detroit, MI 48201
(313) 725-4100
Have you eaten at Frita Batidos? What's your favorite menu item? Do restaurants that focus on sourcing local ingredients, like Frita Batidos, more readily make you want to dine there?
** I was not charged for my meal. All of my thoughts and opinions are my own. Such as I need to go back for another round of those french fries!*
Frita Batidos is one of many Michigan restaurants I've visited. You can view a list of them on my Michigan gluten free dining post. Please remember to always ask any restaurant about their food preparation practices.