Flint Coney Dogs – Gluten Free
As an Amazon Associate and member of other affiliate programs, I earn from qualifying purchases.
Here in Michigan, coney dogs are one of the 5 major food groups. However, the question often asked is "Detroit or Flint Style?" Living in Buick City, my obvious answer is Flint Coney Dogs. They taste great on Schar gluten free hot dog buns. Thank you to Schar for sponsoring this post.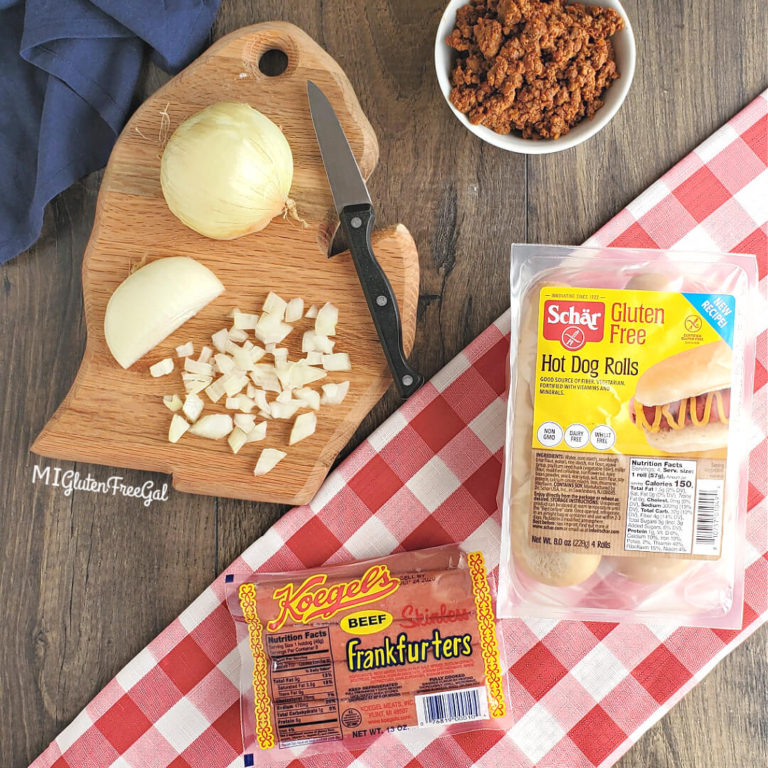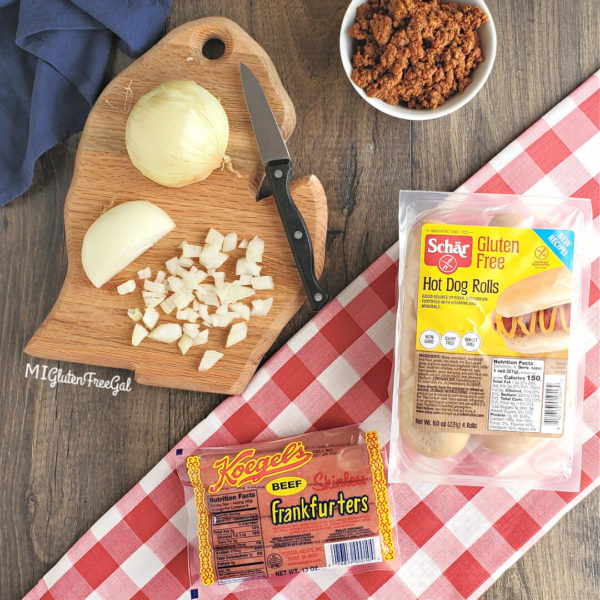 Coney Dogs: Detroit Vs. Flint Style
My husband and I grew up an hour away from Flint, in Lansing. Truth be told, I don't think I'd ever eaten a coney dog as a child. When we moved to Flint, every other restaurant appeared to be named a "Coney Island." A family diner, which served hamburgers and basic entrees. But their menu fixture was always a Flint Style Coney Dog.
In Michigan, one can get a coney dog served Detroit or Flint style. The main difference, as fas as I can ascertain, is that a Detroit style coney dog is "wetter" than a Flint Coney Dog. That, and most Detroit style recipes only use ground beef in the sauce. Flint coney dogs include chopped up hot dogs. And no other hot dog will do than Flint-owned gluten free Koegel Hot Dogs!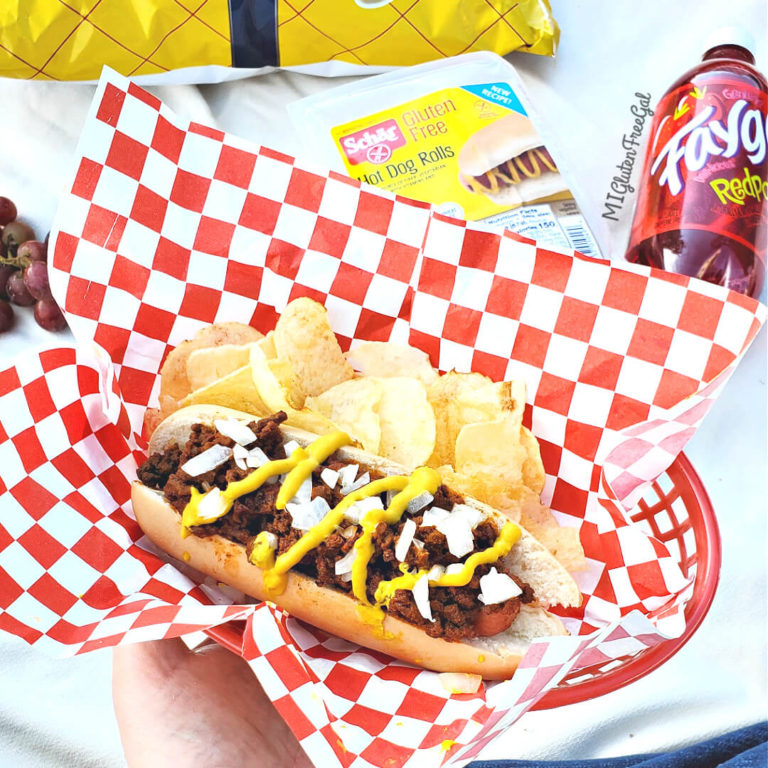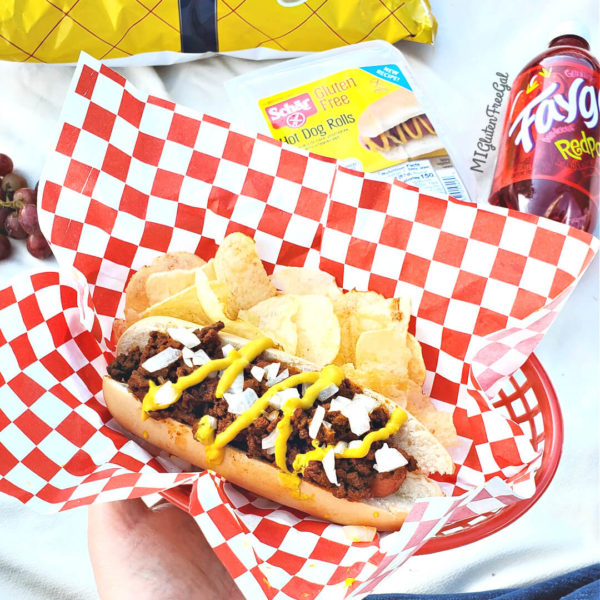 How to Build a Flint Coney Dog
To make my Flint coney dogs gluten free, I used Schar gluten free hot dog rolls. I love that they are shelf stable until I'm ready to use them. Aside from being gluten free, they are also egg and dairy free, and contain no gmo ingredients. Most coney dog recipes called for steamed buns. Therefore, I placed my Schar hot dog rolls in the microwave, with a cup of water, and warmed them for 40-60 seconds. A great tip I learned from Kathleen Flinn's recipe for Flint-Style Coney Islands.
Traditional Flint Coney Dogs are topped with onions and mustard. No ketchup here. While you can use whichever mustard you like, traditional recipes call for yellow mustard. Most yellow mustard on the market contains no gluten. The only excpetion to the rule, I've found, is Colman's Mustard, which contains wheat.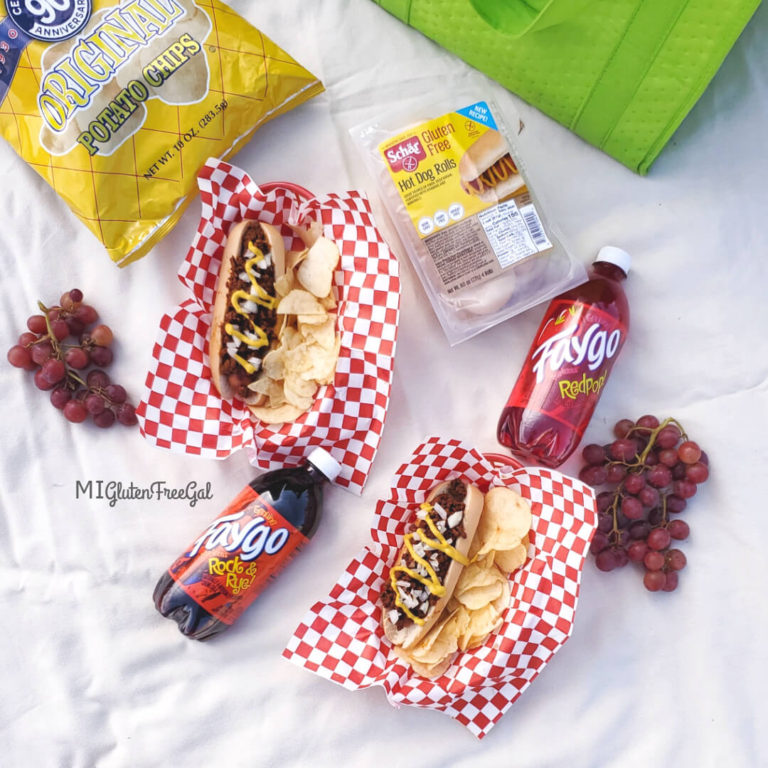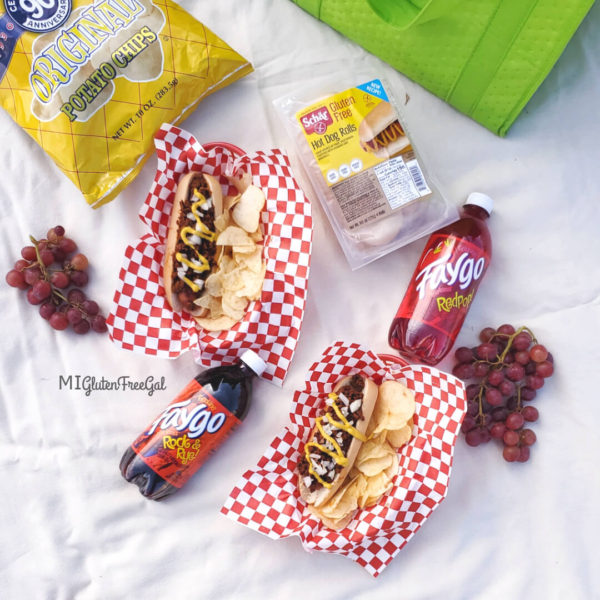 What to Enjoy with a Flint Coney Dog
It's no secret that I'm a big supporter of all things Michigan made. Great snacks to enjoy along with hot dogs include potato chips, like Better Made. If you crave a pickle with your dog, McClure's Pickles fit the bill. Wanting to complete the meal with a ball park vibe? Try some Second Nature nuts. And I always recommend finishing off any meal with a scoop of Michigan Made Hudsonville Ice Cream.
What beverage should you enjoy with your Flint coney dog? No soda (or pop) is more Michigan than Faygo. Unfortunately, I recently realized they've now added sucralose to all their beverages, so I can no longer drink them. Eat Like No One created a list of other Michigan Made Pop brands, such as Towne Club and Vernors. Looking for something more "adult?" Check out my list of Michigan gluten free alcholic beverages.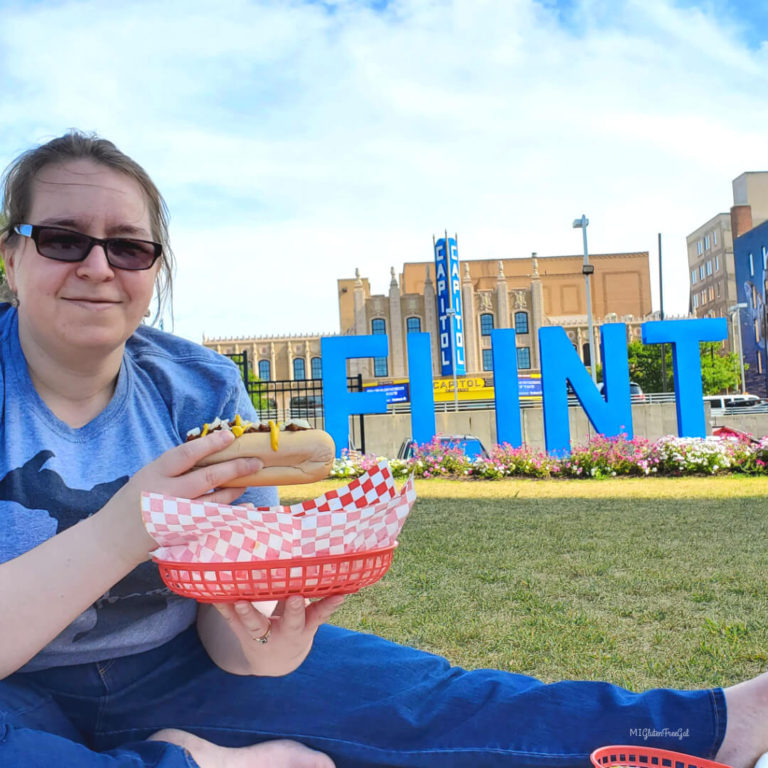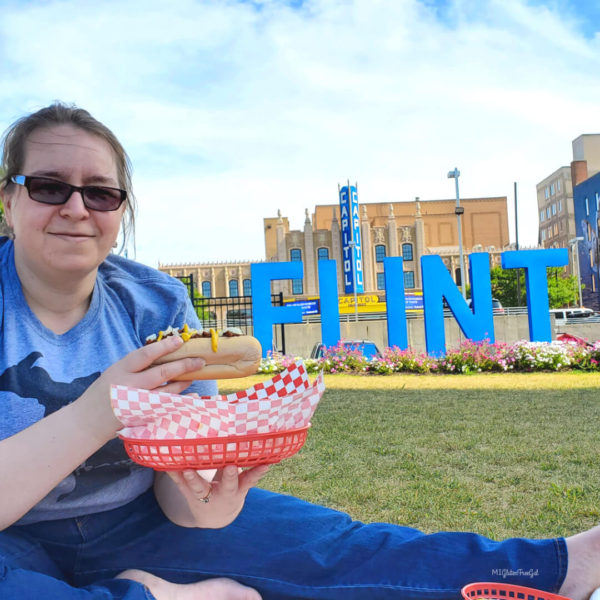 Flint Strong
When I tell people I live in Flint, their first reaction is often "How's the water?" Better. Much better. However, there's lots of great things about Flint that get overlooked. Even in the decade I've lived here, a resurgence is starting to help change the image of the city. Busineses continue to invest in Flint, as I've previously shared in my post on reconstruction.
For instance, we have an amazing coffee scene in Flint. We have our own hockey team, called the Flint Firebirds. Our brand new soccer team, the Flint City Bucks, won the championship in their division in their first year as a team. The college cultural area includes great museums, and more.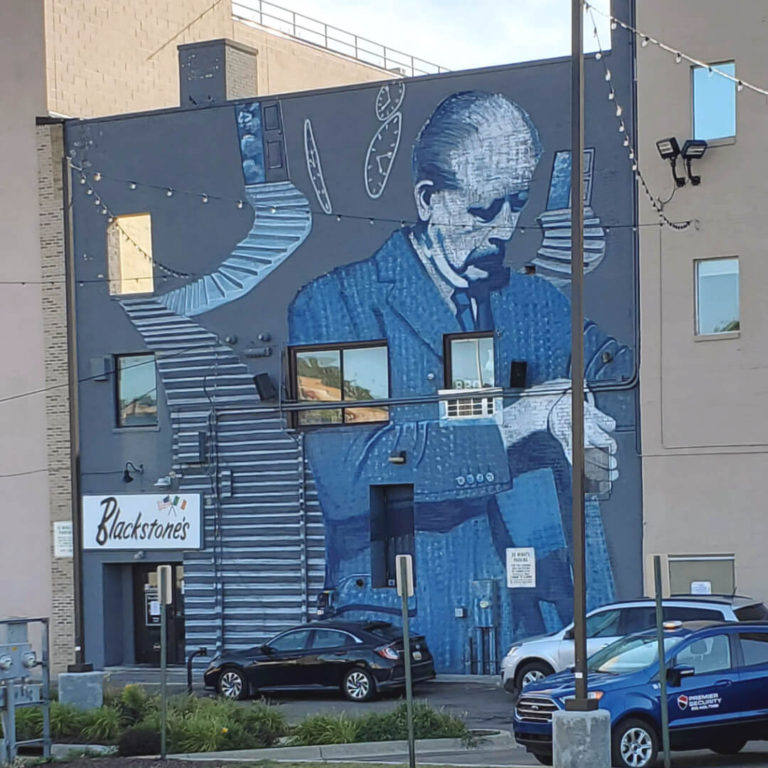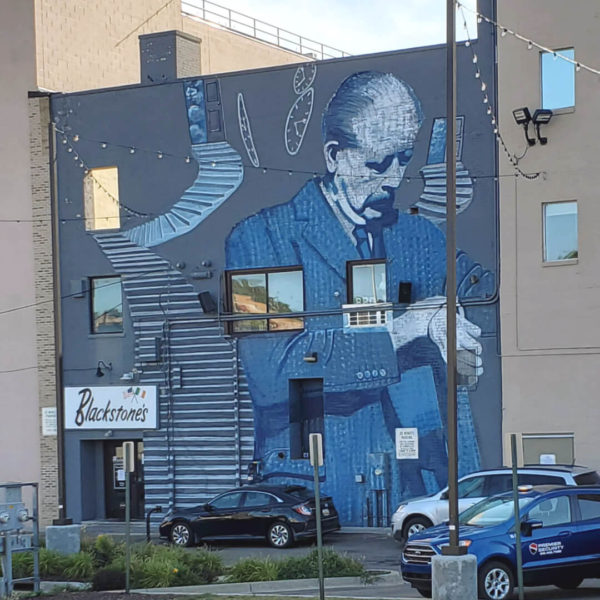 Flint Public Art Project
My favorite new initiative in our city is the Flint Public Art Project. Over the past few years, painters have turned boring building walls into major works of art. We now have over 100 murals throughout the city. They include murals of Olympic Gold medal winner Clarissa Sheilds, Beyonce, and various sports stars.
However, it's the murals of the not so famous that I love. Like the man on the Blackstone's building, pictured above. Or the children, hiding among the sunflowers, at the Ennis building. Or the mural of the homeless man, with the weight of life etched into his face, at the Catholic ministries building. I highly encourage you to take a trip to Flint to experience them for yourself. Allow this Flint Public Art Project map to be your guide!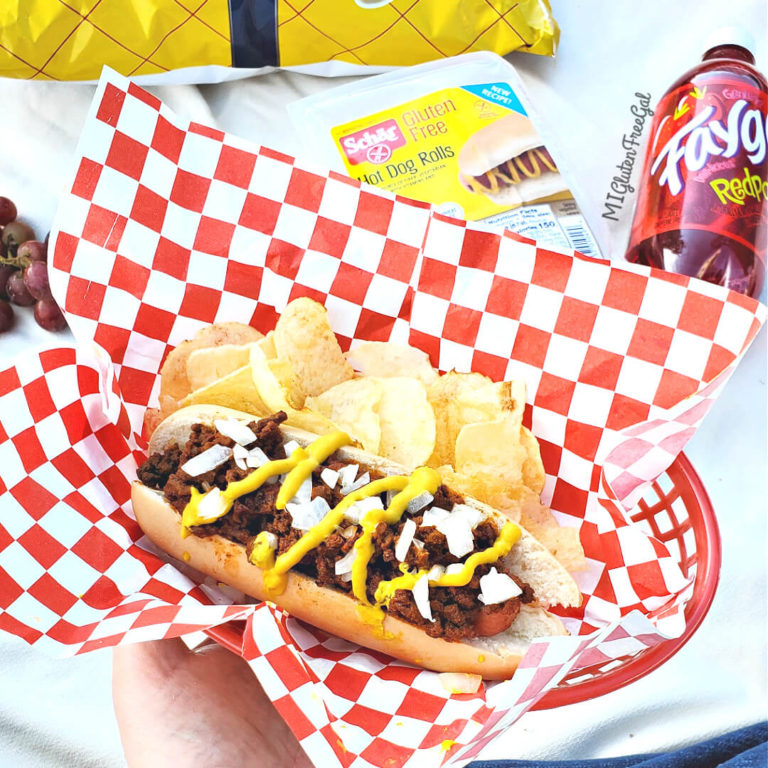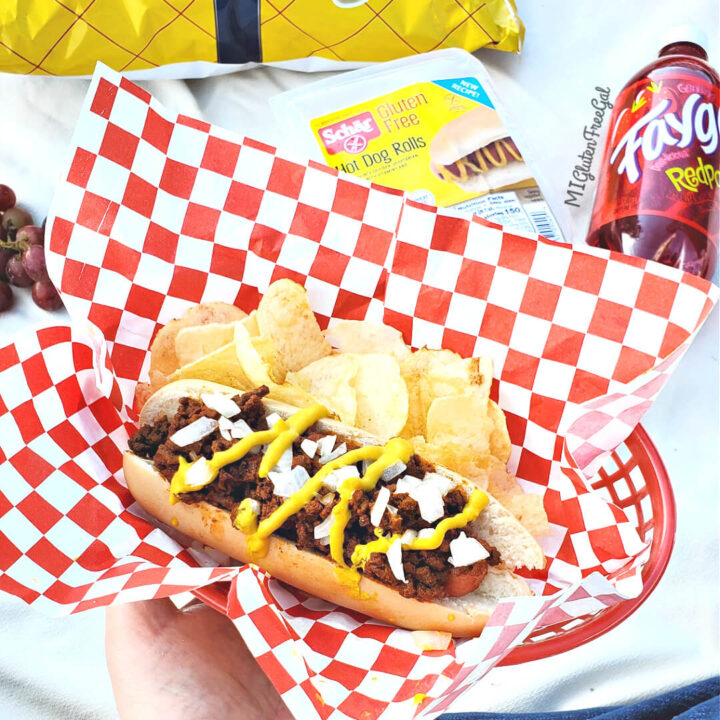 Gluten Free Coney Dogs
Ingredients
For Chili Mixture
1 tsp oil or butter
1/2 onion, finely chopped
1 clove garlic, finely chopped (1/2 tsp)
1/2 lb ground beef
2 hot dogs, finely chopped
2 tsp paprika
1-2 tsp cumin
4 tbsp tomato paste
1 cup water (more if needed)
1/4 tsp salt
pepper to taste
For Coney Dogs
4-6 Gluten Free Hot Dog Buns (I used Schar)
4-6 gluten free hot dogs, cooked (I use Koegel)
1/2 Sweet vidalia onion, diced
yellow mustard
Instructions
Finely chop one half of a sweet Vidalia onion, and garlic. (I actually buy jars of pre-chopped garlic, and use 1/2 tsp.) Also finely chop hot dogs.
Add oil or butter to the skillet, and heat. Add onions and saute for approximately 5 minutes, until soft.
Add ground beef, hot dogs, and garlic. Cook until ground beef is no longer pink.
Once meat is cooked, add paprika, cumin, tomato paste, water, salt, and pepper. Simmer for 10 minutes, allowing beef to continue to break down. Add extra water if needed to prevent meat from drying out and burning. The finished sauce is intended to be dry, not soupy. It will look a bit like Sloppy Joes, just not as saucy.
To assemble coney dogs, steam buns in the microwave with one cup of water, and heat for 40-60 seconds.
Place cooked hot dog in bun, top with 2-3 tablespoons of coney sauce, diced onions, and mustard.
**Schar provided the ingredients for this post, and compensated me for my time. This post does contain affiliate links.
Purchases made through those links help support this blog with no extra expense to you. Thank you for your continued support!**