Facial Misbranding: How To Report It
As an Amazon Associate and member of other affiliate programs, I earn from qualifying purchases.
On a recent trip to an Aldi grocery store, I found a product that concerned me. I felt it contained gluten, despite showing a gluten free claim. This is also known as facial misbranding. Below I outline the steps I took, and the outcome. Why? So you can know what to do if you find yourself in a similar situation.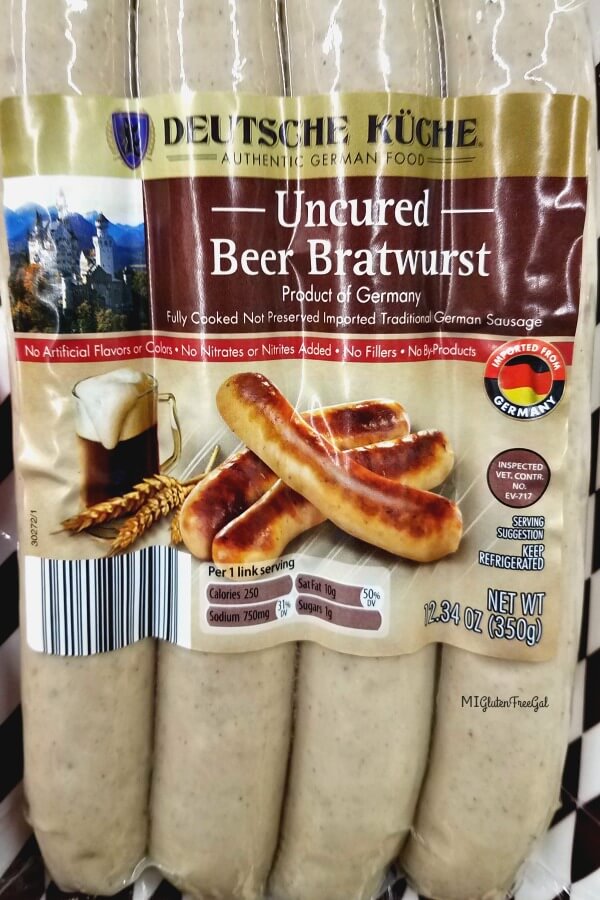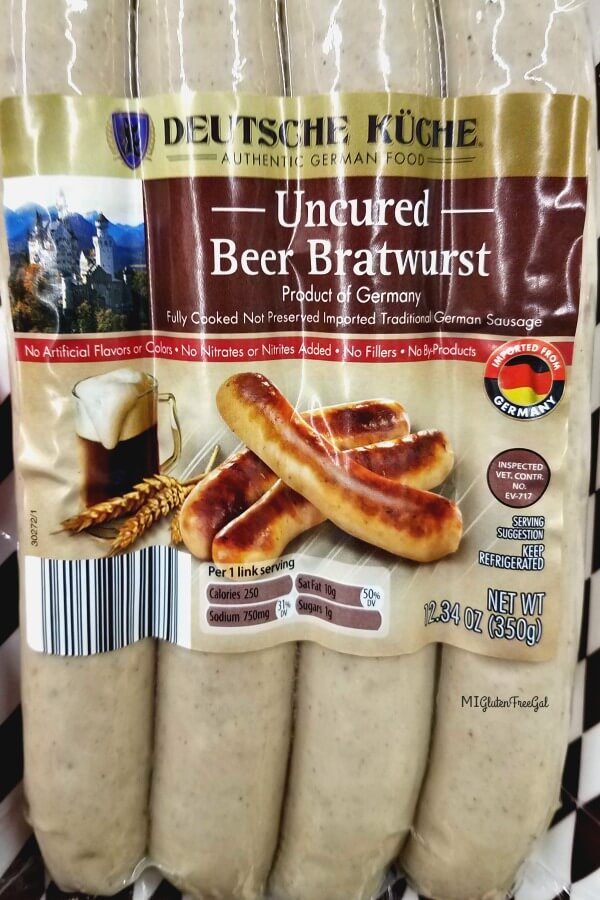 I love Aldi. They sell many gluten free, money saving, products. However, I remembered a notice on the Gluten Free Watchdog Facebook page about a bratwurst they sell. They label these sausages as "gluten free." However, they also list "beer" as an ingredient.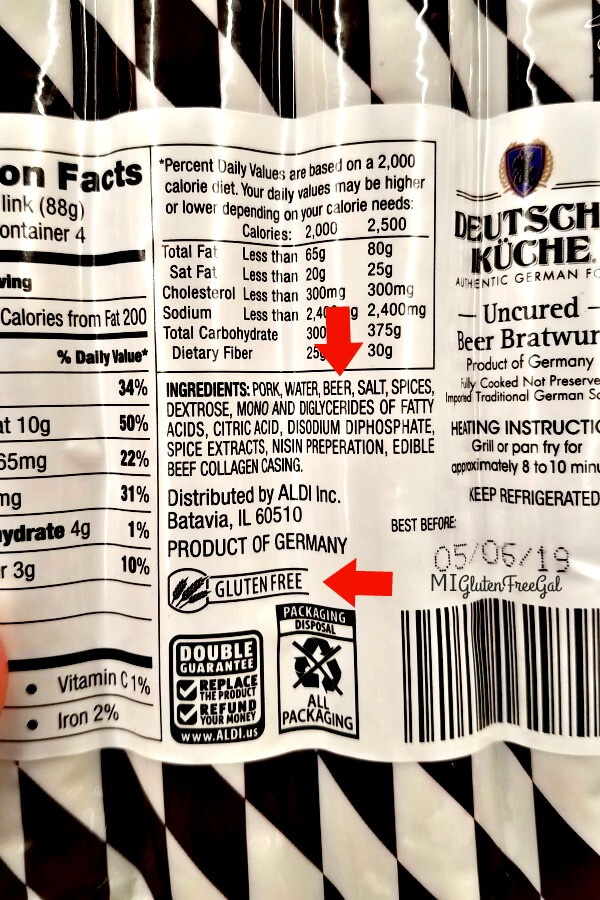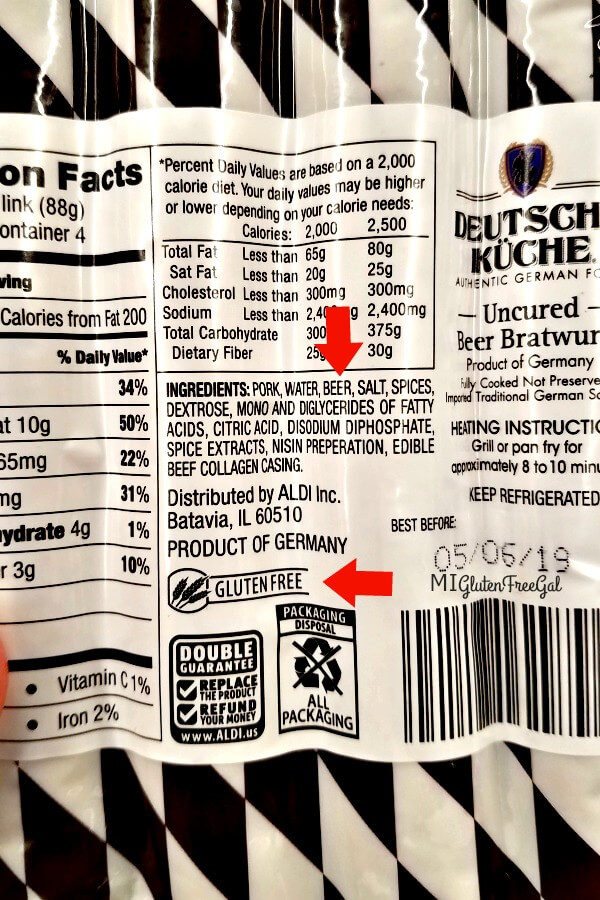 Now, in the United States, the FDA denies a gluten free label to anything that contains malt as an ingredient. Unless made from 100% gluten free grains, most beers in the world do not meet that criteria. However, this product falls under the jurisdiction of the USDA, not the FDA. Why? Because it contains meat. Therefore, I contacted Tricia Thompson a.k.a Gluten Free Watchdog on what to do.
She directed me to this article on her website, that outlines the steps on reporting a misbranded gluten free product to the USDA.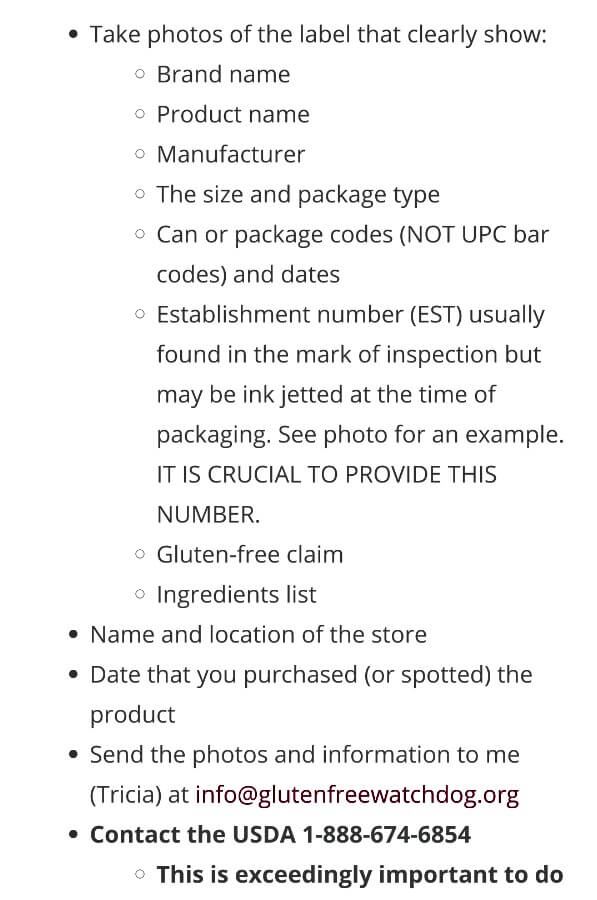 At the time I spotted this, our country found itself in the midst of a government shutdown. Therefore, many USDA employees lacked a job, or the income which which to perform it. I called the phone number she listed, but an automated reply stated the service was not available. Therefore, I turned to the power of the internet, and contacted the various parties involved with my facial misbranding concerns.
How to Report a Concern to Aldi, Online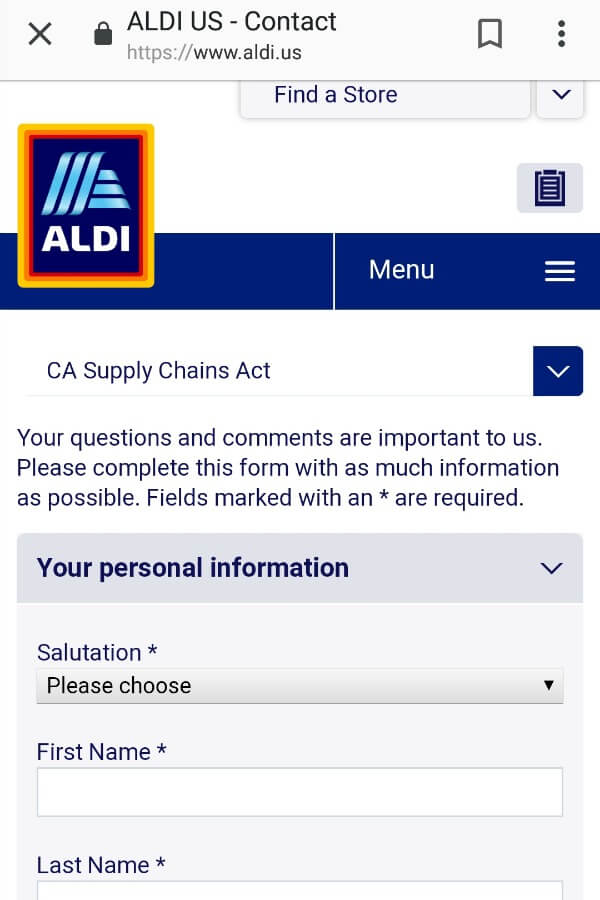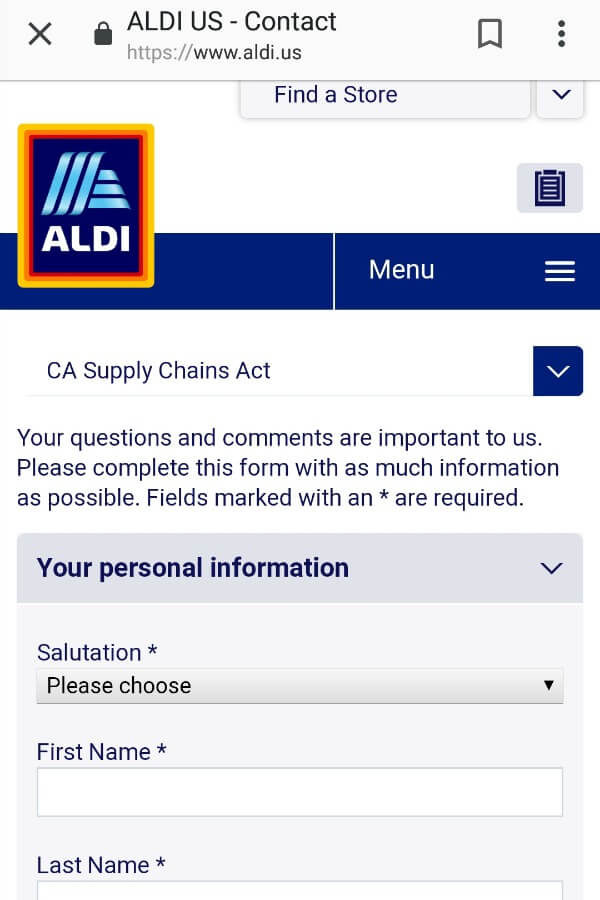 I used Aldi's online contact form to report my facial misbranding concern, first. If at all possible, I attempt to connect with the immediate business. I have done so in the past with success. Often, it accomplishes things quickly. I used their online comment system, filling out my complete concerns, and uploading the pictures I took. It took me less than 10 minutes to do. They impressed me by calling my back the same day! They listened to my concerns, gave me a claim number, and told me the supplier would get in touch with my. (To date, they have not.)
Reporting Facial Misbranding, Online, to the USDA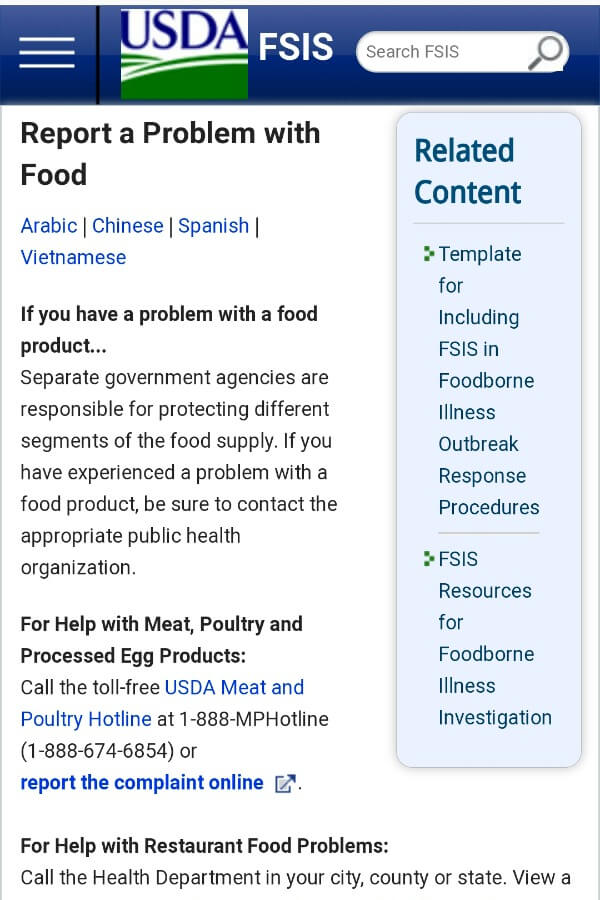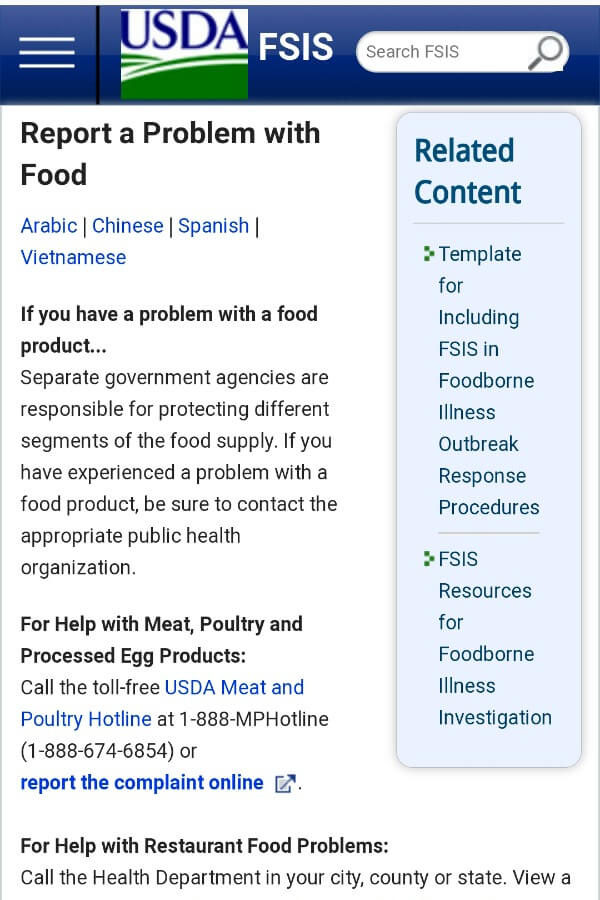 I used the online USDA reporting system Gluten Free Watchdog told me about. Like the Aldi system, I found it easy AND QUICK to use. It only took my information, and did not allow me to upload pictures. Surprisingly, the USDA promptly emailed me and asked me for more information. They requested a list of information, and I took time to address each one. Below is the bulk of the email I sent them, about the facial misbranding of the Aldi sausages.
"My concern about the misbranding / mislabeling is that while this item is marked "gluten free" by Aldi, it contains beer. While I know that the FDA definition of "gluten free" is not necessarily also delegated by the USDA, it is my understanding that the USDA feels that meat and poultry producers should follow this law. Per FDA regulations, nothing can be declared gluten free if malt is an ingredient, even if that product tests to under 20 ppm. Being that Aldi prices are relatively cheap, I am highly doubting that these Aldi Beer Bratwurst are made with beer that originated from non-gluten grains. Also, these sausages are imported from Germany, and did not originate in the United States. This gets trickier, because Europe's definition of "gluten free beer" is different than the US. The US does not allow "gluten removed" beers to be labeled as gluten free, where as Europe does. Also, Germany is now making beer with an altered form of barley called "Kebari" that I don't think is approved for US consumption. It may be possible that the beer in these brats is made with that.
IN CONCLUSION, I think these are mislabeled gluten free while also containing barley malt, which is against FDA guidelines."
Some felt that my concern about this product was unwarranted. One person even felt I was "unnecessarily frightening people. Please hear me out, though. This recent article in Forbes "
A New Test To make Sure Your Beer is Gluten Free.
" highlights my concerns over Europe certifying gluten removed beers as gluten free. Researchers shared that all gluten removed beers they tested returned with a gluten content higher than 20 ppm. In addition, Germany follows a beer law called "Reinheitsgebot." This law requires that anything called beer be made with "only water, hops, and malt as ingredients."
No Establishment Number?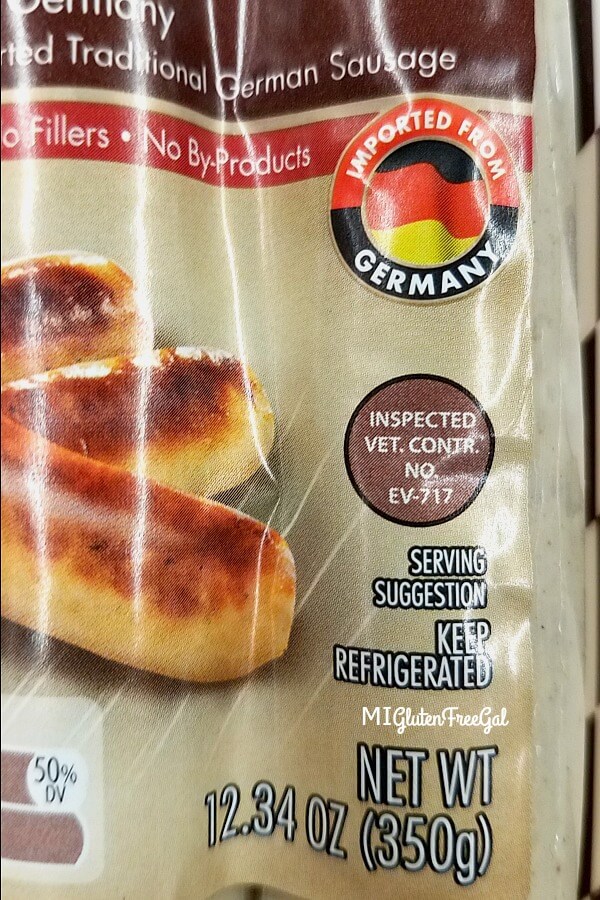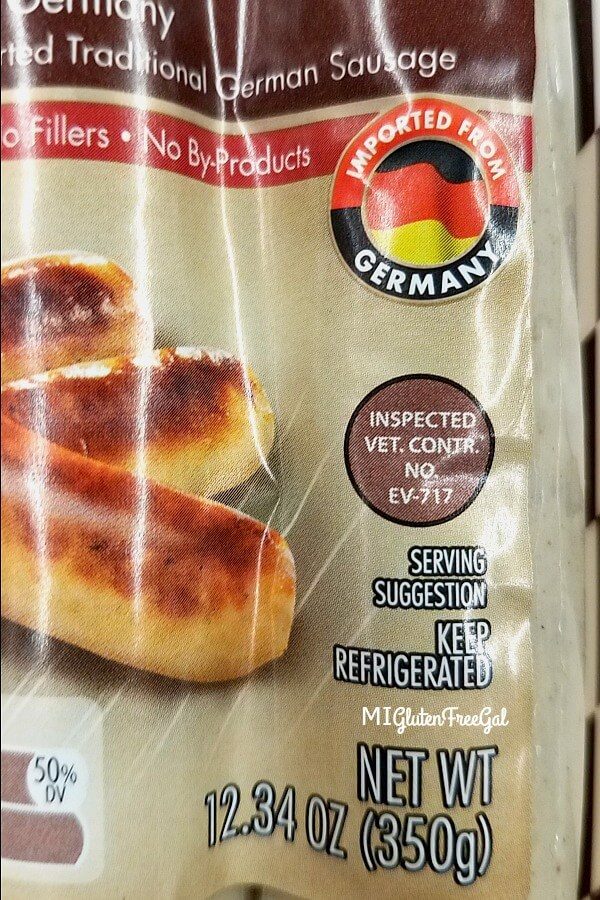 The USDA asked for the establishment number (inspection number) for the sausages. However, Aldi imports these sausages from Germany. They are not inspected in the United States. Foreign products sometimes utilize a different numbering system. After a minute or two of online research, I discovered that the "EV-717" Vet. Control No traced back to a plant in Germany. This number specifically relates to the plant where HoWe's sausages were produced.
Interaction with HoWe's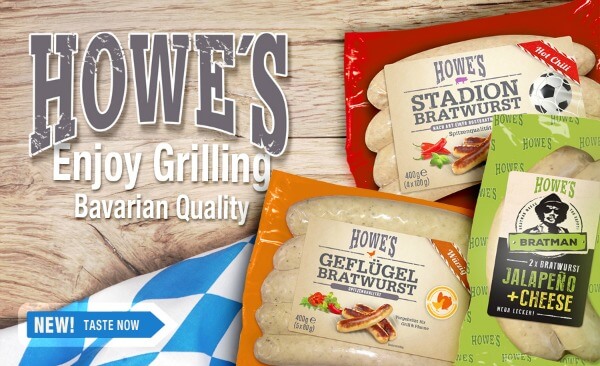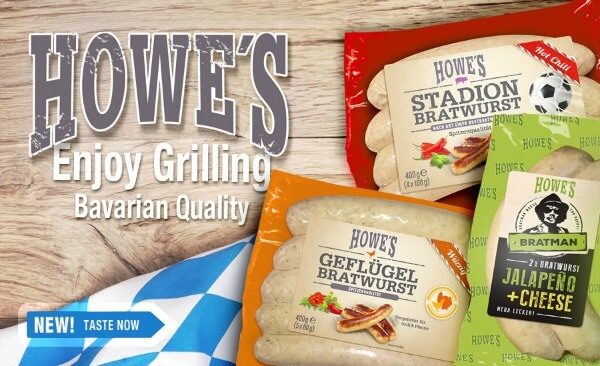 While neither Aldi nor the USDA directed me to do so, I contacted HoWe. Their website states all their products are gluten and lactose free. Therefore, I emailed them inquiring "What is the grain source of that beer? Is the beer made with only gluten free grains, or does it contain malted barley?" Their first reply simply stated that the ingredients and product test to under 20 ppm of gluten. I replied to their email, asking them to answer my original question. They replied, "We can confirm, that the beer does not contain malted barley." But what will the USDA say?
Response back from USDA –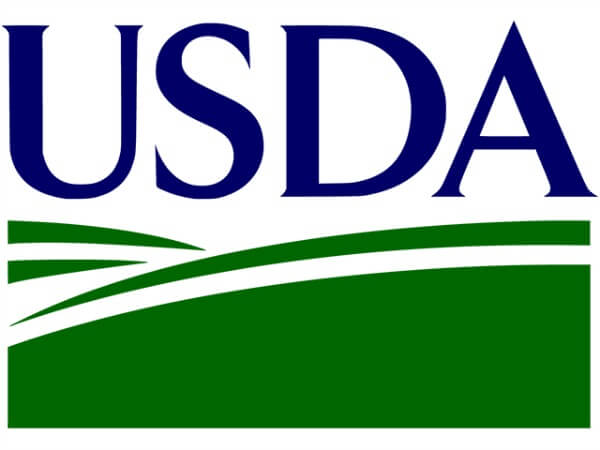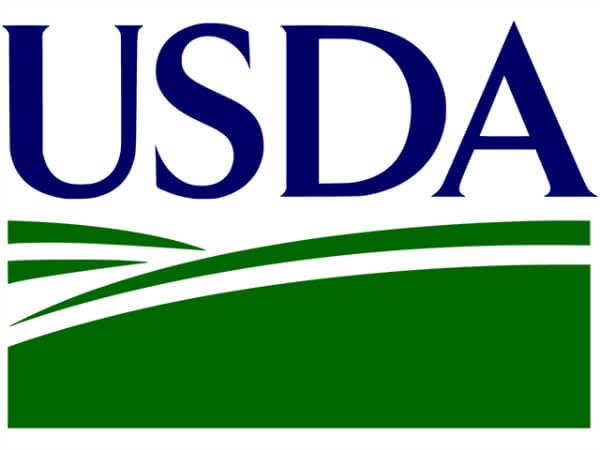 Two weeks after submitting my facial misbranding the concern, I received the following response from the USDA
"Dear Margaret,
Thank you very much for the additional information, and for your patience. Upon investigation, we determined that the product is not expected to contain a level of gluten that would pose a risk to public health. However, the company will be required to remove the "gluten free" claim from the label. Please find attached a formal letter regarding the outcome of your case." (emphasis mine)
It takes a village, friends. The government is understaffed, underfunded, and some manufacturers are uneducated. The USDA & FDA don't need us to be their enemies. They need us to be their eyes and ears. We need to continuously encourage them to do the right thing. Squeaky wheel gets the grease, right?
If you need to report a packaged food item, that contains gluten AS AN INGREDIENT (not a may contain statement), use this link to contact the FDA. Gluten Free Watchdog also shares what to do whenspot a labeled gluten free food that contains gluten.