Easy Gluten-Free Black Forest Trifle
As an Amazon Associate and member of other affiliate programs, I earn from qualifying purchases.
Trying to plan dessert for a family dinner or gathering? Everyone will rave over this easy gluten-free Black Forest Trifle!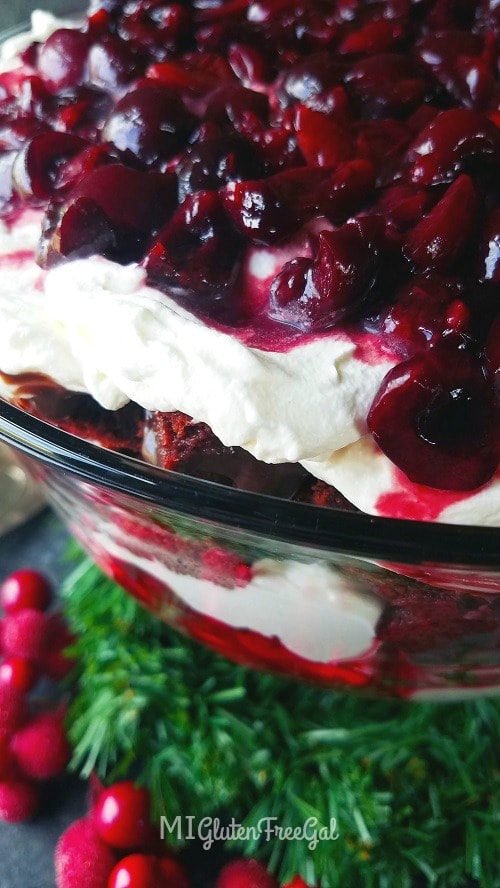 What is a Trifle?
I love a good trifle for all sorts of reasons. One, they might be the easiest dessert to put together. Secondly, they often use ingredients I have laying around the house. Possibly the best thing abut a trifle is the layers. I love a good layered dessert, don't you? All the layers get repeated so you get to savor each taste over and over again. Yummmmmm.
After making this easy gluten-free Black Forest Trifle I found on the internet, it got me thinking. What exactly IS a trifle? What makes it different from a parfait? How are they both different from a fool? (Who even knew there was a dish called a fool?!?!) All desserts have cake of some sort, and layers of custard or pudding, and whipped cream.
Liqueur or Liquor?
Apparently, what sets a trifle apart from the rest is soaking liquid. Apparently, most trifles contain cake soaked in liqueur. Well, I was serving this easy gluten-free Black Forest Trifle at a church funeral dinner. Yeah, choosing to leave the alcohol out of this one. However, the chocolate cake could be soaked in cherry juice. Noted for next time.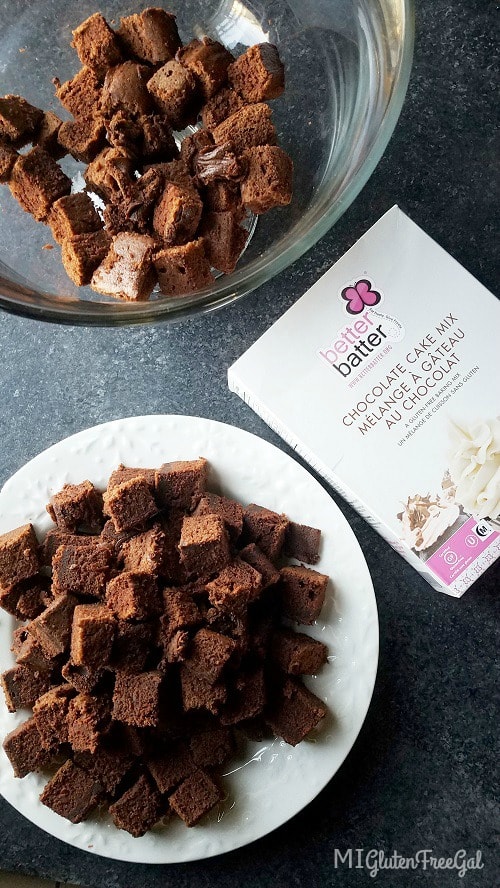 Easy Trifle Made with a Gluten Free Cake Mix
I used Better Batter's chocolate cake mix as base of this easy gluten-free Black Forest Trifle. They generously sent me free product to try this past summer, and I still had their chocolate cake mix sitting down in my pantry. Better Batter mixes contain NONE of the 8 most common allergens. Even their powdered sugar is corn-free! This mix is easy to whip together. Simply add water, oil and eggs, mix well and bake! Doesn't get much easier than that.
I baked my cake one day before I needed the dessert. Therefore it would be completely cooled when it came time to assemble. The original Black Forest Trifle recipe I found on the internet, by The Novice Chef, called for chocolate pudding. However, I had an extra box of vanilla pudding mix in my cupboard I wanted to use. So I improvised, made the vanilla pudding, and added homemade chocolate syrup I had in fridge. Voila, chocolate pudding! Need it dairy-free? Use my recipe for dairy-free pudding!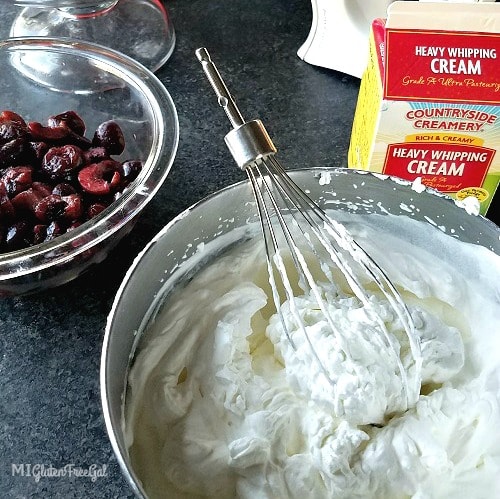 How to Make Whipped Cream
This recipe calls for whipped cream. I don't know about you, but I'm not a fan of Cool Whip. It works great in a pinch, but it's not REALLY whipped cream. Besides, homemade whipped cream is so easy to make. Want to know my secret trick? Freeze the bowl you intend to whip the cream in overnight. I use a metal mixing bowl for this. It dramatically cuts down the amount of time you need to whip your cream. I whipped mine for less than three minutes. Oh, and I also added sugar to the cream prior to whipping.
Finally, the last step was to layer this super easy gluten-free Black Forest Trifle. Following the steps on The Novice Chef post, I layered the cake, then the pudding, then the cherries, and then the whipped cream . I always worry that I'm going to layer it wrong. I don't know why. Trifles are all about using what you have. Layer it any way that you want, am I right?! Through caution to the wind and follow your culinary creativity!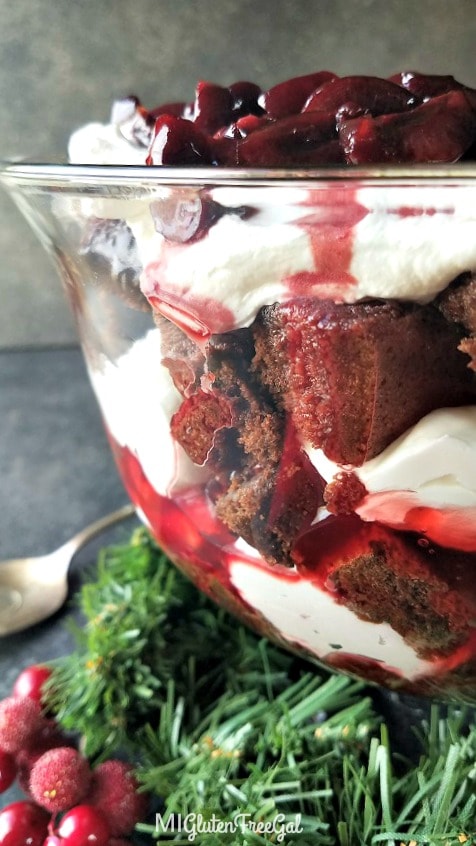 Other Gluten Free Trifle Recipes
Well, I'm happy to report that this easy gluten-free Black Forest Trifle was a success. The head of the kitchen committee at church messaged me to say "It was excellent!" They consumed every last bit, down to the last crumb." Score one for gluten-free baking! I'll add that to my list of other successful trifles, such as this peppermint Christmas Chocolate Trifle. Looking for something similar, but in a smaller portion size? Check out Eat At Our Table's recipe for an adorable Gluten Free Midnight Brownie Cookie Parfait.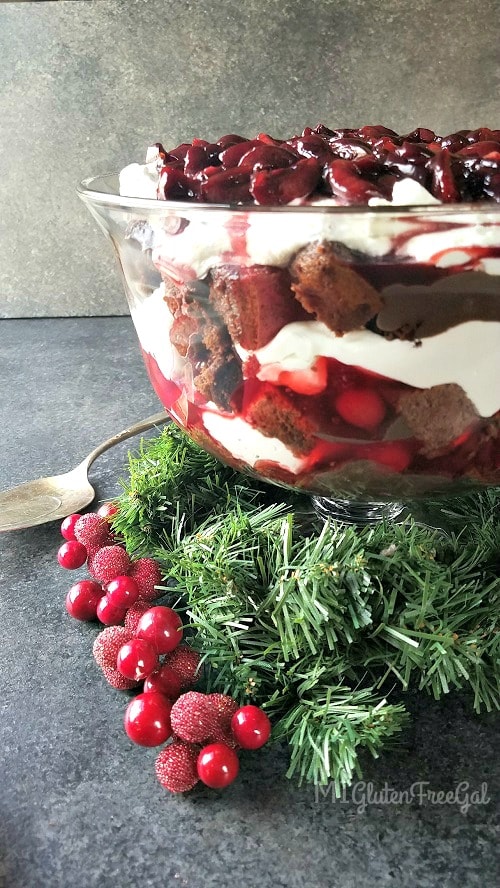 Easy Gluten-Free Black Forest Trifle
Total Time:
1 hour
10 minutes
Ingredients
1 box gluten-free chocolate cake mix, prepared
1 box chocolate Jello pudding, 5.9 oz (6 serving) size
1 can cherry pie filling (If you like a lot of cherry, you might want a second can.)
1 16 oz carton heavy whipping cream, whipped, with 2 tbsp sugar
1-2 cup fresh cherries, pitted
1/2 c kirsch brandy or cherry juice - optional
Instructions
Prepare gluten-free chocolate cake mix according to directions. Allow to cool, preferably overnight. If desired, soak cake with 1/2 cup kirsch cherry brandy or cherry juice.
Prepare pudding. You can use instant or cooked, but it needs to be thoroughly chilled which ever you choose.
Whip the cream. This is easier to accomplish if whisked in a metal bowl that has been stored in the freezer for a few hours. (But not absolutely necessary.) Whip cream until soft peaks form, approximately 2.5 minutes. Be careful not to overwhip, as it will start to turn to butter.
Cut cooled cake into chunks, and layer 1/3 of the prepared cake into a large glass bowl. Top with 1/3 of the pudding, then 1/2 of the cherry pie filling, and finally 1/3 of the whip cream. Repeat layers until ingredients are used.
Adorn the top of the trifle with the fresh cherries, and shaved chocolate if desired. Refrigerate at least an hour prior to serving. .
This easy gluten-free Black Forest Trifle would be perfect for a Christmas dinner. Let me know if you make it, by tagging it with #miglutenfreegal. Not a fan of chocolate or cherries? Check out this list of 30 trifle recipes for parties for some inspiration!